P&O Cruises Tips For Travellers: Answers to 8 Key Questions You Should Be Asking
Making the decision to go on a cruise for the first time, or trying a different line, is an important decision. I believe getting on the right one is the most critical decision in the process of choosing your cruising vacation. In this article I aim to help you decide if P&O Cruises is the best, or most suitable, one for you by answering eight key questions I think you should ask.
I have travelled with them a number of times on different ships, and have drawn from these experiences in compiling this guide. My most recent journey was on Britannia to the Caribbean, and you can read and see videos from that in my article "P&O Cruises Britannia Caribbean Cruise Highlights and Must-dos"
1: Who are P&O Cruises?
P&O is a household name in the United Kingdom, well-known in Australia and almost unknown in the United States, the largest cruise market in the world. However even in the UK, there is some misunderstanding. It is the oldest cruise line in the world and, until 2000, included a ferry division that operated between the UK and Europe and a cruising division, which sailed out of the UK and Australia. After the ferries were spun off, the cruise lines (P&O Cruises and P&O Cruises Australia) were eventually taken over by Carnival Corporation, who also own lines like Cunard, Holland America, Seabourn and Costa. Today there is no link between P&O Ferries and the cruise group.
At the time of writing, P&O Cruises operated eight ships ranging from the Aurora, holding 1,874 passengers, to Britannia's 3647. It has two mid-sized adult-only ships (Arcadia and Oriana) and the rest are mid- and large-sized family friendly ships (Aurora, Azura, Ventura, Oceana and Britannia).
2: Is P&O cruises the right line for you?
P&O Cruises is ideal for travellers looking for a British cruise experience at a reasonable and accessible price. It is less formal, not as traditional and more family-friendly than Cunard and Fred Olsen, two other UK focused lines.
It is increasingly suitable for multi-generational groups as it offers a range of accommodation from suites to inside cabins that family groups can share, good range of kid's clubs and entertainment to suit wide age ranges.
Very British
P&O Cruises provides a very British experience for the UK traveller, and the guests almost exclusively hail from here. The entertainment, food, on-board currency, shops, senior crew and ambience is heavily biased and influenced by its home market. It provides a familiar environment for British guests to travel around Northern Europe, the Baltics, Mediterranean and Caribbean.
Mid-priced
I would classify them as mid-priced within the industry, with a quality to match. A possible analogy would be a four star hotel on land as the range of facilities, quality of fixtures and bedding is not as basic as a three star, but not as plush as a five star. Service is efficient, but not especially effusive or personalized as you would get (and be paying for) on premium lines like Seabourn, Crystal or Silversea but is better, in my view, than value lines. Food is varied, plentiful, and generally good.
Traditional cruise experience
P&O Cruises is not for travellers seeking a resort-style ship packed filled with features like bowling alleys, ice rinks, climbing walls and water slides. The ships follow a more classic design and facilities approach with pool decks, regular production shows and a range of bars, lounges and dining venues. The entertainment and activities follow the traditional cruise fare of games, bingo, dance lessons, quizzes and revue-style shows.
Increasingly family-friendly
The bulk of P&O Cruises guests used to come from the epected cruising profile of older couples, but this is changing. The move towards larger ships, and more overt emphasis on offering a family-friendly vacation, is leading to greater emphasis on value, partly achieved by paring back on some traditional services, more attempts to generate extra on-board revenue, less formality in dress codes, an emphasis on kid's clubs, and increased party-like activities around and on the pool decks.
There are many cabins capable of accommodating parents and children, and enticing them in with attractive fares and deals versus land-based vacation alternatives. There are more specialty dining venues with surcharges and other optional revenue generating activities like the Cookery Club on Britannia. For families many of these changes are appealing and, as this seems to be where P&O Cruises see a large slug of future business coming from, I would expect this trend to continue.
So where does this leave the existing P&O Cruise older couple travellers?
Some traditional P&O Cruisers are active on cruise boards and social media groups discussing their perceived erosion of some services, like pre-plated meals versus silver service for dinner, as evidence of cost cutting to better deliver this value and sharing concerns about the increase and disruption caused by more children. To satisfy these established core guests who love the existing British-style cruising experience, P&O Cruises offer two adult-only ships.
During the school holidays the family-friendly ships will be busier as a higher proportion of cabins will have three and four occupancy. It will also be more boisterous and active around the pool decks. So when planning your cruise, I recommend couples (of any age) look at trips out of vacation time, longer trips like World Voyages or extended trips and those to non-sun destinations as these will attract less families.
Solo travellers
Many of the ships offer solo cabins and welcome guests travelling on their own, such by arranging daily meet ups. However with the growth of families on ships during school vacation time, solo travellers may want to select their itineraries and dates of travel to avoid these times.
3: What do P&O Cruises do well, the same and less well than other lines?
All cruise lines have strengths and things they do better than others. Based on my experiences of P&O Cruises and other lines this is where I think they are:
What do P&O Cruises do well?
British take on cruising. It is familiar and comfortable for guests from here.
Décor and look inside the ship. The new ships, like Britannia, have a stylish and sophisticated look. It feels more premium on board than the fares may suggest.
Ability to find quiet spots on sea days both inside and on deck.
Amount of activities across the day. The daily program has many things to do, but these do follow classic cruise activities due to the type of facilities and approach on the ships.
Choice of dining venues and bars, with food of a good standard for a mid-priced line.
The Cookery Club and Food Heros on Britannia, which offer excellent and good value classes and restaurants.
P&O Cruises do the same as other lines?
While there are a good range of Kids' clubs on the ships, which based on what I heard are enjoyed and well rated, they are in line with others catering for families. Other lines have more technology and partnerships with popular characters and toys, and so I have rated P&O Cruises clubs as a match with the industry.
The main theatre entertainment is at par with the industry. They tend to rely on the classic themed song and dance reviews, supplemented with feature performers that are not usually household names but have some recognition, such as one of the back-up singers from "Strictly Come Dancing" or Peter Howarth (lead singer of the Hollies). I have seen attempts to give more contemporary and innovate takes on these shows on Britannia with "Gravity" and "Once Upon A Time", which was encouraging as they used modern songs and special effects to good effect. However, some lines are using more brand-name shows and performers from Broadway, West End and Las Vegas like "We Will Rock You", "Blue Man Group" and "Mamma Mia".
Port talks were fairly standard, and mostly focused on selling their excursions, similar to other lines. The port guides were the same content I have seen and received on other Carnival Corporation ships.
What do P&O Cruises do less well than other lines?
To be fair on this, I have tried to take into account what lines with similar fares offer guests. So these are the areas I wanted to focus on:
Wi-Fi access. It is slow and costly (25p to 50p per minute) versus recent advances by the competition like Royal Caribbean, and even on some of the Carnival brand ships. This will become a growing issue, I believe, as guests become younger and will expect to be connected constantly, at a good price and at fast speeds.
Limited immersion into the region being cruised. P&O Cruises offers a very British experience and sticks to it. While it is a challenge on large ships, which need to control quality, sourcing and costs, there is little diversion to encompass the region in my experience through local entertainment, activities or food.
Interactivity is low. Even on a new ship like Britannia there was limited use of technology available for passengers to design and manage their on-board activities. There was some progress on ordering photos and excursions via booths, which were not that easy to use. It was not possible to book anything via the TV in the room or even check your bill. Again I feel younger audiences want on-demand services and ability to manage their lives and activities digitally and will expect this.
One area that may have been specific to the cruise I was on was chair hogging control. A big source of annoyance for many guests is others booking chairs on deck and disappearing. It is much discussed in P&O Cruises message boards and social media groups. The crew did not seem to be active in controlling this, probably preferring to turn a blind eye than face the aggravation. Some lines have started to be much more assertive in this area, especially on larger ships.
What did I hear passengers complain and complement?
On my Britannia trip I often heard the following:
Dated main theatre entertainment, though this was mostly focused on the level of the guest entertainers.
Not enough features as on other cruise lines. This is, in my view, an issue with their agent or their own pre-trip research as the P&O Cruise ships are clearly different to the resort-like Royal Caribbean and Norwegian Cruise Line ships and people should be guided and appreciate this before booking.
How fast costs mounted up on board. With drinks, excursions, added events like bingo and Cooking Club, gratuities and Wi-Fi all being extra costs, many new-to-cruise underestimate how much they need to budget for time on the ship. I cover budgeting later in this article.
How much their children liked the Kids' Clubs and were happy to spend time in there, freeing up time for their parents to spend together.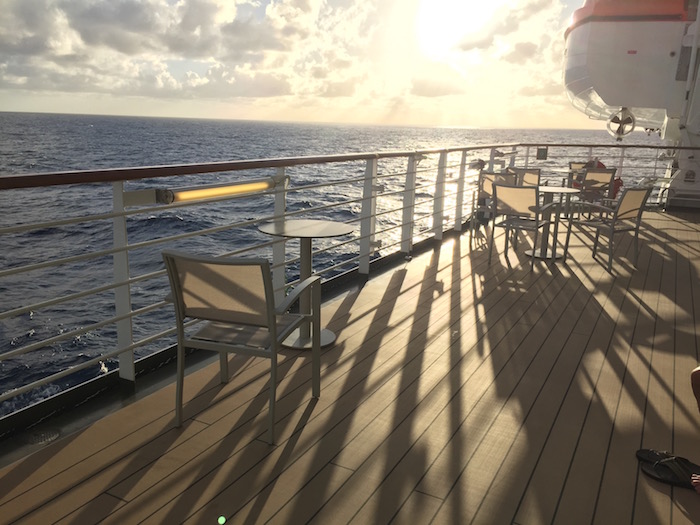 4: How to get the best fare?
While it is possible to book direct with P&O Cruises on their site at http://www.pocruises.com or by calling them, I recommend using a cruise agent like the one I use (Jane Chadwick of http://gocruisewithjane.co.uk) who can guide you through the options and choices. This way you can make sure you get the best deal for you and that you get on the right ship, in the right cabin and with the right itinerary to meet your needs. It helps avoid some of the issues highlighted above.
Cruising is a complex travel option and going with the wrong line, in an inappropriate cabin and with an itinerary that does not meet your passions will ruin your trip. An agent can guide you and make sure you still get the offers and perks available. They may sometimes be able offer other incentives.
Two Fare Types
There are two key fare types that P&O Cruises offer: Select and Saver. The degree to how flexible you want to be will decide which is best for you. While both include full board (accommodation and meals), entertainment, and use of the Kid's clubs and facilities like pools and fitness centre, the Select fare lets you to choose the exact cabin you cruise in, use of the shuttle buses in ports where provided, priority in choice of dining time and table size and booking change flexibility. The Saver only allows you to choose the grade of cabin, such as Suite, Balcony, and Ocean View or Inside and P&O Cruises will allocate the specific one.
To make sure you are aware of and get the best deal within these fares I recommend that you read my feature article on how to get the best cruise price: https://www.tipsfortravellers.com/how-to-get-best-cruise-deals/
Cabin Choice
Your choice of cabin will, of course, significantly affect the level of your fare. P&O Cruises offers suites, balcony, ocean view and inside cabins which vary a lot in price.
If you are sensitive to noise, consider paying the premium of a Select fare and carefully select your cabin using the deck plans available in the brochure or P&O Cruises website. This way you can avoid those with public rooms or areas above or below, near facilities like laundry rooms or elevators and stairs. For example, I stayed in a Superior Deluxe Balcony which was a beautiful cabin on Britannia but was under the Lido Pool deck and so had noise from people walking over, scraping loungers and music from events and parties drifting into the room at various times. If you are likely to be stressed by things like this, invest in the extra cost to select a cabin. Check the plans too to avoid rooms with interconnecting doors for extra reassurance on cutting out any noise.
5: What should you budget for, and how can you save money on board?
Develop a budget that takes into account the full price of your trip by the time you get back home. A lot of cruisers focus on the fare, but this is only part of the final cost. Some cruising pundits claim that many people will spend as much as 50% of their fare on add-on costs on board, transfers and pre- and post-trip stays. There are three areas to focus on when budgeting for your P&O Cruise:
(1) Inclusions and exclusions in your fare
Make sure you understand exactly what your fare covers so you fully understand what other charges there will be. For example:
Cost of getting to and from the ship, such as flights and transfers. Most may be covered if you have booked a fly-cruise package, but you still have to get to and from the airport.
Gratuities. At the time of writing £5 per guest over the age of twelve day per day is added to your on board account.
(2) Costs before your cruise
These include items like travel insurance, visas and inoculations.
(3) Costs while on board
The major items to budget for include:
Excursions. These could add between £30 and £120 per person for each taken. Even if you do not go on tours, you need to allow for the costs of taxis, entrance fees and meals off the ship while touring ports. You may also need to pay to use the shuttle buses into town if you are on the Saver fare.
Additional gratuities for outstanding service and tour guides.
Drinks, including soft drinks, alcohol, and specialty teas and coffees in the cafes. You can but wine and soft drink packages to make savings.
Specialty dining charges: While your cruise fare includes meals in one main dining room and the buffet, there are specialty restaurants on the ships that charge a fee to dine there. Charges can range from a modest £5 to a more substantial £40 per person.
Photographs: Every time you board or go to an event, and even at some meals, you will have your photograph taken. They can cost over £20 each if you decide to buy them. There will be packages on offer, such as on my last Britannia cruise they were offering seven 10″ x 8″ photos, seven destination or ship photos, frame and cruise CD for £139.50.
Internet access: Access to Wi-Fi will cost anywhere from 25p to 50p per minute based on which package you sign up for.
Telephone calls and text messages: Including mobile phone roaming and usage charges.
Spa: Treatments cost from £70, plus 10% gratuity per treatment.
Fitness classes: Many of classes like yoga and exercise classes have fees to attend them.
Gambling and gaming costs: You may want to play in the casino or bingo.
Shopping: Including jewellery, tax-free items and souvenirs.
Workshops and classes like The Cookery Club on Britannia.
For 18 tips on how to save money on board read my feature: https://www.tipsfortravellers.com/saving-money-on-a-cruise/
6: What should you pack?
Understand the dress code and the conditions expected for the region you are going to be cruising for.
On P&O Cruises there are three dress codes, which they describe as follows:
Daywear: Casual shirts, shorts, trousers and beachwear are ideal. For going ashore and walking on deck, flat comfortable shoes are a must. You will also need a lightweight jacket or coat for cool evenings and occasional showers. Don't forget sun protection cream, a sun hat and sunglasses, as the sun is much stronger at sea.
Evening Casual: Stylish resort or leisurewear, such as casual separates or dresses for ladies and open-neck polo shirts and casual long trousers (not shorts or 3/4 length trousers) for men. A jacket and smart trousers can be worn but are not compulsory. Smart dark denim is also fine, but not trainers, football shirts or tracksuits. For a typical two-week cruise there are normally ten Evening Casual nights.
Black Tie: Ladies wear glamorous eveningwear including cocktail dresses, ball gowns or even smart trouser suits. For men, dinner jackets or tuxedos are the norm, but a dark lounge or business suit and tie can be worn as an alternative. You can also wear formal national dress and army uniform. For a typical two-week cruise there are normally four Black Tie evenings on board.
When packing I also recommend:
If flying to your cruise stick to the weight restrictions of the airline. While P&O Cruises let you bring as much luggage as you want, you should avoid excess charges from the airlines.
Pack valuables like watches, computers and tablets, important documents like passports, wallet and prescription medication in your hand luggage.
Check my lists of non-clothes items and things to leave at home in my feature article on how to pack for your cruise: https://www.tipsfortravellers.com/cruise-packing-list/
7: Any advice on booking and doing excursions?
You have three options: (1) book a P&O Cruises excursion, (2) use an independent shore excursion provider like ShoreExcursions.com and Viator.com or (3) self-explore. I recommend exploring each. In my article on how to find and save money on port excursions I discuss the pros and cons of each at https://www.tipsfortravellers.com/saving-money-port-excursions/
P&O Cruise Excursions
If you decide to use P&O Cruises, as you like the ease or reassurance that the ship will always wait for any of their trips that are delayed, you should review them online in your Cruise Personaliser up to three months before your trip. Book any you want to be sure you can do. Some have limited space and may be sold out before the cruise, especially when travelling on the larger ships.
Once on board you can book and print out the tickets using interactive booths on many ships, directly with the team when they are open or by placing a booking form into the post box when they are not.
If you are unsure on which trips to do, go to the port talks as they give an overview of the destination, highlights and details of what each tour will be doing.
Check the activity levels and amount of walking before booking an excursion. P&O Cruises lays this out in detail and offer trips, when possible, for people with limited mobility.
If self-exploring use the four-page leaflet provided in your cabin the night before as it has a map, highlights of places to visit and tips on money and other key facts. Always take the daily program and the leaflet, as it will have the contact details for the local agent if you have problems in port.
8: Any other tips for getting most of your P&O Cruise?
If on a fly-cruise, about 14 weeks before you can see the details of the flights in the Cruise Personaliser and select and pay for seats with extra legroom or premium (like premium economy). These go fast and so make a note of when it is due to go live. They run on board sessions to deal with queries and sort out any seating as well.
In the main dining rooms there is an early and late sitting. There is also usually a Select Dining option when you book where you do not have to commit to a set times, and you have more flexibility. You just arrive at your allocated one and if no table they give you a buzzer to alert you when one is. You need to make your choice when booking, and people booking Select fares get preference.
Budget to go to some of the speciality restaurants.
Go to a class in the Cookery Club if you are on Britannia.
Do your research and ask questions. A good source is the P&O Cruises board on CruiseCritic.com
Inspired to cruise with P&O? Visit P&O Cruises to find out more about their ships, itineraries and prices.
Disclaimer: I travelled as a guest of P&O Cruises on a 10-night Caribbean Cruise from Madeira to Barbados.
If you enjoyed this post:
Want to Support Tips For Travellers?