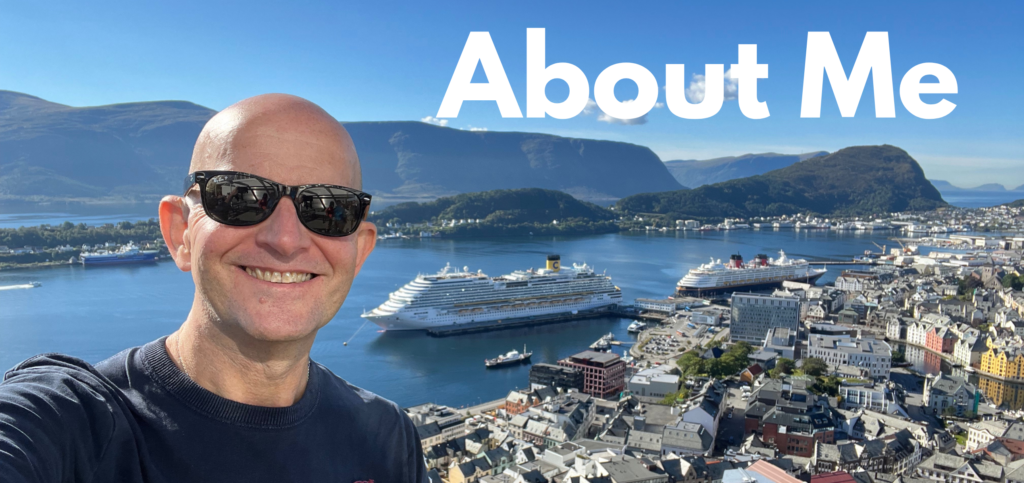 My Story: About Gary Bembridge
This is the story of why I am so driven to travel, and why I have this blog, YouTube channel and podcast – to constantly share what I learn along the way. So, as many travellers as possible can be inspired to discover, plan and enjoy incredible travel and cruise experiences, just like me.
There are so many choices that have to be made at every stage of your cruise vacation. If you make the wrong choices, like I have done in the past, you and your family won't have that incredible experience you are dreaming of. So, this is my background story, from my childhood in Africa, to my adult-years in London and the beginning of what became a huge part of my life and your useful cruise planning tool – Tips for Travellers.
I was born in Zimbabwe, which is also home to the most stunning attraction I have ever seen in all my travels
Born in Bulawayo Zimbabwe (which was called Rhodesia at the time) to British Parents – English Dad and Scottish Mum. I am a British Citizen, which is important as it meant I was able to move and live easily in the UK, and travel so much easier than if I was not! Had I not had that British Passport, there would have been countless visas involved, as well as other hassles, so it was a blessing.
I grew up in Bulawayo and then Harare (Salisbury as it was called), both big cities with a bustling and thriving population. Sometimes, people think of Africa and automatically picture the vast wilderness, where wild animals roam, but this wasn't the case for me – there aren't many lions wandering down the streets. Although, there were Game Reserves not too far away.
London Obsessed
As a boy, I was obsessed with history and I longed to live in London, which I saw as the centre of the World. I constantly nagged my parents to move back to the UK. It seemed so much more exciting than Africa, and I wanted to see all the places I read about. My list was endless! Buckingham Palace, Tower Bridge, Carnaby Street, and the British Museum, just to name a few. The latter mostly for the Egyptian displays.
The only other country my parents took me to before turning 20 was South Africa. This made me even more determined to see as much of the world as I could once, I started working and earning my own money. My visit to South Africa took me to Cape Town. At the time it was still Apartheid, but it was the only country, at the time, we could visit because the borders to other countries, such as Botswana, Mozambique and Zambia were closed.
Military Service
I did 18 months military service in Zimbabwe, after school during the Civil War before One-Man One-Vote Independence. During my service, I was a weapons instructor, training soldiers to man the convoys that escorted civilians and goods traffic between the major towns. It was far too dangerous to travel alone. I was a Browning machine gun, automatic rifle, and pistol expert. In 1980, after military service, I left Zimbabwe to go to university.
Zimbabwe is home of the most stunning and amazing place and attraction I have ever seen. This is the Victoria Falls on the Zimbabwe/ Zambia border. It remains my most favourite attraction in the world. You must see it. It's hard for me to describe it to you, it really is one of those things you need to see for yourself, as it's very natural and undeveloped in the surrounding area.
I went to University in South Africa and had my first job there. It is also home to one of the most beautiful cities
I studied marketing and business at the University of Natal in South Africa, and then worked in Johannesburg for 4 years for Unilever. The craziest thing was that I never went to Cape Town during the 7 years I was in South Africa. I only went years after leaving.
This was just pure madness as Cape Town is probably the most beautiful city destination in the world and is now one of my favourite places.
It proved to me that you MUST explore the country around you before you think about going abroad, so you do not miss what's on your doorstep.
London has been my home since 1987. It is my favourite city in the world, and home of the most luxurious and poshest hotel I have ever stayed in!
I adore London. For as long as I can remember, I wanted to live here and have done since the mid-1980s. Even in my job, when I was spending at least half the month in New York and then Paris, I kept London as my home base. London is exciting, historic, diverse, and generally fabulous.
Of the hundreds of hotels I have stayed in around the world, it is still home to the most luxurious hotel I have ever stayed in: The Berkeley. I stayed here on the night of my wedding to Mark in 2009. They upgraded us and put us in the stunning Chelsea suite. Nothing has beaten it.
Choosing a global marketing career enabled me to travel for over 20 years all over world. And led me down an unexpected path.
I love marketing, and I chose a career that enabled me to take on regional and global roles. Most of my career was spent at Johnson & Johnson, where I was the Global Vice President for Johnson's Baby Marketing. I stayed here until retiring from corporate life in 2012.
It took me all over the world and meant I could see the cities I'd often dreamed of. This is when I started making travel content, to share my tips and experiences from the places I visited.
I posted my first audio podcast in 2005, from my hotel room in Sydney. It was all about the city (https://tips4travellers.libsyn.com/podcast3-mp3 ). My first YouTube video came on 24 June 2006 (a video tour of a guest house we were staying in, in Cape Town https://youtu.be/Wc4qTwI8rUg ).
The second video I posted was about a Cunard Queen Mary 2 Queens Grill cabin (https://youtu.be/58IuFxpSbqU), and it was this that started my journey. A journey that would eventually turn a hobby into a career.
I stumbled across cruising by accident. But it changed everything.
I first boarded a ship, with some reluctance, in 2004. I'd been invited to talk at a marketing conference on board P&O Cruises Aurora. The ship had been charted by Richmond Events and I had mixed feelings about going a cruise ship. That was until we sailed out of Southampton. In that moment, I got my first taste of the thrill of being at sea and all that a ship had to offer.
I came back and immediately booked Mark and I on a taster cruise. My mission then was to sell the idea to him, and from there, my cruising journey and obsession grew.
The videos I posted over the years about my cruise adventures became the ones that people were most interested in on YouTube. It got me thinking maybe this little hobby could be so much more.
Being diagnosed with cancer drove me to travel even more.
Just after New Year in 2012 I discovered I had cancer and I spiralled downhill fast. Chemo was a great success and by the middle of the year I was in remission and have been since.
Once given the all-clear, the first thing I did was book a cruise. It was aboard Queen Elizabeth and took me to the Fjords.
After this, I booked more and more cruises. And posted vast amounts of cruising content. It then grew into kind of a big deal on YouTube.
Many people ask me why I travel and cruise so much, and the answer is simple. I don't want to miss out on the things that I enjoy in life. As a boy, I was driven so much by travel and experiences that as an adult, I left the country I was born in. I was so desperate to see the world that it influenced my career choices. Having tasted the fragility of time and the uncertainty of how long I can and will be able to travel in life, I want to pack it in thick, fast, and now. So, that's exactly what I am doing.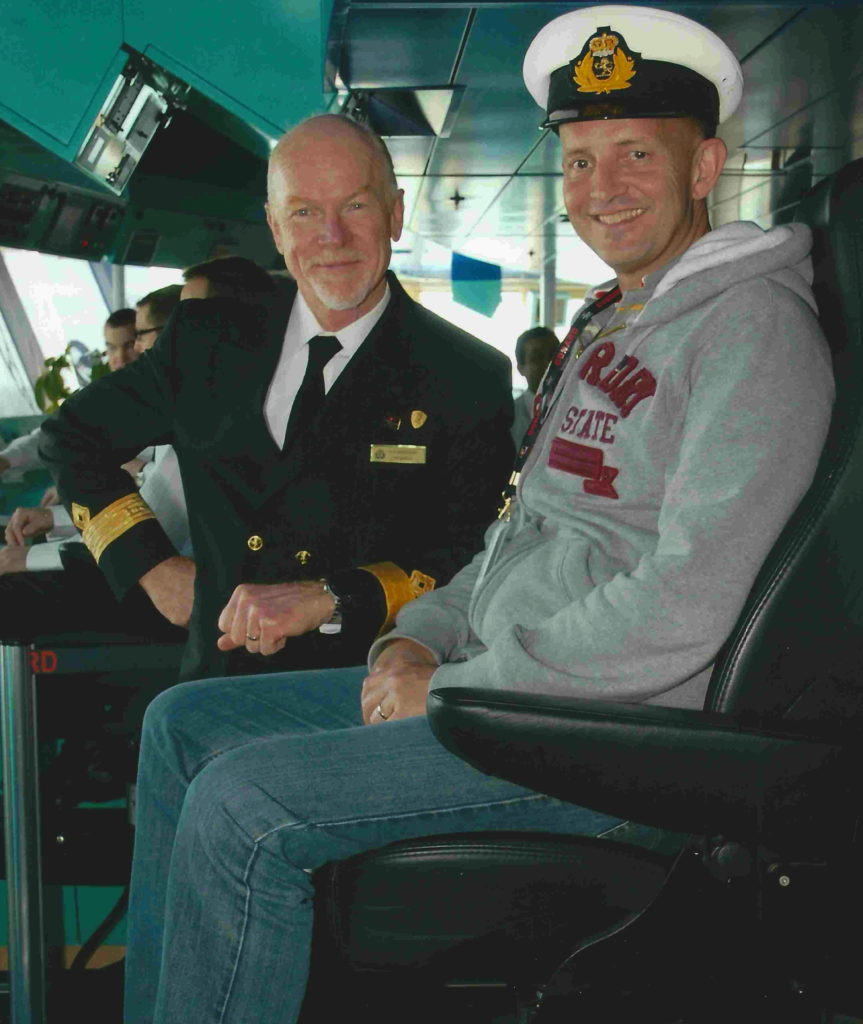 The rest, as they say, is history!
My YouTube channel exploded and became the most subscribed to and viewed cruise-focussed channel. As of September 2022, that equates to 310,000 subscribers and 106,000,000 all time views, with approx. 2 to 3 million video views per month. Not bad going for something I started as a little hobby.
I cruise around 10 times per year and 99% of my trips are self-funded. Rarely do I embark on a press trip, with the exception of shipyard visits and short shakedown cruises.
Contact
My main channels
Essential Cruise Tips Podcast
Upcoming Cruises
For all my future cruises, as well as my Tips for Travellers Group Cruises visit my Upcoming Cruises page.
Cruises Done To Date
109: Norwegian Viva 10-Night Westeren Mediterranean (November 2023)
108: Regent Seven Seas Explorer 11-Night Japan (October 2023)
107: Royal Caribbean Symphony of the Seas 7-Night Western Mediterranean (September 2023)
106: Hapag-Lloyd MS Hanseatic Inspiration 17-Night Canadian Arctic & Greenland (August 2023)
105: Windstar Star Pride 11-Night Midnight Sun (July 2023)
104: Paul Gauguin 7-Night Tahiti and Society Islands (June 2023)
103: MSC Virtuoso 7-Night Norwegian Fjords (May 2023)
102: AmaWaterways 11-Night Secrets of Egypt & Nile River Cruise (April 2023)
101: Holland America Oosterdam 14-Night South America Passage (February 2023)
100: Regent Seven Seas Navigator 10-Night Caribbean (January 2023)
99: Holland America Koningsdam 7-Night Mexican Riviera (December 2022)
98: Silversea Origins 7-Night Galapagos (November 2022)
97: Queen Elizabeth 7-Night Western Mediterranean (October 2022)
96: Disney Magic 7-Night Norwegian Fjords (September 2022)
95: Celebrity Edge Italy, France and Spain 7-Night (August 2022)
94: Holland America Nieuw Statendam 10-Night Scandinavian Cruise (July 2022)
93: Majestic Princess 7-Night Alaska Voyages of the Glaciers (June2022)
92: Cunard Queen Mary 2 7-Night Transatlantic Westbound (May 2022)
91: Azamara Quest 7-Night Western Mediterranean (April 2022)
90: Viking Sky Venice, 7-Nights Venice, the Adriatic & Greece (March 2022)
89: Oceania Marina 10-Night Panama to Miami (February 2022)
88: Holland America Nieuw Statendam Southern Caribbean (Jan 2022)
87: Ponant Antarctica (Nov 2021)
86: Seabourn Ovation Greek Islands (October 2021)
85: Sky Princess 5-Night UK Seacation (September 2021)
84: Celebrity Silhouette 7-Night UK Scenic (Inverness, Kirkwall, Glasgow) (August 2021)
83: Virgin Voyages Scarlet Lady 4-Night UK Summer WeekDaze (August 2021) – Press Trip
82: Princess Cruises Regal Princess 4-Night Seacation (August 2021)
81: P&O Britannia 4-Night Scenic Cruising (July 2021)
80: Saga Spirit of Discovery 6-Night Scotland Highlands and Islands (June 2021)
79: Viking Venus 7-Night Scenic British Isles (June 2021)
78: Holland America Zuiderdam Caribbean / Panama Canal (Mar 2020)
77: CroisiEurope Mekong River Cruise (Jan 2020) – Press Trip
76: Oceania Insignia Western Caribbean (Nov 2019)
75: MSC Grandiosa Preview (Nov 2019) – Press Trip
74: Norwegian Encore Shakedown (Oct 2019) – Press Trip
73: Sky Princess Cruises Shakedown (Oct 2019) – Press Trip
72: Saga Spirit of Discovery France (Oct 2019)
71: Seabourn Encore Mediterranean (Sep 2019)
70: CroisiEurope Loire Canal Barge (Aug 2019)
69: Saga Sapphire Iceland (July 2019)
68: Saga Discovery Pre-Naming Cruise (July 2019)
67: Paul Gauguin Society Islands French Polynesia (Jun 2019)
66: Viking Vilhjalm Danube River Cruise (Apr 2019)
65: Silversea Silver Cloud Antarctica (Feb 2019)
64: Celebrity Equinox Western Caribbean (Jan 2019)
63: Cunard Queen Elizabeth Mini-cruise (Dec 2018)
62: Holland America Statendam (Dec 2018)
61: AmaWaterways Rhine (Nov 2018)
60: Azamara Greek Isles (Oct 2018)
59: Azamara Pursuit Launch (Aug 2018)
58: Voyages to Antiquity Iceland (Aug 2018)
57: Hapag-Lloyd Europa 2 Med (July 2018)
56: Holland America Nieuw Amsterdam Alaska (May 2018)
55: Royal Princess British Isles (May 2018)
54: CroisiEurope Seine River Cruise (April 2018)
53: Queen Victoria Hamburg mini-cruise (March 2018)
52: Avalon Romantic Rhine River Cruise (Basel to Amsterdam) (Nov 2017)
51: Windstar Star Pride Gaelic Explorers (June 2017)
50: Princess Cruises British Isles (May 2017)
49: Silversea Silver Muse (April 2017)
48: Titan Serenade European River Cruise (March 2017)
47: Oceania Insignia Eastern Caribbean (December 2016)
46: Fred Olsen Balmoral "Spanish Autumn Break" (November 2016)
45: Windstar Star Breeze "Venetian Passageways" (October 2016)
44: Emerald Waterways "Enchantment of Eastern Europe" River Cruise (September 2016)
43: CroisiEurope Loire River Cruise (July 2016)
42: Queen Elizabeth Japan (March 2016)
41: Queen Victoria San Francisco to Sydney (March 2016)
40: Queen Victoria Fort Lauderdale to San Francisco (February 2016)
39: Queen Victoria Southampton to Fort Lauderdale (January 2016)
38: P&O Britannia Caribbean Transatlantic (Oct 2015)
37: Silversea Silver Explorer Arctic (July 2015)
36: Fred Olsen Fjords (May 2015)
35: Royal Caribbean Anthem of the Seas (April 2015)
34: P&O Britannia Naming (March 2015)
33: Queen Mary 2 Transatlantic Crossing New York – Southampton (January 2015)
32: Queen Mary 2 Caribbean (December 2014)
31: Queen Mary 2 Bruge Christmas Market (December 2014)
30: MSC Armonia (post stretching dry dock) (November 2014)
29: Seabourn Sojourn "Autumn Isles" Mediterranean (October 2014)
28: Crystal Cruises "European Cachet" (Rome to Southampton) (August 2014)
27: MSC Lirica Mediterranean (June 2014)
26: Uniworld River Beatrice Danube river cruise (May 2014)
25: Queen Mary 2 Hong Kong to Dubai (April 2014)
24: Queen Mary 2 World Cruise Sydney to Hong Kong (March 2014)
23: Norwegian Getaway Inaugural Europe (January 2014)
22: Costa Serena Mediterranean (December 2013)
21: MSC Divina Miami Caribbean Inaugural 2013
20: Holland America Mediterranean 2013
19: Norwegian Epic Mediterranean 2013
18: Silversea Baltic 2013
17: MSC Preziosa Mediterranean 2013
16: Queen Mary 2 Caribbean 2012/ 2013.
15: Queen Mary 2 Transatlantic 2012.
14: Queen Elizabeth Fjords 2012.
13: P&O Arcadia Russell Watson Theme Cruise 2011.
12: P&O Arcadia Europe 2011.
11: Queen Elizabeth Europe 2011
10: Queen Mary 2 Europe 2010.
9: Queen Mary 2 Transatlantic 2009.
8: Queen Victoria Europe 2008.
7: P&O Arcadia Caribbean 2007
6: P&O Aurora Europe 2007
5: Queen Mary 2 Hamburg 2006
4: P&O Arcadia Mediterranean 2005
3: QE2 Transatlantic 2004
2: P&O Aurora Mini Cruise 2004
1: P&O Aurora Europe 2004
Save
Save
Save
Save
SaveSave
SaveSave