Cruise Ship Casino: What You Need To Know Before You Play

Cruise Ship Casino: What You Need To Know Before You Play
Two things made me realise I wasn't doing gambling on cruises right. First, videos by Brian Christopher, the popular YouTube slot machine gambler, called "Major win on the Open Seas: Carnival Cruise", and "Triple Up Massive Win on Carnival" showing you can win a lot. Second when I met "Jens Away Cruising" who told me about the perks she gets, including free cruises, despite saying she doesn't gamble much money.
I felt it was time to explore cruise ship casinos and find out why you and I aren't getting all of this.
#1 All Cruise ships have casinos?
First off, most ocean cruise ships have casinos. Although, Norwegian's Pride of America, Viking Ocean Cruise, Disney, and Azamara ships do not. Nor do most expedition ships and river cruises.
Those cruise ships that do have them will feature them as a highlight in high traffic areas, often involving walking through them to get to and from the theatre – to encourage us to stop and play.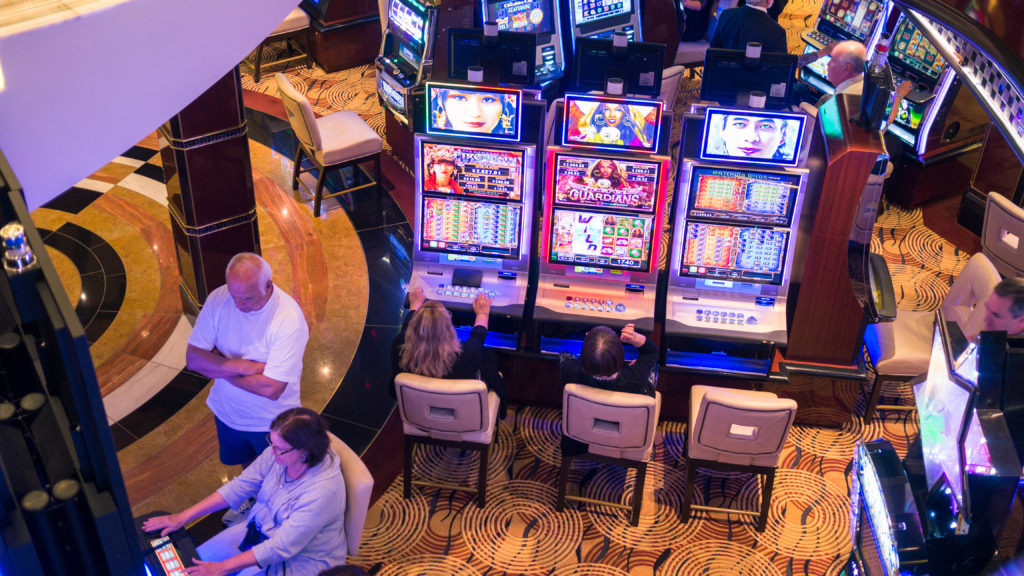 #2 Differences to land-based casinos?
The more I explored, the more I came across nine key differences to the land-based casinos that I love going to in places such as Las Vegas.
Worse Odds
The most important thing I discovered is that the odds in cruise casinos are worse than they are on land.
I'm not an aficionado on the details, but I found gambling blogs and cruise blogs like Cruzely had articles with the details.
They say that in Las Vegas casinos, while slot machines are likely to pay 90% or higher, it's rumoured to be only about 80% on cruise ships.
In Blackjack, which my partner Mark plays a lot of, he noted when playing on land, if he bids $10 and gets blackjack, he'll get $15. But on the ship, only gets $12. Roulette also has lower payouts.
So, professional hardcore gamblers don't see ships as attractive, but as I discuss later, gambling on ships can be lucrative for a different reason.
First, a few more differences between ship and land casinos.
Cruise ship casinos – Table Minimums
The table minimums are much lower on ships, I have played for as little as $3 per bet. But I have also seen it change based on where I am sailing.
I was on a Cunard Transatlantic Crossing from the UK to the US and the table minimums were really low. $3 on Blackjack. Once we got to New York to head down to the Caribbean, it increased to $5 as more Americans boarded.
The biggest change I saw was travelling in Asia, we'd sailed up from Australia to Hong Kong with $5 minimums. Once we got to Hong Kong and there were more Chinese guests onboard, the table minimums ramped up dramatically to $10.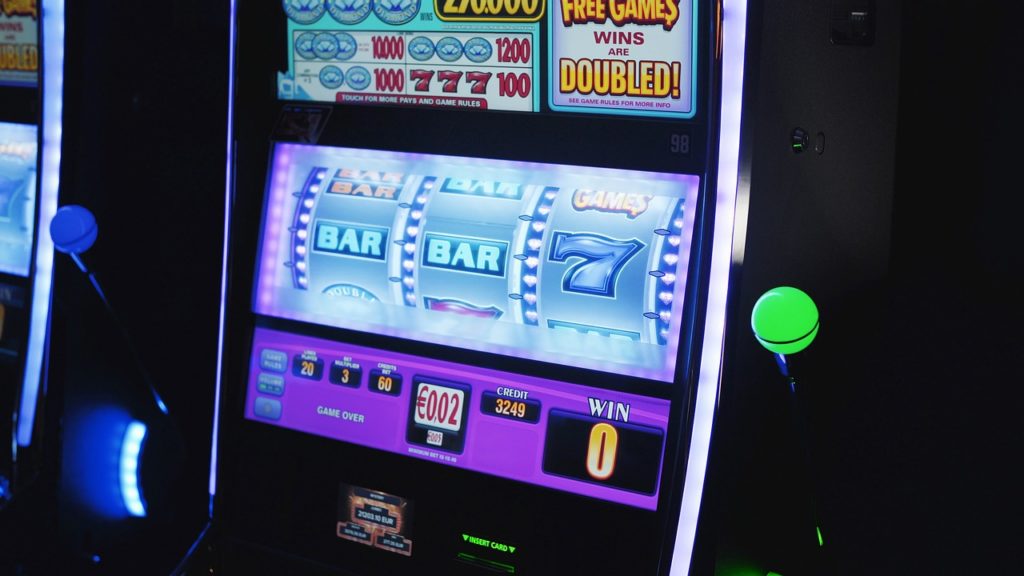 More sociable
Because of this, it is much more recreational and sociable than land casinos. I find it much less intimidating to play the tables on ships.
The other gamblers are more friendly and much more forgiving of people like me who don't fully know and "follow" the rules of Blackjack, like when to stick and so on.
In Las Vegas, it's a different story. People really get on your case if you're not sticking to the rules.
To make it easier, the lines always run classes showing and reminding me how to play all the games.
They all put on tournaments which are great for less experienced gamblers like myself, where for a smallish flat fee, like when I was recently on a Queen Mary 2 Crossing, I took part in a roulette competition for $30 with a pile of chips, and earlier this year on Oceania Marina in a slot's competition for the same amount.
The winner pocketed a couple of hundred dollars. Not me, unfortunately!
Cruise ship casinos – Not open 24/7
Unlike on land, cruise casinos are not open 24 hours a day, seven days a week. Cruise ship casinos only open when cruising in international waters because of gambling regulations. So, if you are into gambling, cruises with sea days or those that leave ports early evening are best.
Even on sea days, while the slot machines will be open all day, the tables will have more restricted times unlike on land.
Age Difference
In most cruise casinos, passengers can gamble from the age of 18, versus 21 on land in the USA. Although, for many US departing or focused itineraries, like Alaska, and some of the Caribbean cruises like on MSC they stick to the 21 years.
Importantly though, on many cruise lines you can't drink until 21, so you may not be able to drink in the casino.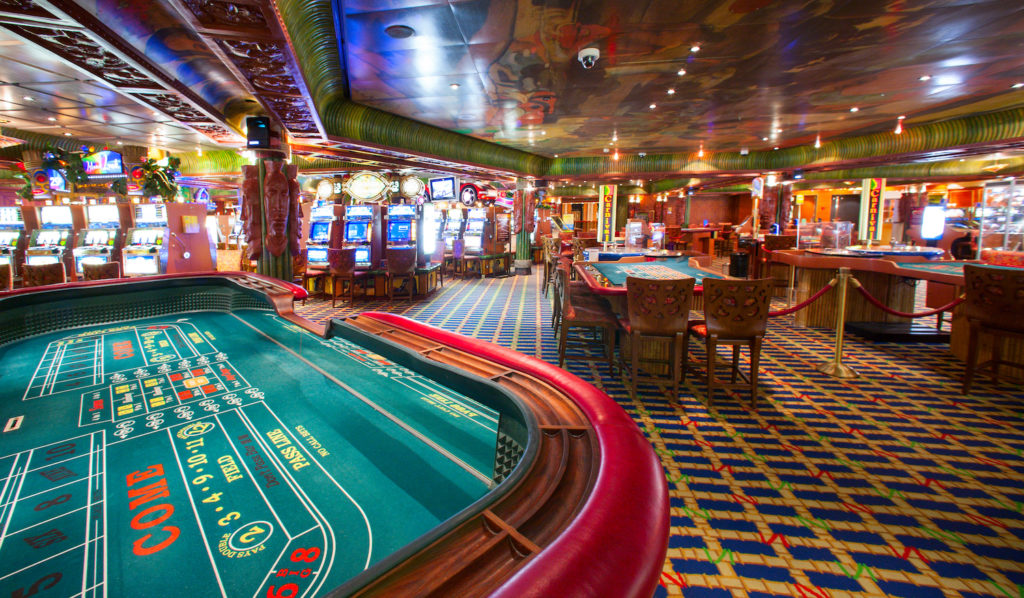 Fewer Games
There are, of course, fewer games and fewer tables than in big land casinos
On cruise ships, I usually find four ways to gamble. Bingo, scratch cards, arcade games – like those coin pushers – and casino games, like slots and tables.
In terms of the tables, I always find Blackjack and some dealer-based poker games like Ultimate Texas Hold 'em, and three card Caribbean Stud. I have not been on a cruise with regular poker games versus other guests, like the big tournaments on land. Though, I hear Norwegian and Royal Caribbean do sometimes. On most cruises it's usually video poker game machines.
I do find a Roulette table on most and occasionally on the big ships a craps table. I've not seen Baccarat, but some do.
Sports gaming is not a big thing on cruises, yet. Although I found it on my recent Princess cruises on their App, which also has other games on it to play anywhere on the ship.
Cash or Cruise Card
The seventh key difference is I can use cash as on land, but I can also charge my gambling to my room via my cruise card.
And, some cruise lines even let me use my on-board credit to gamble, like when I was on Celebrity and Royal Caribbean, but not on Holland America. So, check if yours will.
To charge to my room, I put my cruise card in the slot machine and charge it. I'm not usually charged a fee. I avoid the on-board cash machines, as they have a big a fee to withdraw cash. I found if I charge when playing at a table, there also seems to be a fee.
Unlike in Las Vegas when I've finish playing, I print out a little slip which will shows my balance and I then put it in a machine to get the cash, on most cruise lines the balance goes onto my cruise card and must take my cruise card to the cashier and cash out.
The balance on the cruise card, does not offset my on-board account bill. It's a separate thing. So, I must physically cash it out. Make sure you cash out on the last night so you don't lose your money as it will not be refunded any other way.
Cruise ship casinos – Free Drinks
The next difference I noticed was no free drinks. In Las Vegas, waitresses come around offering free drinks. But I have found on most cruises, if I'm playing the slots, I start to earn some free drinks points and eventually earn some free drinks.
If playing on the tables, occasionally the pit boss might offer a round of drinks. But, generally speaking, there's no free drinks.
Land Perks
One thing I discovered from The Points Guy blog was if I had status with land-based casinos, I could get perks on a cruise, but not the other way around.
For example, if I had status with the MGM Rewards program, I could benefit on Royal Caribbean and Celebrity like discounts, onboard credits, and even complimentary cruises for the higher levels.
If I had Caesar rewards status, I could get discounts as high as 30% on Norwegian, Oceania and Regent Seven Seas.
Carnival would match my status with their Players Club Fund Match Program from any casino program.
#3 Similarities to land-based casinos?
Are the similarities to land-based casinos you may be asking by now?
Smoking
Smoking unfortunately. Many casinos on cruise ships also allow smoking. It's the one place that you can smoke indoors. Though it is changing with no smoking on my recent Celebrity, Cunard, Oceania, Regent Seven Seas, Silversea and Seabourn trips.
Taxes
Another similarity, unfortunately, is if you're from the US you have to pay tax, even though you are out at sea. Normally the cruise line – if you've got a big win like over $1,200 in a payout – will give you the normal IRS forms. The rest of it you're supposed to declare. If you come from the UK or other places, you don't need to pay taxes because they don't tax gambling wins.
Another key similarity, and one that has proven to be a game changer for many, is cruise line casino loyalty programs.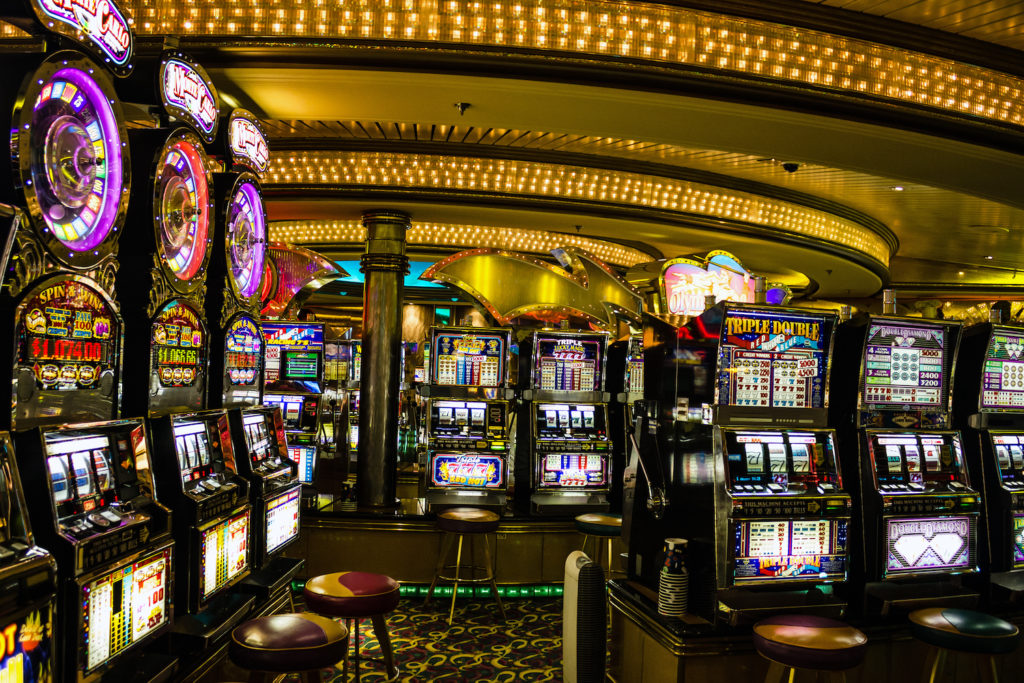 #4 Loyalty programs and Free Cruises?
These are different to the normal cruise loyalty programs, and many cruisers, like Jens Away cruising I mentioned earlier, uses them to get perks, freebies, and cruises.
I had always assumed you had to gamble, and loose a lot of money, but Jen showed me this is not the case if you gamble smarter. And talking to a Casino Host on board confirmed what she said.
All lines appear to have these programs. The most popular include Royal Caribbean's Club Royal Rewards Program, Celebrity's Celebrity Blue Chip, Carnival's Players Club, and the Norwegian group Casinos At Sea.
No matter how big or small a gambler you are, Jen and the Casino Host recommended I do the following:
First, go to the casino on the first night, as most cruise lines give free slot play to use on the first day or two, and second while there, seek out the casino host and speak to them. Ask what the program is, if I need to sign up, and how to get perks. Most simply, work through the cruise card.
While the line can track exact spend if I play slots, some is more judgement by the Casino Host observing how much I am playing on the tables – so being on their radar is important as the Cruise Host manages and decides and allocates perks during the cruise.
How much do I need to gamble to get free cruises?
I looked at Royal Caribbean, as an example, and to get a free Interior cabin, I needed to get to the Prime level. That's 2,500 points, where I earn one point per $5 gambled. In theory I'd have to place $12,500 in bets in a year.
However, Jen does not gamble that much and still gets free and discounted cruise offers across various lines including Carnival, Royal Caribbean, Holland America every single week.
She says gambles between $1,000 and $2,500 on a cruise. She's now been on 50 cruises and tracks the cost if she had paid the going rate versus her actual total out of pocket, which includes her gambling, drinks and any on board spend. She's calculated she's paid less than a third in total of what the value of the cruises she's been on – even included gambling losses.
You can read in full how she does this in detail, including her tips by line that you can view right here on my blog.
If you read that, you will see she stresses getting on the Casino Host's radar and into whatever line's program at the start, if you want to go down this route. She suggests on your first cruise, assuming you will gamble the cost of the cruise, again you don't have to lose it just bet that amount as once you are in you seem to keep getting the offers. And they are constant.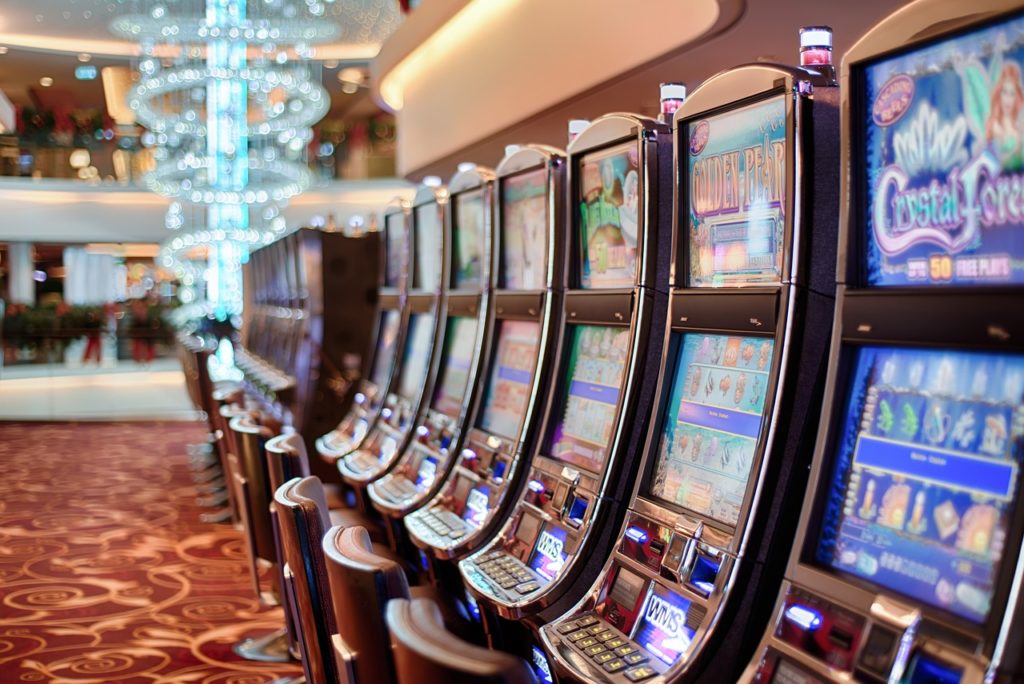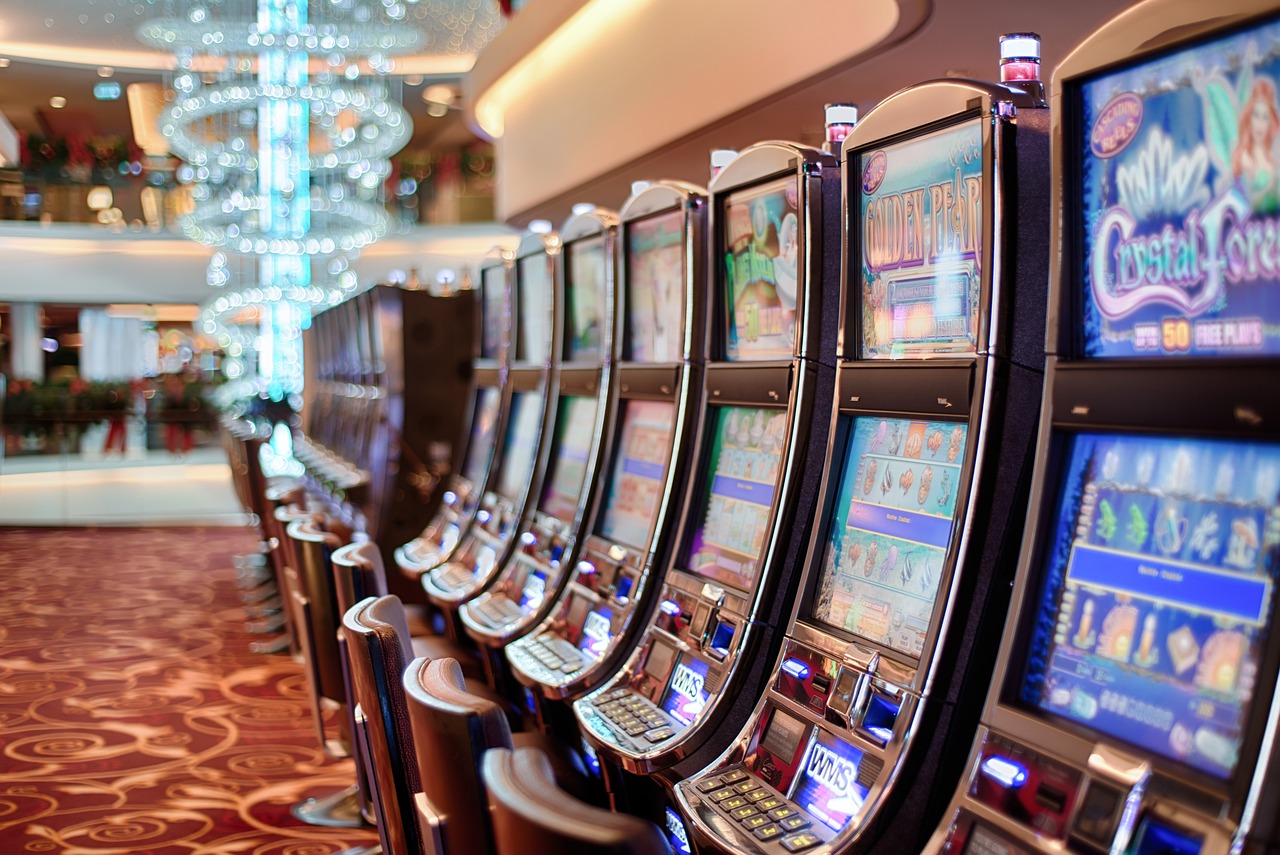 #5 Gamble responsibly
When gambling, never gamble more than you can afford to lose. What Mark and I do is we go on board with what we call our "gambling fund". We have an envelope with the amount of money that we are prepared to lose, we cash out every night and once it's gone, we stop.
I have put links here for the gambling responsibly sites in the US and the UK if you do need help or it becomes an issue.
BECOME A TIPS FOR TRAVELLERS MEMBER
————————————————————
Become a Patron on Patreon and get perks: https://www.patreon.com/tipsfortravellers
BUY MY CRUISE-THEMED T-SHIRTS
————————————————
Check out my T-Shirt range: http://bit.ly/TFTStore
FOLLOW ME ON SOCIAL MEDIA
——————————————-