How to Gamble on a cruise to unlock perks – How it really works by someone who does it

How to Gamble on a cruise to unlock perks – How it really works by someone who does it
Jen Juenke of JensAwayCruisin is a serial cruise ship casino visitor and because of this, she has vast experience of how to gamble onboard and receive the best perks and offers, without breaking the bank. She sets spend limits and maximises on that spend.
This blog is your definitive guide on how to gamble on a cruise ship to unlock perks and how it really works.
Here is the low down on gambling to get cruises.
Carnival Cruise Line and Group Casinos
Every single cruise casino calculates a players worth/ability to get free cruises based upon the points they earn. Slot machines are the best way to do this because the game keeps track of the points. For table games, you must bet HUGE while the pit boss is looking at you and they will determine how many points you get.
Carnival, Holland America, and Princess its $2.50 into the machine PER POINT. So, if you put in $22.50 into a slot machine you would technically have 10 points.
The tricky part is how to game the system because at the end of the day, you want and need to get the most points for the least amount of money.
Remember, you are NOT going to lose every single time, you might win some, lose some, or stay even. The best strategy is to have fun and try to stay even for as long as possible.
Take that $22.50. You might win over $100 on that and keep playing on the original $22.50. The slot machine would see you are playing with the $100 and give you points accordingly. This is called COIN IN, in gambling terms. On most lines, it doesn't matter how much money you put in the machine, what matters is how many points you collect on that original $22.50.
CASH IN, is the term used for the actual amount of money you put in the machine, using the example above it would be $22.50
Carnival branded cruise lines use COIN IN to determine points.
Jen has sailed on cruises where she was even. What she put in, she was able to get points and owed nothing to the cruise line. The most she has ever played in a cruise casino is $2,500 and she left the ship owing $2,500. Two extremes, on average she gambles around $1000 or LESS every cruise.
But it's all about the points. You want as many points as possible.
When Jen tells people about gambling, she advises them to take the amount that they paid for a cruise, so for example if your cruise cost $3,000, prepare to spend that much money at the casino for your first-time gambling and for getting established with the cruise line.
After becoming established with the line, you won't have to spend that much again to get perks, discounted or free cruises.
However, the more points you have, the better the cabins that become available to you – interior all the way to the best suite – along with more free play and perks.
On Carnival Cruise Line, you need about $200 in the machines. Right now, they are very keen to get people playing and seem to be sending out casino offers to most passengers who have ever played in one of their casinos.
Here is an example of current offer Carnival is giving out:

Basically, you pay $50 per person, but you get that back in On-Board Credit, free drinks in the casino, and possibly more on-board credit. That's not a bad deal.
You just pay for port fees and taxes.
With Holland America, Jen has found it gets even better.
Here are Holland America's current offers she has received recently: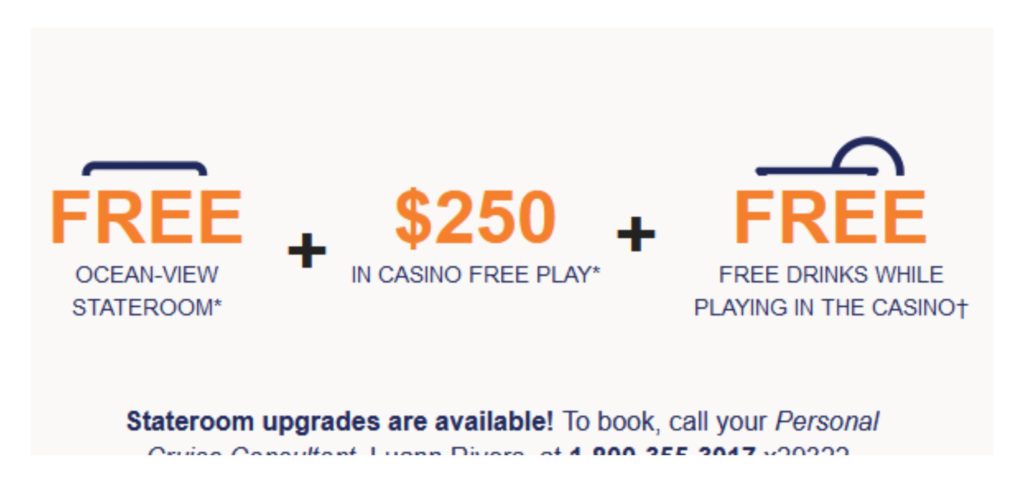 Holland America send out a list of available cruises that you can call about and ask to sail on. Like this list: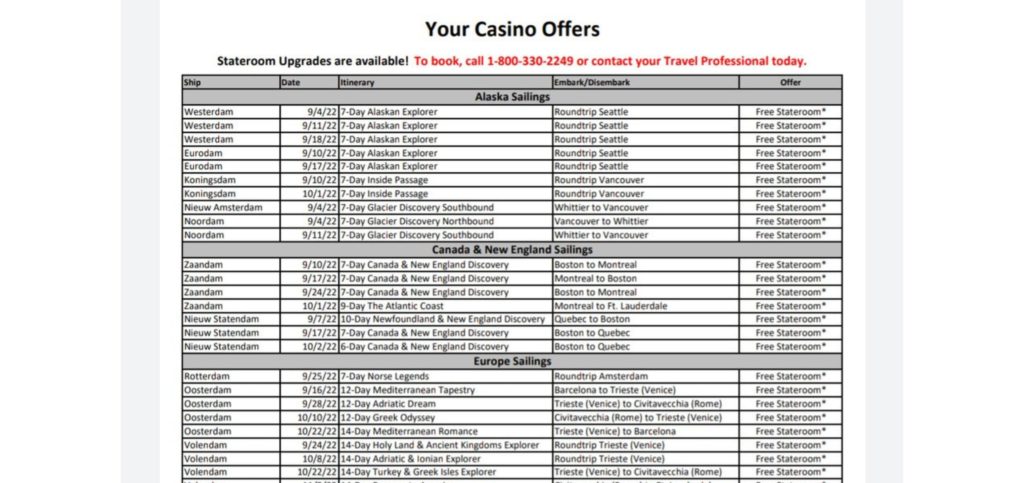 The above offers are just free cabins they tend to issues when they have empty cabins on a ship. Jen gets these types of offers two to three times per week from Carnival and Holland America.
She stresses she has to act quickly to take advantage, as within a day or two of receiving the offer – as they only have so many cabins available for the casino – the offers soon disappear.
Jen recently disembarked one such cruise on the Nieuw Statendam (a 14-day Canada and New England Cruise). During that cruise she received a free bottle of wine and a delicious tray of chocolate covered strawberries from the Casino Host.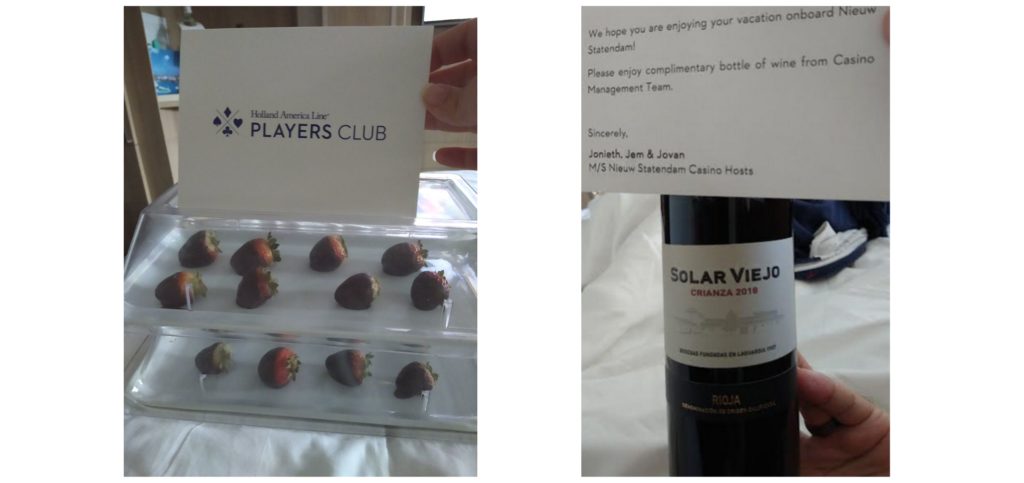 On the Nieuw Statendam, her husband had 5,000 points and received a free cabin and some free play for a future cruise. This type of offer is called a BOUNCE BACK OFFER and it's the best she argues. Basically, you have up to one year to cruise, but you only get 30-days to make the physical booking from receiving the offer. It's available on most Holland America sailings of up to 14-days and includes free play in the casino – you just pay port taxes and fees.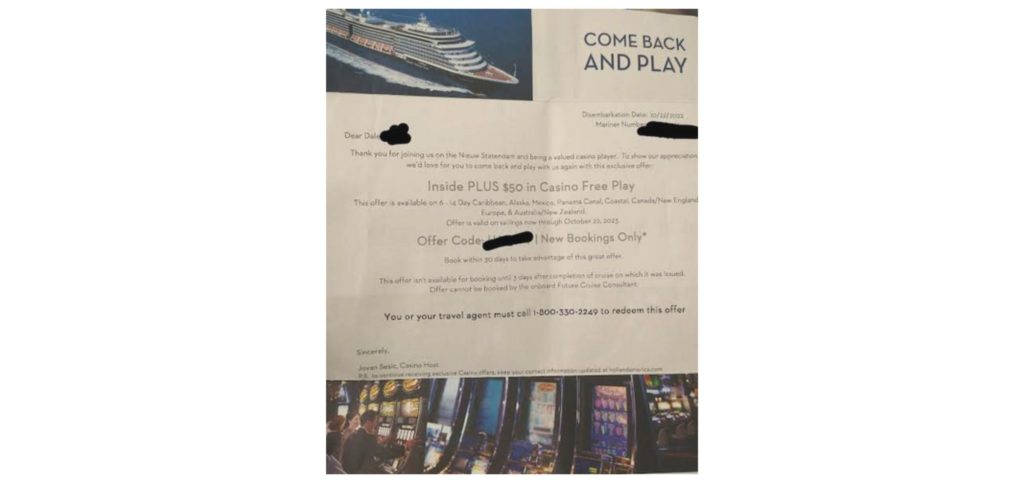 You are probably thinking that because her husband had 5,000 points, he must have spent over $12,500 in the casino, right? Because $2.50 per point, times 5000 would equal $12,500.
However, Jen and her husband we were smart and anytime they won, they would go down and put it into their on-board account.. They charge ALL their gambling to the cabin, that way they keep track of what they have spent across everything on board.
So, to break that down for you, at the end of the day when finished gambling Jen cashes out and deposits that into her account at Guest Services. Every day she takes stock of where she is across all spends, including the amount charged to the cabin for gambling, shopping, drinks, gratuities, excursions, speciality dining etc. The end goal is to leave the cruise with as close to zero overall spend.
They put every bit of spend, as well as winnings, into the on-board account to be able to see the real cost of the "free or discounted" cruise. So for example, on that last Holland America cruise (even with the cost of gambling), the 14-night cruise in total cost them just $1,570.10 (the cabin + everything they spent on board + gambling). The point is while you get "free" or "discounted" cruises you do have costs (including gambling to keep the cycle going). But, for this cruise the total out of pocket to go was just $1,570.10.
Here is what Jen spent. $250 of the charges were drinks before they got the free drinks in the casino, laundry, and internet.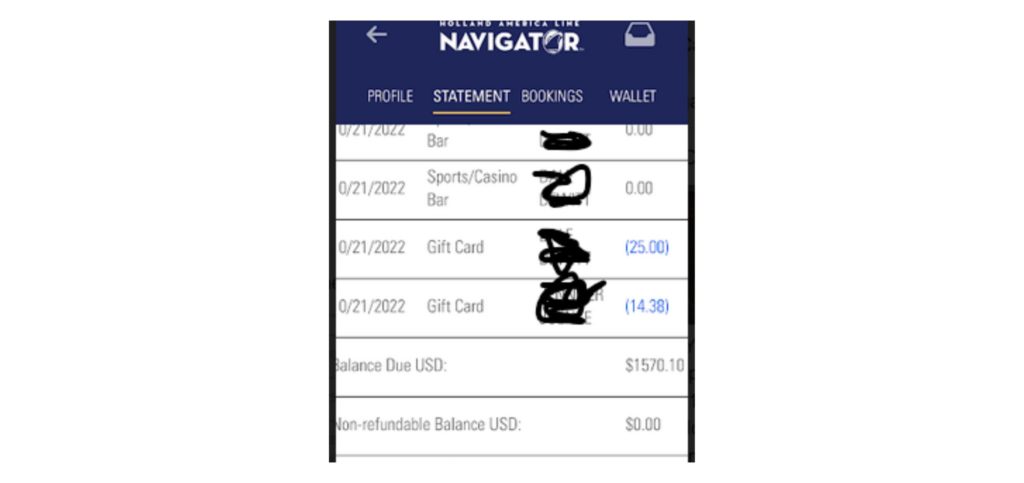 In total, she spent around $1,300 in the casino, and she got a FREE cruise with Holland America, and free play.
Not a bad return on investment.
However, Jen feels the biggest secret with Holland America is that as soon as you establish yourself as a gambler you get 30% off ANY cruise. If Jen wanted to do a Trans-Pacific for $3,000, she would book it and as soon as she logged in, the cost would drop to $2,000 because she's a casino player!
For Jen, Princess Cruises is the worst of the Carnival brands. She has had over 7,500 points and only had a bounce back offer for $250 off a cruise.
Their casino offers are usually up to 25% off certain destinations for an interior and some free play. And the offers expire every 30 to 45 days.
Royal Caribbean Group Casinos
Royal Caribbean and Celebrity are two separate entities with regards to casinos at sea. The one similarity is that you need $5 per point in the machine.
Both programs are very transparent on what you need to do to get free cruises.
Royal Caribbean
Royal Caribbean has tiers. Choice, Prime, Signature and Masters. Your tier depends upon the points that YOU ACCUMULATE from April 1 to the following March 31.
Casino Royale is in the casino on all Royal Caribbean's cruise ships. And the below image tells you exactly how many points you need to get certain things. These points would lead to bounce back certificates:
Here are the tiers….
https://www.royalcaribbean.com/experience/cruise-casinos/rewards
Your ultimate goal is to get to PRIME! Prime will get you free drinks in the casino, discounted internet, and a FREE cruise of up to 7 days anywhere that Royal Caribbean sails.
The above is your tier benefit, the more points you get, the better the cabin and you'll benefit from better savings throughout the ship.
Then, once, or twice a week you'll get other offers outside of the tiers, just like Carnival and Holland America. You can check your offers online at clubroyaleoffers.com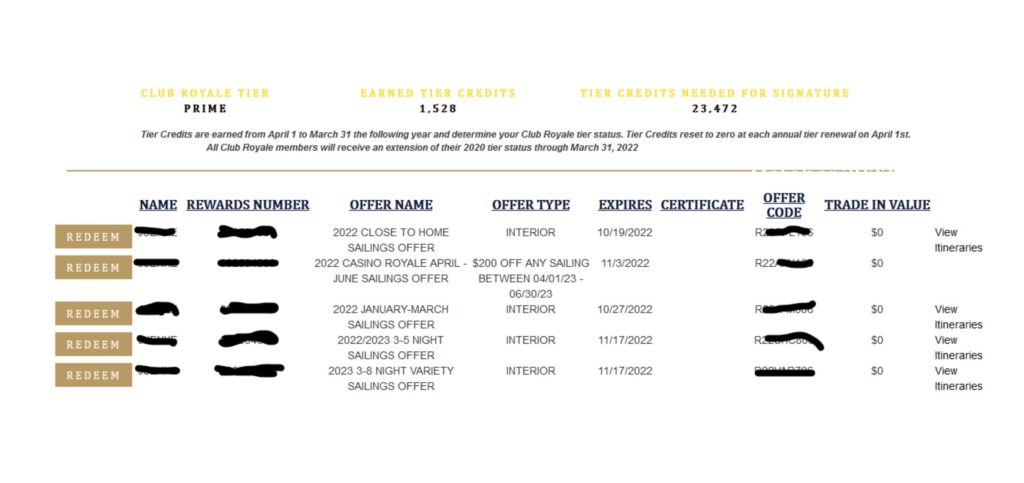 This is an example of Jen's tier. You'll notice at the top, she is PRIME. She has 1,528 points and if she wants to move up tiers, then she needs another 23,472 points.
If you click on the view itineraries, you will see the below: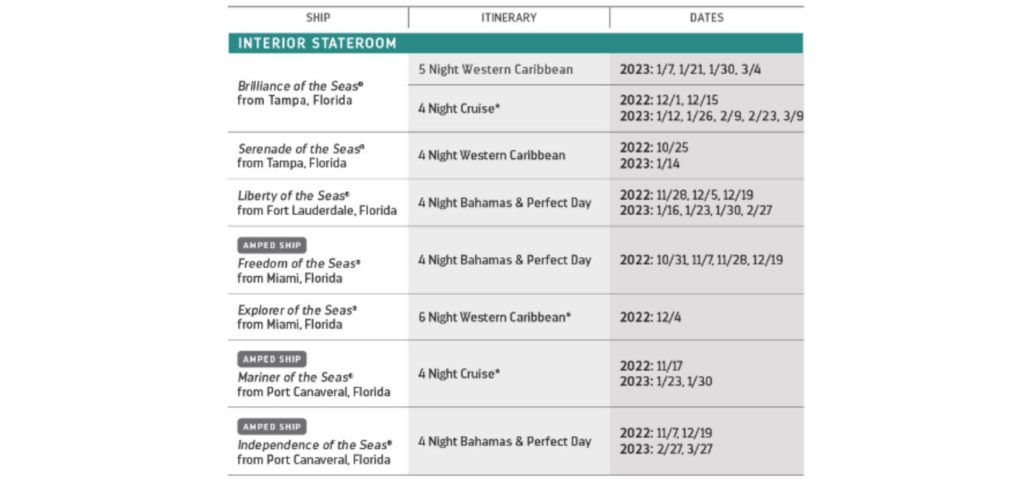 Just like with Carnival, you need to act fast. Each offer has an expiration date, and they will run out of free cabins if you wait too long.
You need to get the largest number of points with the least amount of money. Jen usually gets wine, cookies, and free play from Royal Caribbean.
Celebrity Cruises Group Casinos
Celebrity Cruises casino program is called the Blue Chip Club and they are the ONLY program that Jen knows of that uses a hybrid of the COIN IN and the CASH IN system.
When you are gambling with Celebrity Cruises, you need to collect points AND put cash in.
https://www.celebritycruises.com/things-to-do-onboard/casino/blue-chip-club
She has sailed 4 times on Celebrity Cruises and has received 1 free cruise. You REALLY need to gamble a lot/put cash in to get their offers.
There are certain exceptions: if you gambled more than $500, they will send you offers for specific cruises – but they need to fill the ship, so keep this in mind.
General Casino playing across all brands
Here are some general things to keep in mind when gambling at sea.
Jen has been on 50 cruises in the last 12 years, most of them discounted or free through the casino and on each sailing, she still gets:
Loyalty points – she can move up through the loyalty and get their perks
Offers to upgrade
Complimentary upgrades – when available
Cleverly, she also keeps a spreadsheet showing how much she paid, how much she spent, and how much a 'non-gambling' passenger would have paid. She keeps this to make sure she knows she is still getting the best deal.
This is an example from this year: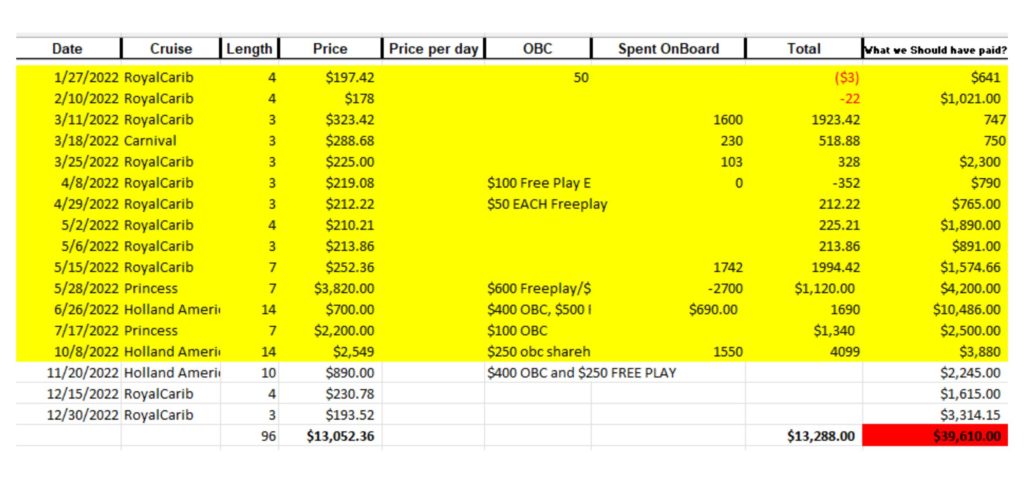 How Jen calculates it is based on the PRICE. How much she spent onboard (this includes gambling, laundry, drinks, etc) is SPENT ON BOARD. She adds those two up to get the TOTAL.
Then, the what she should have spent category is what a normal cruiser would pay at the time of her specific booking.
As you can see, she has spent $13,052 on cruises including the port taxes and fees, then add or subtract (if she won jackpots) what she spent on board, she has spent TOTAL THIS YEAR SO FAR: $13,288.
That $13,288 is total, the cruise fare, spent on board, gambling.
It's insane that she is basically getting cruises for so little, including her gambling costs.
What a normal person should have spent is over $39,000!
Jen gambles because she likes too, she enjoys it. If someone doesn't enjoy it, DO NOT DO IT, It's not worth it to be miserable.
You are under NO OBLIGATION to gamble on every single free cruise, but to maintain status, you will need to gamble some.
There are some cruises that she won't gamble on at all because she have another 5 or 6 cruises booked with them.
YOU MUST HAVE AN ACTIVE EMAIL TO GET OFFERS!
This is only for the United States offers.
Jen went on one MSC Cruises sailing through a head-hunter, and she had a horrible time and would not go back. However, they do send her regular free offers.