Alaska on a Shoestring: How to Explore Alaska's Cruise Ports on a Budget

Alaska on a Shoestring: How to Explore Alaska's Cruise Ports on a Budget
Heather, a fan of the channel, set me a seemingly impossible challenge. She is going on a once-in-a-lifetime Alaska cruise and told me that: "After paying for expensive plane tickets for five people, we have no money left for shore excursions. How can we make the most of our port stops when we can't afford any excursions or activities?".
I relished this challenge, as from my cruises there, I believe I have a good list of incredible things to do in each port that are free, or cost just a couple of dollars.
By the way, I created an "Alaskan Ports on A Budget" download for Heather to use in each port with maps and reminders that you can download too.
Before I get to that, here's what I told her to do port by port, starting with fantastic things to do in Skagway without breaking the bank.
Skagway on a Shoestring
Skagway is a charming historic town with many old buildings, and the ships dock a short walk away. It grew dramatically during the 1890s Yukon Gold Rush as it was the gateway to the quickest way to get there over the White Pass behind the town.
The Town and Falls
This is a town worth exploring, but while wandering around by themselves would be enjoyable, they'll miss many hidden gems – like I did the first time I went there.
So, I recommended they use the free Skagway Convention and Visitors Bureau map as it gives a short history of each building, and all have quite a story behind them.
Some places I loved in the town include the White Path and Yukon Railroad depot to see the trains depart and arrive. This also has the National Park Service and their free Gold Museum.
Across the way is the Red Onion Saloon (which was a brothel and has a free museum upstairs) and further into town is the McCabe College Building with the Skagway Museum.
What most people don't do, but I recommended Heather's group did, is at the top end of town, walk out to the Gold Rush Cemetery and the Lower Reed Waterfalls. A must see!
While the map can be collected from the Visitor Bureau office in the Driftwood-covered Arctic Brotherhood Hall, it's also (like others I mention) in the download I created and shared with you earlier.
If self-exploring with a map did not appeal, I suggested going on the free National Park Service "Gold Rush Skagway Historic District Walking Tours" departing from their office I mentioned earlier.  They're 45 minutes long, depart at 9am, 11am and 3pm.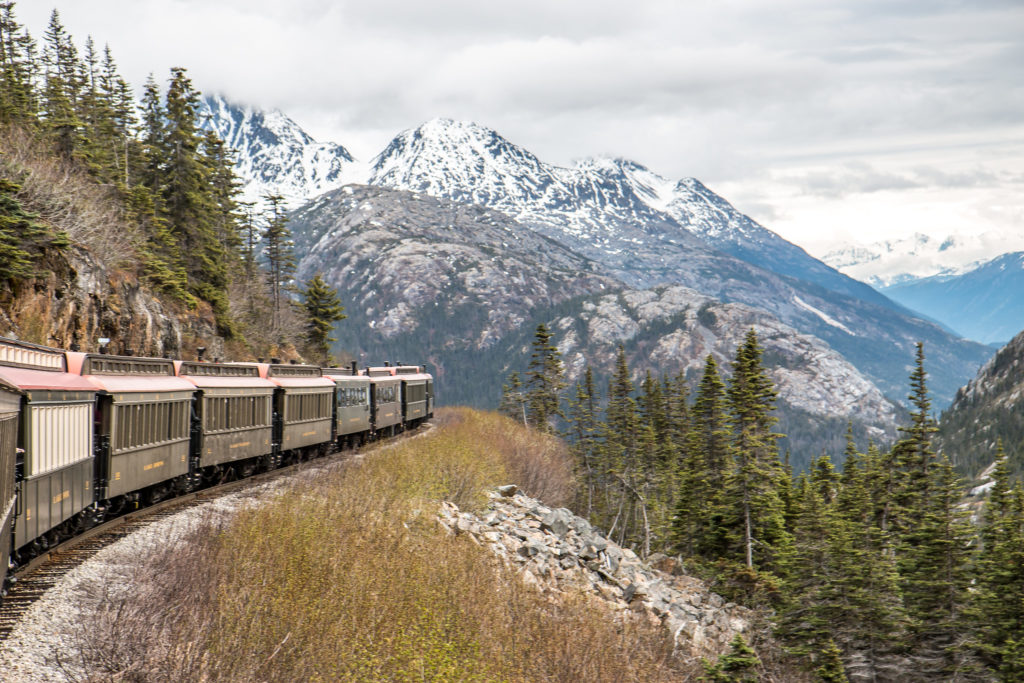 Short Scenic Walks
Another great no cost option are the various scenic walks which there is also a map for, but the best is to Yakutania Point, which takes about an hour, it's a round trip of around 1.5 miles from just where the ships dock. There are great views of the ships, water, and mountains.
Heather will be there early in the season, but if she was there July into September, a scenic walk to Pullen Creek Stream on the outskirts is a must to see the salmon run.
Another port on Heather's travels will be Juneau, and I have some amazing low-cost things to do here, including what I think will be one of most memorable activities of the entire trip.
Juneau on the Cheap
Juneau has been the capital city of Alaska since 1906 when it was moved from Sitka, which I will talk about later.
It is unique as a capital as there no roads connecting it to the rest of the state, so everything and everyone must come in by boat or air. It's surrounded by steep mountains with the Juneau Ice-field with 30 glaciers on top.
Glacier Up Close
My strong recommendation to Heather was to get out of the uninspiring town and head to and get up close to the Mendenhall Glacier. It's stunning, the visitor centre is interesting, and you can get right up to the spectacular Nugget Falls.
You can spend longer here and see more than on most of the ship tours, and it can be done for a few dollars.
The cheapest way to get there is on the local Capital Transit Buses. It will cost about $3 each way at time of recording. It is an hour-long bus ride and a 30-minute / 1.5 mile walk from the stop to the visitors centre each way.
So many instead use the Big Blue Bus Glacier Express that is around $45 per person return. It's quicker and will take them right to the visitor centre. The driver does do some commentary and explanation. It's easiest to buy tickets at the booth dock site.
If you go into the Visitor Centre it costs $5 with some displays and films, but it's free to go on the well paved walkways and trails, to go and view the glacier, see the salmon runs, and do some safe bear viewing. There is no charge for using those.
But, a must is a walk to the Nugget Falls, which is just under a mile away and will take about 30 minutes each way. Stunning.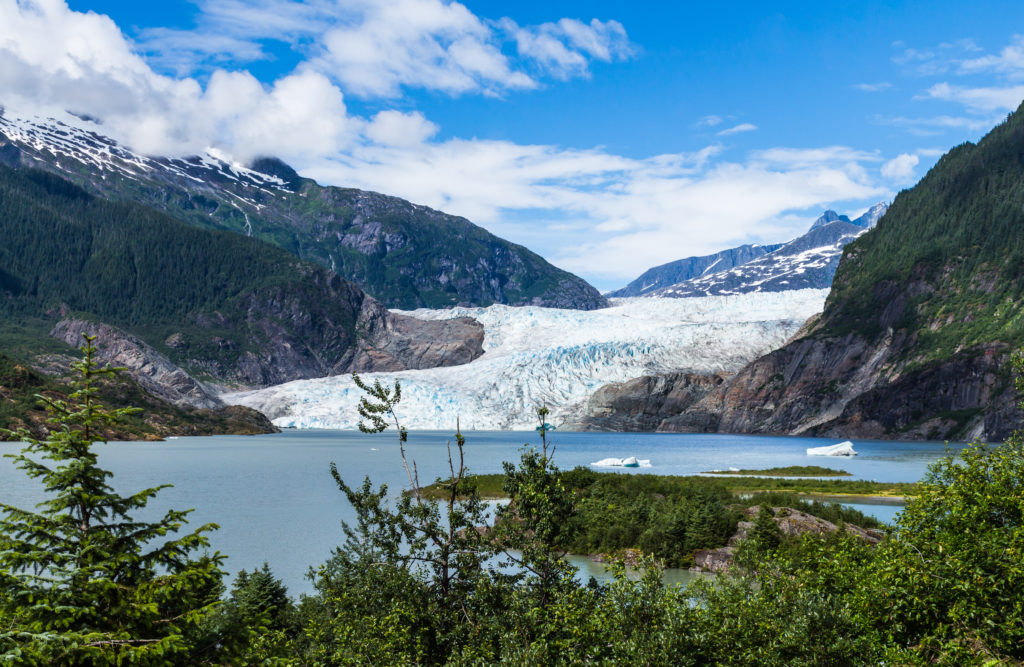 Up the Mountain
If that did not appeal, or they had time, I also recommended getting up the huge Mount Roberts Mountain for incredible views of the town and surrounding area.
One way is to go up and down on the Goldbelt Mount Roberts Tramway, which is right where the ships dock. Up the top are some trails, film about the history of the area, and local crafts gift shop. But they have ramped the cost up from around $30 to a hefty $50 return for a day pass.
So, instead they could hike up on the trail, it is quite steep and will take about an hour and a half. Then if they spend $15 in the shops or on lunch each, or buy a ticket for the same price, they can ride the tram down.
Capitol Sights
Walking around the city, even with a map, is in my view, less interesting than Skagway and the other ports. So, I suggested if my other two suggestions did not appeal to walk up to the Alaska State Capital building, about an eight-minute from where the ships dock.
There are leaflets in the lobby to self-explore, or they can go on the free guided tours. In addition to seeing the legislator chamber, it's got an amazing collection of Alaskan art.
Just behind this is the Juneau Douglas City Museum with exhibits about the local history. It costs $6 for over twelves. It is worth a visit.
Another port on Heather's trip, like for most Alaska cruises, is Ketchikan. And I do have several great no and handful of dollars things to do.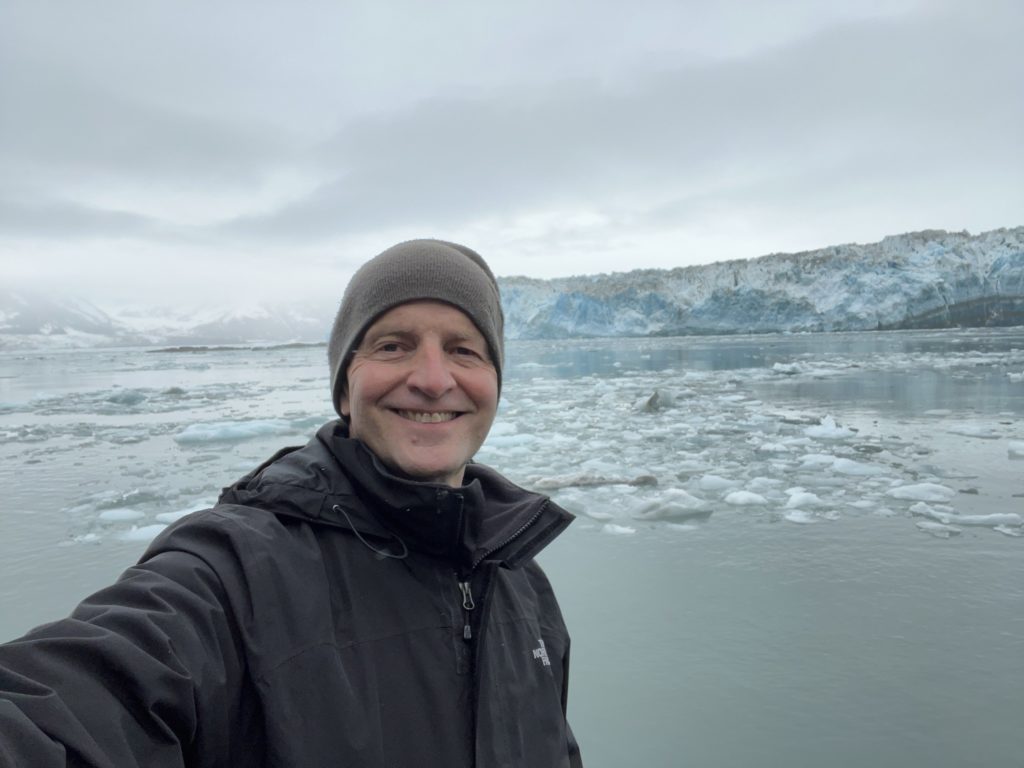 Ketchikan on a Budget
Ketchikan bills itself as "The Salmon Capital of the World". It's also the Rain Capital of Alaska, raining at least 234 days a year, and it has the world's largest collection of standing totem poles. Around 80 of them at various locations and centres.
The ships dock right by the city centre, and I have two great free or low-cost activities.
Totem Poles
One of my favourite things to do in Ketchikan, is the Totem Bight State Historical Park. This 11-acre park has 14 incredible authentic totem poles, a tribal house on the water's edge and great scenery.
It costs $5 per person which includes a guided tour explaining all the totem poles and scenery.
It's 10 miles from downtown Ketchikan. The Silver Line public bus goes there, it takes about half an hour each way with great scenery and runs every hour. The bus timetable is online, in my download or in the Visitors Center, but if you use Google Maps and input the park it will also tell you the bus, where to get it and next one coming.
Explore the Town
On my first visit I thought Ketchikan was rather a dull town, full of tourist trap shops. Until I used, as in Skagway, the official Ketchikan Walking Tour map. This is what I recommended to Heather as there are some real gems when you know where to go.
It has 35 sites of note, but in addition to seeing the 12 totem poles around the town the best place is Creek Street, the old Red-Light District with charming wooden houses built over Ketchikan Creek, all now turned into craft shops, restaurants, and Dolly's House Museum, though that does have a charge.
Later in the season, follow the route to the Ketchikan Creek Falls viewing footbridge to see the migrating salmon.
The other stop worth exploring is the Southeast Alaska Discovery Centre, which is $5 for adults, but free for kids. It has displays and films about the area's history, and Rangers run fun activities for kids.
Chopping into the Budget
I did encourage Heather, if she could find some budget, to splash out for the Great Alaskan Lumberjack Show during their walk. It's great fun watching the two lumberjack teams compete on several crazy timber chopping challenges. At time of recording, it's about $37 for adults, and $19 for kids.
A port on Heather's cruise that fewer Alaska cruises go to is Sitka, but I am pleased to say I did have some low cost and amazing wildlife things to do.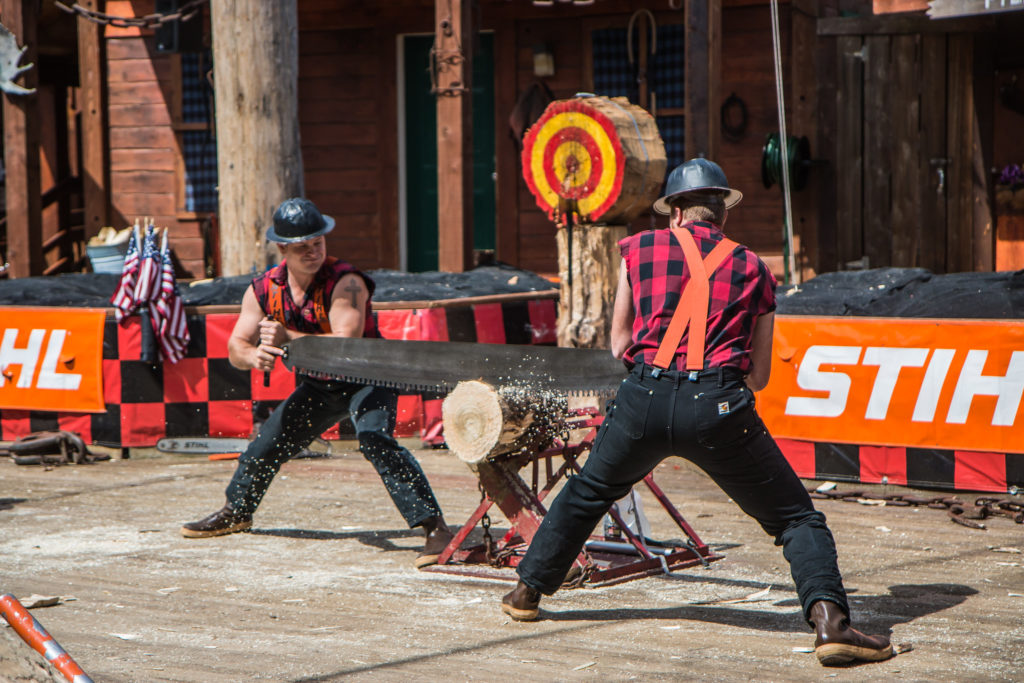 Sitka for less
As I mentioned earlier, Sitka used to be the capital. It declined in importance as whaling and fur trade waned. Unlike all the other ports where the ships dock right at the town, they dock at Sitka Sound Cruise Terminal, five miles away. There is a free shuttle into town.
The town is walkable, pretty, and small, but I recommended they head to two wildlife options.
Birds of Prey
Within easy walking distance is the Alaska Raptor Centre (https://alaskaraptor.org), which takes in injured birds of prey from across Alaska, including Eagles, Hawks, Falcons, and Owls and once they are well are released back into the wild. Though 24 cannot and are there permanently.
You can see these birds up close and watch them flying behind a glass barrier. It will cost them $15 for adults and $6 for 6- to 12-year-olds.
After the birds of prey, I have something even more remarkable for them to do.
Bear Time
This is the Fortress of the Bear. There are groups of bears in three-quarter acre habitats, but they will get as close as 25 feet away to view them from balconies, ground-level windows and viewing platforms. It is amazing.
The Fortress of the Bear is five miles from the town centre. So, it's not walkable really, but there are two low-cost ways to get there. One is the Blue Line Bus from town to the Gary Paxton Industrial Park, which takes about 45 minutes and a four-minute walk to the entrance, or they can go on a shuttle bus run by a local company called Sitka Tours. They usually run when ships are in town, and it costs $5. They can be found in the parking lot at Centennial Hall in town.
Entrance to the Fortress of the Bear is $15 for adults and $5 for 8- to 18-year-olds.
More Totems
If wildlife did not appeal, or they had time, there is also the Sitka National Historical Park, an easy walk from downtown. The park is 107 acres, but the collection of 15 totems put there in 1906 in the Totem Park is the most popular attraction.
There is a Blue Line bus stop here, so I told her it's easy to pop in on their way back from seeing the bears.
That download I mentioned at the start with maps, links to the sights and more tips I pulled together for Heather you can download here.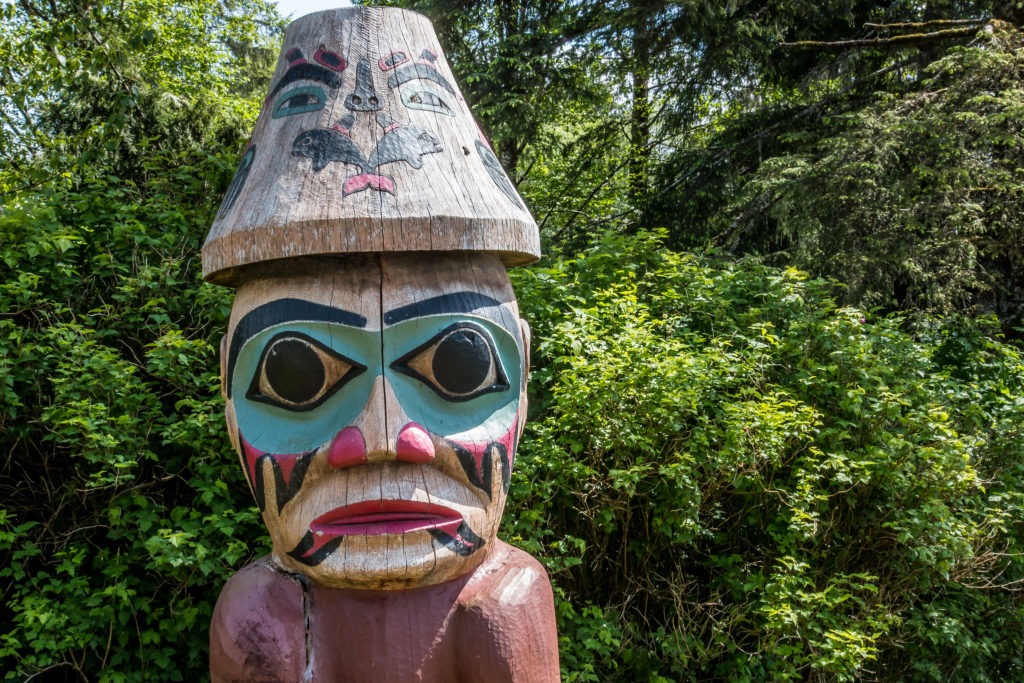 More useful links for making the most of your time in Alaska's cruise ports
Skagway
Juneau
Mount Roberts Trail
Ketchikan
Sitka
SUPPORT TIPS FOR TRAVELLERS
FOLLOW ME ON SOCIAL MEDIA
——————————————-