Seabourn Cruise Tips: Eight Things You Should Know About Cruising With Seabourn
Eight Things You Should Know About Cruising With Seabourn
Returning to the Seabourn Sojourn at 10pm, after the complimentary classical concert in the shadow of the Roman amphitheatre in Ephesus, a party of around 40 crew were holding a large "Welcome Home" banner and singing Pharrell William's song "Happy". A red carpet led to the gangway and the three hundred or so guests who had attended were offered mugs of hot chocolate. We were directed up to the pool deck for a buffet of late night snacks and treats as the band and artists from the theatre company performed party songs.
Events and touches like this were weaved through the entire cruise I did around the Mediterranean. Positioned as one of the ultra-luxury lines competing with Silversea, Oceania, Regent Seven Seas and Crystal, there were many things that impressed me as I travelled in pampered care on board the Seabourn Sojourn, one of their three Odyssey Class ships that hold around 450 passengers.
Based on my experience, I have identified eight things anyone considering cruising with Seabourn should know about:
For couples and solos, with families begrudgingly welcome.
The average age on Seabourn is fairly high and usually over 60. Although this is changing and the age is younger at certain times of the year and on shorter cruises. They are starting to attract more families in holiday periods and younger couples who are still working, have the resources but have limited vacation time to go on longer voyages.
There are some more general themes that I found consistent across the passengers that went beyond age. These were:
English-speaking. Everything about the ship

is conducted

in, and caters for, people who are comfortable with English. There is a distinct North American flavour throughout much of the entertainment and facilities, although most of the crew are actually from places like South Africa, Eastern Europe, United Kingdom and countries like the Philippines, which have strong historical links with the United States and an english-speaking culture. Passengers mostly come from the United States, United Kingdom, Australia and Canada and, increasingly, Asia.
Well-travelled. People on board have extensive travel behind them. Everyone I met had travelled for many years and have visited many areas of the world. They had been to many of the ports on the itinerary before and were on board for

the experience of

cruising with

Seabourn

and the ambience, interactions and friendships they had – or knew they could make – on board. They knew what they wanted out of a trip and cruise line and were looking to travel in comfortable and familiar surroundings – while still exploring the world.
Affluent or comfortably off. As the line is a premium one, with all-inclusive fares and all-suite accommodation, the fares are higher than luxury lines like Cunard and Holland America and so people who travel on

Seabourn

are more affluent. There was a mixture of professionals, retired and semi-retired corporate leaders and even the occasional society member, such as a lady-in-waiting to the British Royal Family and a leading UK politician, on our cruise.
Although families are starting to come on Seabourn, the line does not actively look to attract them. They place two crew on board to manage a children's program during the summer and convert the card room into a club room for them. However, there are many other lines that have better facilities, programs and cater specifically for families and I would not recommend Seabourn as a line well suited to families. It is not the most sensible choice if you want to take children on a cruise. It is, though, likely to be the passengers rather than the line that resents having children on board. When I spoke to some of the crew about this they joked that passengers transform from being parents, grandparents and family-loving people into child-intolerants until they step back on land at the end of the cruise. So Seabourn focus their activities on keeping children busy and away from the rest of the guests.
Seabourn is a very good line for solo travellers, of which there were many on board. Some were loyal travellers that had lost a spouse and wanted to keep cruising, but also people looking to explore the world who were not held back by no partner or like-minded friend to travel with. There was the ability to sit at a hosted table every evening as a solo guest, and so avoiding the uncomfortableness of dining alone, and there were activities like meet-ups and crew even would escort solo travellers shopping or on excursions if they wanted it.
The passenger mix was intelligent, sociable, worldly and open-minded. It was, therefore, not a surprise to also see a number of gay couples travelling as they were made welcome and comfortable.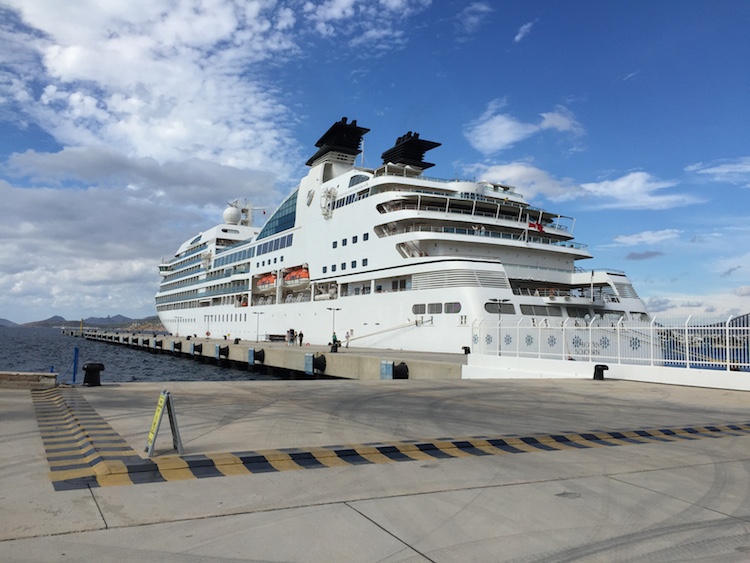 Sociability is required. Both with crew and passengers.
You will like Seabourn if you enjoy being sociable and interacting with people. The ships are small and intimate, around 450 guests, and so both the crew and other guests soon get to recognise and know you. The crew went out of their way to learn names and find your likes and preferences, and we were often surprised how people we barely interacted with addressed us by name and pre-empted requests. Even the woman behind the salad bar in The Colonnade seemed to know everyone and what they liked. The high crew-to-passenger ratio allowed everyone time to stop and chat with guests.
Seabourn encourage guests to interact and mingle. The main dining room was open-seated dining at all meals and could hold the entire ship at one time. Senior crew and the entertainers hosted tables every evening and invited guests to join them. Although there were many tables for two, guests were encouraged to sit at larger tables and meet other guests. At the start of the cruise a "Neighbourhood Block Party" was held where guests come out of their cabins and were served drinks and canapés while chatting to their next-door neighbours. A guest list was provided of everyone on the cruise and there were also other social events like the "Officers Epicurean Event" where they hosted food stations around the pool and "Rock The Boat Party" where crew and passengers danced and partied to the band and singers. All having a large social and mingle aspect to them.
While there is a choice of entertainment like shows and events, the daily program of activities was not vast and so there was more emphasis on guests mingling and spending time doing things together. This included drinking in the bars, playing bridge or deck games.
All-inclusive and up-market – with few of the trappings and traps of cruising.
Seabourn is definitely up-market in all respects, from the design and quality of the decor, furniture and linen through to the service and attention to detail across the ship. It is also an all-inclusive line and the fare covers accommodation, food and on-board entertainment (like most lines) but also all drinks, gratuities and things like the fitness classes. The only items you are likely to have to budget for on board are personal shopping, Wi-Fi, gambling, medical, excursions and wines you want to try off their Connoisseur Collection for wine buffs.
You will not find promotions and constant activities designed to get you to drive up their  on-board revenue. The most promotion I encountered were spa deals, mostly on port days when they were quiet, and the occasional brand feature in the shops. There is not even a photographic centre constantly snapping you and trying to sell you expensive photo packages and prints.
Not having to repeatedly take out your cruise card to pay for drinks and snacks and not being assailed with announcements and promotional tables and events adds to the overall feeling of being in a more classy and refined environment. I really liked this.
The other noticeable thing that ramps up the feeling, is the surroundings and discrete and added touches. Even the public bathrooms were pleasant to visit as they had mosaic tiled walls, branded toiletries and cloth towels, every time we left the ship and returned there were crew to greet and welcome you, each night there was a different and varied bedtime treat, a complimentary Seabourn branded tote bag to take on excursions was provided, Molton Brown toiletries were in the bathroom, the mini-bar was stocked with our favourite soft drinks that we had requested on the online check-in site, personalised stationery and cards were in the information folder to give to guests you met, there was a Seabourn guidebook to take and use on excursions and you were constantly asked how our cruise could be made better.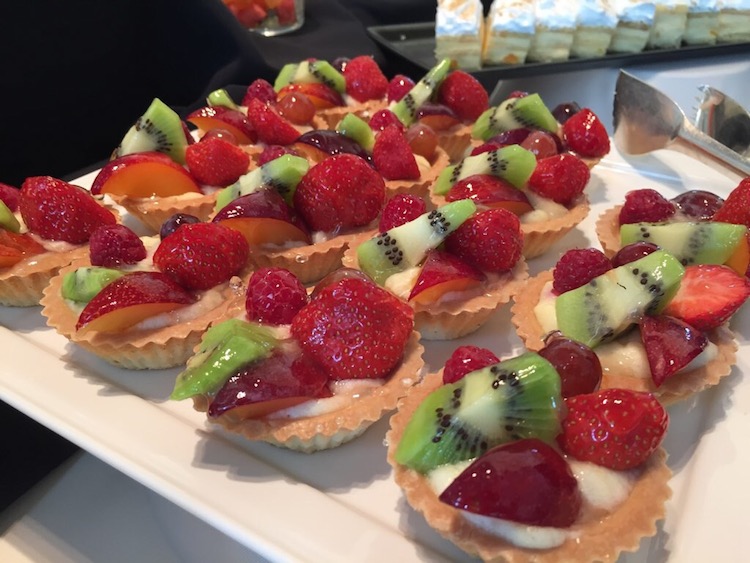 Food is incredible. I have never eaten as much on any cruise.
When talking to Karl Eckl, who was the Hotel Director on the cruise, he said that food was one of Seabourn's biggest strengths. I have to agree. I have never been as compelled to eat as much on any cruise that I have ever been on before. And I have eaten a lot on many of them!
The food on board was outstanding, with great variety and the most remarkable desserts. The latter being especially memorable for me as I have found that while many cruise lines can offer impressive main courses, the puddings tend to be more predictable and adequate. However, there seemed a real passion in this area. One of the most dramatic examples being the Galley Lunch Buffet that took place on a sea day during the cruise. The galley was laid out with stations of different types of food and so you got the opportunity to view the scale, and gleaming stainless steel cavern, of the kitchens while piling a range of increasingly exciting food on your plate. In the dining room were two vast tables piled high with a staggering extravaganza of sweet treats including cakes, mousses and chocolate concoctions. (You can view these on my "Seabourn Desserts" article)
The main dining room, The Restaurant, is a white eating palace with dramatic chandeliers and light-filled columns serving breakfast, lunch and dinner with waiter service. There was a five course dinner each evening with specials each evening and a range of Seabourn classics, such as Grilled Tenderloin Steak and chicken breast. The main dishes on the changing menu included things like Pan Seared Dorade Royal, Lobster Stuffed Calamari and Carved English Roast Beef. The Colonnade was the buffet restaurant that was especially popular for breakfast and lunch and at night would have different region or culinary style theme such as Mediterranean, French and Indian . There was a popular grill on the pool deck serving hamburgers and hotdogs that also at night would run themes such as South American Grill, Chop House Grill and British Pub.
Restaurant 2 was the only place you had to make reservations for. Each evening it served a tasting menu. I would recommend going on the night they serve their Signature Tasting Menu which is comprised of favourite dishes chosen by Seabourn guests. Each course had two dishes that compliment each other and are presented in unusual and unique dishes. For example, we had Malossol Ossetra Caviar, Foie Gras Torchon, White Plum Tomato Consomme, Broiled Lobster Tail and Chateaubriand. A Connoisseur Table for 10 to 14 guests who are especially into wine is held on most cruises and costs $80.
Customised experience is possible. In fact they prefer it.
I conducted a series of interview with the senior crew, including the Hotel Director, Guest Services Manager, Cruise Director and Destination Manager, and one theme came through from all of them: the ability to customise your cruise on Seabourn. As the ship is small and holds limited numbers of passengers, they strive to provide a different experience to as many people as possible. It is clear that the crew have the authority and capability to create and implement things that passengers want or need. This is something that is not possible on larger ships with many thousands of people where compliance and following the set rules and way of doing things has to be followed to make the cruise manageable. From creating a special surprise dessert that a couple had at their wedding forty years go to arranging an event on board, the crew actively seek out challenges and opportunities to customise the cruise experience.
All of them said the most frustrating thing was to read in post-cruise feedback forms that a passenger was missing something, had an issue or wanted something. They argue that they have the experience and can often find a way to make almost anything happen.
You can listen to my interviews with the crew in my "Seabourn Cruise: Insider Tips and Advice" audio podcast.
Seabourn Square is the head and heart of the ship.
One of the innovations that Seabourn is proud of is Seabourn Square. This is a large area on deck Seven on Seabourn Sojourn, and the other Odyssey Class ships, that is the heart of the ship. It is the centre of all the main guest facing services and includes the Guest Relations, Destination Services and Cruise Sales Desks, a coffee bar, library, cyber cafe, seating area where you can read printed and digital copies of dozens of newspapers from around the world on Tablet devices and has a desk where a local tourism expert comes on board in every port to answer questions and provide tips.
It was a great area and there were always people there. It was a very social and helpful place to visit as you would often have the chance to chat to senior crew members and meet up with other guests that you had met at dinners, around the ship or on excursions. If you were looking for some company, a diversion or information, Seabourn Square was the place to head to.
Self-exploring and self-entertaining is more common than excursions.
As already covered, passengers on Seabourn tend to be well-traveled and experienced. Many are on the cruise for the experience and friendships they have and make on board. Therefore, on many cruises only about a third of people go on Seabourn excursions in regions of the world like Europe – as most people prefer to head off and explore the ports by themselves. To assist Seabourn gave advice and tips and provided information about each port, gave their own guidebook to every passenger, had a guest speaker giving port talks, had a local tourism representative come on board at each port and ran free shuttle bus into the nearest town when not in walking distance.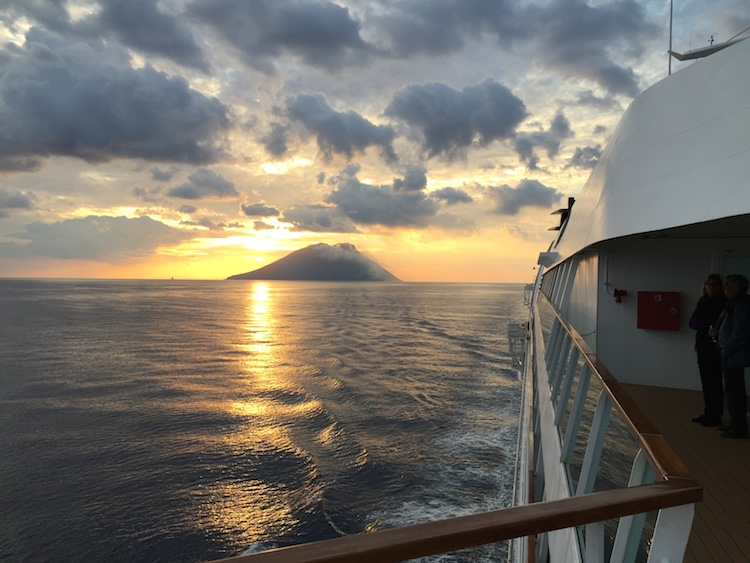 Dress is smart, despite the changing dress codes. But that may erode.
Seabourn has simplified their dress code. Overall the dress is "casual resort wear" during the day, which means that jeans, bermuda and long walking shorts are suitable. You are not permitted to wear brief shorts, hats, workout and bathing gear to any of the restaurants during the day. After 6pm the code for the main restaurant is either "Elegant Casual", which means slacks with collared shirt or sweater for men (jacket optional) and blouse with skirt or slacks, cocktail dress, dressy pantsuit or similar for ladies, "Formal", which means tuxedo, suit or slacks and jacket for men and evening gown or other similar formal apparel for ladies. If people do not want to follow the more formal code they can be in "elegant casual" in the grill or buffet restaurants.
Some passengers who have been loyal to Seabourn for many years, were troubled by the move to more informal codes, and fear that it will mean a loss of smartness and style. On the formal nights the most smart I saw men wearing was jacket and tie. The crew I discussed this with said that the overwhelming feedback from guests is that they wanted a less formal structure, and that this was the trend that cruise passengers are looking for.
However, the overall dress in the evening was very smart even on the more informal nights. It was unusual to see men without jackets at dinner. The clientele largely seems to embrace dressing up for dinner and this permuted through to everyone as a result. I wore a suit every evening to dinner, although only a tie on formal night. People who had been invited to join hosted tables would always dress up for these, and as there are many of these it also created a tone that seemed to be followed.
I certainly found the dress much smarter in the evenings than on other ultra-luxury cruise lines I have been on.
Small ship does not mean no personal space, but expect more movement too.
I never felt cramped, lacking space or limited for choice on the ship. Although the ship is small there was a lot of deck space to find quiet spots and plenty of indoor areas to do the same. There was a choice of bars and lounges, some more vibrant like The Club and some more sedate and refined like the Observation Bar, there were plenty of options of places to eat (The Restaurant, Restaurant 2, The Colonnade, Poolside Grill and In-room dining), a decent sized casino, large fitness centre and spa and deck games. In the evenings a show is put on in the Grand Salon, which is either one of those performed by the on-board singers and dancers or guest artists.
There were no lines anywhere at any time, and even getting on and off the ship was always a simple process – even on embarkation and disembarkation.
A smaller ship though does mean that there is more movement at sea. This was only really noticeable when the sea was rougher and there were strong swells. The ship does have stabilisers and so it is not extreme but it did move about more than some of the larger ships.
Hopefully these eight observations about Seabourn have helped you better understand the line and what they offer – and what makes them unique. I loved being on board and look forward to getting back again soon.
For more of my thoughts and coverage of Seabourn: