Seabourn Cruise Tips: 4 Things You Need To Know Before Cruising
Seabourn Cruises Tips: 4 Things You Need To Know Before Cruising
Seabourn Cruises Tips: 4 Things You Need To Know Before Cruising. If you're thinking of booking with Seabourn Cruises, here's all you need to know before you cruise with them
Watch the video:
Watch on YouTube: https://youtu.be/bHE0UZFGVxY
Who are Seabourn Cruises?
Seabourn an ultra-luxury cruise line founded in 1986, who are part of the huge Carnival Cruise Corporation. Carnival also own lines like Princess, Cunard Aida and Holland America. At the current time (October 2019) Seabourn either has or has announced seven ships in their fleet, including a classic cruising fleet, and an expedition fleet.
Within classic cruising, they have three older ships which are called the 'Odyssey' class ships, and these are Seabourn Sojourn, Seabourn Odyssey and Seabourn Quest. These ships hold around about 450- 458 passengers and 90% of them have balconies.
Then they have the Encore class, which is Seabourn Encore and its sister ship Ovation. They have 300 suites and hold 600 guests, so about 30% more guests. They also have two Expedition vessels, the first of which is called Seabourn Venture, and this one focuses on expedition cruises, particularly in the polar regions: Arctic and Antarctica.

Seabourn Cruise Tips – So, what is it that Seabourn does that's different to the other ultra-luxury cruise lines?
I believe there's four things you need to know before setting sail on any Seabourn Cruise.
#1: Spaces:
The first of these is one of their big flagship spaces, which is called 'Seabourn Square'. It's generally where people go and meet us and where all of the key functions are.
Here, you have Guest Services, Future Sales, Excursions (a very nice coffee shop which is open most of the day and has snacks) and a small Library with complimentary newspapers which they print or can be downloaded onto your device. There's also some shops nearby here. It's an important hub and they've made it really integral to the whole cruising experience.
#2: Partnerships:
The second thing unique to Seabourn is that they have a whole lot of partnerships. They bring various famous experts on board to fine-tune what they do.
Entertainment: They have a partnership with Sir Tim Rice, who often collaborates with Sir Andrew Lloyd Webber on theatre productions. He created a show for Seabourn called "An evening with Tim Rice". It highlights some of his best work such as The Lion King.
Dining Partnerships
Dining: When it comes to dining, Seabourn has a partnership with a USA-based celebrity chef called Thomas Keller. They have a restaurant called 'The Grill with Thomas Keller' which is based on a 1950s/1960s steakhouse. Across the other dining venues, they also have various Thomas Keller dishes. Expect preparations of Caesar salad and ice cream sundaes, as well as a range of other favourites like premium steaks, whole roasted chicken, and Lobster Thermidor, presented a la carte.
Wellness: Seabourn have a partnership with an American expert called Dr. Andrew Weil. He's an expert in mindfulness and meditation, and he's created a program which involves lectures, meditation, yoga and excursions (on selected destinations).
Mindful Meditation
Guests can experience Mindful Meditation, which will introduce positive affirmations and mantras they can reflect on throughout the day. There are also daily restorative yoga classes which will continue to focus upon the mantra and positive affirmations. Yoga classes offer guests the ability to choose classes that focus on various physical issues, such as yoga to heal back and joint pain, headaches and body alignment, as well as yoga to enhance creativity, mental focus and happiness.
Classes focus on all areas of mind, body and spirit over a period of seven days, and will change daily with a new theme. There are also a selection of Wellness Seminars which you can attend.
Drinks
Drinks: Seabourn have a relationship with top US based mixologist Brian van Flandern, who has revamped the whole cocktail menu. They have a range of cocktails which he specifically created and trained all of the staff to make, all exclusive to Seabourn.
Toiletries: All of the toiletries are Molton Brown, who have partnered with the cruise liner to create a specific 'Seabourn' fragrance.
Excursions: One of the most significant relationships they have is that they are the official cruise partner of UNESCO, and so have created a whole series of excursions around world heritage sites or sites of significance related to UNESCO.
On the cruise I was on, I went on one of the UNESCO tours in Menorca to some of the ancient sites there, and in addition to the normal guide we also had an expert archeologist associated one of the universities who came along that UNESCO tour. An interesting addition if you're into your history.
#3: Service:
All ultra-luxury lines have phenomenal service, but I think one of the things that's interesting about Seabourn is they have a more informal approach. It's still incredibly good service, and they still go out of their way to make sure they learn your name and, of course, your preferences, but I found them to be slightly less stuffy and less formal than you might find on some other lines. If you like luxury but you like it to be a little more informal and chattier, you might find it on Seabourn. Although their approach is relaxed, it's still obviously respectful and offers a high quality of service.
#4: Inclusions
Ultra-luxury lines tend to be largely all inclusive, but there's always slight quirks and differences. Seabourn is comparable with most of the ultra-luxury lines, although there are some ultra-luxury lines that will include some of the things that Seabourn don't.
Seabourn Cruise Tips – What's included?
Accommodation: First of all, your accommodation is obviously included. On Seabourn ships you can have very large suites through to Oceanview cabins. On Encore and Ovation liners, it's all balcony suites.
Food: Secondly, all of your food is included and there's a wide choice. Encore and Ovation have slightly more choice because they are bigger and have more space.
Restaurants
Let me give an example of what you can expect. You have 'The Restaurant', which is the main dining venue. There's also 'The Colonnade' which is a more informal dining space. Additionally, there's the option of the steakhouse restaurant, 'The Grill with Thomas Keller'. With that one, you can only go once during a week-long cruise and you have to make reservations for that.
Probably one of my favorite places on board is 'Sushi'. You can go as often as you want here, and there's no need for reservations.
If you want more informal dining, out on the pool deck you can have snacks such as hot dogs, hamburgers and similar options. Every afternoon at around about four o'clock, Afternoon tea is served. When I was on Encore that was served up in the Observation Bar, and then there is also 24-hour room service, if after all of that you're still hungry!
There are huge amounts of dining options included within the fare.
Drinks: Your drinks are also included: wines, beers, spirits and most of the premium brands that you would love and expect are included within your fare. You also have an in-room minibar which is included, and it will be stocked with whatever you want.
Entertainment 
Entertainment: Also included in the fare, as you would expect, is all the entertainment. You have shows in the Grand Salon which could include the "Evening with Tim Rice" show, or guest entertainers or the Seabourn vocalists performing different variety shows. You will have a daily program with the usual activities you'd expect on a cruise.
There's also have the Seabourn Conversations, which are guest speakers talking about the destination, the history or culture of the place you're about to visit. Parties are also included, like the Captain's Welcome party, pool deck party and sail away parties. All of these kinds of events and activities are included within the fare.
Facilities 
Facilities: You also get access to pretty much all of the facilities on board included in your far, with one key exception. The Retreat, a special luxury wellness suite, you have to pay for. It holds up to 30 people. They have 15 cabanas and you pay to go there. It's a bit of a sanctuary away from the rest of the activities on board. Here, you will be able to relax, use the hot tub and you can also have a massage up there (for an extra fee) if you want one.
Gratuities: What about gratuities, or tipping? It's all including, meaning that even if you go to the spa gratuities are included. It's a big plus knowing that it's all covered.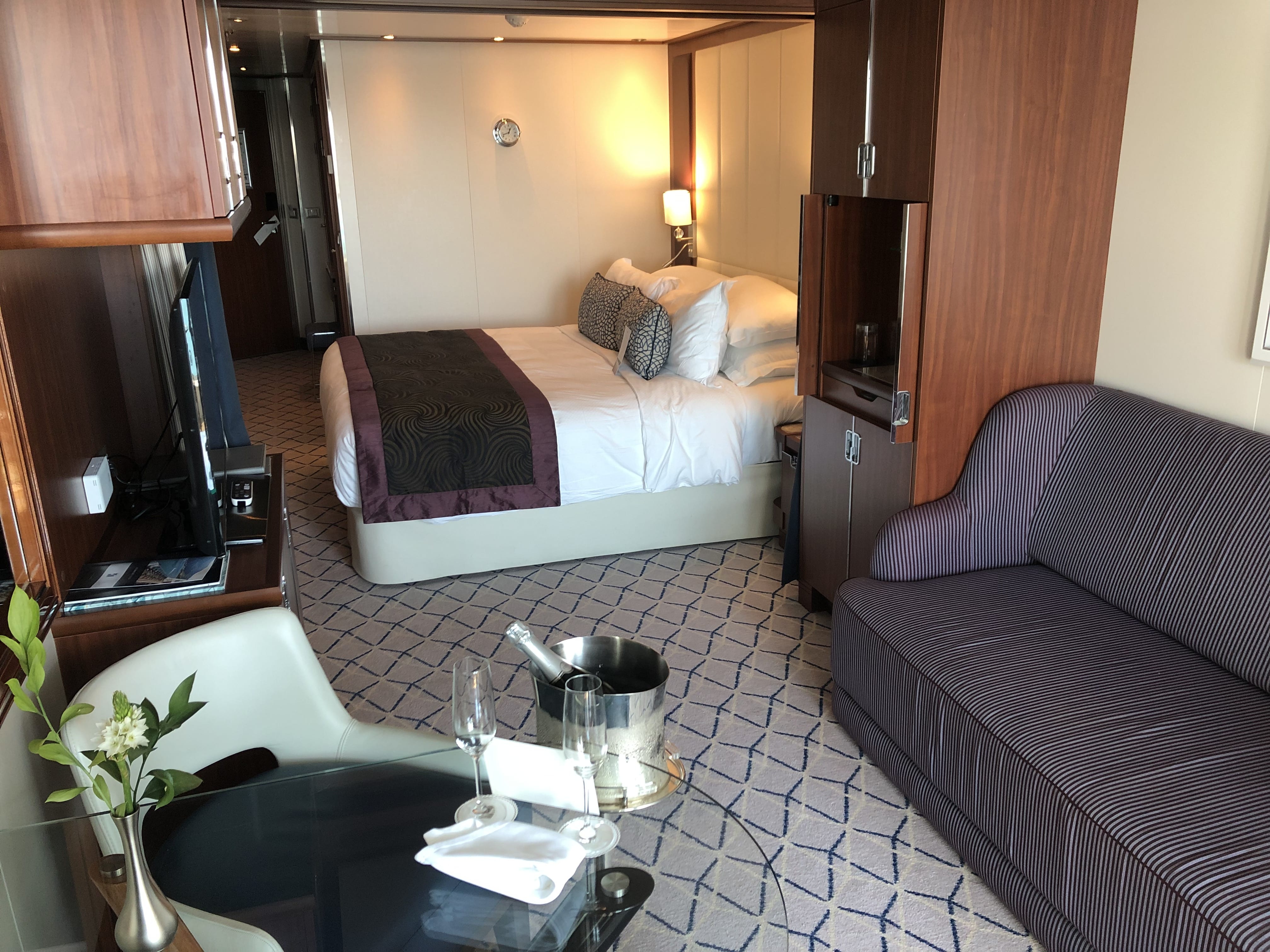 Seabourn Cruise Tips – You might be wondering what's not included onboard.
Wi-Fi: Wi-Fi is not included, and so you can buy different packages of Wi-Fi. On the cruise I was on (which was a seven-day cruise) it was about $240 for unlimited Wi-Fi across the whole cruise.
Excursions: Excursions are also an additional cost. Looking at the brochure on the cruise I was on, probably the cheapest excursion you could get (a walking tour) was around $89 dollars per person.
UNESCO excursions
I did the four-hour UNESCO excursion, which cost $159. I also did the five-hour bike tour I which was $189 and in Porto Venere, there was a boat and walking tour which was around $200. As a guide, I'd estimate budgeting around $100 and $200 per person per excursion.
Ad hoc costs: In terms of other costs, there's things that are more discretionary like if you buy stuff in the shops, go to the spa or the casino, or do some laundry.
You pay a fee if you want to send your laundry away, but you can do your own laundry in the guest laundries on board the ships.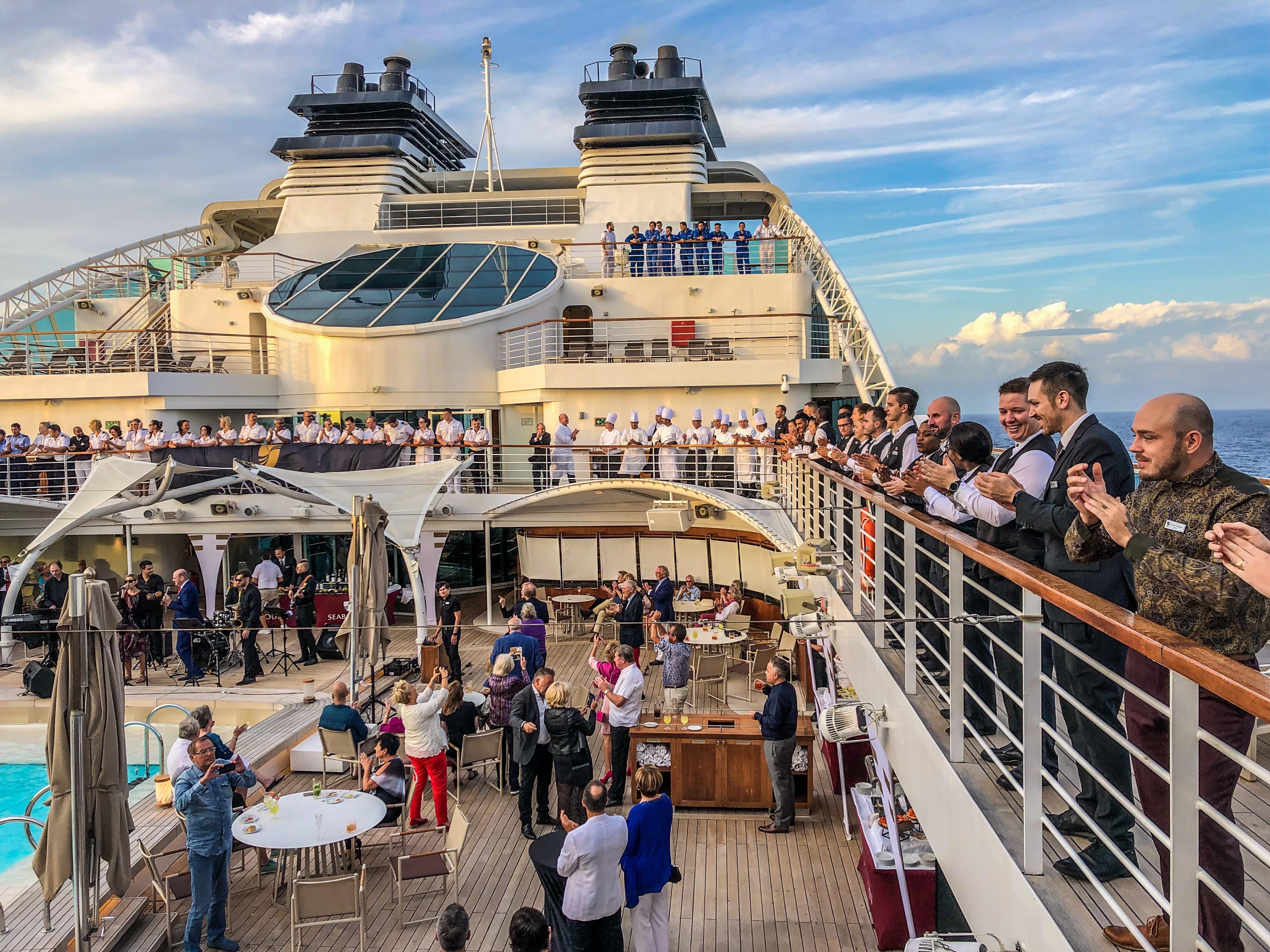 Seabourn Cruise Tips – So, is a Seabourn Cruise for you? What are the passengers like?
Well, because it's an 'ultra-luxury' ship, passengers will tend to be well-traveled and of course have the money to be on an ultra-luxury line.
Generally, you will find lots of professional people like lawyers, doctors, entrepreneurs or academics – a really interesting group of people with lots of interesting stories and opinions.
Age profile
In terms of age profile, you're going to find that you mostly see people in their 60s and above. There are younger people onboard Seabourn, particularly in the summer in tropical destinations like the Caribbean, and you do also find people on their honeymoon.
One thing you won't see is families coming on board. In the key summer holiday months, you will find some kids on board, but they tend to be slightly older kids because there aren't any kids' clubs and the shows. Additionally, the excursions and dining do not cater specifically for children.
The whole Seabourn experience is done in English. However, it is quite North American focused, so you'll find a lot of the quizzes and the way things are done is quite American and you'll normally find a majority of people from North America.
Evolution
I've travelled on Seabourn a lot over the years, and I've noticed that it is evolving. On my most recent this cruise for example (in October 2019) there were probably about 50% or 60% from North America (USA and Canada). A sizeable number of passengers were also from the UK, Australia and New Zealand. Overall, there was a big representation of other nationalities with something like twenty different nationalities on board.
Most of the travellers on board are traveling in couples. There are some cabins which do have space for three people, but predominantly people are in couples.
Seabourn Cruise Tips – If you're a solo traveler, is Seabourn for you?
Although there are no solo cabins on board Seabourn ships, during the course of the year they normally run special offers on different itineraries for people travelling alone. They do this by slashing down the surcharge you pay for single occupancy of a double cabin.
Seabourn are very good at looking after solo travellers and they do get quite a few on board. At the beginning of the cruise, they host an event for solo travellers to get to meet each other, and also host lots of tables at dinner.
Different members of the crew, including the singers, cruise director and engineers, host tables and they ask solo travellers to those. I was travelling on this cruise by myself, and I was asked many nights to go to various hosted tables. There's definitely a focus on helping solo travellers feel part of the Seabourn experience.
I have many more videos about cruising and about Seabourn, so if you enjoy this one why not watch another one right now at  http://www.youtube.com/tipsfortravellers