Seabourn Sojourn Video Tour : Explore this Ultra-luxury Cruise Line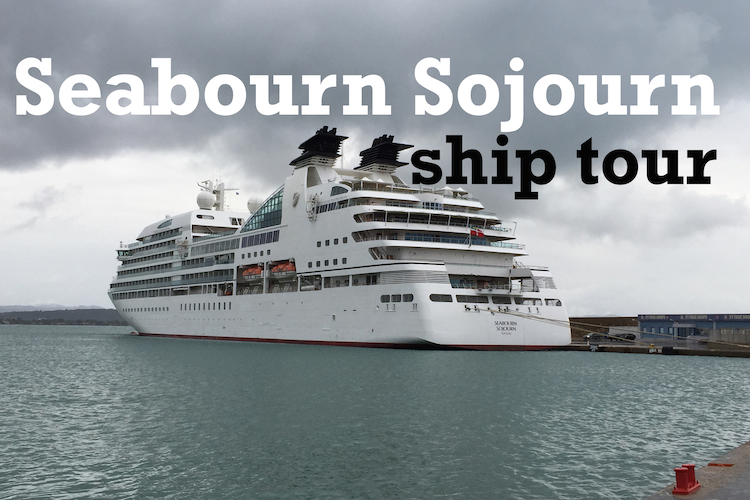 Join me as I take you on a tour through the entire Seabourn Sojourn cruise ship. This ultra-luxury all-inclusive line carries just 450 passengers in style and comfort.

Seabourn Sojourn is one of three Odyssey class ships in the ultra-luxury Seabourn fleet. This all-inclusive ship carries just 450 passengers and came into service in 2010 with the UK-based model Twiggy as godmother. On board this intimate sized ship there are five main focal areas:
First is the pool deck. This expansive area with swimming pool and hot tubs is the main area that guests gather at on sea days. It also hosts evening parties and events on warm nights. Full of comfortable loungers and seats it offers plenty of space to relax and unwind.
The second hub is the unique Seabourn Square. Available on all the Odyssey class ships, it has become extremely popular venue with Sojourn passengers at all times of the day and night. It is home to a coffee bar, internet cafe, library as well as the guest relations desk and destination services.
Third is the magnificent and dramatic main dining room, called The Restaurant. It is open seated dining for all meals, and crew host tables for solo travellers and invited guests every evening.
The fourth focal point on board is the show lounge called The Grand Salon. Capable of holding all passengers at one time, it hosts the nightly production shows and guest entertainers, whilst during the day cooking or other demonstrations and events are often held here.
The fifth key area is The Spa on Seabourn. This luxurious venue offers the usual massage and beauty treatments as well as quiet thermal area featuring a hydro-pool, sauna and steam rooms. There is also a hair salon, well equipped fitness centre and exercise studio hosting daily classes.
Small ship does not mean small choice and there are a number of alternative venues, bars and activity options.
When it comes to dining there is also the choice of The Colonnade buffet restaurant. Open for breakfast, lunch and dinner it serves wholesome fresh food with daily specials and themed evening dinners.
Restaurant 2 is a fine dining experience serving a tasting menu of Seabourn favourites. Although there is no charge, it is the only restaurant requiring pre-booking. Highly recommended.
The most popular bars and lounges on the ship are the Observation Bar, high up on Deck Ten with panoramic views over the ship and sea. White-gloved waiter service Afternoon is served here daily.
And The Club on Deck five. This is the most lively of all the bars, and popular with those who like to socialise after dinner and listen to music or dance to the live band.
For those seeking other diversions there is a small pool and hot tubs on Deck 5 at the rear of the ship, a Card Room for playing bridge and board games, The Retreat which has table tennis, a putting course and shuttle board to challenge your fellow guests, the casino with popular table games and slot machines to try your hand at beating the odds and a selection of shops selling clothing, watches and jewellery for some at sea retail therapy.
And because even the most well-heeled traveller sometimes like to do their own laundry there are even two small self-service laundrettes on board.
Seabourn offers a luxurious, pampered and personalised experience on board their tastefully decorated haven at sea. I loved the style, the service and the journey. I am sure you would too.
For more of my content on Seabourn visit : tipsfortravellers.com/seabourn