Seabourn Encore Ship Tour and Review
Seabourn Encore Ship Tour and Review
This is my Seabourn Encore ship tour and review. You will discover 7 Things You Need to Know About Seabourn Encore.
I had a great stay on my recent trip on Seabourn Encore. Here's the lowdown on seven things you need to know, should you want to book your next cruise aboard this fine, luxurious cruise ship.
Watch my Seabourn Encore video tour and review
Watch on YouTube: https://youtu.be/lL6SKWhN3Jc
#1: About Seabourn Encore
Seabourn Encore is the first of two ships that were a new class of ship for Seabourn. They have the 'Odyssey class' of three ships and now they have the new Encore class. Seabourn Encore is the first one and Seabourn Ovation the second.
These ships are quite a bit bigger than the Odyssey class. The Odyssey class take 458 guests, and Encore take 600 passengers, so they have over 30% more passengers. Being a bigger ship, the Encore has more space, more facilities and more choice.
#2: Dining options
There's a lot of dining options on board the Seabourn Encore. The Restaurant is the main dining room. It's mainly open for dinner, but it has multi-course meals with vegetarian options. It's also open sometimes for breakfast and lunch, which varies based on the itinerary. There's also a waiter service, too.
The Colonnade
One of the most popular venues is The Colonnade. The Colonnade is the more informal dining venue, with meals such as Clam Bake and BBQ Ribs. Breakfast and lunch are always a buffet, with lots of stations and really good food, and in the evenings it's normally a sit-down served meal. These are normally themed around different countries. We had an Indian themed night, so that night it was self-service buffet style.
The patio is also incredibly popular up by the pool. At lunchtime they serve informal stuff like hot dogs and hamburgers, and in the evening, it becomes a little bit more formal with a waiter service menu and a wide range of good food.
Sushi
One of my favourite places is Sushi. This is a relatively small space and when I was on Encore, it was staffed entirely by Japanese. (They serve incredible sushi and sashimi – as you would expect by the name!) You can go as often as you like. It's open most days for lunch and dinner, and it's included within the fare. If you are ever on it on board, I recommend you go early in the cruise because it is really good, and you're probably will want to go back!
The Grill by Thomas Keller
Another favourite of mine is 'The Grill' by Thomas Keller, (a celebrity chef in the United States). This is the ships main specialty restaurant. It's modelled on a 50s/60s steakhouse. Guests setting foot inside the elegant dining room will be treated to table- side preparations of Caesar salad and ice cream sundaes, as well as a range of other steakhouse favourites, like Lobster Thermidor and creamed spinach. All presented à la carte. It's all served with a little bit of theatre and is a really great venue. You can go only once per cruise and Seabourn recommend that you book it before sailing, as it's very popular!
Afternoon tea (which is a great experience) is served up in the Observation Bar, with sandwiches, cakes and scones.
In terms of other dining options, there's also complimentary room service which has breakfast and lunch, and in the evenings, you can order from the restaurant menu and have it served in your cabin.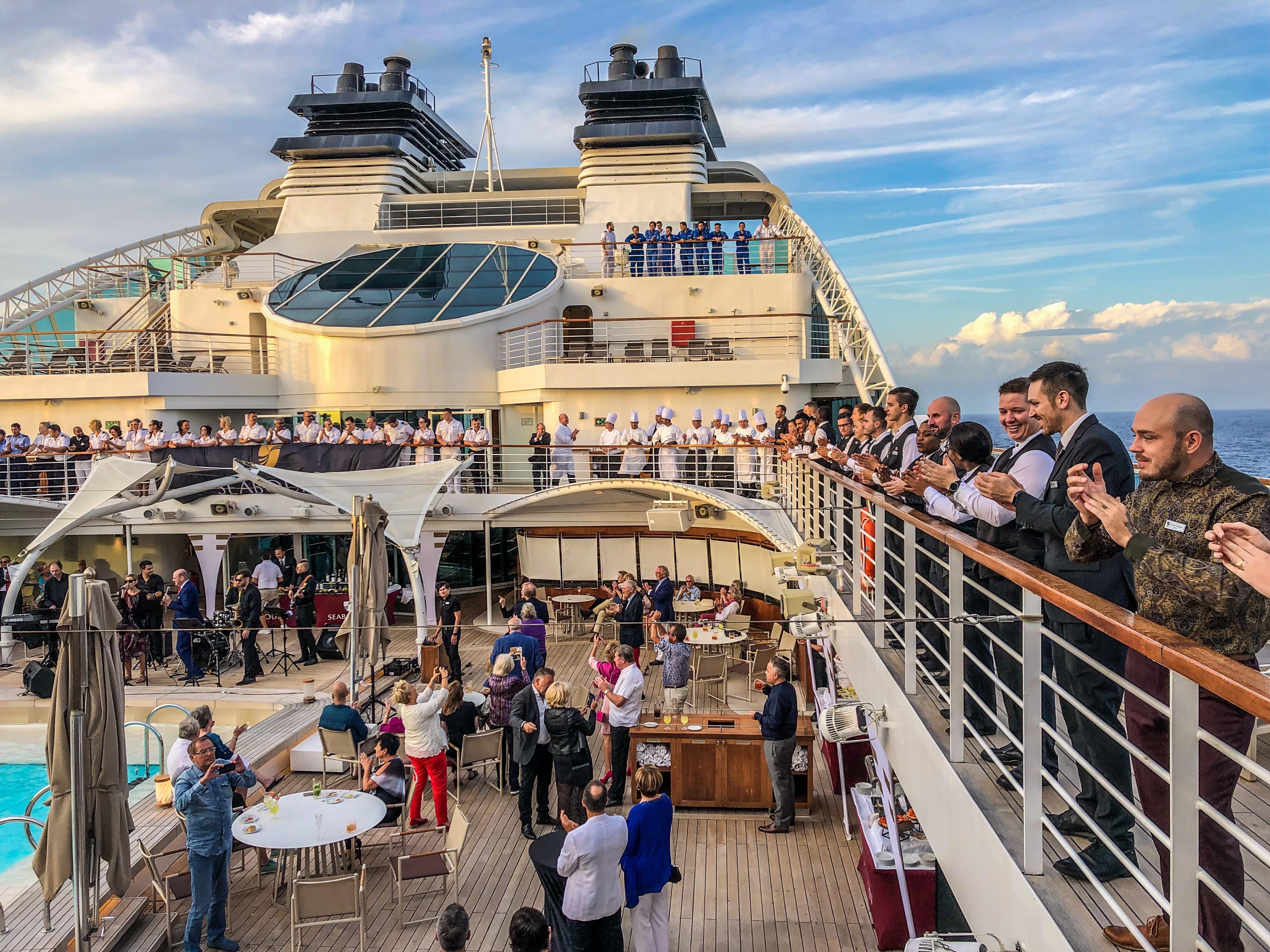 #3: Onboard Spaces
The next thing you need to know about Seabourn Encore is some of the big flagship spaces and facilities they offer, and there are probably two of these that are worth noting.
Seabourn Square
The first of which is called 'Seabourn Square'. This is something that all Seabourn ships have, and it's something that they're very proud of. Seabourn Square is a large space on Encore, and it's really the hub and the heart of the ship. Here you have Guest Services, Shore Excursions, Future Sales and a coffee shop.
There's also a small library with guidebooks and newspapers printed out from all around the world and also available on electronic devices where you can read the papers. As you can imagine, it's a popular venue.
People generally head here during the day, as there are places to sit both inside and outside. It's a nice space with a really good feel and if you want to know what's going on and to meet, greet and see passengers, then Seabourn Square is definitely the place to be.
The Retreat
The other big thing that Seabourn are very proud of is The Retreat. The Retreat you have to pay for. It's located around a central whirlpool with step-up access to water maintained at an inviting temperature. It has 15 cabanas with a television and a refrigerator stocked with beverages. The Retreat can hold up to 30 guests, and at the time I visited (Oct 2019) it was $149 dollars on a port day and $249 on a sea day. What's important about that price is the price is per suite, so two of you are included within that price.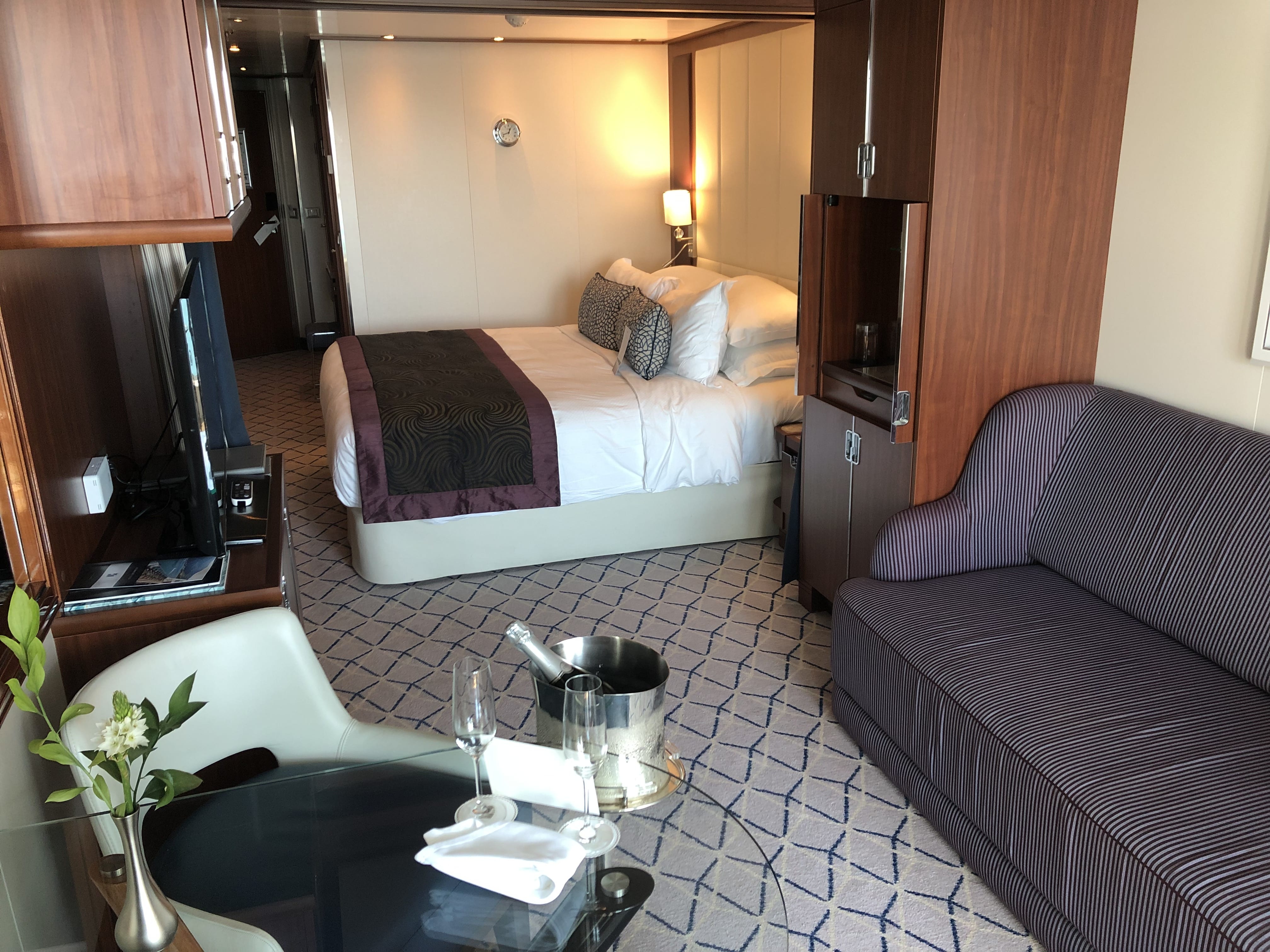 #4: Bars and Lounges
On the Seabourn Encore, premium drinks, soft drinks, alcoholic drinks, wines and champagnes are included within the fare.
The main places to go are The Club which is, as the name would suggest, an evening spot and this is kind of the 'late-night' place on board. There is often dancing before and after dinner, and you'll often find live music played in here. This is also where the casino is. It's not a massive casino, but you have a few machines and a couple of tables.
In my view, the nicest bar is the Observation Bar right up on the top of the ship on deck 11, right in the front of the ship. There are great views as you're sailing along, and it has a circular bar with great seating – it's a really nice space. This is where they have Afternoon Tea. On the pool deck you also have a bar there (on deck 9) and there's also another bar a little bit up (on deck 10) as well. So, there's a generous selection of bars and lounges spread across the ship.

#5: Wellness and Spa Facilities
The wellness facilities are plentiful, and are designed in partnership with Dr. Andrew Weil, a best-selling author and the founder of integrative medicine. There is a pretty decent sized pool, up on Deck 9. This is the main pool and you also have another smaller pool on deck five. I really like the pool on Deck 5. This is a real find, it's just behind The Club (a lot of people forget it's there).
There's also a Spa. It's a pretty big Spa with a salon, a barbershop and, of course, the treatment rooms.
You have a fitness centre with a space outside, where people often stretch after they've done their workout classes. The classes, which are normally included within the fare, include things like Tai Chi and Yoga. In terms of activities and fitness, there's also a Marina which is opened based on where you're sailing in the world (they open it on port). From the Marina you can do various water activities off the back of the ship.
#6: Entertainment
What is there to do in terms of entertainment and activities? First of all, the key venue is known as the 'Grand Salon'. This is where the shows are held every evening. Each evening the Seabourn Vocalists perform a show or have various guest artists on board.
Around the ship in the key venues like in the Observation Bar and in The Club you'll also have live musicians playing. If you like to play cards, there is also a large Card Room.
Like on many cruises, you'll have a range of activities that the entertainment team run. So, that might be a golf putting competition, trivia quizzes, and the usual kind of fun stuff that you would normally find onboard a Cruise.
There are also things like the Captain's Welcome Party. On one of the days you'll have a Caviar evening. On the cruise we were on we had a Caviar and Champagne Evening. Depending on the weather, there's also a party out on the deck. In short, there's normally a series of parties and events happening across the cruise.
#7: Cabins (Suites)
They call their ships "all-suite ships" and on the Seabourn Encore, 100% of the Suites have a balcony or veranda (depending on what you want to call it). The Suites themselves are pretty big and certainly when I posted pictures when I was on board, a lot of people commented about the size.
I was in a pretty mid-range cabin – one of the veranda suites. These suites are fairly big, and very comfortable and plush. The quality of bedding and linen is high.
The bathroom is fantastic with twin basins, along with a bath and separate shower, with Molton Brown toiletries. There's a big interactive television with movies on demand. You have a minibar, which can be stocked with pretty much with anything that you want, because drink is included within the fare.
You can send your stuff away to be laundered, but there is a guest laundry that was installed not long after the ship set sail on its maiden voyage.
The verdict?
Overall, Seabourn Encore is a beautiful ship. It holds 600 passengers and if you're looking for luxury with lots of choice, take a look at Seabourn Encore or its sister ship, Seabourn Ovation, because you have a relatively small ship but lots of choices on board.
I have many more videos about cruising and about Seabourn, so why don't you watch another one of those right now?
View more of my cruising tips.
SUPPORT TIPS FOR TRAVELLERS
FOLLOW ME ON SOCIAL MEDIA
——————————————-