I Tried the World's "Most Popular Small Ship Cruise" Line: Windstar Cruises

I Tried the World's "Most Popular Small Ship Cruise" Line – Was It Worth The Compromises?
Would I do it again and would I recommend others to try such a small ship? As you will hear, my opinion changed over the cruise. Being on a 312-passenger ship kept throwing up surprising and unexpected pros and cons.
After loving recent cruises on 600 and 700 passenger ships, like Oceania Insignia, Azamara Quest and Seabourn Encore, I wanted to see if going ever smaller was even better. So ,I booked myself on an 11-night Windstar Star Pride "Lands of the Midnight Sun" cruise from Edinburgh to Iceland. Via the Orkney Islands and the Norwegian Fjords.
Windstar claim to be the market leading small ship line and have both yacht style motor ships and sailing vessels in their fleet.
When I boarded and for the first few days, I could see that small had many upsides.
I loved the boarding in Edinburgh. It was such a breeze and so fast to check in because there were so few passengers.
After boarding, I headed to my cabin. I'd booked a Star Balcony Suite and was delighted by the cabin size and the 2-sink bathroom. But, the first small ship issue reared its head as the so-called balcony was tiny. It wasn't a balcony at all, and this was the first of many compromises coming to roost. I was paying for a balcony but not getting one.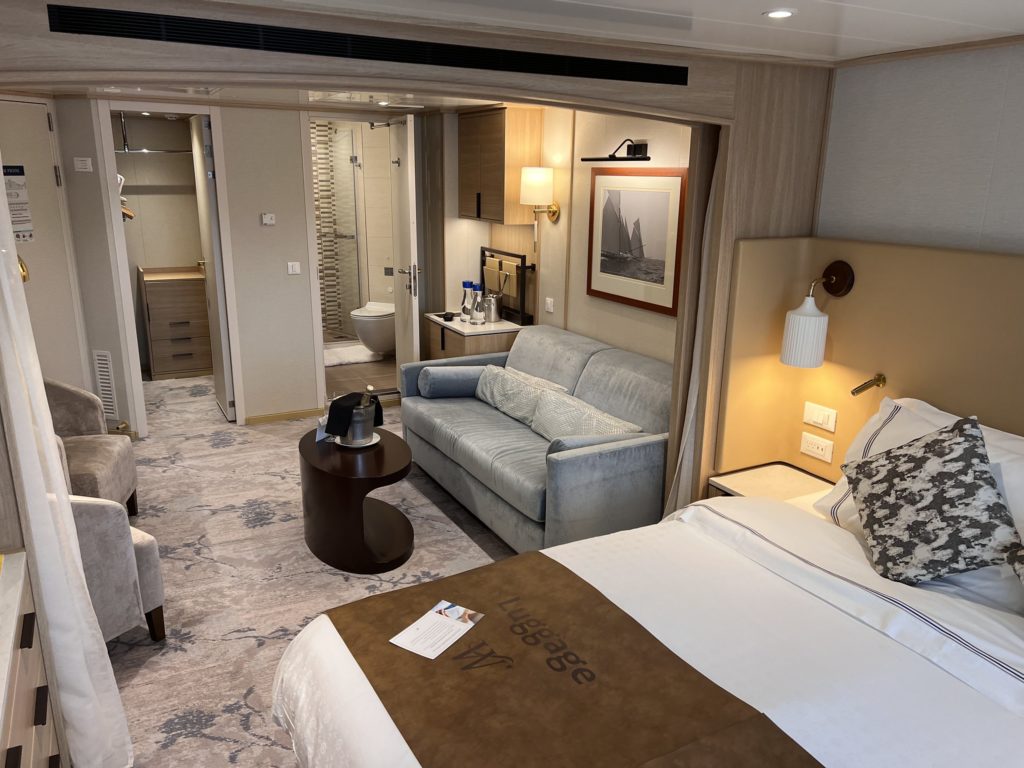 The World's "Most Popular Small Ship Cruise" Line – Dining
Next, I checked the daily program in the cabin and was encouraged to see that there a choice of six dining options on the ship. I decided to head to the Verandah, the buffet restaurant open for breakfast and lunch. The staff there told me each day lunch was themed around a different cuisine or country, and if the buffet did not appeal there was a small menu at both meal times.
I had pancakes a couple of mornings off the menu, but never got round to ordering a hamburger off the lunch one.
I enjoyed the fact it had an outside area, but other than one day, it was a bit chilly to sit out there!
Some chose to go to the Star Grill, an informal dining venue out on deck also open for lunch. I discovered they occasionally also had themed lunches like a Scottish Salmon one when we were in the Orkney Islands.
Dinner Options
Dinner, of course, is a key focus on any cruise and I saw were 3 options available.
Amphora is the main dining room. This was open-seated dining. Though I soon discovered another hint of a potential issue, as I asked to have a table by myself. The maître d' said he could do it for that day, but he couldn't guarantee it because if the ship was full that would not always be possible.
I noticed there seemed to be fewer tables for two, and more tables for 4 or more, and sharing was encouraged when passengers arrived. Most loved the idea. As the ship wasn't full, I was able to get a table by myself on the nights I went in by going at 7pm when they opened.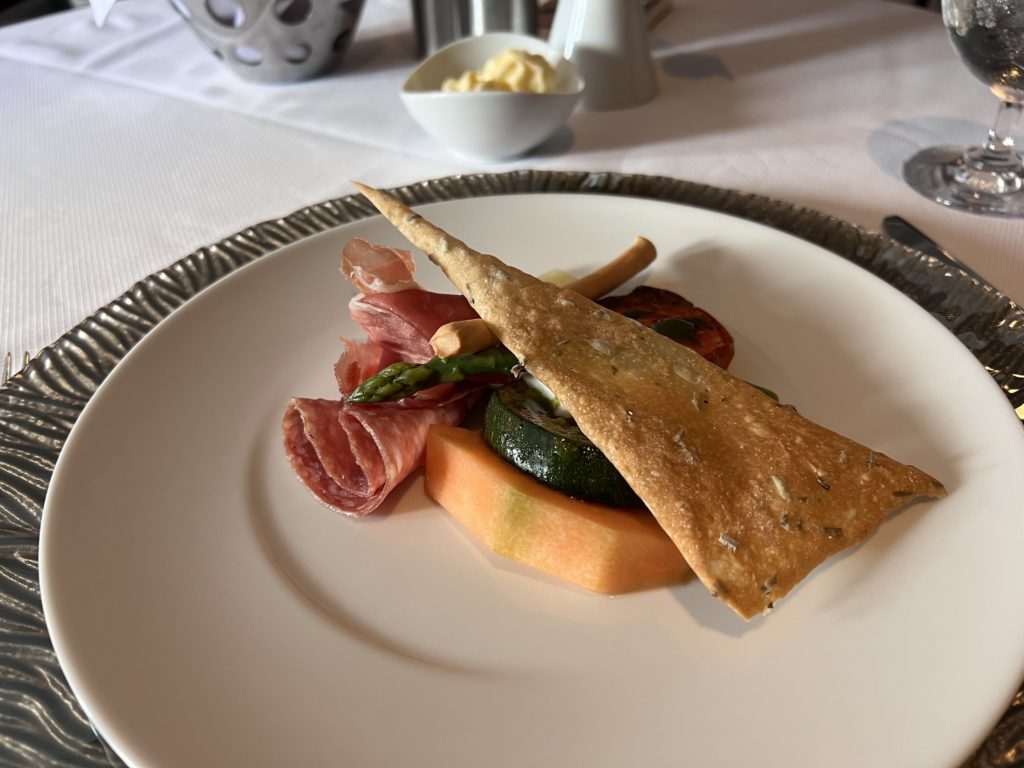 Speciality Dining
Then there were two included speciality restaurants. First, Candles. Veranda was turned into this steak and seafood restaurant and required booking. They guaranteed I could go once, though again, as the ship was not full, I went twice as the food was great.
There was also Cuadro 44, a Spanish restaurant with even better food. Again, I was able to go twice.
The downside though was no casual dining option in the evening. I don't always want a big and served meal every night, so I had to use room service, which I did twice. This had a rather small menu, although I could have ordered from the Amphora menu.
James Beard Foundation
This was another compromise being on a small ship that struck me from the first night. The menus had relatively tighter choices, even versus the larger small ship 600-700 passenger lines like Oceania, Azamara, and Seabourn.
To compensate for this, they made a lot of their partnership with the James Beard Foundation, which awards chefs what seems to be the kind of "Oscars" of cooking. The lead dishes on the menus each day were recipes from a James Beard Foundation winning chef, or as in the case of Cuadro 44 a partnership with Anthony Sasso linked to them, and Star Grill with another chef called Steven Raichlen.
They also pushed the point about quality through a couple of cooking demonstrations by the Executive Chef, where he spoke about making everything from scratch and the quality of their ingredients, versus larger ships.
So, across the cruise while I felt there was a compromise on breadth of the menus, especially versus the larger small ship lines like Oceania, I did find the food was great with just enough options.
I have run a bit ahead of myself though, as before dinner I did two other things on that first night. First I attended the excursions talk. Again, some compromises, good and bad.
The World's "Most Popular Small Ship Cruise" Line – Excursions
At the excursions talk, I realised there seemed to be a more limited choice than I was used to. And what I also noted is that almost all were active tours (e-bikes, RIB boat tours, hikes, and walking) that were costly compared to bigger ships.
One upside I later discovered was all were in small groups. Even when we got to Bergen. I went on the Mounts Ulriken cable car excursion. Although 38 had booked it and could all fit on one bus, they took us on two busses in two smaller groups.
After the excursion talk, I did take time to explore the ship, and these are what compromises and upsides I found.
The World's "Most Popular Small Ship Cruise" Line – Venues and Facilities
I liked the size of the ship and that it was easy to get around. Throughout the trip I loved that everything was seconds or a few minutes away. Though, there were not that many places to go.
There was the Compass Rose Lounge, where we had the welcome party later that first evening. During the cruise all the evening activities took place there – trivia, live music, and the parties.
There was the Lounge where I'd checked in at, which is where they held that Excursion Talk, and then across the cruise also Port Talks, Enrichment Talks, the Captain's Welcome and Farewell Parties and Crew Talent Show.
The best lounge was the Yacht Club overlooking the bow, with hot drinks and snacks from 6am to 6pm.
I liked the size of the fitness centre and spa which coped well, I found, with the numbers on the ship.
The shop was fine, selling the usual stuff (watches, jewellery, clothes), though disappointingly limited Windstar merchandise for my liking.
Outside Decks
Outside was spacious for the numbers. Although, the pool deck only had a plunge pool and a hot tub, not one you could swim in and lay around.
On the bow on Deck Five was a hot tub that was great for scenic cruising days, or watching the tugboats as I did when we set sail from Edinburgh.
Lots of deck space also to hang out in warm weather, or in our case on this Fjords cruise, watch the amazing scenery.
But let me talk about probably the biggest challenge and issue that hit me on that first night and played out through the cruise.
The World's "Most Popular Small Ship Cruise" Line – Activities
At the Welcome Aboard party in Compass Rose, I clicked there was no entertainment team, just a lone Cruise Director along with a four-person band and a music duo.
In the evening there were no shows, just live music like an inevitable Abba evening. One evening the crew did a line dancing set. The only show was the Crew Talent show. There was no casino.
As I quickly found out, the daily progamme was light. On port days – one daily trivia quiz, un-hosted chess, bridge, or Mahjong, Cornhole game, a film in the viewing room, shopping and spa events, and the live music.
Sea Days
On the sea days, not much more. A cooking demonstration or food related activity like the on on-deck BBQ and a Galley Market in Amphora where the Galley was turned into a grand buffet. There were also Port Talks and a guest speaker, Dr. Jean Kenyon, spoke about whales, Arctic animals, animal sounds and the undiscovered ocean. And the Captain did a talk about the stretching of the ship.
What I learned going on a such small ship is it more about socialising. I'm not a drinker and I don't particularly like sitting listening to live music, so the evenings were more challenging. And particularly as a solo traveller, I realised one needed to be outgoing to integrate because there weren't many diversions.
Something that did not bother me – but did some others – was being on a small ship as we sailed from the Fjords to Iceland. There was a lot of movement. Some did struggle with the movement and probably weren't as prepared as they should have been.
The World's "Most Popular Small Ship Cruise" Line – Why So Many Repeat Guests?
The compromises and things I were missing did make me wonder if this was all just a bit too small for me, so I wanted to see what others were thinking, and why there were clearly so many repeat Windstar travellers on board.
With that said, over the rest of the cruise I spoke to many people, and I sat and listened in to what people were saying. I discovered four things that seemed to be consistent among people enjoying themselves most on this small ship.
Out Of The Way Places
First, the itinerary and the ports were the main passion. Lack of facilities and activities I was missing was not important to them. The small ship unlocked something way more important for them.
Most guests seemed very well travelled and wanted to see new and out of the way places. Not just the well-known. So, in fact, the small size was fundamental, as it enabled just that.
I have been to the Fjords multiple times on bigger ships, but going on the smaller ship took me places that I'd never been to before on bigger ships, like Molde and Hellesylt.
I looked at their Caribbean itineraries and saw instead of sailing out of Florida, they mostly go from Saint Maarten or Oranjestad. Stopping at lesser visited islands that other cruises don't go to. Such as St. Barts, Guadeloupe, Virgin Gorda, Mayreau – which I'd never even heard of – and Bonaire.
On the cruise, they ran a Middle Eastern Bazaar Future Cruise Sales event. Talking about how they had created sailings there to open a new region to guest. And how their small ships included ports bigger ships could not visit.
I also realised that while the trivia, live music and so on were mostly not well attended. when they brought local entertainers, ran port and local enrichment talks, however, they were always packed.
Whenever we were in port the ship was empty. From the minute we arrived until the minute we left, people were out spending as much time exploring as they could. In fact, it was so empty that people seeing the photos and videos I posted from the cruise when we were in port kept asking where everybody was!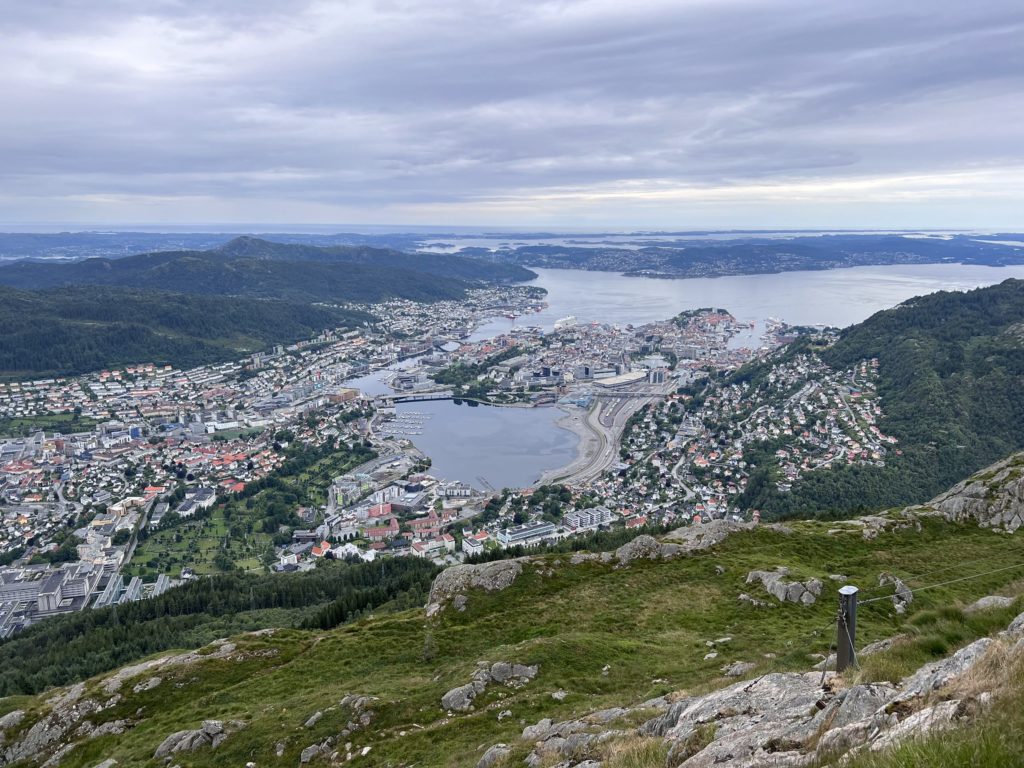 Lack of Dress Codes
The second key thing I clicked was important was the informality and pretty much lack of dress code. There was theoretically a dress code which basically said no shorts, trainers, and distressed jeans in the evening in the restaurant. But the overall dress code was very relaxed. This was not a flashy designer label for dinner experience, it was more like when I have been on an expedition cruise. In short, were what you bring and wear was low on the list.
Personal Feel
The third thing was with a maximum of 312 guests and 200 crew. People said they liked that they got to know the crew and vice versa. They liked always being called by name. As the same crew would man lunch, dinner, and the bars, wherever I went my favourite drink or quirk was known.
Passengers also loved access to the Senior Crew. Windstar have an open bridge. I could pop in whenever to chat to crew there, except coming in and out of port.
Senior Crew were always around, including the Captain. They would get to know my and many people's names, and would stop and chat – remembering what I had spoken about last time. They also hosted meet ups in the Yacht Club.
However, it became clear talking to others that although they were well-travelled and independent, they did want to do it with some luxury. They wanted good food and plush cabins with up-market L'Occitane toiletries and high-quality bedding. But they did not want to push it price wise either. Up to the likes of Seabourn, Regent, and Silversealevel. Which is more focused on choice, options and about what happens on the ship.
By the way one thing that struck me was also it was very American focused in food, style, and service. In fact, one of the slides in the future sales presentation had the line "The only US-focused small ship line". And I would say easily nine out of 10 of the passengers, at least on the sailing that I was on, were American.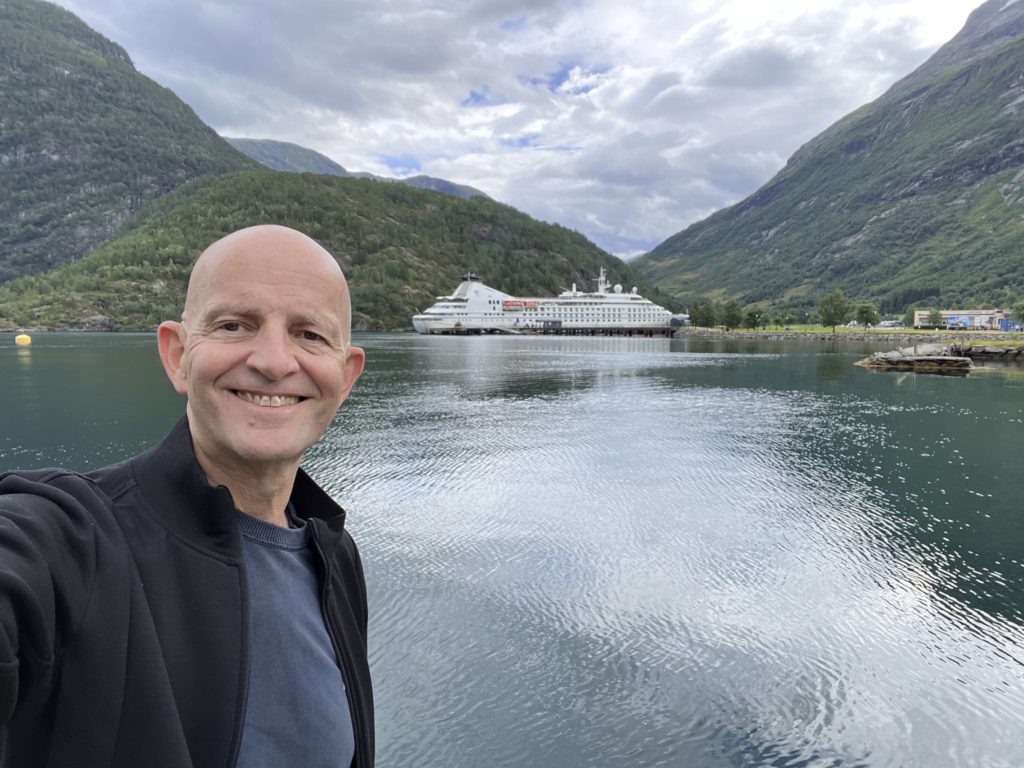 Based on all this, would I rush back to Windstar Cruises?
While I am thinking it is probably too small for me, as I missed some of the buzz and excitement in the evenings, the shows, casino, and other activities, and I found the sea days not busy enough, I do still find their approach to destinations, itineraries and less well-visited ports appealing – especially in more exotic parts of the world like French Polynesia, Middle East, Asia, and Australia.
So, I would for a specific itinerary like that Middle East itinerary with the Suez Canal. However, I would only return if it was a port intensive itinerary because having many sea days would not appeal as I found.
If Windstar does appeal and want to know more about the Star Pride, starting with how the ship was stretched and new facilities added, read my blog.
SUPPORT TIPS FOR TRAVELLERS
FOLLOW ME ON SOCIAL MEDIA
——————————————-