I Cruise Celebrity Cruises To See Who They're Really For Now
I Cruise Celebrity Cruises To See Who They're Really For Now
There were things I encountered on my latest Celebrity Edge cruise that I had not on previous ones. There was a couple, probably early 70s, sitting in the Grand Plaza looking a bit startled with what they saw going around them. It wasn't a familiar Celebrity Cruises sailing to me. I was among the eldest on board.
Unlike past trips, Celebrity Cruises now had baby change toilets, teens taking over the deck parties and pools, and an almost empty guest entertainer performance by the familiar cruise standards.
When the cabin controls on my app failed – and I had to try and switch on lights and open and close the curtains manually – I  realised that on Celebrity Edge, if you were not a smartphone user, you would struggle, as it's all designed to be done by phone. 
 I look at how Celebrity Cruises has changed, and if they have fallen out of love with, and don't want passengers like me anymore? 

Issue #1: Is Celebrity Cruises Now Two Lines? 
While my experiences were magnified by going on Celebrity Edge during the summer school vacation time, comparing this with other trips on Celebrity Solstice and Silhouette, a lot of what they're trying to do really came clear to me.   
I think we are seeing the emergence of a two-type cruise line within Celebrity Cruises.  
First, there's the more traditional experience on the older Solstice and Millennium-class ships. These are traditional ships in terms of layout, venues, and programme.  
It's pretty much an old school cruise ship experience with a more modern spin. So, more contemporary music in the shows, scheduled activities later at night and more parties. Something many classic cruisers will feel more familiar and comfortable with.  
Then there is the new direction. The future. This is the Edge-class with Edge, Apex, Beyond and Ascent.  
I was asked on my Livestream after the trip what was different on Edge versus Solstice-class ships. My answer was, pretty much everything. 
Edge-class Exteriors
First, it looks completely different from the outside. The shape and the hull is very different. They've introduced the Magic Carpet which is both a gimmick and a practical solution to tendering.  
It means they can tender many people off the ship much quicker by lowering the Magic Carpet, and using bigger tenders.  
Edge-class Dining
Next, Dining has totally changed. They followed the Silversea and Virgin Voyages approach of scrapping the main dining room, which traditional cruisers are used to and like. 
Now, you rotate between four restaurants: Cosmopolitan, more traditional; Normandy, more French; Cypress, more Mediterranean; and Tuscan, more Italian. They still have the big buffet restaurant. 
They scrapped the specialty venues on Solstice-class ships, replacing them with new venues. While on Solstice-class, there's Sushi on Five, Tuscan Grille (Italian steakhouse), Murano (the French Bistro), Silk Harvest the Asian fusion. But, on Edge, there's Fine Cut Steakhouse, Le Grand Bistro, which is French and where they also do the Le Petit Chef – an interactive 3D table thing. Raw On 5, which is more than just sushi.  
They also have Eden, which is a big venue with more avant-garde dishes for dining as well as a quirky shows.  
Edge-class crowd-pleasing Venues
They've added big spaces for active crowd-pleasing high-energy activities, like The Club which has replaced Celebrity Central on Solstice. This is a two-level venue hosting high energy activities and quizzes, and some quirky cabaret more akin to what I've seen on Virgin Voyages. 
The theatre is a big high tech one with large projection screens.  
Outdoor is much more focused around being seen, people watching and socialising. There's the pool resort deck, with a focus on a big pool.   
The Lawn Club on Solstice ships has been replaced with the Rooftop Garden, which has a grill and the sunset bar at the back.   
They've also got one of the longest and best running tracks which weaves its way through the resort deck.   
As I mentioned, there are other changes like those baby changing toilets and a bigger kids club.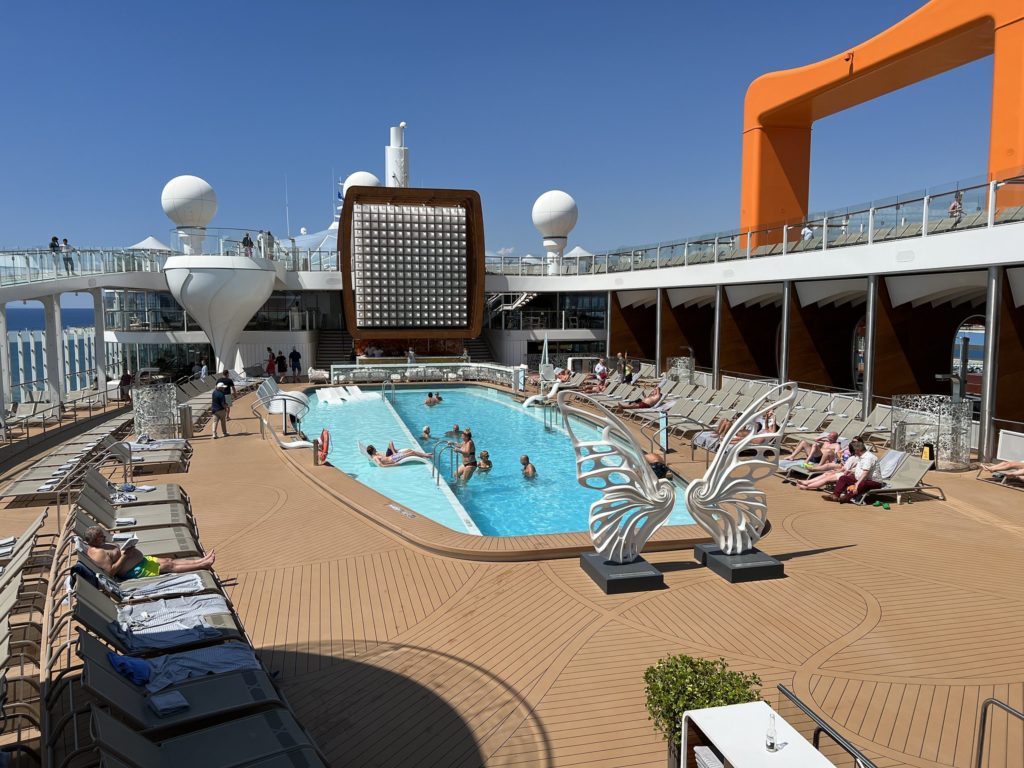 Edge-class Activities
On the Edge-class, the daily programme looks and reads very similar to the Solstice ships, but is even more youthful, interactive, louder, and energetic.  
For example, the 80s quiz, has the teams doing dance offs, air guitar band battles. The Passengers versus Officers challenge was loud and noisy. Then there's the deck party which was boisterous and interactive.  
Social Issues
The other thing that I noticed is Celebrity Cruises is using younger people and families in their ads and on-board materials. Like the excursion videos, and adopting and promoting more issues that appeal to a younger crowd.  
For example, the ship godmothers. Malala for Edge, who of course became famous for being injured by the Taliban for promoting womens education. Reshma Saujani for Apex, who is founder of the "Girls who code" to improve women in tech. Simone Biles for Beyond, the well-known U.S. gymnast who was very public on mental health issues during the Tokyo Olympics. 
They make a big issue of crew diversity, mostly woman-focused in senior roles, where they have Captain Kate, the first North American woman captain – not the first woman captain in the world – as their face and social media ambassador. 
Edge-class Cabins 
A big and divisive change, especially for more traditional cruisers, is replacing balcony cabins with what they call Infinite Balconies.  While they argue the cabins are 20% bigger, basically you lose the balcony and have a sliding window with some seating inside.  
Edge-class Dress Code
I also saw a very different experience on Edge with Dress Code, even though there were still Chic nights, few bothered.  
On my previous trips on Celebrity Solstice and Silhouette, guests did dress up a bit more. But again, this was because it was full of more traditional cruisers, and on Edge it was only really those among the guests that did dress up more.  
All these factors mean that Edge-class ships are without a shadow of a doubt, attracting a younger and more family-focussed group – on those ships. Less so on the other classes, from what I've seen. 
Not for mum
This revelation was strengthened by how I held back on booking an Edge-class ship, but would book a Solstice class ship for a trip we are planning. My partner Mark and I, are looking at taking his Mum to Australia, a place she has always wanted to go. Celebrity Edge is going to be in Australia and would be an easy way to explore more, but after being on Edge, I decided there's no way I would take her on Celebrity Edge.  
It's too modern. The infinite balcony would alienate her. She doesn't use a smartphone, so controlling the things in her cabin would be more challenging and booking things on the App would be a no-go. She would miss the more dressing up.  
However, if there was a Solstice or Millennium class I would book, as I do believe that will attract and be more classic and with guests to match. 
There is one other big development at Celebrity Cruises that appeals to me, but is driving some away. It is affecting some other of my plans, though, as I will explain.  
Issue #2: Price of Luxury 
Celebrity wants to become a luxury line, not just seen as a premium line. In the category that they're officially classed in there's P&O Cruises UK, Princess, Holland America, and Virgin Voyages. All with similar experience and pricing. Until now. 
Celebrity Cruises Fares
Celebrity Cruises have increased their prices above those and many people tell me they're looking for alternatives as feel it's getting too costly.  
The line now calls themselves – in all their marketing materials – a luxury line, and their ships luxury cruise ships. The fare changes reflect this. 
Fares changes were driven by two key reasons.  
First, to be more like luxury lines they went more all-inclusive, with "Always Included" fares, which include gratuities, standard drinks package, regular Wi-Fi.  
This was going to be the only fare, but I have seen now when you're booking, they have quietly reintroduced a cruise-only fare. I guess because they are seeing some pushback still.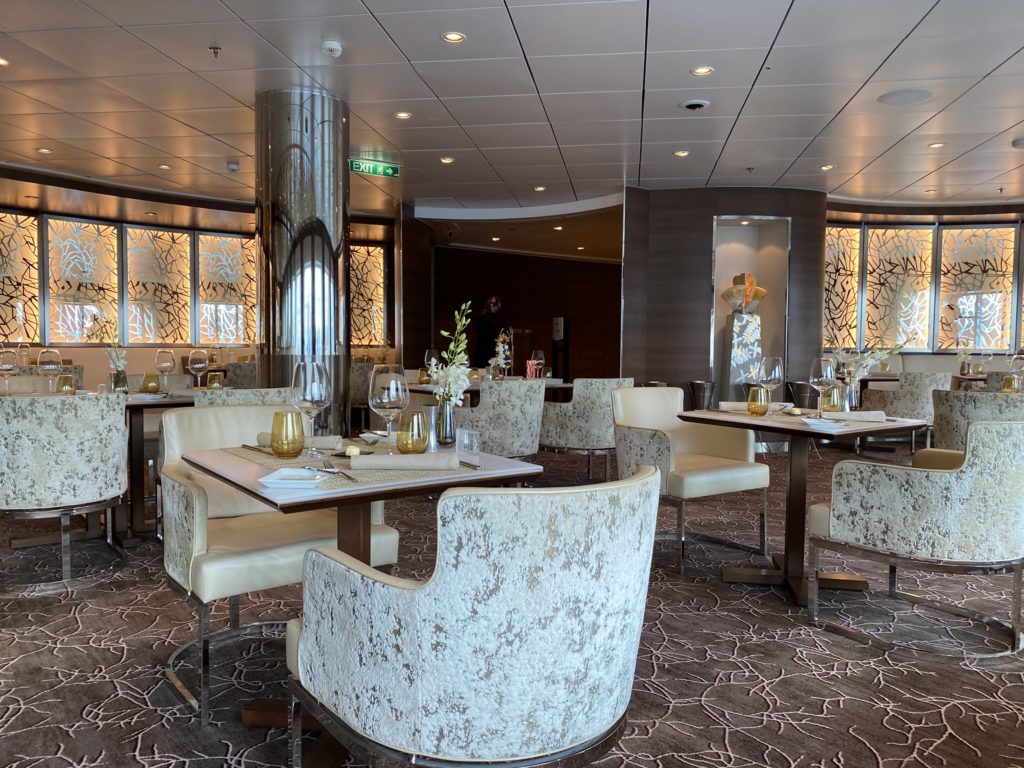 Celebrity Cruises Luxury
The second reason is they want signal they are a luxury line. But where is our fare money going and how are they doing on that? 
The decor has significantly gone plusher, on the Edge-class ships but also with the refits, they're doing on the older Solstice and Millennium-class ships 
You can see the impact of the designer Kelly Hoppen, and others, as the ships feel and look more luxurious. The soft furnishings, the bed linen, the towels, they are all up in quality.   
The food across the ship is much improved and excellent across all venues. Style and flair of presentation as well as taste is also elevated. 
Little touches – big differences 
There are little touches that show luxury. For example, I don't drink alcohol or caffeine. I drink caffeine free diet Coke. On some of their close competing lines they don't stock it at all. On Celebrity Cruises, they not only stock it, but if any bar I frequented did not have it as standard, they made sure it was available for me.
Service was high, even though gratuities are now included. What I did find interesting, though, is the crew were very interested now in me mentioning their names in the post cruise survey and on what ratings I would give. This goes for the overall experience in a venue and for the service. 
When I was discussing this with my waiter in the restaurant, he was saying that the most important score for them on the survey is the overall experience in there. Not just the service. So, they're clearly making passenger scores for service essential to crew performance reviews and incentives. 
Another touch I normally see on ultra-luxury lines was here. In the daily programme, from the very first day, was a QR code and contact encouraging us to submit issues or things we wanted sorted or improved. These went direct to the Hotel Director to ensure it was taken care of. 
High end brands are everywhere, Apple, Cartier, Bvlgari, and Tiffany shops. They have Peloton bikes in the fitness centre. There's a real sense of upping the aspect of luxury.  
Celebrity Cruises class-based System
They also have upped the premium side of the line, with a class-based system fairly like Cunard, where based on what grade of cabin you're cruising in, determines what restaurant you eat in.  
If you're booked in an inside, ocean view or balcony cabin, you eat in one of those four that I was talking about. And if you're in an Aqua Class, you eat in the Blu restaurant.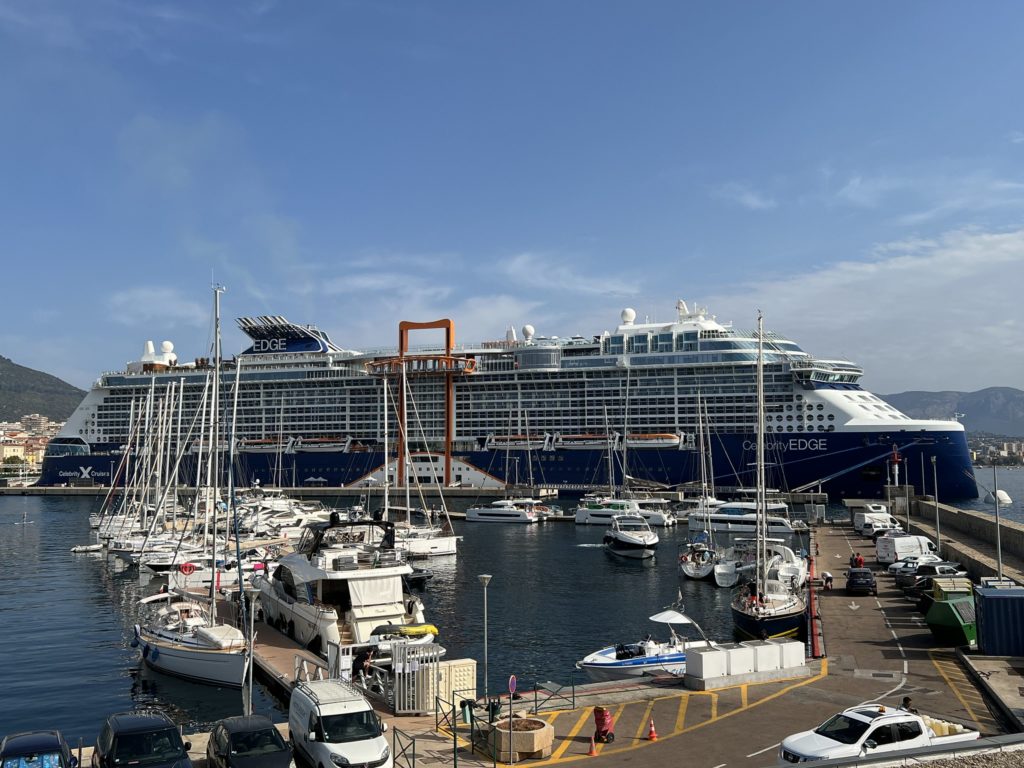 The Retreat
If you are in a suite, what they call The Retreat, you eat in the Luminae. Along with many other unique features.  
You have the suite, a butler, that Luminae restaurant, a lounge with concierges to help make arrangements, a large deck with a pool, hot tubs, bar, and you can eat lunch out there. Then priority with boarding, disembarking, tendering and you have reserved seating on Chic nights in the theatre. They have really elevated that whole suite luxury experience.  
 People not travelling in The Retreat did get a little bit miffed because the exclusive retreat spaces do take up quite a lot of space. 
Celebrity Cruises, does, in my mind, feel more luxurious than on Holland America, Princess, P&O Cruises, and Virgin Voyages.  
So, I realised that it has become a good alternative when I want to go luxury without the cost of those ultra-luxury lines. Of course, I don't get the small ship experience, but The Retreat is a wonderful experience.  
My partner Mark is a big fan of Cunard Queens Grill, but I want to change a future Cunard plan into a Celebrity Retreat as it's more contemporary and the lounge, deck and perks are much better than Cunard equivalents. 
View more of my cruising tips.
SUPPORT TIPS FOR TRAVELLERS
FOLLOW ME ON SOCIAL MEDIA
——————————————-