7 Reasons why a CroisiEurope European River Cruise may be right for you
Having decided you want to go on a European river cruise you soon discover there are many river cruising line options. Deciding which is best for you can be a challenging, or even stressful, decision as you work out where to spend your precious vacation time and money. Croisieurope invited me to cruise with them, and based on the experience, I identified these seven things to help travellers in that situation decide if CroisiEurope is right for their river cruising experience.
Why CroisiEurope may be the right river cruise line for you:
1: They have huge experience, more than other river cruise lines.
CroisiEurope have over 40 years experience operating river cruises in Europe. Mr. Gérard Schmitter founded them in 1976, and the family still own and run it as a family business. They are the longest established operator in Europe. The fact that they have been around and survived so long suggests to me that they must be doing something right to satisfy river cruisers.
2: They have the largest European river fleet, so they offer LOTS of choice.
With over 44 ships they have largest fleet in Europe and so offer lots of choice. While they also sail along the classic major rivers, like the Danube and Rhine, which other lines focus on, CroisiEurope offer a wider range of rivers and countries options. This could be appealing if you are looking to see less busy stretches or get an insight into regions beyond the usual river cruise territory.
In addition to the Rhine and Danube (which many first time river cruisers tend to focus on), CroisiEurope also sail on the Seine, Rhône, Tisza in Hungary, the Guadalquivir in Spain, the Douro in Portugal, the Dordogne and the Garonne in Bordeaux. They even designed a specific ship for the Loire River which no other line has ships capable of doing.
Once you have covered Europe they can also take you along the Mekong in Vietnam and the Irrawaddy in Myanmar.
Watch my video highlights of the CroisiEurope Loire River cruise I sailed on:
3: They are a Value-for-money line and likely to be cheaper than competing lines.
Most lines in Europe are in the premium end. However, the Schmitter family vision was to make river cruising accessible to travellers on more of a budget. So you should find the most attractive fares on routes you are interested in with them. You should, however, understand the following when comparing their fares to other river cruise lines:
The fares are "all inclusive". However, unlike the premium lines, this does not include excursions. The CroisiEurope fare will cover the following:

Accommodation.
Unlimited complimentary onboard beverages, including beer, wine, most spirits, bottled water, soft drinks and coffees or teas.
All meals. A buffet breakfast and three-course lunch and dinner are provided each day. You do not get a choice of menu items at lunch and dinner but, as they are published in advance on the in-room television, you can ask for an alternative in advance if the course is not suitable for some reason.
Free Wi-Fi. At a minimum Wi-Fi is available in the public rooms but on many it can also be accessed in your cabin.
Some port talks, entertainment (e.g. local performers and a crew show) and the Captain's Welcome and Farewell Cocktail Party.

The following are not included:

As mentioned above, excursions are not included. They sell a package covering all of them or by trip prior to the cruise. The ships will usually dock in the heart of the destinations so self-touring is possible in most places if you want to keep down costs. However, you are likely to get more from the region and see more by buying their excursions as often these go further inland to key sights and attractions you would miss otherwise.
Gratuities. At the end of the cruise you will be given a cruise survey and an envelope for gratuities if you wish to leave these.
Premium alcohol drinks. Some are not covered within the all-inclusive fare such as champagne, prestige whiskeys and some liqueurs.

4: Comfortable cabins with a view.
The ship's cabins and facilities are not as plush as five-star premium lines like Uniworld. However, I found the ships to be comfortable and attractive. It is probably more akin to cruising in a three- or four-star hotel. To get a feel for what CroisiEurope ships are like watch my video tours of their CroisiEurope Lafayette and Loire Princesse.
The cabins have the amenities you need like air-conditioning / heating, bathroom with shower, satellite TV with channels from a range of European countries, safe, hairdryer and lots of electrical outlets (all using the European plug shape, so bring adaptors if coming from the UK, USA, Canada, Australia etc.).
The cabins (importantly) all have a view of the river. You can have one with a balcony or simply river-view windows. Personally I loved having the balcony as you are passing scenery all the time and the large glass doors and ability to sit and watch it pass by added to my experience.
Although being river ships and so limited in size, there are areas to mix and relax such as a lounge bar and huge sun deck on the upper level.
Watch my video tour of a CroisiEurope Cabin:
5: Intimate adult travel experience with high attention by the crew.
River ships are relatively small to be able to navigate the rivers, and so passenger capacity varies from only 100 up to about 180 people depending on the ship. There are likely to be around 25 crew members, and so there is a high crew-to-passenger ratio. They are able to get to know everyone on board and so more able to cater and adapt to your needs (or quirks).
The numbers also mean that you get to know your fellow passengers quickly, leading to a social environment. I noted a good percentage of solo travellers and they told me that they chose the line as they felt welcome and soon made friends on board.
River cruising tends to attract an adult traveller interested in seeing the historic, cultural and artistic side of the destinations visited. While families do travel on CroisiEurope in the peak school holiday periods, they tend to be in a minority and you are more likely to have an almost child-free vacation. The age profile does skew older, although as river cruising becomes more popular it is starting to attract a younger profile. In my experience it is likely to be 50+ and may not appeal to a younger more party-focused crowd.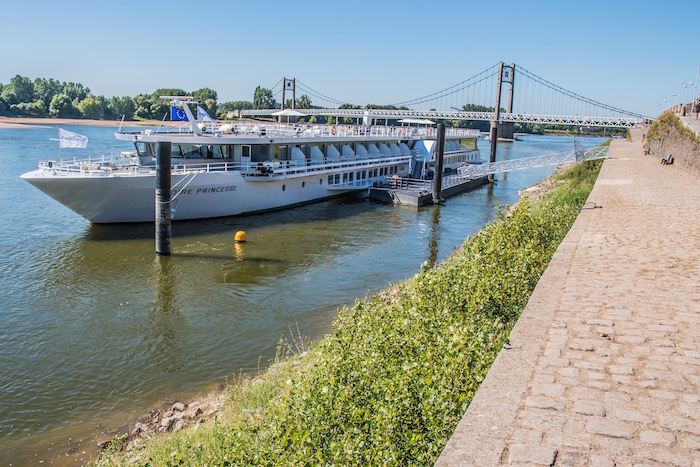 6: French and European ambiance with multi-lingual crew.
One of the biggest differences between CroisiEurope and other lines that I have experienced is that it provides a French-focused experience. With its strong connection to France, most of the guests tend to be from there. The line is becoming more focused on attracting guests from other European countries and even as far afield as Australia, New Zealand and North America. On other cruise lines I have found that English has dominated and USA, Australian and UK guests have dominated the guest mix. This is not the case on CroisiEurope.
CroisiEurope is a multi-lingual and multi-cultural guest experience. On my cruise all announcements and communications were in French and English. As there was a sizeable Spanish presence, there was a Spanish-speaking host to cater for them. Excursions were run by language grouping, although occasionally French and English tours were combined. The latter could be a bit frustrating (and slowed the pace of the tours) as the guide had to repeat everything, so be aware that could be an issue based on the language mix on your cruise.
On board the crew are multi-lingual and all are likely to speak English and French. However, as they have a diverse mix of nationalities you are also likely to be able to find crew members to speak to you in whatever local language you have (or want to practice!).
7: French cuisine developed in partnership with Michelin-starred French chefs.
In my experience, all river cruise lines offer good food. It has become something that travellers expect. In their promotional materials CroisiEurope say you will travel the rivers of Europe in your own French restaurant – with cuisine and menus in the exacting tradition of fine French gastronomy. I think they largely meet this. Although there were no options at meals I found the food to be of high quality, varied and well presented.
There is a bias towards French cuisine, although at times diversions are made to include local specialties to capture the flavours and food of the regions being passed. The line works with Michelin-starred chefs like Paul Bocuse and Marc Haeberlin to develop the menus.
Final Thought
There are many choices of river cruise lines in Europe, and they are constantly expanding as it becomes increasingly popular. Make sure that you spend time to find the line that works best for you. CroisiEurope offers a competitive and value-for-money option and so a good choice for trying out river cruising.
Additional Reading about river cruising
The following resources by me about river cruising that may help include:
Disclaimer: I travelled as a guest of CroisiEurope on this cruise
If you enjoyed this article, please follow Tips For Travellers on: