Cruise Fare Tracking Will Save You A Fortune. Here's How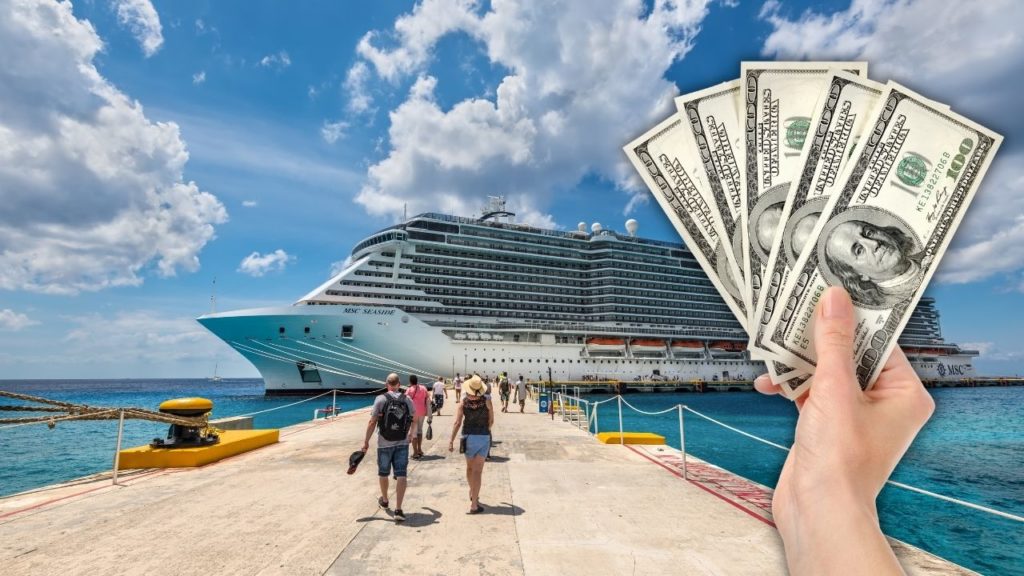 Cruise Fare Tracking Will Save You A Fortune
Cruise ship fare tracking could save you a fortune off your cruise. It has for me and many people that follow my channel who follow my advice to do it. Every week passengers contact me to tell me how they had their fares cut, got upgrades or extra on-board credit. It is easy to do.
Once you have booked a cruise, you should set up a fare tracker. If you see the fare fall then contact the cruise line and ask them to match the new fare. Some lines are better than others, so you may have to request to be upgraded so you get a cabin at that new price for you old fare, or ask for On-Board credit.
The rewards can be huge. I have been upgraded to a suite and even on one recent cruise where I saw the price fall by half, mostly as they had dropped the solo supplement I got $1,500 back.
Lines will be most flexible before you have paid final balance, So, I would do a check before paying that. I recommend doing a "dummy booking" on the cruise line website as that will default to where you have booked before approaching the cruise line. I do a booking at same cabin grade to check the pricing and then act.
Here are three sites I use and a guide to set up a tracker on each.
CRUISEWATCH.COM – FARE TRACKER
Cruisewatch.com is the easiest. Though they tend to cover USA-passenger centric lines, so you will not find liens like P&O Cruises, SAGA etc. Nevertheless, they are a great tool for cruise ship fare tracking, regardless.
Step1:
Go to https://www.cruisewatch.com/cruise-price-alerts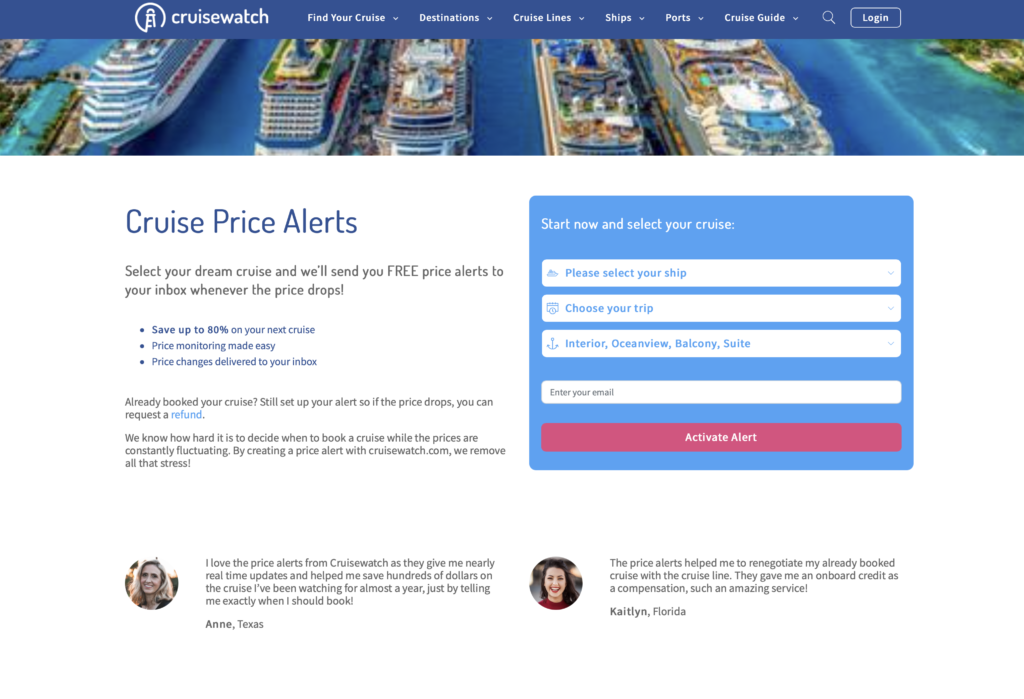 Step 2:
Enter your ship, select trip (they will list all the scheduled cruises of that ship), grade of cabin booked and your email address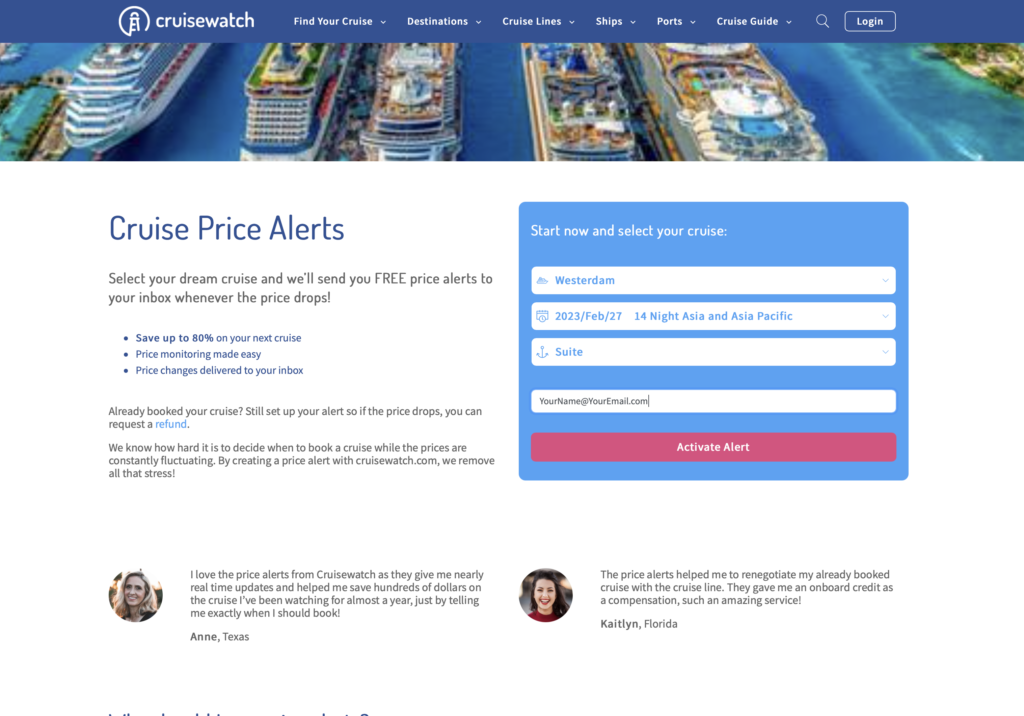 Step 3:
Check they confirm your tracker is set up. This will appear. The first time you set up an alert you will get an email with a link to confirm your email.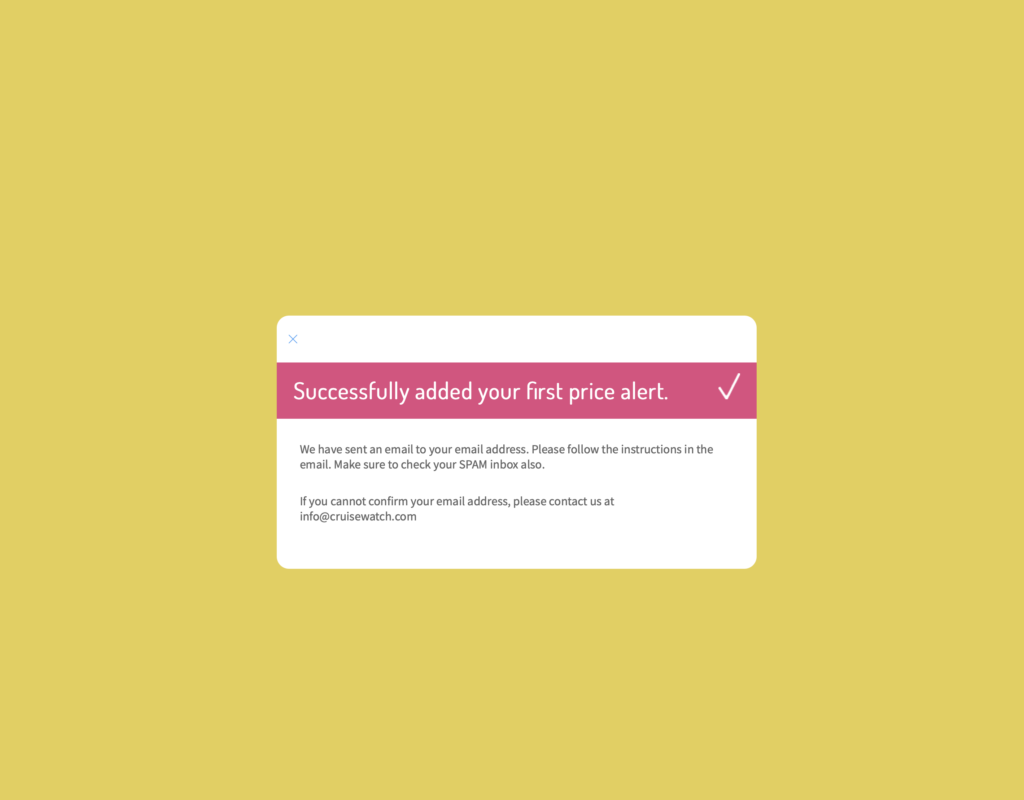 Step 4:
Receive email updates like the one below for your cruise ship fare (This is for a trip I already have set up)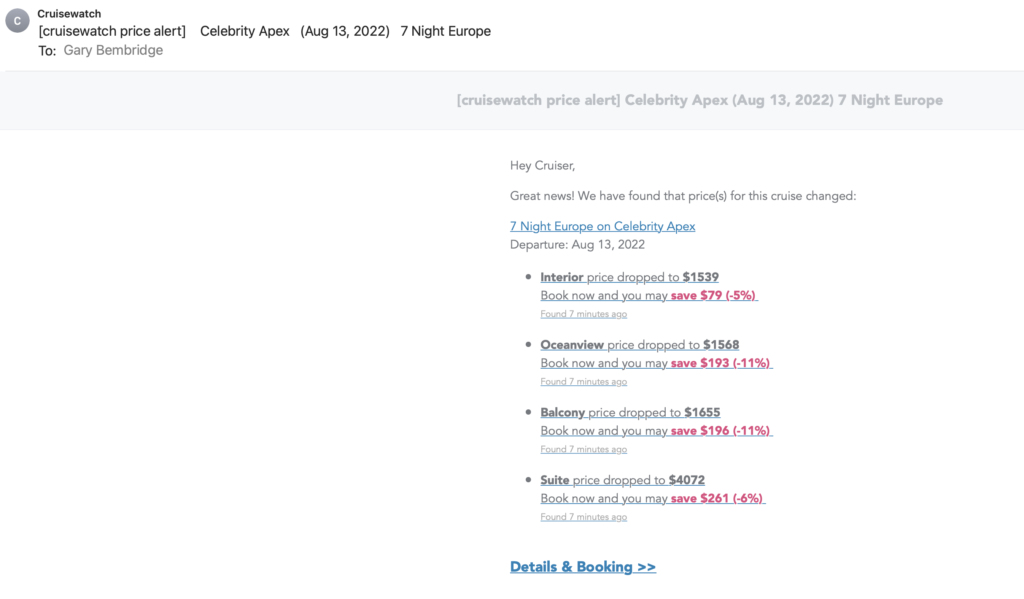 CRUISELINE – FARE TRACKER
Step 1:
Go to CRUISE PRICE ALERTS on Cruiseline.com and enter the cruise line, ship, month and cruise. Then your email address and save.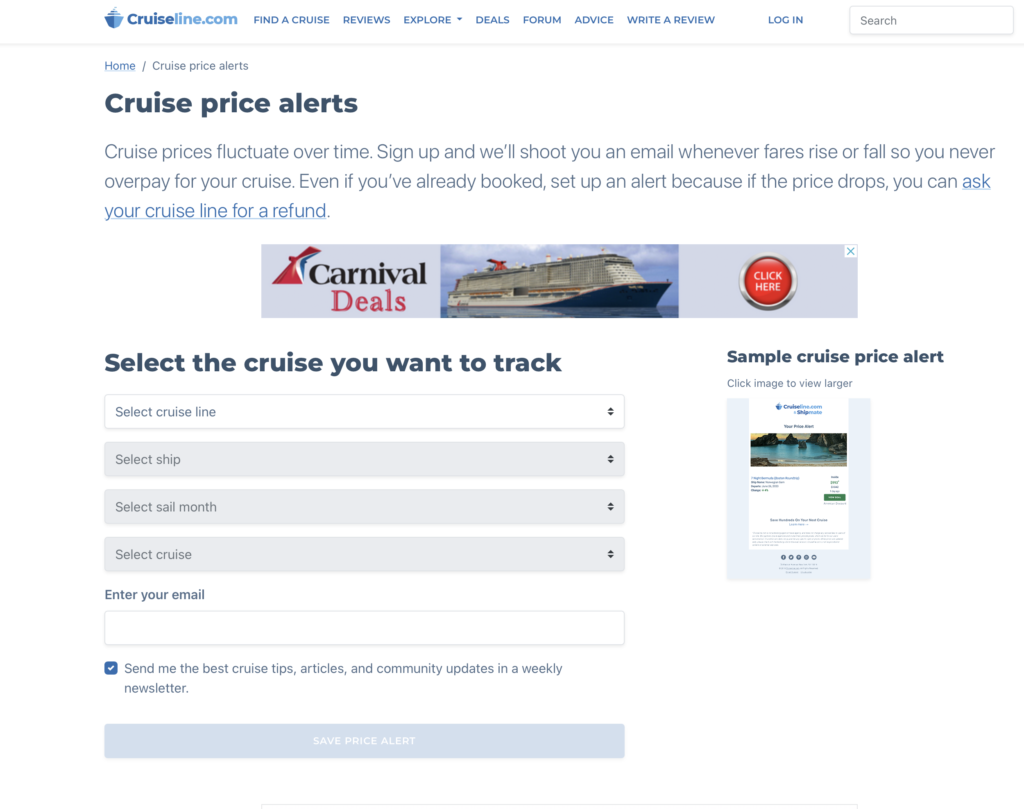 Step 2 – Get alerts when prices change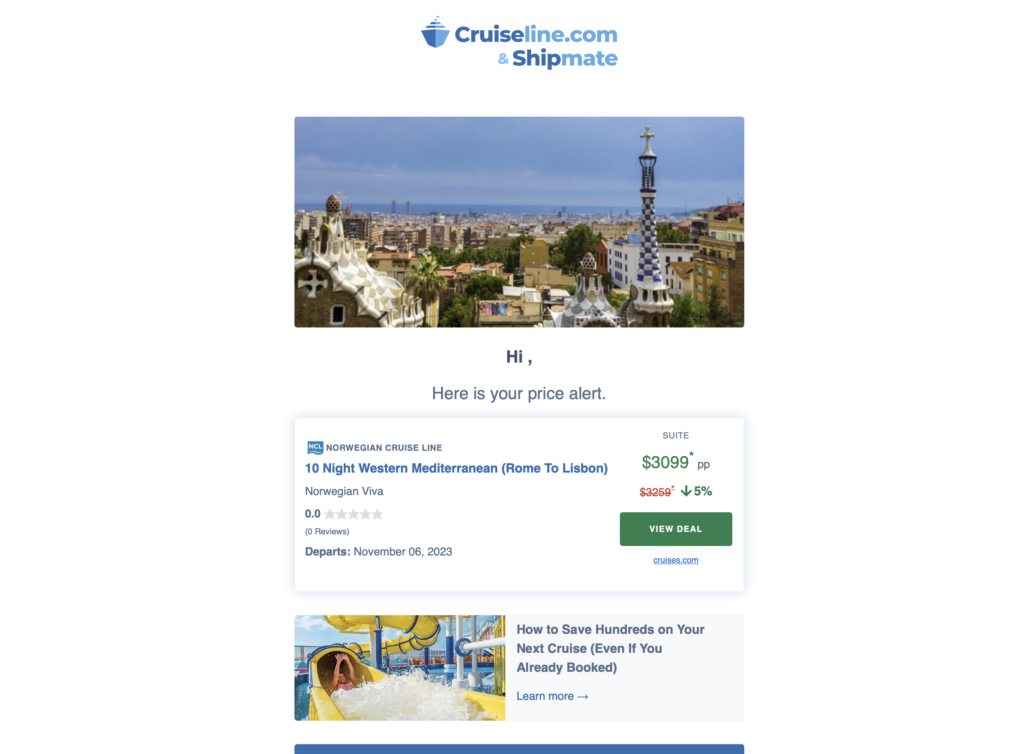 CRUISECRITIC – FARE TRACKER
This is not as simple but still works, and is good for covering cruise lines that CruiseWatch.Com do not have.
Step 1:
Go to FIND A CRUISE on CruiseCritic.com and enter when and where you want to go
Step 2:
Find your cruise from the list that search returns, and click on the "FARE INSIGHT" heading which will bring up the option to set a tracker. The insight, unlike Cruisewatch.com will show recent typical and highest prices). Enter your email address and click "Save Price Alert"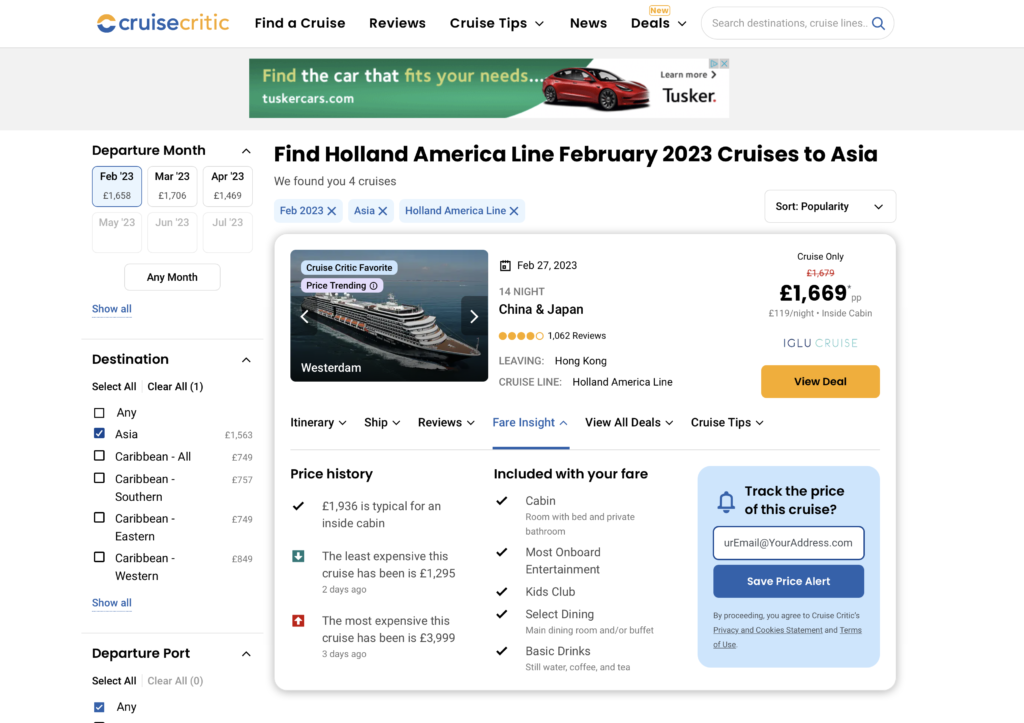 Step 3:
You will get a confirmation that the tracker is set up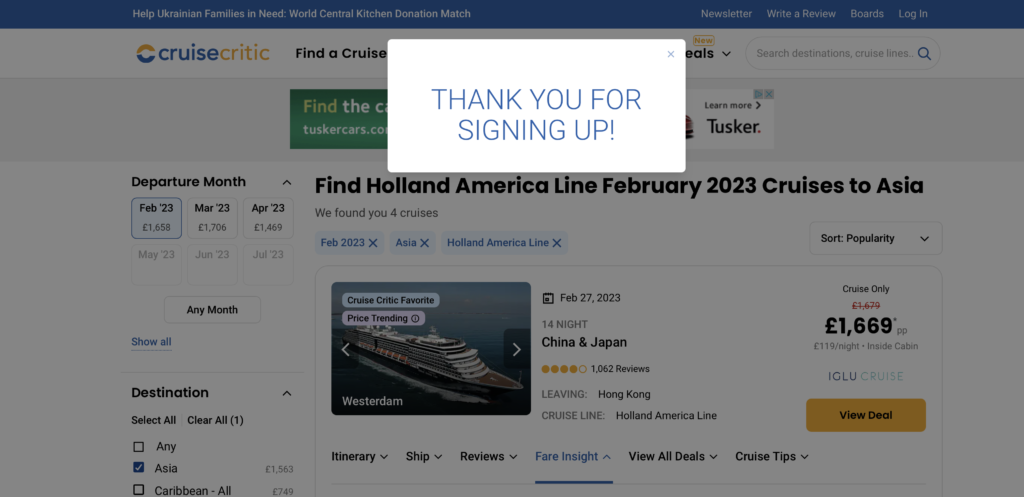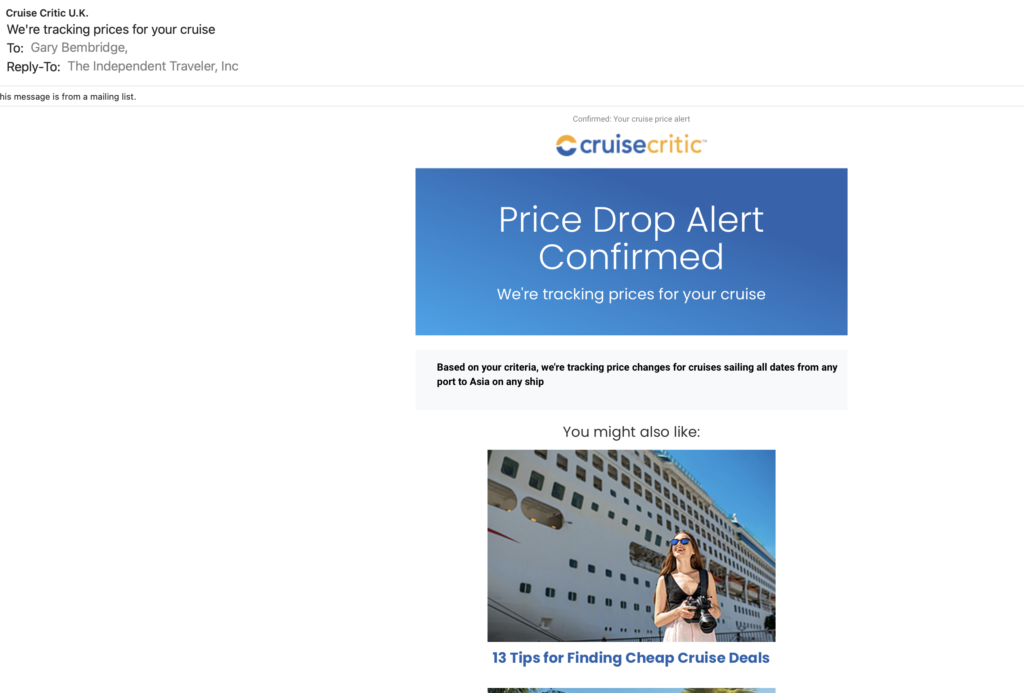 BECOME A TIPS FOR TRAVELLERS MEMBER
————————————————————
Sign-up as a Channel Member to get perks: https://www.tipsfortravellers.com/Join
Become a Patron on Patreon and get perks: https://www.patreon.com/tipsfortravellers
BUY MY CRUISE-THEMED T-SHIRTS
————————————————
Check out my T-Shirt range: http://bit.ly/TFTStore
FOLLOW ME ON SOCIAL MEDIA
——————————————-