How to get a cabin upgrade on a cruise: 9 ways that work for me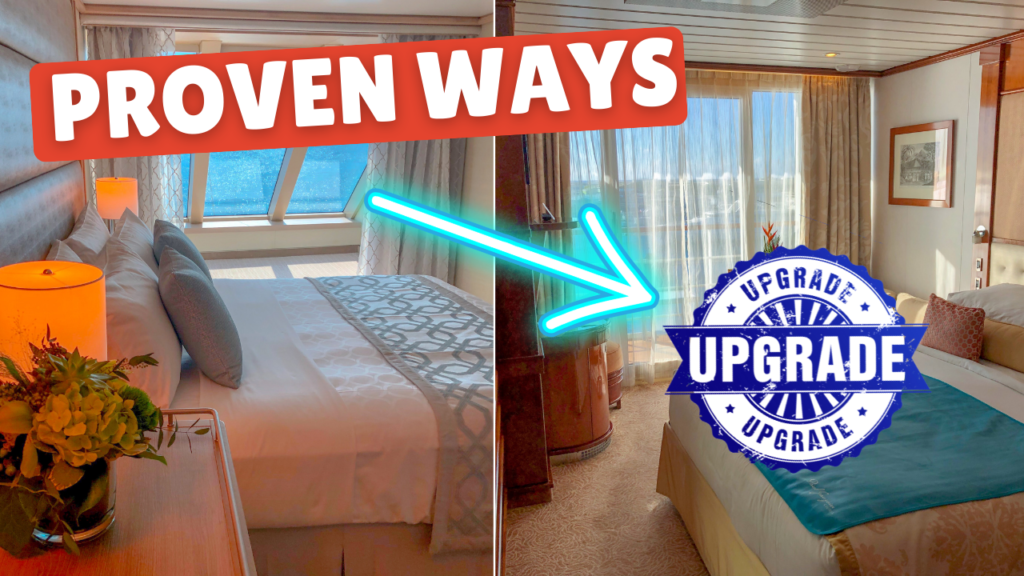 How to get a cabin upgrade on a cruise: 9 ways that work for me
I get upgraded more than most cruise passengers because I don't use the most common ways other cruisers chase upgrades. I do something different.
Here's what I've found works: How to get a cabin upgrade on a cruise.
Auto Cabin Upgrades
The first thing most do, and the one that I hear more horror stories about than any other, is by accepting an auto upgrade.
Including my own in my early cruising days when the excitement of being upgraded from a balcony cabin we had carefully chosen on P&O Aurora into a higher-grade cabin put a dampener on our cruise. As I'll explain.
When booking a cruise, we have the option of accepting an auto upgrade.
If the line has empty cabins, they often move people who have said they will accept auto-upgrades up one or two cabin grades. For example, as we were.
This frees up lower-grade cabins, which are easier to sell and fill than higher-grade cabins.
There are 3 big watch outs with auto upgrades as I discovered
First, the default setting when booking a cruise is usually accepting an auto upgrade. You must opt out if you don't want one. We didn't.
Second, we found you have no say in the cabin they move you too.
In our case above a noisy late-night club but could have been below the pool deck with scraping chairs, have a strange layout or an inter-connecting door to the next cabin where we could hear the neighbours.
Thirdly, even though we did not like the new cabin, we couldn't have the original back as it had been re-sold or someone upgraded into it.
Since then, I have opted out of auto-upgrades.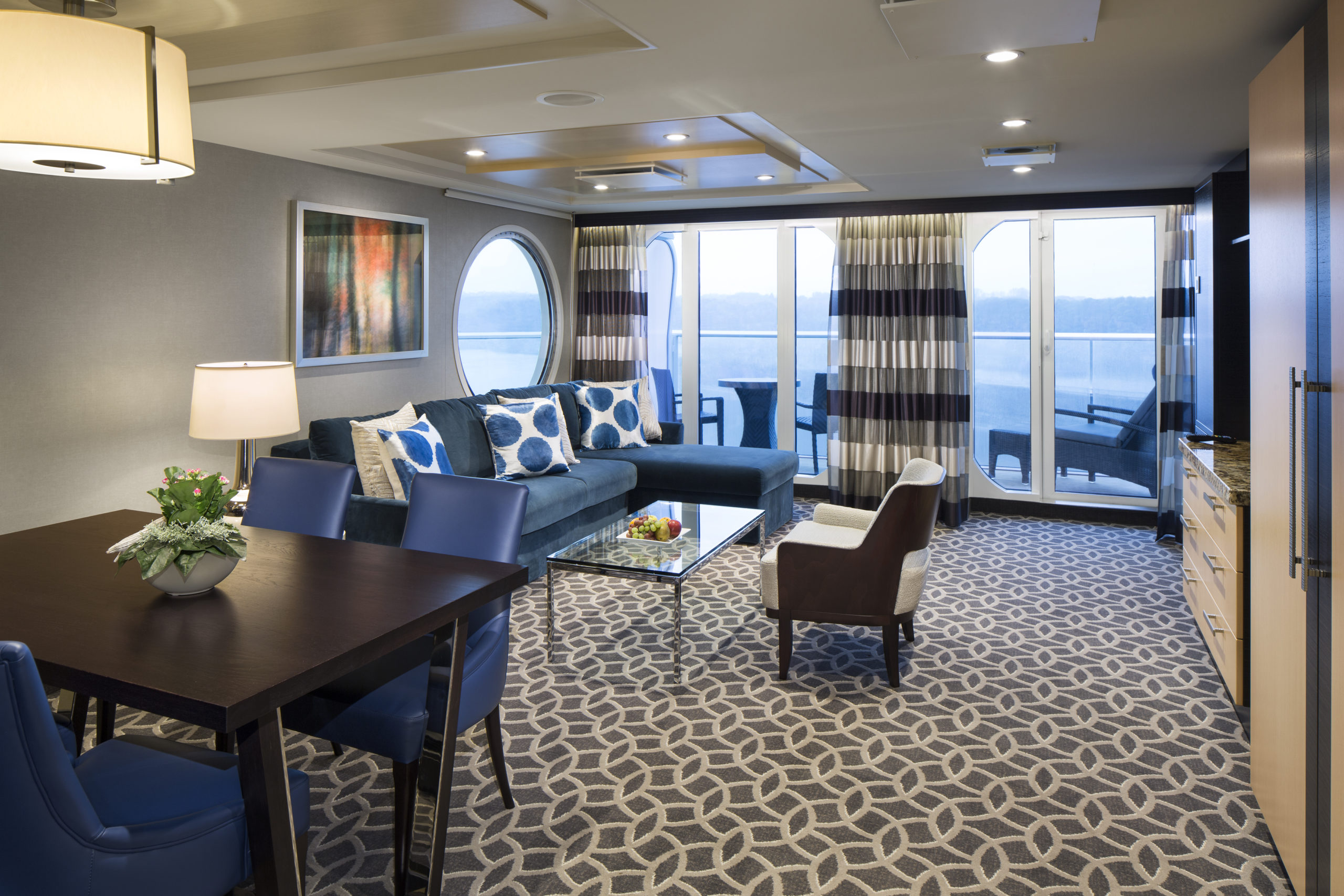 Pay For It
The next usual way passengers get upgrades is by paying.
I watch people go to Guest Services as soon as they board to see if the ship has empty cabins and are offering upgrades.
On at least 4 of my last 5 cruises, I've seen numerous passengers upgrade this way, often for small amounts per day.
An advantage with this approach is you usually get to view and choose your cabin before accepting.
My tip is to go on the second day. By then the ship knows the numbers of no shows, and cabins vacated by those who upgraded are now fee and upgrades tend to be cheaper.
Bidding
The third popular approach is bidding.
Several cruise lines give the option to bid for an upgrade, usually between 60 and 30 days before departure. They send out emails asking for submissions.
I've had them from Norwegian Cruise Line, Azamara, Royal Caribbean and Celebrity.
I have not bid as first I could not choose the specific cabin I get, so again it may not be in a great location.
And second, I could not accept or reject any cabin and they would charge my credit card as soon as they accept my bid.
I have heard people getting carried away and bidding more than simply changing their booking directly.
So, check the current price for that higher cabin before bidding, and bid low as there may be few bids.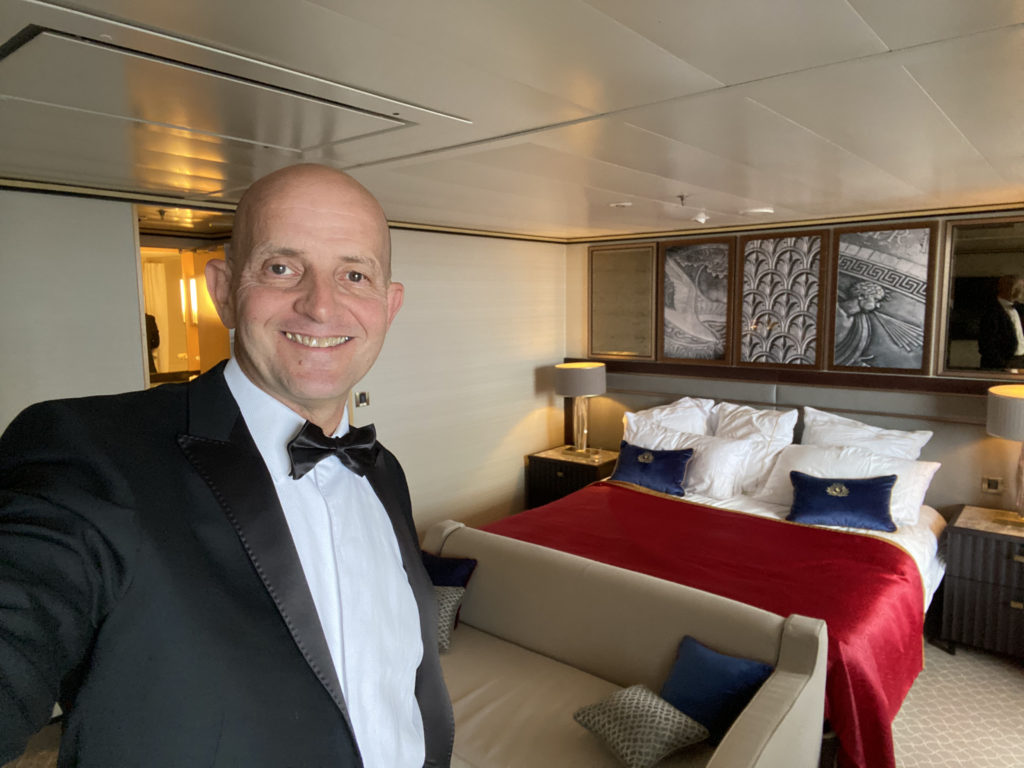 Guaranteed Fares
The other common way passengers use to get upgrades is by booking a guaranteed fare.
A guaranteed fare means booking a cabin grade (Inside, Oceanview, Balcony or Suite) and not a specific cabin. The cruise line allocates you a cabin close to sailing.
On most lines, it's a cheaper option than choosing your own cabin.
You could find you get a better grade cabin this way. For example, On Holland America Nieuw Statendam I've been on recently, there are 5 grades of balcony cabins, and you might be allocated the best grade.
If many on your sailing book a specific cabin and opt out of auto-upgrades, the best grades may be the only ones the line can put you in.
I have seen passengers allocated cabins above the guaranteed grade booked. So, a balcony instead of an Oceanview, or suite instead of a balcony.
Many of the downsides of the other approaches apply to this.
If you book a guaranteed inside or Oceanview this could work to your advantage as these are the easiest cabins for lines to sell, as they are the least expensive.
If a cruise is not full, they may upgrade you to a balcony cabin as they know they can more easily resell inside and Oceanview.
Those are the ways most passengers use to get an upgrade. I don't use them. What do I do? The first one is simple but takes planning.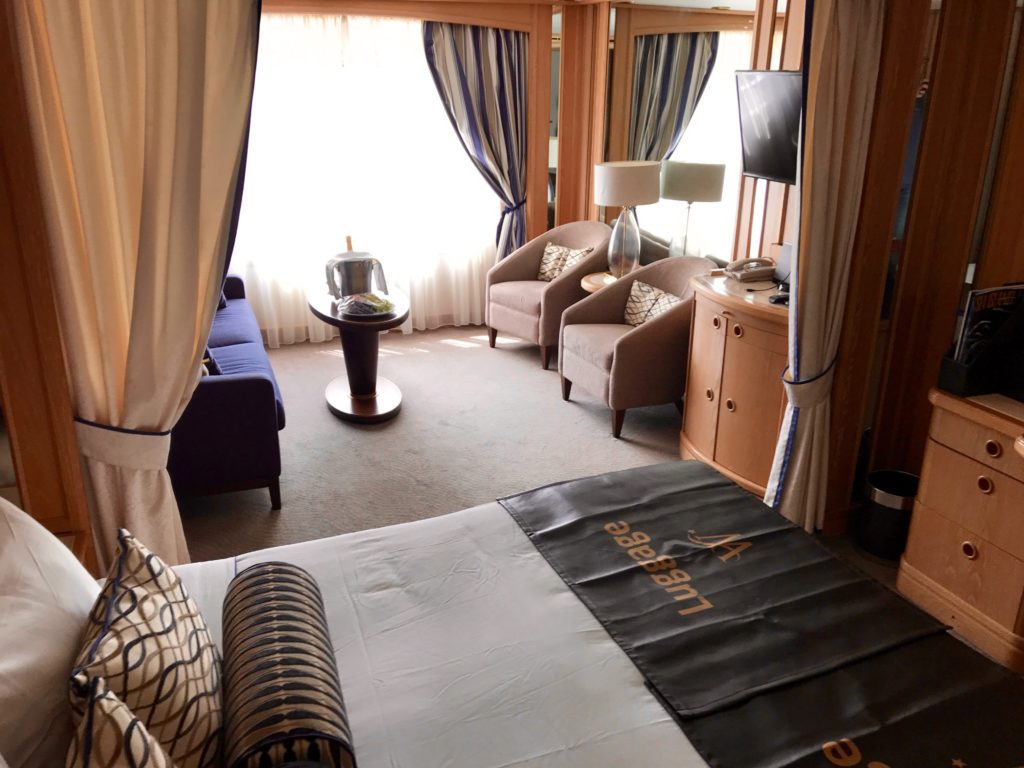 Promotions
I simply book when there are upgrade promotions, when the line is offering pay for a lower grade and get a better cabin.
For example, I recently booked a Regent Seven Sea Caribbean cruise where I got a cabin two grades up from what I paid for, based on the usual price.
A good time to find these promotions are when itineraries are launched. If there's a cruise you want to do in two years plus as soon as they come on sale look for these.
Second, about 90 to 60 days before a cruise. This is when final payment is due for most cruises and if the ship is not full, promotions like this are one tool they use to encourage bookings.
Thirdly, during "Wave Season" usually at the start of the year or "Black Friday" towards the end, which are big sale periods with lots of competition for our bookings and this is one popular promotion here I have found.
The way I find out about these is usually though the cruise line email newsletters, so sign up for those.
While this technique has been very successful at snagging me upgrades, this next is the one that has got me more than any other technique.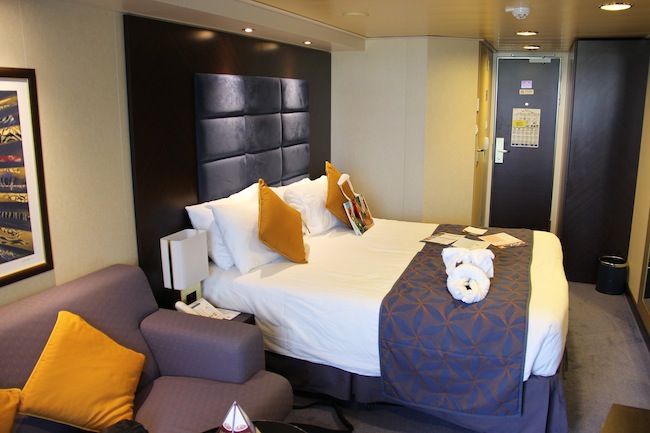 Tracking
This is fare-tracking.
When I book a cruise, I set up a price tracker, which I've spoken of before, on a site called CruiseWatch.com or CruiseCritic.com
I have a blog post where I explain how to do that, which is linked in the notes of this video.
Those trackers alert if the fares on the cruise have fallen, and if they have, I either ask the line for the lower fare, or for an upgrade.
I've had huge success with this, especially in getting a cabin upgrade.
Through this I have recently been upgraded on Cunard Queens Grill from an entry suite to a Penthouse, and on Viking from a balcony to a suite.
The watch-out is it does take some work and negotiation as some lines are more willing than others.
Next in line has also led to upgrades, but is not necessarily a good thing.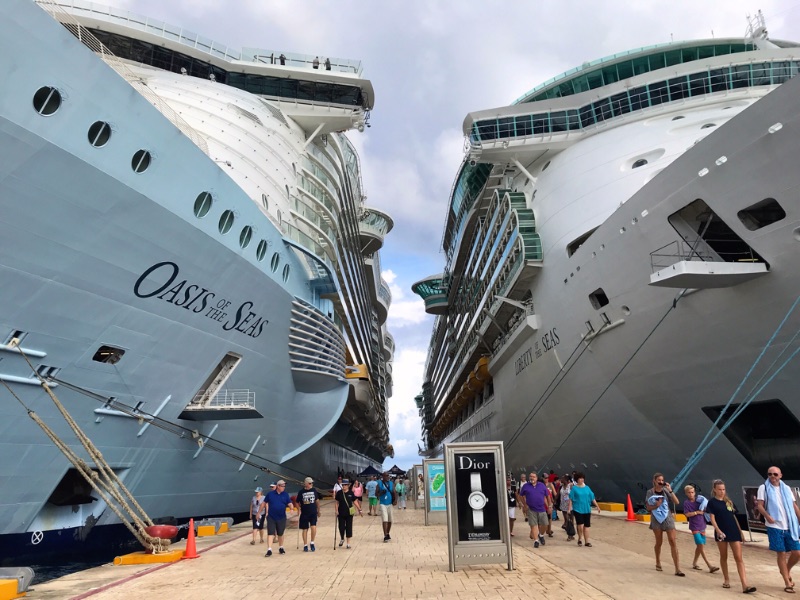 Complaints
This is through complaining.
Not from being difficult and chancing my arm, but when I have an issue with the cabin that I feel is affecting my cruise and needs to be addressed.
Especially since I believe there are cabins the line seems quick to move passengers from when an issue is raised.
Can you believe, I have had a series of cabin upgrades through complaints?
On a Silversea expedition cruise in Antarctica I had some problems with noise underneath me, from some sort of machinery. I was moved from an ocean view cabin into a balcony cabin.
There was also an issue on my Ponant Le Lyrial sailing, with rattling air-conditioning that disturbed me in the night and that they could not fix. Again, I was moved to a better grade cabin.
On a recent Azamara cruise, I had dragging and scraping above in the early hours. When I went to Guest Services, the manager knew off the top of his head that my cabin was below a work area.
When he made a note, it was to a page listing other cabins where people had come to complain.
They moved me to a better cabin without noise within the hour.
I believe that the line knows which cabins have issues, and if you are in one of those and raise the issue, they know it's genuine and they move you to a better cabin if the ship is not full.
Special Event
Another technique for a cabin upgrade which has worked for me is special events.
When I got married, we booked a Queen Mary 2 Transatlantic Crossing for our honeymoon. Our travel agent let the line know that we were going on our honeymoon and were upgraded to a Penthouse Suite.
The Agent had good relationships with the cruise line, makes many bookings for them and so was able to get us on an upgrade list.
So, if you have a big event coming up, especially your wedding, let the line know.
It's not going to work for birthdays, and I have not heard it working for anniversaries much – but give it a go as worst case they will upgrade the experience on board with champagne, cakes, decorations and maybe some added perks.
Loyalty
Remember, that as with airlines, the cruise lines will tend to give upgrade priority to their frequent travellers.
If you like a line and sail often you will have more leverage. But, check if the loyalty programme for that line offers fare discounts as you progress up the tiers.
Many tend to offer booking discounts or free nights as you move up tiers, which you can then use to effectively upgrade by paying the same fare as usual but taking a better cabin.
We are Diamond on Cunard and get discounts now when booking, which helps nudge us up a grade.
BECOME A TIPS FOR TRAVELLERS MEMBER
————————————————————
Sign-up as a Channel Member to get perks: https://www.tipsfortravellers.com/Join
Become a Patron on Patreon and get perks: https://www.patreon.com/tipsfortravellers
BUY MY CRUISE-THEMED T-SHIRTS
————————————————
Check out my T-Shirt range: http://bit.ly/TFTStore
FOLLOW ME ON SOCIAL MEDIA
——————————————-