3 Biggest Cunard Transatlantic Crossing Fears Explored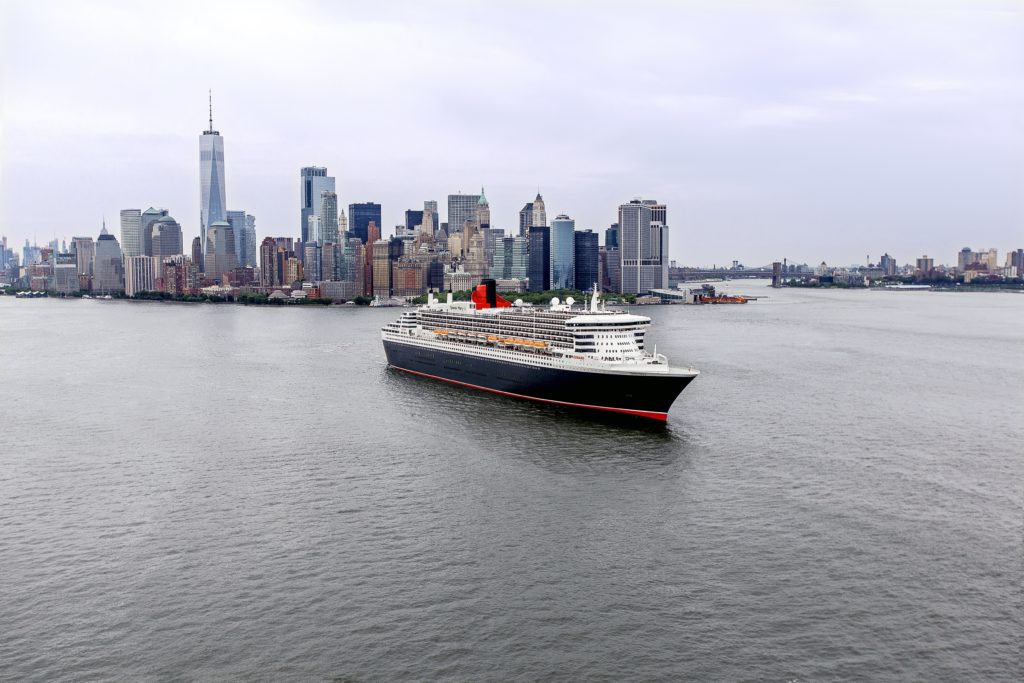 3 Biggest Cunard Transatlantic Crossing Fears Explored
There are seven back-to-back sea days on a Cunard Queen Mary 2 Transatlantic crossing. Not surprisingly, one big fear many have about doing a transatlantic is getting bored with little to occupy them.
I too was apprehensive about the one I have just done, as after many sea-day heavy cruises since cruising resumed, I was getting bored on sea days.
Join me as I look at this and the two other biggest fears people tell me they have about doing a Cunard Queen Mary 2 Transatlantic crossing.
Getting Bored on Your Transatlantic Crossing
There are four things I quickly discovered about getting bored.
Daily Programme
A Cunard Crossing has THE most packed daily programme of any line, any ship, and any itinerary I have ever been on.
Cunard have been crossing the Atlantic for over 180 years. They know how to keep us busy.
On my Crossing there were between four and seven activities every hour, starting around 9:00 AM through to midnight.
Type Of Activities
However, while the daily programme is packed full of activities, they are classical cruising activities so while they suit me, they may not suit all. Let me explain.
There are three signature and wildly popular activities, that I really loved.
First are the Cunard Insight Talks lasting 45-minutes and held three to four times a day. Despite being in the huge Illuminations theatre, they were often standing room only.
On the Transatlantic crossing there are usually three speakers giving a series of 4 talks each, and one celebrity headline guest speaker. During our cruise, it was Lord and Lady Howard. He's an ex-government UK minister and she was an ex-supermodel.
Our experts were General Simon Mayall who spoke about military history, Susan Barlow who was an astronomer, Andrew Killigan who was an ex-stage manager and spoke about musicals, Captain Rick Reynolds, an ex-Concorde pilot.
Afternoon tea
The next event attended every day by hundreds is afternoon tea. Something regular viewers will know is a passion and weak spot for me.
On Cunard, afternoon tea is a big deal, and even more so on the Crossing. The main event is held in the grand Queen's Room where platters of sandwiches, cakes and scones are served by white-gloved waiters.
But it is also available in King's Court buffet or room service.
If you're Transatlantic crossing see's you in Queens or Princess Grill Suites, it is also served in the Grills lounge, or self-serve in the Concierge lounge.
You can pay to have champagne afternoon tea in the Champagne Bar, or a Godiva chocolate afternoon tea in Sir Samuel's coffee shop.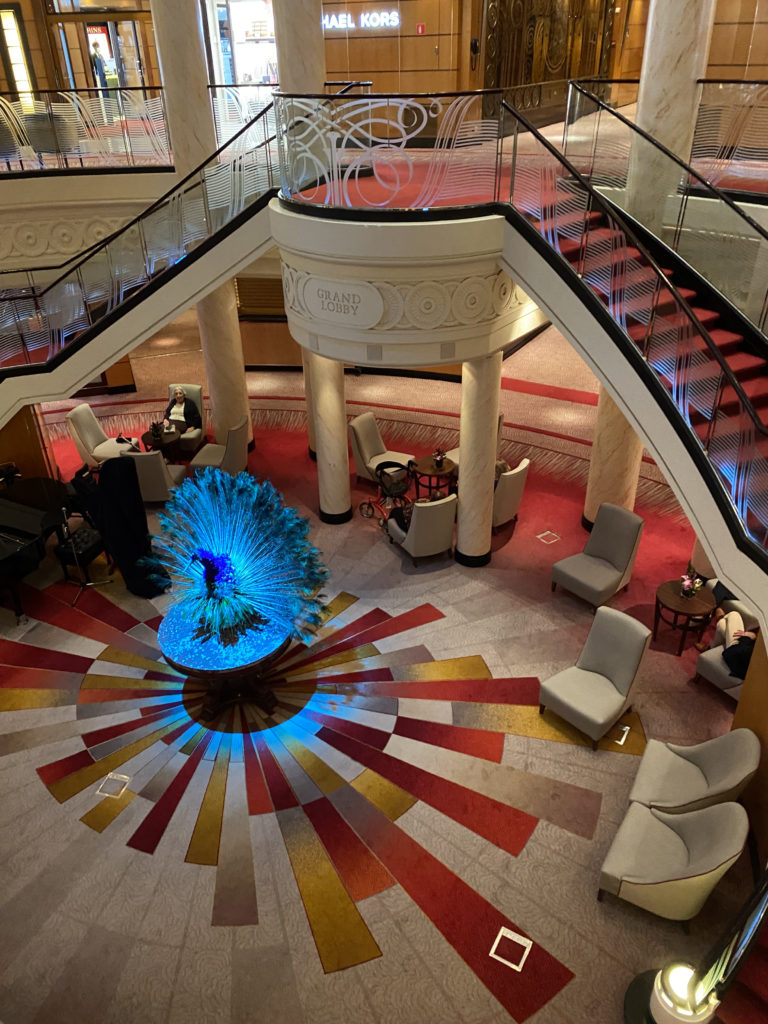 Illuminations 
The third signature event are the planetarium shows in Illuminations. Queen Mary 2 is the only ship that one.
Those kept me occupied, but there was a lot more to do.
There were four quizzes and trivia held every day, along with daily Bingo. I was amazed just how packed these were.
Also packed were the three to four dance classes a day, including Zumba, line dancing, and various types of ballroom.
Less busy were the various daily paddle tennis, table tennis, deck quoits and darts tournaments though Bridge was a big draw.
There were also many informal un-hosted get togethers.
Get-togethers
Every day there were Christian fellowship, solo traveller get-togethers, LGBT meet-up, Friends of Bill W, and hobby meet-ups.
And then occasional Women's Institute, Rotary, Masonic, Service Clubs, or Veteran get-together were listed.
Live music was dotted around the ship all through the day.
There was a guitar duo playing multiple sets in the lounge, pianist, a harpist, a string trio, and a party band called Changez. Every few days a full classical piano concert took place.
If you're into crafts, there were watercolour classes twice a day. These were popular and packed.
Then there were also ad-hoc events each day, like food carving, flower arranging, and spa and shop seminars.
Evening events
In the evening, the main events were, twice-nightly shows in the Royal Court Theatre.
These were a mix of standard cruise production shows, not especially strong or to my liking, supplemented on other nights by the usual guest artists.
On this Crossing these were a sixties' tribute band, a comedian, and a flautist.
Cunard is weak in the theatre offering in my view as dated themes, music and staging overall, though they have upped it a bit recently I skipped many of the shows. The casino was a bigger draw for me.
The other evening focus is balls on Gala Nights and themed ballroom dancing in the magnificent Queens Room. We had a jazz, Big Band, and dance party evenings. These were all well attended and packed.
The third evening activity is for the party crowd, with live band and DJ in the G32 Nightclub. A big space behind the Queens Room, which kept going until people leave. As an early to bed person I was not one of them!
If nothing appeals on the daily program, there is still more to do.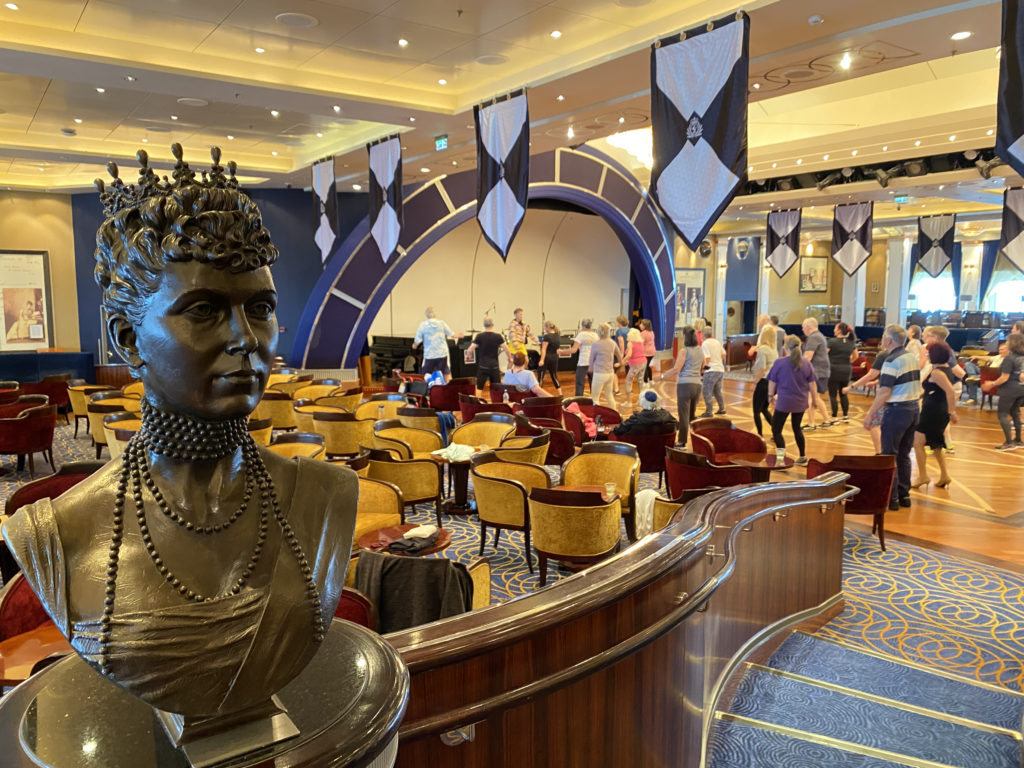 The Ship
Queen Mary 2 itself is part of our entertainment. It is the only ocean liner in the world and there is no other ship like it.
It is full of quirks, hidden spots, and stories to explore.
For example, Homer Simpson is hidden away in one of these art deco style panels near the Golden Lion Pub.
There's a much-missed scenic lift between deck seven and deck 11, where there's a magnificent open Observation Platform.
You'll easily miss this one if you're not paying attention. There's a maritime trail with history of crossings and Cunard to follow.
There's kennels on deck 12, which if you find you'll often see the dogs out there being walked.
And very importantly, the wraparound promenade deck, which literally hundreds of people walk every day.
The ship itself is quirky in layout and exploring the ship is part of the entertainment, as I discuss in another video about the ship.
Rest Up
Another thing I would say about getting bored on a Transatlantic crossing, is many see this as an opportunity to unwind.
My partner who works crazy hours, adored the crossing as it was a chance to de-stress, relax and recharge.
The Wi-Fi is pretty rubbish, even though it's supposedly been upgraded, and so also means you must disconnect, and just relax.
I saw many people doing that. Queen Mary 2 is a massive, big ship, but doesn't carry that many guests. There are many nooks, crannies, and spots for passengers to sit and read and relax. This is helped an enormous library with over 10,000 books.
Once people I speak to about doing a Crossing are reassured on not getting bored, many still worry about not fitting in and it being a stuffy experience.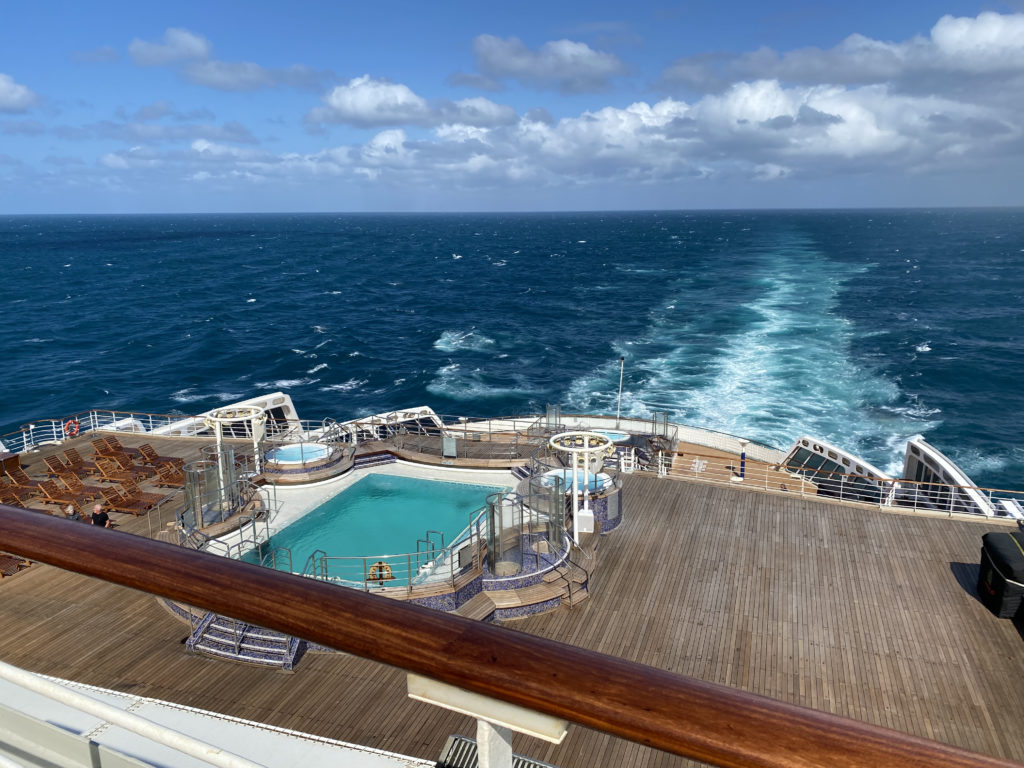 Not Fitting In
There are three concerns around this I'd like to address. Everyone fits in on a Queen Mary 2 Transatlantic voyage.
Too Formal
Cunard has a reputation for having a formal and strictly enforced dress code. Their ads make much of people dressed up in black tie and glamorous gowns.
However, you don't really need to stress about it as much as in the past, as Cunard have dialled back a lot of the formality and number of formal dress nights.
During the day, people do not dress formally at all. Years ago, when I first went on a crossing, we were worried about that.
But you can wear what you'd wear on any other cruise. Shorts, flip flops, jeans, whatever.
Evening dress codes
In the evenings it is now no more formal than any other UK-based line like P&O Cruises or Fred Olsen. Though more formal than more American-focused lines like Celebrity, Holland America, and Princess.
There are two dress codes now.
First, five out of the seven nights is "smart attire". All this requires is for gentlemen, a collared shirt which can be short or long-sleeve, and smart trousers.
For ladies blouses, skirts, stylish dresses, or trousers.
In practice, the vast majority dress more smartly than this. I wore a jacket every one of these evenings, as did about 60% or more of other men from what I could see.
Gala nights
There are now just two "gala evenings". They are no longer called "Formal Nights". To get into the main restaurants, theatre and most bars, men are asked to wear a dinner jacket, tuxedo, or dark suit and tie or bow tie. Ladies, evening, or cocktail dresses.
Those that didn't want to dress up could eat in King's Court, go to the casino and Carinthia Lounge. Though many ignored the rule about not going to the theatre unless in gala dress code.
I estimate over 90% of guests dressed up in line with dress code on gala nights.
You could go on a crossing and not dress up, but however, dressing up for most, including me, is part of the experience.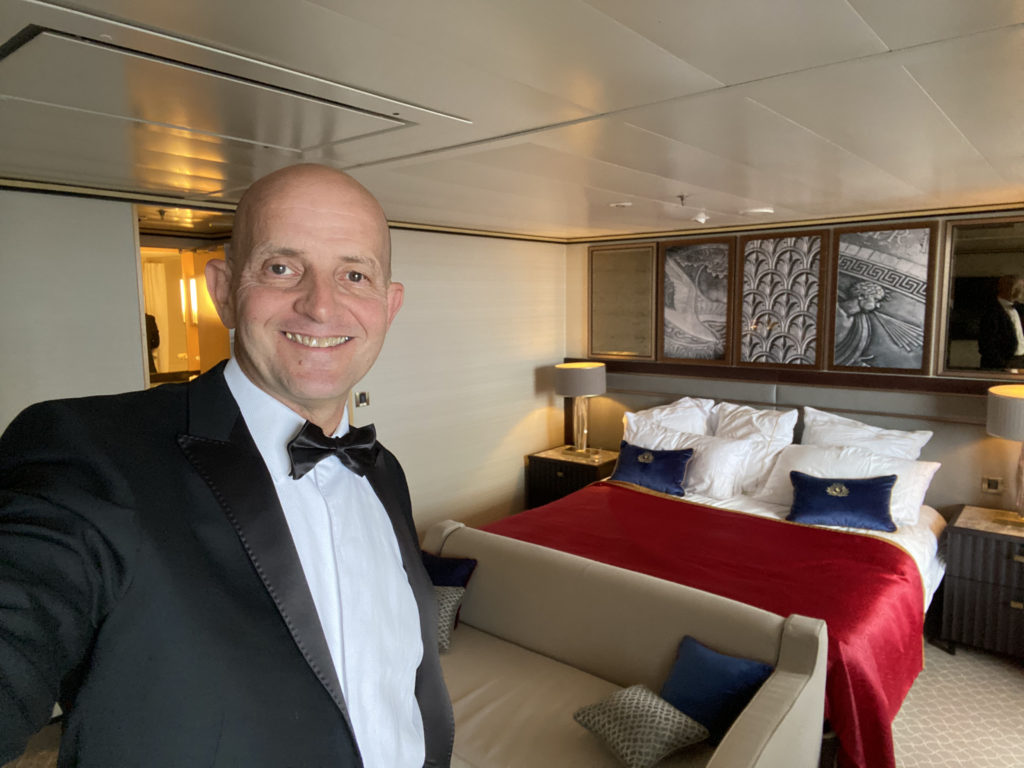 Second-Class Citizens
Another concern raised to me about fitting in is around the perceived class system on Cunard.
Many asked me if you're not in the Grills suites, do you feel and get treated as a second-class citizen.
The Cunard class system is linked to the main dining rooms.
Grills
If you're travelling in Queens Grill, which are the biggest suites, you eat in the Queens Grill restaurant.
If you're in Princess Grill, which are the smaller sized suites, you eat in the Princess Grill and if crossing in Britannia, which are the balcony, Oceanview and Inside cabins, you eat in Britannia Restaurant.
While Cunard make a lot of noise about the Grills experience, on board it is no different – and probably not as segregated – as on pretty much every other mid- to large-sized ship line I've cruised on.
In fact, Grills passengers have fewer, smaller, and less spectacular facilities and areas dedicated to them than I have had when cruising in a suite on many lines including Celebrity, Norwegian Cruise Line, and MSC cruises.
While other lines are creating access-controlled ship-within-a-ship for suites, like MSC Yacht Club and Norwegian Haven, on Queen Mary 2 there is only (in addition to the restaurants) a Grills Lounge, small concierge lounge, which is a plus because you do have someone who handle shore excursions and transfers and a concierge to sort out any problems and you don't have to queue at the purser desk downstairs.
There is small Grills deck on the rear with a hot tub, a space few use on a transatlantic cruising as weather isn't great for sitting out.
At check in while there was a Priority Lane, it covered Grills passengers as well as Diamond and Platinum frequent travellers, no matter the cabin grade.
I would say well into 90% of the ship is open to everybody, and I feel I got more perks and dedicated spaces when in a suite on other lines.
A Matter of Age
I get asked a lot if a Cunard Transatlantic crossing is only for older travellers and if it's full of snooty, stuffy, posh people.
This is not my experience at all.
While the vast majority are couples in their fifties, sixties and seventies, there are groups of 40 something friends travelling together, and always multi-generational families.
Plenty of solo travellers too, helped a bit by the solo cabins Cunard added.
LGBTQ friendly 
There are also many LGBT travellers, particularly gay male couples. I get contacted frequently by gay travellers worried that Cunard passengers will be traditional and conservative and not welcoming.
I have never seen this. There will often be same-sex couples dancing ballroom in the Queens Room and their dance skill will be of more interest than anything else.
Most travellers are British, American, Canadian, and Australians.
Many also ask me if Kids fit in. My answer is not really.
There will be few on board, and while there are Kids and Teens clubs they pale into insignificance versus more family-orientated lines.
The programme, as I have covered, is not geared towards kids and teens, and they probably will not meet many others to have fun with.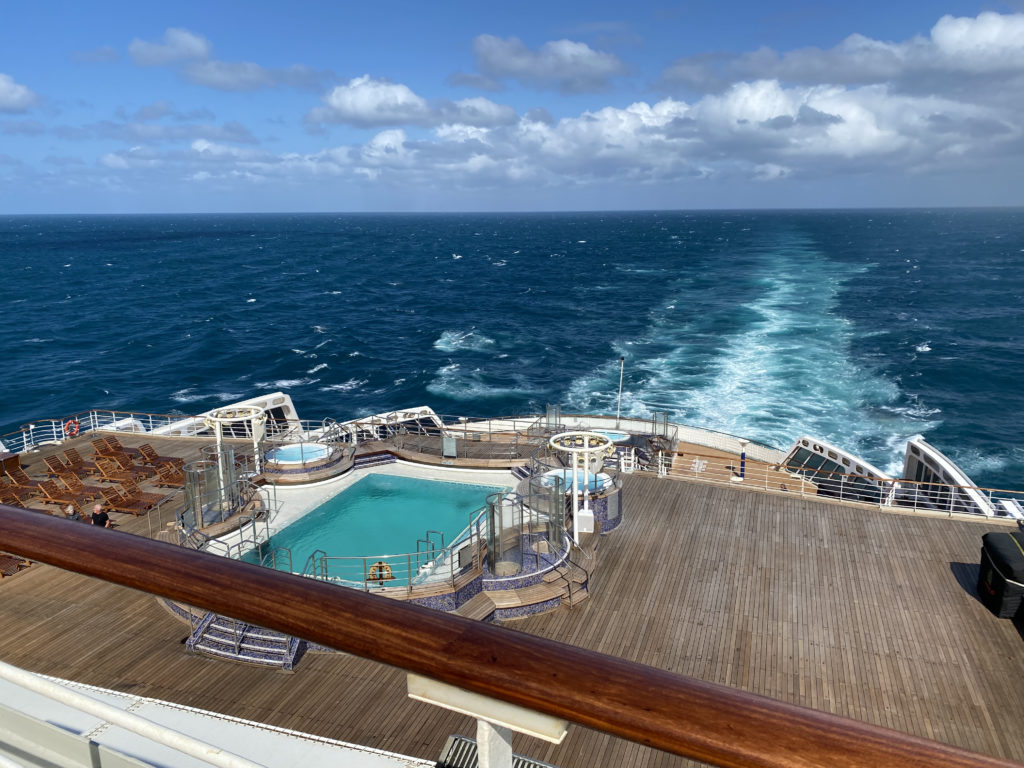 Transatlantic Motion In The Ocean
Not surprising, one huge concern about the Crossing is the weather and seasickness.
Both are without any doubt are risks no matter when you go, but there are a few things that you need to know.
Queen Mary 2 is a liner specifically designed to cross the Atlantic. It's designed to be incredibly stable, through hull shape and with powerful stabilisers.
I find Queen Mary 2 is more stable than regular cruise ships.
Designed for the Atlantic 
The other critical thing about the ship being designed to cross the Atlantic, is the key public venues and the restaurants are lower down the ship – and often more midship – than you generally find on traditional cruise ships.
If you want to know more, I cover this in more detail in my video about Queen Mary 2.
But the North Atlantic is unpredictable and varied. If you want high chance of smoother crossing then go mid-summer and if you want big waves then go in winter.
My partner Mark is prone to seasickness, but has only ever got seasick on winter crossings, and never in summer despite some days of movement.
Every time I go, I'll be honest with you though, I do meet people who got seasick.
So, I always recommend taking these precautions
First, pack motion sickness medicine or patches at the ready.
Midship and low decks
Second, if you're worried about it, book a cabin midship. I always book midship, even though touch wood, I've never been seasick.
Go on low decks too if you are really, really concerned like 4, 5 or 6.
Third, remember that if you do feel sick, you can go to the medical centre and get a jab, which will knock you out for hours, but then make you feel fantastic.
Also pack layers as it's going to be windy and often chilly out on deck.
BECOME A TIPS FOR TRAVELLERS MEMBER
————————————————————
Sign-up a a Channel Member to get perks: https://www.tipsfortravellers.com/Join
Become a Patron on Patreon and get perks: https://www.patreon.com/tipsfortravellers
BUY MY CRUISE-THEMED T-SHIRTS
————————————————
Check out my T-Shirt range: http://bit.ly/TFTStore
FOLLOW ME ON SOCIAL MEDIA
——————————————-