What's Queen Mary 2 Like Today? The Good, Bad & Baffling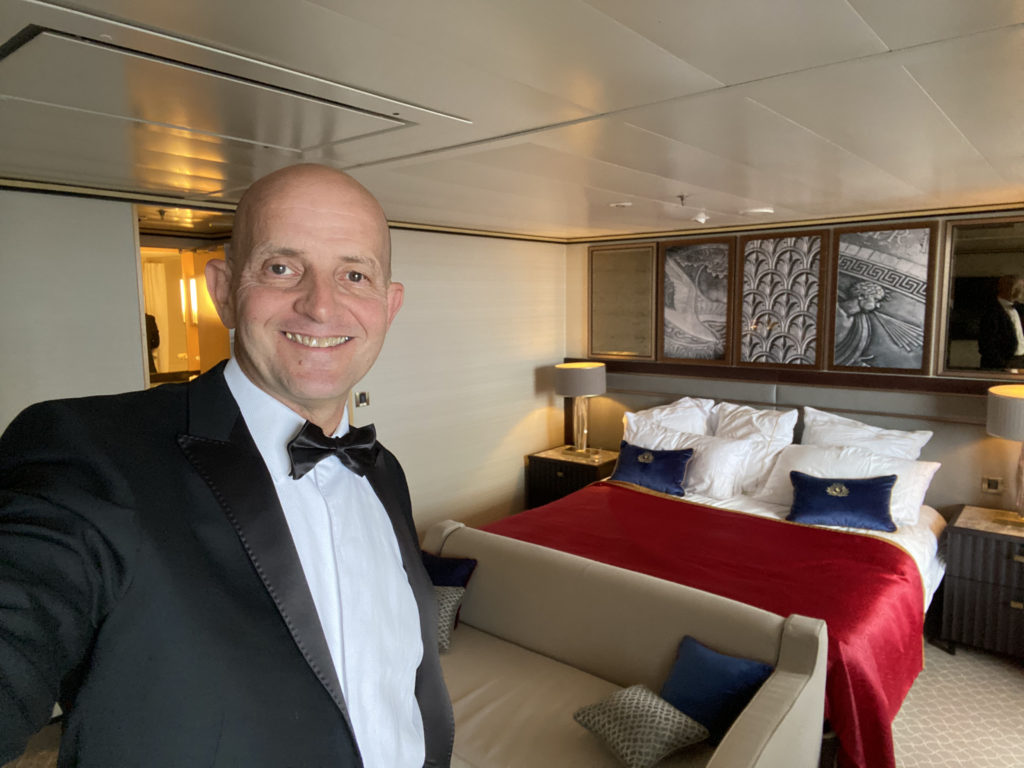 What's Queen Mary 2 Like Today? The Good, Bad & Baffling
My heart sank as I boarded Queen Mary 2 in Southampton, for my first trip in around 8 years, a Transatlantic Crossing.
I spotted areas on the hull looking battered and rusty. Was this evidence recent critics were right? Queen Mary 2 was becoming rundown, and her glory days were done?
Join me as I look at how this famous ship stacks up today.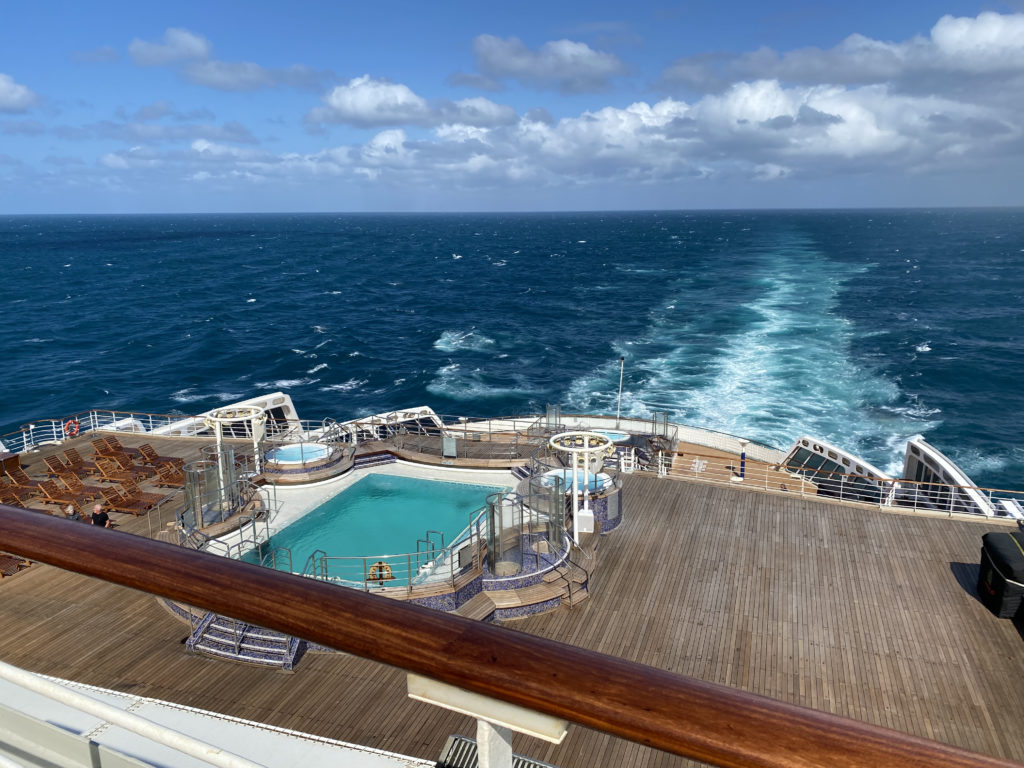 Battered and Bruised?
There is no doubt this almost 20-year-old ship has signs on the hull of being battered by the brutal North Atlantic crossings. Not surprising as she does them 20 to 25 times per year.
While most regular cruise ships spend five or six days a week in port, allowing the crew to constantly touch up and keep the hull and hard-to-reach exteriors looking sharp, this is not so easy to do on Queen Mary 2.
This liner spends almost all her time at sea, often in port just one day per week for a mere 8 hours. It's challenging to keep much of her exterior areas pristine.
While that is understandable, what about the interiors and open deck areas of the ship? Areas many had criticised.
The interiors were much as I remember them. A nod to the glory days of Transatlantic Crossings with an Art deco look and feel.
Little of the look has changed, though the carpets are jazzier, and it does look dated. But it always has been, as it is a deliberate design harking back to past liner eras.
There have been some updates, like solo cabins being added. The elevator has been removed from the Grand Lobby and the soulless Wintergarden Lounge has been turned into the far more comfortable Carinthia Lounge.
However, despite hunting, I found few examples of the ship looking shabby.
I saw crew during the crossing constantly out on deck painting and touching up areas they could access.
They were also frequently in the hallways, fixing issues and doing general maintenance.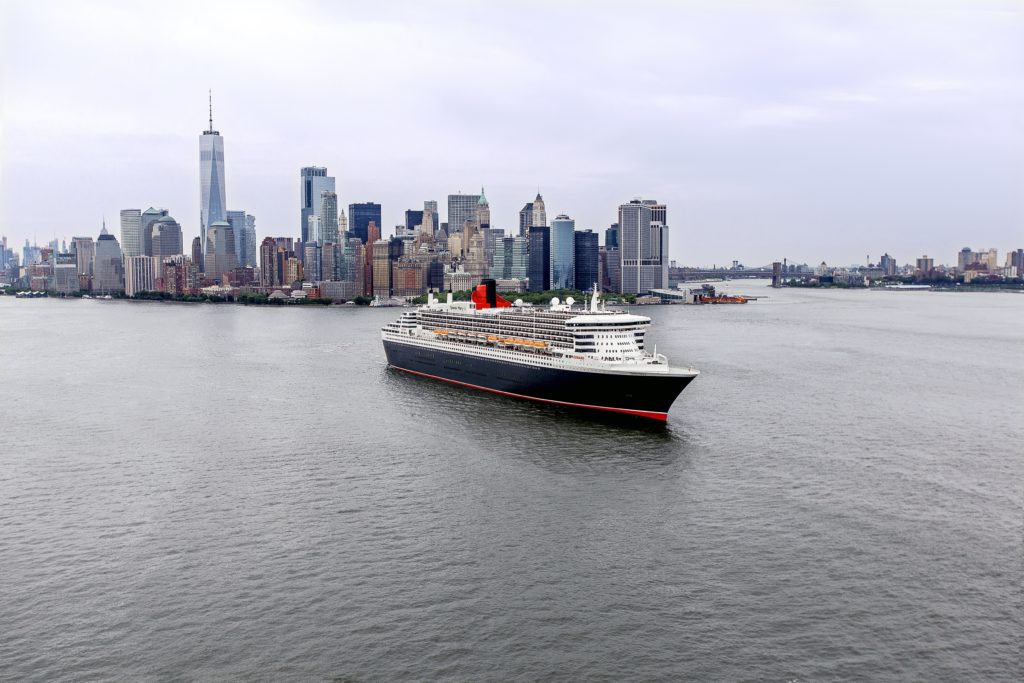 However, there were a couple of areas onboard Queen Mary 2 that did seem to be being ignored.
Pavilion Pool
For example, the Deck 12 Pavilion Pool, which is the indoor pool, looked run down and unloved. With one noticeably damaged area on the roof seemingly left to decay.
I visited a friend in their Deck 5 sheltered balcony, and there were rusty water stains along the pipes. These also extended right along that deck, which was unsightly and odd it had been left like that.
However, in terms of the overall maintenance and condition of the ship, I certainly didn't see what many people have criticised.
I wonder if some focus on the decor looking dated versus modern crisp cruise ship décor trends? Queen Mary 2 is not in poor condition at all.
One aspect that does feel dated is the bathrooms. They are old-fashioned with some anachronistic features, like an ashtray next to the toilet.
I don't think travellers should worry so much about the ship being run down, but I do think there are other things about the ship today that may be issues for some.
Baffling
Over the years I have spent more than 11 weeks on the Queen Mary 2, and on this trip, I still found it baffling to find my way around. Why?
Queen Mary 2 was designed as a liner to cross the Atlantic, in the most stable and comfortable possible way. It does not follow the usual layout of regular cruise ships.
Basic layout
On regular cruise ships, the main dining rooms are usually at the very back of the ship. The theatre at the very front and in the between are the bars, lounges, casino, Guest Services, and shops.
The main pool and buffet are on the top decks, with most cabins between there and the decks with the restaurants, theatre, and other venues.
This is not the case on Queen Mary 2. The designer pushed the big public venues as low down in the ship as he could, many within the hull, at the water line and more mid-ship. So they are in more stable areas and less prone to movement.
The Britannia Restaurant, which is where most people dine, is closer to the middle and right down on decks 2 and 3.
The Queens Room, the massive ballroom used for dance classes, afternoon tea and evening dancing is low down in the ship on deck 3.
The theatre is also located more midship and low.
Cabins and more in the bowels 
Behind the theatre, toward the front of the ship, is Illuminations, which is where they hold lectures during the day. As it doesn't have to be as stable when sailing, like the theatre for the dancers and entertainers to perform.
Unlike regular cruise ships, there are huge numbers of cabins on lower decks such as 4, 5 and 6. Including cabins with sheltered balconies cut into the hull.
Even the open-deck pools are on lower decks than on regular cruise ships.
To achieve this means a slightly confusing layout, especially to regular cruise ship travellers, as it does not follow the usual rules. Getting from one venue to another is less obvious, often requiring a diversion along lengthy passageways and around large venues.
For example, to get to the Queens Room, you must go along a corridor around the Britannia Restaurant.
To get to Illuminations, to go to the lectures, you must find and go along a corridor around the Royal Court Theatre.
Despite all that, there are some unique and magical places on this ship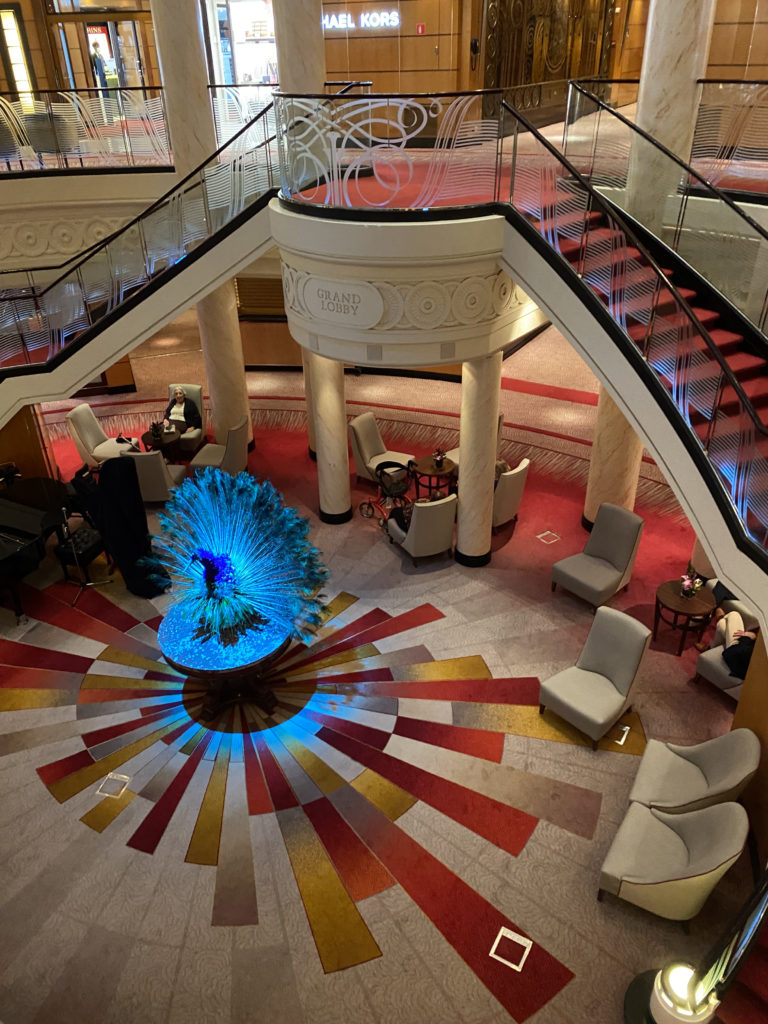 Signatures
The Queens Room, where the Balls, live orchestra, afternoon tea, and dancing classes take place is magnificent.
The tiered Britannia Restaurant, with sweeping staircase and huge tapestry is a grand spectacle of a dining room.
Illuminations, which hosts the only planetarium at sea, is a dramatic venue for talks and those shows.
There is a vast Library which has over 10,000 books.
Up on the 12th deck, there are Kennels, which can hold up to 24 cats and dogs on Transatlantic crossings.
There's the teak Promenade Deck, which hundreds walk every day. Go around it three times and you've done 1.1 mile.
Hidden Places
Because of its slightly strange layout, there are places and features many miss out on, as they don't know they exist – or how to find them.
There are two scenic lifts between Deck 7 up to Deck 11, tucked away at the front of the ship. They're hard-to-find and impossible to see from out on deck.
On Deck 11, there's an open observation deck looking over the bow of the ship, a great place to go when sailing in or out of New York to see the Statue of Liberty.
There's a Commodore Club and the Churchill's Cigar Lounge, which many forget and miss. It's tucked away on deck 9.
There are also hidden, what I guess are called, Easter eggs and maritime nods that, again, many people miss out on.
For example, there is a small Homer Simpson buried in one of the art deco style panels just outside the Golden Lion pub.
G32, the nightclub, is the name of the hull of the ship when it was being built in the shipyard.
Sir Samuel's, which has a partnership with Godiva chocolates, is named after the founder of Cunard.
The Carinthia Lounge is named after the first Cunard ship to ever do a world voyage, in 1933.
There is also then a magnificent maritime history walk dotted around the ship, which tells the history of Cunard and the celebrities that have cruised on Cunard over the years.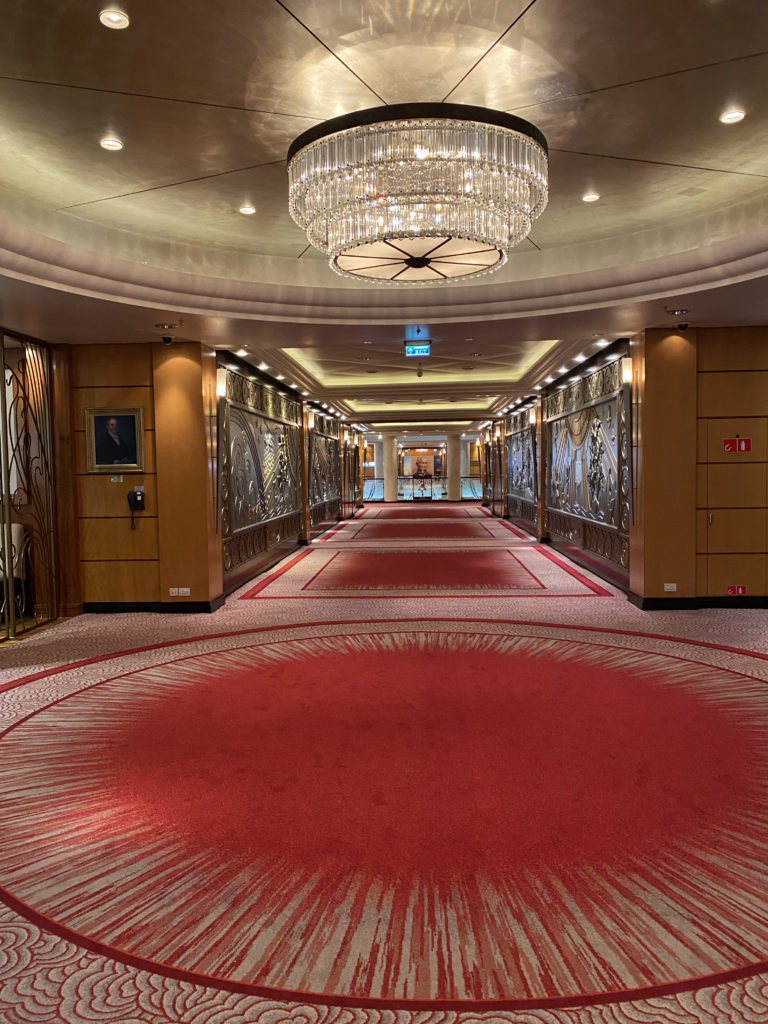 Out-Of-Touch
But all is not perfect with Queen Mary 2. There are some areas that show she is out of touch with contemporary cruising and has some growing weaknesses. As cruising evolves, and passenger needs have changed over the 2 decades since launch, these stand out.
First, Queen Mary 2 is a bit stuck in the past. It doesn't embrace that travellers are now connected and tech savvy.
I met more passengers who follow my YouTube channel on my crossing than I have ever done on any other cruise I've been on. The ship is just not tech savvy enough.
Wi-Fi and more
They updated the Wi-Fi, which is still poor. You can't stream with the so-called streaming package and it's almost impossible in many cabins to get a Wi-Fi signal.
There's no proper App. There's half-hearted attempt at an App that is clumsy and hard to use.
The television's not very interactive. You still must go down to the Purser's deck to solve many queries, which means there are always lines there.
Little things like there are no USB plugs in the cabin or plugs next to the beds to charge devices frustrate.
Grills experience 
Another issue, which I think is a big one, is I think they're slipping behind with their Grills experience.
In the Grills category, they have Queens Grill, the biggest suites of all. Guests in these suites eat in the Queens Grill Restaurant. There's also Princess Grill, which are smaller suites and those guests eat in the Princess Grills restaurant.
Cunard focuses the Grills very much on the dining experience. And undoubtedly, the Queens and Princess Grill dining experiences are probably the best dining experiences I've ever had at sea.
However, other lines have upped their suite experience beyond this.
Some have created ships-within-ships, like MSC Cruises Yacht Club and Norwegian Haven, with an access-controlled area of lounges, bars, pools, hot tubs, decks, Concierge, and Restaurants for suite guests.
Others like Celebrity Cruises have created The Retreat for suites, with an expansive plush lounge, a large deck with pool, bar, and snack bar, as well as a dedicated restaurant.
On Queen Mary 2, there's a small and unimpressive Grills lounge, not the sort of place you want to hang out in much.
There's a Concierge Lounge, which is inside with no windows. It's all a bit dark and gloomy. And a deck which is more of a thoroughfare and has one small hot tub.
All of these are dotted around the ship and not in one space.
The overall Grills experience and perks, while good, are not as good as suite experiences on many more contemporary lines.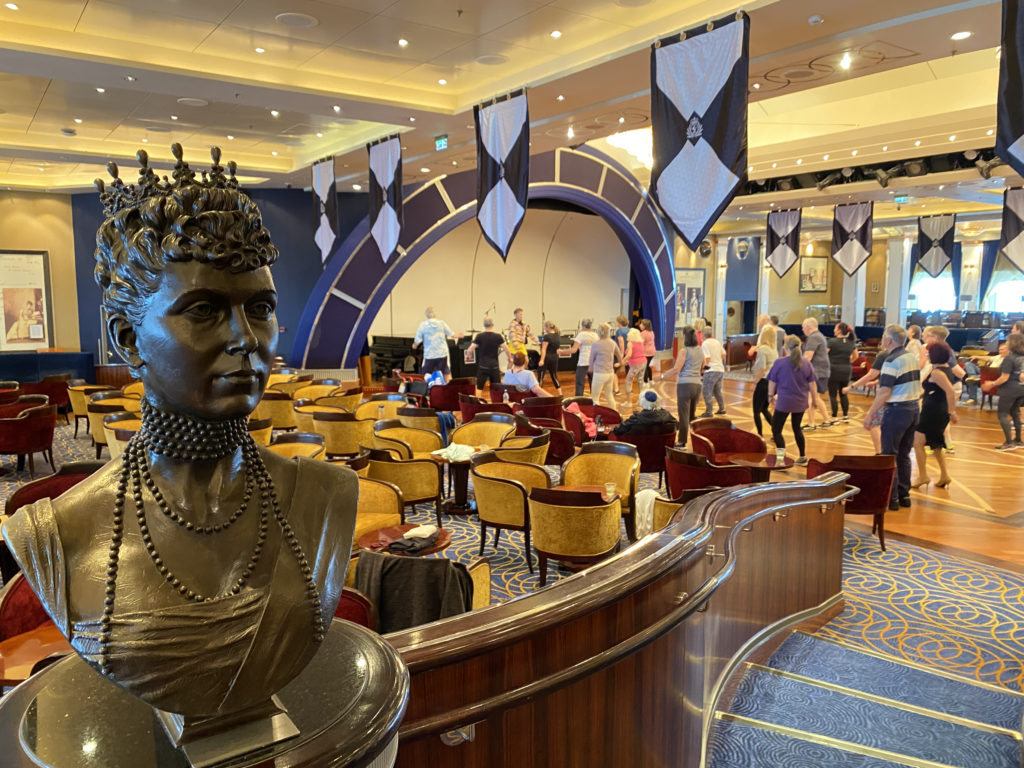 Another weak area is fitness. The gym looks very unloved, has not been updated, and is pretty much ignored by the people who run the spa.
There are almost no fitness classes and no studio to hold them. There's a few yoga, stretch and meditation ones offered, but with limited numbers. They are held on the pool deck.
Fitness is an important trend for modern travellers.
Speciality dining
They don't offer much specialty dining on Queen Mary 2. There is The Verandah Steakhouse, which is okay. There are also themed evenings in the Kings Court Buffet, but again, the venue is not great.
However, saying all that, Queen Mary 2 is unique. Much of her eccentricity is part of her magic.
The thing I love about Queen Mary 2 is that she is different to any other ship I have been on. It is weird, it is strange, it is confusing, it's baffling, but it is a magnificent experience and ship.
ABOUT TIPS FOR TRAVELLERS
—————————————–
Gary Bembridge's Tips For Travellers aims to help you make more of your precious travel time and money on land and when cruising the oceans or rivers of the world. To help you, in every video I draw on my first-hand tips and advice from travelling every month for over 20 years and average of 10 cruises a year.
BECOME A TIPS FOR TRAVELLERS MEMBER
————————————————————
Sign-up as a Channel Member to get perks: https://www.tipsfortravellers.com/Join
Become a Patron on Patreon and get perks: https://www.patreon.com/tipsfortravellers
BUY MY CRUISE-THEMED T-SHIRTS
————————————————
Check out my T-Shirt range: http://bit.ly/TFTStore
FOLLOW ME ON SOCIAL MEDIA
——————————————-