13 Things I Wish I'd Know Before Doing A Disney Cruise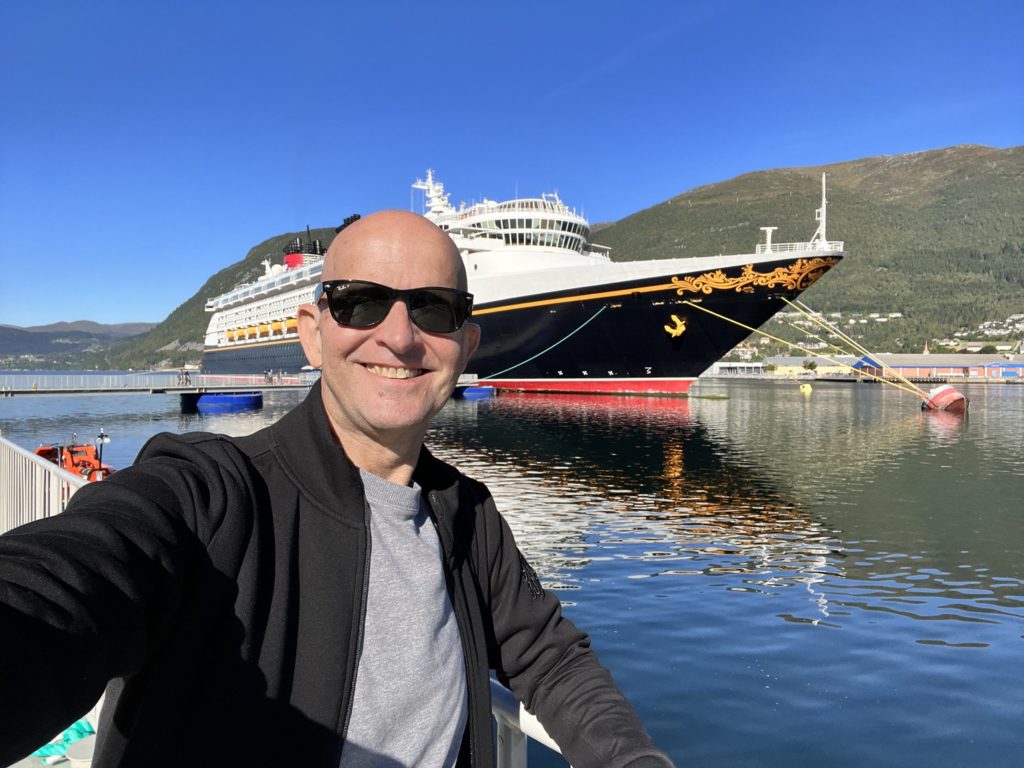 I learnt that going on a Disney Cruise is like no other cruise I've been on, and so the cruising tips that work for most lines, don't for Disney.  Here are 13 things I stumbled across that if I had known, I would've had a much better cruise experience on Disney Magic. I'm Gary Bembridge, and I want you to know about them
#1 Theme Cruise
First, Disney is a themed cruise. Be ready for it because there is no escape once you're on board and immersed in Disneyness.
Whilst most other cruise ships are floating hotels, this is very much a unique Disney-filled kingdom at sea. Disney Magic is weaved into everything – the decor, the entertainment, the food, the cabins, everything is Disneyfied.
One thing I would recommend is to go on the Art of the Theme Tours. They run multiple times across the cruise, and I'd recommend going multiple times because different cast members – as they call them – run them. They tell you all about the design, where hidden things are. It really is quite fascinating and long-time Disney cruisers still go back time and time again because each tour is different, so they keep discovering new things.
As a Disney cruise is fully themed, It's best for people that love and know Disney or are going with someone who does. And increasingly, the Marvel and Star Wars universes are being built in.
I missed out so much because I didn't know enough about Disney.
At Rapunzel's Royal Table night for dinner, I didn't understand the show, I didn't know why it was a birthday party. Things like that I just didn't appreciate.
Going to the Frozen deck show, I didn't really understand who the characters were and what was going on. So, bear in mind, you need to brush up on your Disney before you go.
#2 Fast Mover Advantage
There's something even more important to know before you go. Disney Cruise Line travellers are incredibly fast-moving and efficient, and I missed out by not understanding that.
People zoom in and lock down anything that can possibly be booked. Especially with dining, activities, events, and excursions. When these things go on sale at 00:01 Eastern Standard Time, people are online immediately booking them. Importantly, access is based on your past cruiser status.
For example, myself as a first-time guest could only start booking 70 days prior to the date of sailing. I left it later than that, and by the time I went in, many things were booked out. Concierge guests and Platinum Castaway Club members get double that amount of time before sailing to go in and book.
If you are desperate to do something specific, you must move quickly.
#3 Be Connected
The third thing I discovered is that you need to be tech savvy. Download the app because Disney has no paper on board. Even in most of the restaurants, you need to scan a QR code to look at the menu. Everything happens on the app. All your bookings, your bill, times to meet for excursions, the daily program, everything.
So, you need to have a good smartphone and know how to use it. It's hard to find out what's going on without the app.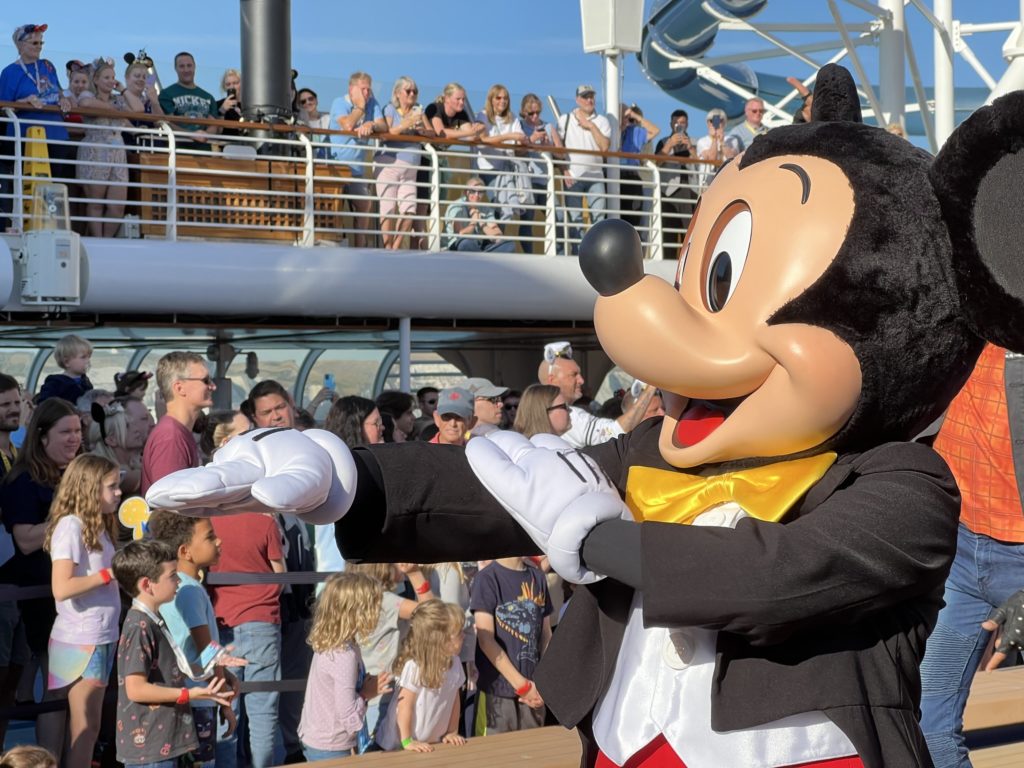 #4 Dress Right
When it comes to packing, there's something that I hadn't appreciated, even though I knew about it.
Basically, there's no real dress code. You're able to go to dinner, even on formal nights, in shorts and t-shirts. Most of the locations in the evening for dining are cruise casual.
Themed deck party nights are a different story, and Disney guests totally embrace it. Although you don't have to dress up, having a nod to the evenings theme is a really good idea. On our Frozen Night, many people were dressed up in outfits that resembled the characters.
There is one formal night and a one semi-formal night, where you can bring out the blazers and gowns, and a lot of people do that for photography, but, again, it's not enforced.
If you're going into the adult specialty restaurants like Palo, or Remy – depending on what they have on your ship – it is important to wear something slightly smarter.
And many wear Disney merchandise and wear Mickey ears day and night. So, to feel part of the atmosphere you may want to bring those too.
#5 Dining Issues
When it comes to dining it's very different to most cruise ships, although a couple of cruise lines are introducing a similar concept. But basically, you have rotating dining.
The way it works, for example on my Disney Magic trip, there were three main dining rooms, and I was allocated one each night. So, there was Rapunzel's Royal Table, which is all themed around Tangled, there was Animator's Palate, which is all linked to animation, and then there was Lumiere's, which is linked to Beauty and the Beast. There are slightly different ones on different Disney ships.
If you don't like the rotation, you can go and get that changed. Just be sure to do it on the first day.
I was travelling solo, so they gave me the option of having a table by myself. Normally they would group people together, but you can ask for a table size you'd prefer.
They don't have open-seated dining. So, you either must choose early or late dining.
You're very limited on alternative eating, which I found an issue. Unlike other cruise lines, Cabanas, which is the buffet restaurant, was open very limited times and on my cruise that didn't open at all in the evening. On other cruises, apparently when it is open, it's not as buffet, it's as a sit-down menu.
There is other informal dining, like Pinocchio Pizza and Duck In burgers, though only the burger was open in the evening. Room service was 24 hours and has no extra charge.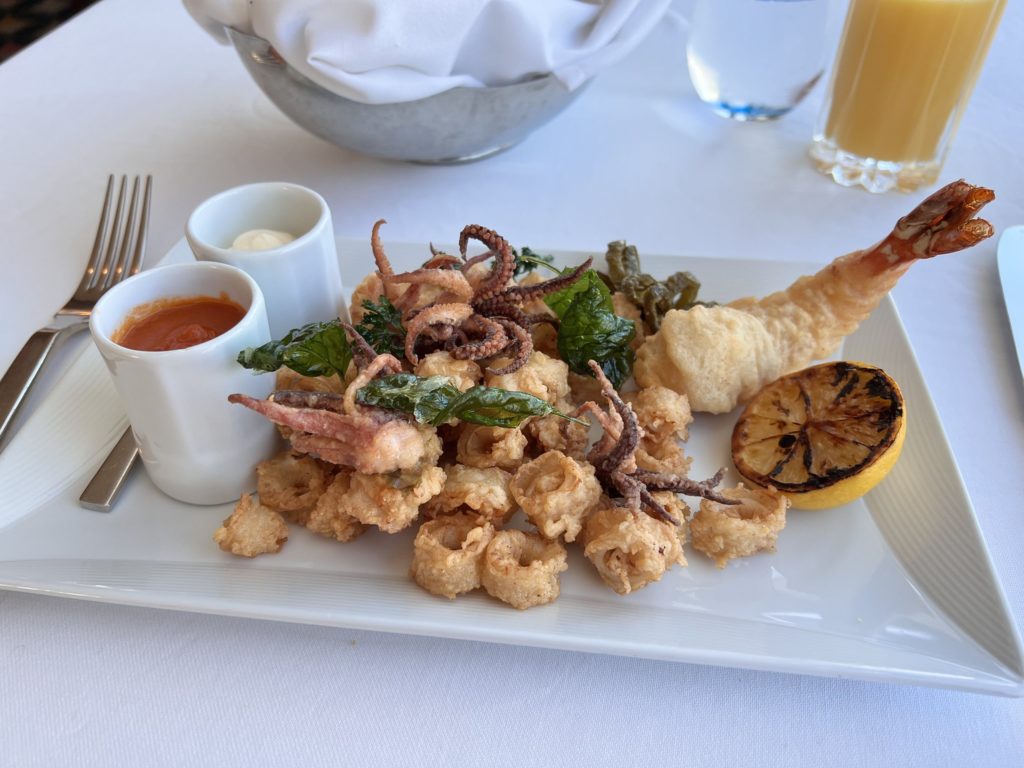 #6 Cabin Watch Outs
The other key thing that I think is important is cabins. Now, I am kind of obsessed with cabins anyway, so I'm always quite picky about the one I choose. On Disney, I found this to be even more so.
Many people argue that the cabins are slightly larger than on comparable premium ships. Mine didn't feel bigger even though I booked a Family Deluxe Verandah. I didn't think it was bigger.
Another thing, on Disney ships, there are a lot of cabins with interconnecting doors.
I would strongly encourage those travelling without kids to choose one without an interconnecting door because, if you've got four or five people in the next cabin, it could be noisy. I could hear the people in the cabin next to me a bit and I didn't have an interconnected door.
Many of the cabins have what's known as split bathrooms. So, you have one bathroom which has a toilet and a basin, and another which has a bath with shower in and basin, which is great for families. However, it does mean I found the bathrooms are slightly more cramped. I'm six foot two, and it was a little on the tight side.
Also, when you choose a cabin, make sure you choose one that's not on the decks with the Kids' Clubs because there's lots of coming and going at all hours of the day and night.
If you're travelling with a friend rather than a partner, note that in most of the cabins it's a fixed queen bed. Unlike other cruise lines, it can't be split into twins.
Also bear in mind that many cabins are designed for multiple occupancy. The one I was in could sleep at least three other people.
You'll feel that the ship is much fuller than the capacity numbers suggest, as they can sail at 150 to 160% capacity because more people are sharing cabins.
#7 Finding Your way
Once you're on the ship, you'll find a simple and well-thought-out layout in terms of finding your way around. But there's a couple of things I found that people do to improve their way of navigating the decks.
First, many people decorate their stateroom doors to make them easy to find. And many of them are very intricate.
Also, Disney tries to make it easy, with the cabins on the port side, that's the left-hand side, having a metal fish outside the door. The fish points towards the rear of the ship, helping you know which way to head.
On the other side, the starboard side, there's seahorses.
The carpets also feature a compass with many stars in, and the pointy part of the star leads you towards the front of the ship.
#8 See The Forbidden
Embarkation day is open house for the Kids Club, and I would strongly recommend you go and see those areas because that's the only time adults are really allowed in. And it is worth seeing, even if you don't have kids. They are incredible.
They have the Oceaneer Club for ages 3 to 11, which is amazing and huge. There's a play side and then they have the lab side, which is more interactive. Then, they have Edge for the 11 to 14-year-olds, and Vibe for teens 15 to 17.
#9 Missing Features
The other thing that I hadn't appreciated, but soon discovered, is that Disney Cruise ships miss some things that I expect on a cruise. For example, there is no casino because gambling supposedly is not within their family-friendly policy. However, they do bingo, which is gambling. And they let the kids play it if they're with an adult.
There's no drinks package, again, linked to the adult values they have. So, you buy drink by drink. And a many people find that really ramps up the cost.
The other thing which they didn't have were enrichment programs with talks. I was travelling the fjords, but there were no talks at all about the area.
#10 Characters
There are characters everywhere you go. They're at the sailaway, end of cruise party, deck parties, they literally pop up all over the place.
People queue for them day and night, but what's great is you can take photos with your own camera or phone. If you want a more professional photo option, they do offer extensive photograph packages. They are costly but some said they were great value. Individual photos are up to $20 each.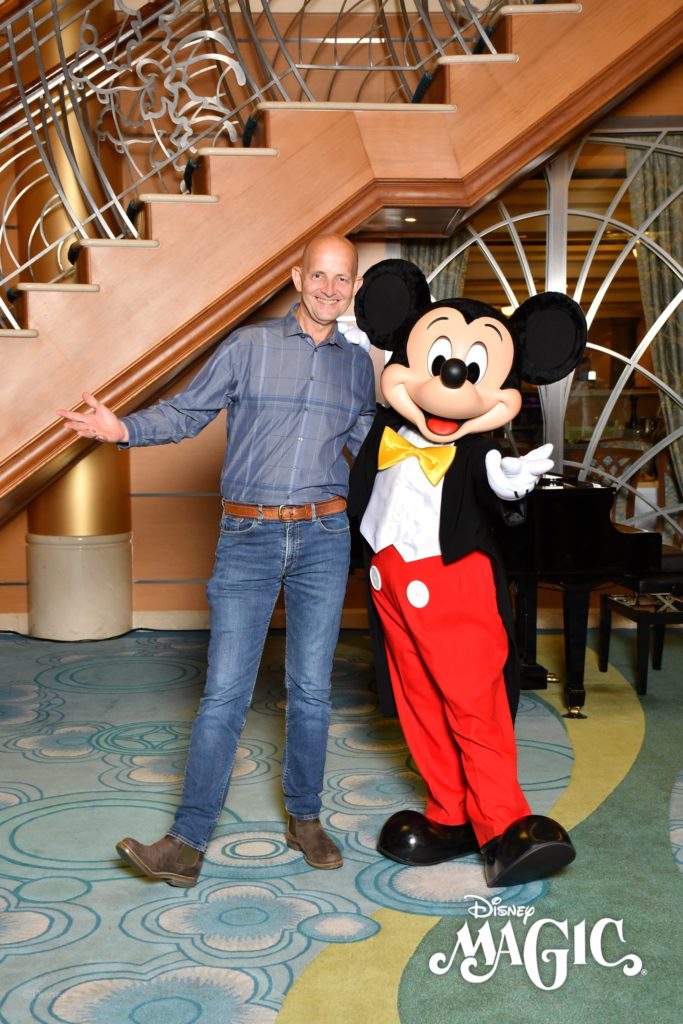 #11 Wi-Fi Issues
In terms of Wi-Fi, the WIFI is very expensive. It cost me $210 for seven days, but it was much better than many people had said.
#12 Adult-Only Issues
I was travelling as a solo adult, and one of the things that was pushed to me was the adult-only areas by fans of the line. Personally, I didn't find them quite as I'd expected. It wasn't as much a ship within a ship for adults, it was more of a place to dip into and retreat from the full-on Disney experience though.
The adult-only area's facilities and activities were interesting because although they probably do have more dedicated adult-only areas than others, there were some limitations to them.
One of the best areas was on the pool deck, with Signals bar and Cove Café. The gym, spa and specialty restaurant are also adult-only.
After Dark area after 9:00 PM was available for adults. They have three key facilities in there, Fathoms, which is like a cabaret lounge, Keys, which is like a cocktail piano bar, and O'Gills, which is an Irish themed pub.
You also get some adult-only activities like martini mixology, champagne, chocolate tastings, and some adult cabaret.
#13 Gratuities Issues
The one thing I probably disliked the most about Disney revolved around gratuities. People warned me about this, and that the crew would keep pushing for good ratings and tips.
So, what happens with gratuities? Towards the end of the cruise, you get this piece of paper which tells you how much auto-gratuities have been taken. In my case, it was $14.50 per day. Then there are little tear-off slips which name each of the key crew members that you've encountered and what their share would be.
The idea is you tear those slips off, put them in an envelope which they provide, and hand them to the crew. Of course, they know how much gratuity they're getting because it's a formula. So, I feel that there's a lot of pressure on guests to give extra tips.
I found that uncomfortable. But be ready for this
If you found this interesting and you want to know more about Disney Cruises, watch this, where I talk about some key fears I had, including one thing that people accused me of before I went on the cruise, and what I discovered once I was on if they were right. See you over there.
SUPPORT TIPS FOR TRAVELLERS
FOLLOW ME ON SOCIAL MEDIA
——————————————-