Nightmare At Sea? I Cruised Disney As An Adult Without Kids
Nightmare At Sea? I Cruised Disney As An Adult Without Kids
Cruising as an adult without kids on Disney proved to be more of a rollercoaster ride than I expected, as you will see and hear.
Before I talk about some of the highs and the more challenging aspects, including uncomfortable interactions with parents on board, there's a belief that fans of Disney cruises have and I need to discuss this first.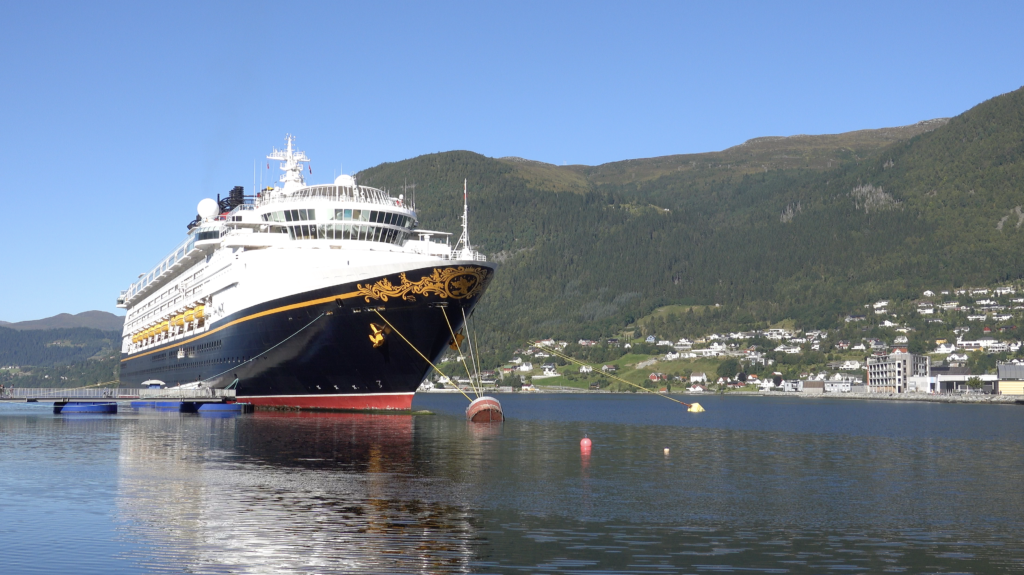 Fear #1 – Do You Need To Be A Disney Fan?
Before going, fans of the line told me it was a myth that I needed to be a Disney fan to have a great time. And many actively encourage non-Disney fans like me to go.
I found Disney Cruise Line to be a totally themed cruise. It was as I expected: a Disney kingdom at sea. Disney was everywhere, it was woven into every single aspect of the cruise, in some way.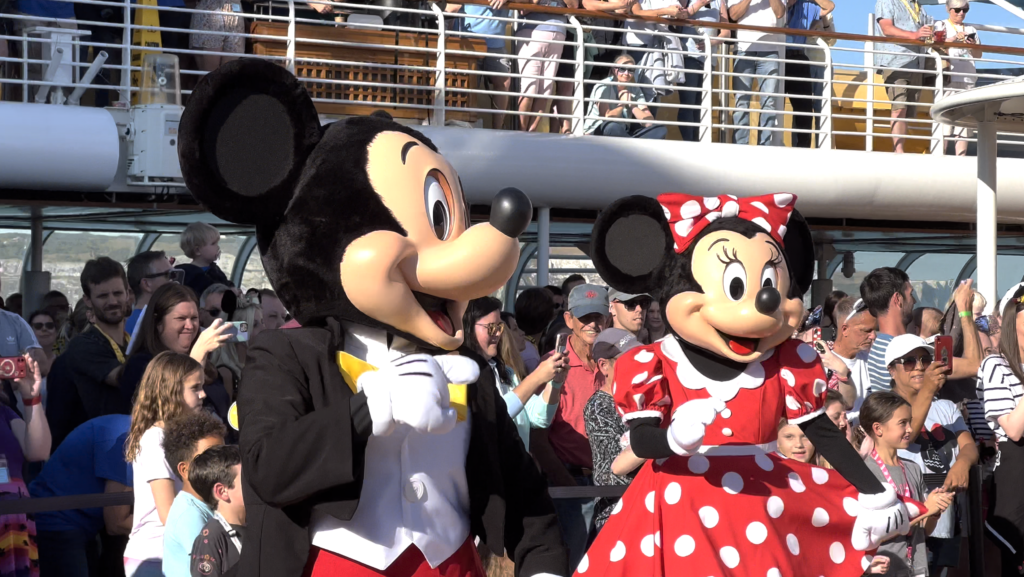 Total Disneyness 
It's very different to any other cruise line I have been on. The minute I stepped aboard; I was immersed in this magic kingdom of Disneyness. I was greeted by characters. The decor and the design of the ship had Disney woven in all over. Sometimes it was overt but if not then intricate and hidden. For example, there were even hidden Mickeys in the roof of the adult-only specialty restaurant, Palo.
The shows were all Disney. On my cruise, there was Tangled, the story of Rapunzel; Disney Dreams, which was a compilation of the greatest songs of Disney; Twice Charmed, a reimagining of the Cinderella story; and Once Upon a Song, a concert with lesser-known Disney songs.
All the films that were shown in the cinema were Disney and the trivia was always Disney linked.
The three main dining room restaurants were themed, and most had a show during meals. I was rotated around them each night. On Disney Magic, I had Rapunzel's Royal Table, linked to the story of Tangled; Animators Palette, which is all around Disney animation; and Lumiere's, linked to Beauty and the Beast.
There were Disney characters popping up throughout the Sail Away, end of cruise party, Frozen themed deck show. They were everywhere.
There was Disney artwork all around the ship. And many guests of all ages wore Mickey ears or Disney merchandise. Many of the cabin doors even had Disney-themed door decorations put up by guests.
Almost all the shops were stocked with Disney related merchandise.
Know your Disney
I soon realised that if you do not know your Disney, you miss out on some of the nuances. For example, at Rapunzel's Royal Table dinner and show, I was confused. I didn't understand who the characters were or why it was being held as a birthday party. It wasn't until I saw Tangled some days later that I appreciated who the characters were and the significance of the birthday.
Even at the Frozen Deck party I mentioned, I knew the song "Let It Go" and it's sung by Elsa, but I didn't understand who the other characters were and what they were doing. So, I think you miss out some of the enjoyment if, like me, you don't know your Disney or you're not with someone who's really into Disney.
Disney fans
I found the passengers were largely all Disney fans. They knew everything Disney, the scores in Disney trivia sessions proved that. And when the merchandise stores opened on the first night, they were mobbed by guests wanting to get in and get the latest Disney merchandise.
People kept asking me if I enjoyed the shows which the line is famous for.
The shows are impressive from a production value. They have an incredible cast of all ages. The staging is magnificent. It's probably some of the best I've seen on any cruise.
But if you don't like Disney's shows, then you may not enjoy them. I really enjoyed the production value, but the shows, as good as they were, were not for me. By the end of the week, I was craving some non-Disney shows.
So, I did love that I could go and see within my fare two new Marvel film releases as they are part of the Disney world now, the new Thor film, and the new Doctor Strange film.
Disney immersion
What I would say, though, is they do the immersion and deliver the Disney theme incredibly well. Their attention to detail is amazing. I went on the "Art of the Theme" tour, which other guests said I should do, where they explain much of the design and the detail.  It was fascinating.
The daily program is like other premium classic cruise ships. They have live music, trivia, cooking demonstrations, all those kinds of activities, but they almost always have a Disney spin of some kind.
I came away believing that you need to be a Disney fan, or go with one, to really appreciate and get the most out of the experience. I realised that Disney fans don't necessarily appreciate how much people like me miss by not knowing the detail.
Fear #2 – Even Then Is It A Cruise For Adults?
I was worried before going that Disney wouldn't cater for adults like me without kids. And, I was worried adults without kids would be treated with suspicion.
This I did experience. I was filming the Thor character for my channel while he was interacting with a small child. The kids' parent came up to me challenging me on why I was filming his child. I explained what I do, a bit about my channel and how careful I try to be. I showed him that I had stopped filming before his child came into the shot.
While he was reassured, he reminded me how worried and sensitive parents are, especially today, and while it made me uncomfortable it drove home to me that on Disney, more than any other cruise, kids and family are the focus and priority. As an adult without kids in tow even more sensitivity and space is required than any other cruise I have been on.
Mostly adults
Saying that, over the rest of the cruise, I came to appreciate that I was, in fact, surrounded by mostly adults travelling without kids. That was partly because of the time of year I went. Schools had started and I was going to the Norwegian fjords.
I met many multi-generational groups. There might be one small child, but then there were five or six adults of various ages with them. As someone also reminded me, there's probably 40 weeks a year when schools are in. So, kids can't really go most of the time.
There is lots of praise by Disney Cruise Line fans of the adult-only spaces on board. So, how did I find those adult-only spaces?
Adult-Only Areas
There are probably more dedicated adult-only spaces than on any other cruise line! So, let's look at what they have.
There was a pool deck which had the Signals bar and the Cove Cafe. That's at all times of day and night for 18-plus only. It is strictly enforced. The gym and the spa are also adult-only. They then had "After Dark which after 9pm was adult-only.
In there, they had Fathoms, which is a lounge area where they hosted various things, silent discos, bingo, juggling lessons, night club and so on which was open to everybody until 9pm. After nine o'clock they did run some adult comedy shows and adult-only events.

There's a bit more…
Then there was Keys, a piano cocktail bar. There's was also O'Gills, which was a very popular Irish themed pub where they had adult-only trivia and an Irish band performing after 9pm. There is no casino.
On Disney Magic they had Palo, which is the Italian specialty dining adult-only restaurant. Amazing food and service. On other ships they have Remy, which is more French orientated and some of the new ships have both.
As good as they are, I personally think that the adult spaces are slightly over-hyped in terms of what they are in practice.
During the day the pool deck, bar and café is a good adult-only space, but in the evening, you do need to be a night owl or be a drinker because all those places are basically drinking or party places and only kid and teen free after 9pm. This probably suits many travellers, though.
Dining
One thing I missed was no quieter non-kid or non-full-on Disney alternative to dining. I only had Palo, which effectively I could only go to once. You can go twice if you go on embarkation, but you do have to pay. $45 per person at the time of recording.
The buffet restaurant Cabanas was closed for dinner, and I believe on some cruises when it is open, it's seated table service.
Duck-In, serving so-so burgers was open at night, or I could have done room service, but it's very hard to have an adult-only and non-themed more boisterous show dinner.
Amazing food?
Many fans told me before I went that the food was amazing, among the best in the premium category they compete with. So, that's lines like Holland America, Princess, Virgin, Cunard, and P&O Cruises UK.
I wasn't as impressed with the food as I thought I would be. I found the menus large and the food on Disney good, but it wasn't, in my view, as good as Celebrity or Virgin. It was probably on par with Cunard and Holland America, and is better than Princess and P&O. So, it's kind of mid-range in the category, I guess.
However, on the plus side, I liked that I could request any table size I wanted. So, on the first day, as a solo adult traveller, I ask to get a table to myself, which was great. But also, I could have joined other similar solo or adult travellers if I preferred.
Excursions
The second area that was mixed was adult-only excursions. They did have some, but they sold out quickly. However, if you're in the Caribbean and going to Castaway Key, they have a whole area in Serenity Bay which is adult-only.
Cabins
Thirdly, when it comes to cabins, there's a couple of other things that I found were important as an adult traveller.
The beds in most of the cabins are set as a queen bed, but unlike other cruise lines, they don't split into twins. So that's important if you're travelling with a friend not a partner.
Many also have split bathrooms, which is a big plus because you have a toilet and hand basin in one, and then you have a shower in bath and a basin in another. But they are relatively tight. A couple of people said to me they found them cramped for adults and as I'm quite tall, I would agree.
You also need to make sure that you avoid the decks with kids' clubs on because there's lots of back and forth.
Dress Code
Fourthly, another plus for many adult travellers I spoke to was that the dress code is very casual. I could wear shorts and t-shirts if I wanted to for dinner. They have a formal night, but it's not a strict must dress up.
So, whilst they do have adult areas and touches, I felt they mostly give me a space where I could escape or retreat to, especially during the day. They, in my view, though work best if you are a Disney fan first and foremost but want to get some respite.
I relaxed into travelling as an adult without kids in the end; there were loads of adults around, loads of couples, solos and groups travelling together. I guess on many cruises, adults are the majority like mine.
Key thing if you want to go on Disney as an adult, focus out of school vacation time. Focus out of the big holiday seasons, and probably go on itineraries like I did, to the fjords. But be a Disney fan or go with one.
BECOME A TIPS FOR TRAVELLERS MEMBER
————————————————————
Sign-up as a Channel Member to get perks: https://www.tipsfortravellers.com/Join
Become a Patron on Patreon and get perks: https://www.patreon.com/tipsfortravellers
BUY MY CRUISE-THEMED T-SHIRTS
————————————————
Check out my T-Shirt range: http://bit.ly/TFTStore
FOLLOW ME ON SOCIAL MEDIA
——————————————-