Can Cruise Suites Change How You View Cruising?
Can Cruise Suites Change How You View Cruising?
You're about the discover that the more money you have, the more difficult cruising becomes. I discovered this when I set off on a little experiment. Can cruise ship suites change how you view cruising? Well, I wanted to find out. I decided to cruise in suites instead of a balcony cabin. A cabin that I would normally cruise in. What I uncovered, as I headed down that experiment, was a myriad of complications. And all sorts of problems that people, with money, face when they go cruising.
It also made me think and reappraise totally how I should cruise, and I think you too may find this extremely illuminating.
To do the test, I booked myself on 5 different cruise lines in 5 different cruise ship suites. Saga Cruises, P&O Cruises, Princess Cruises, Viking, and Celebrity Cruises.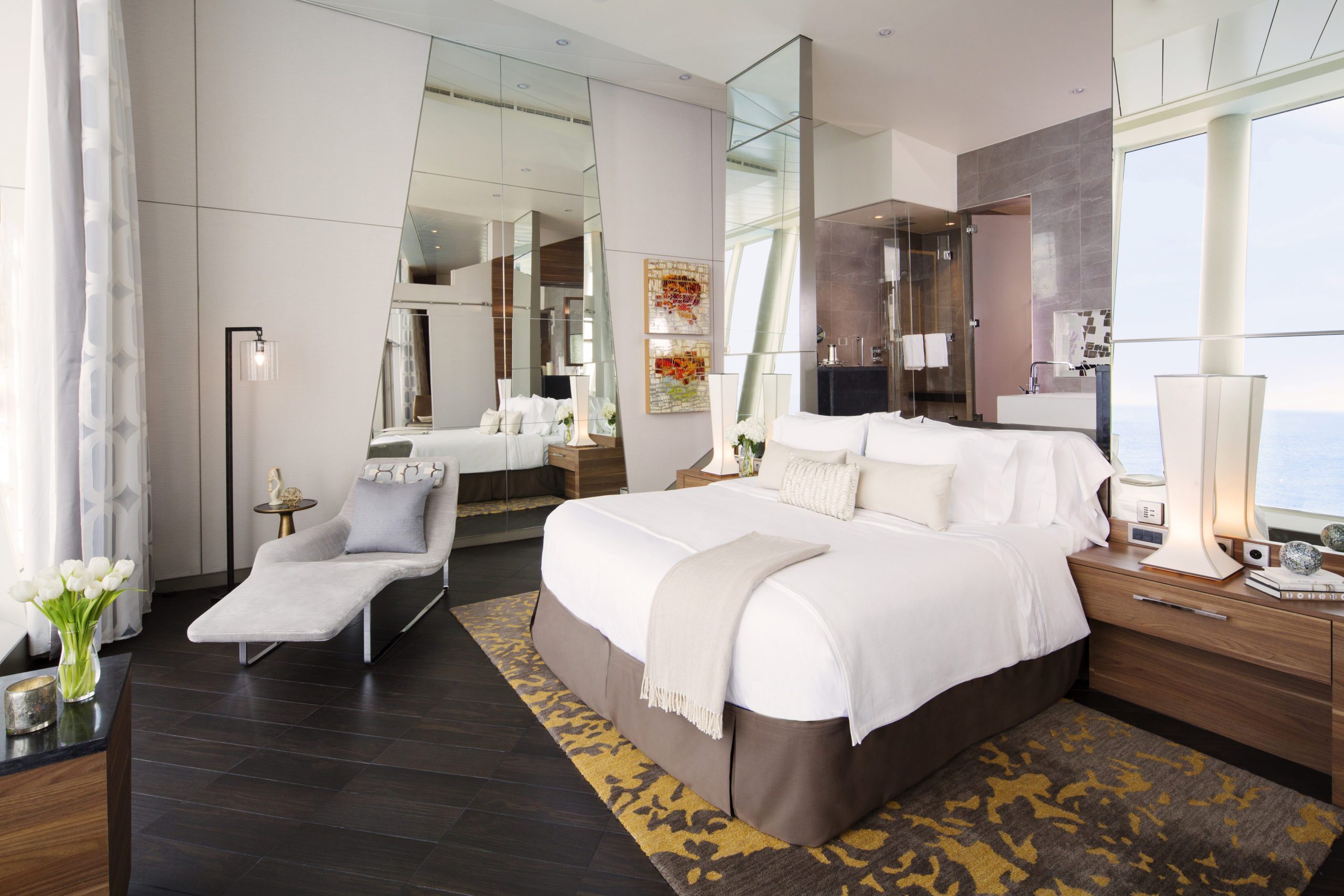 Suite Features
One thing I quickly came to realise is that to be a suite, the space has to have 6 key physical features. How these features are executed and delivered differs enormously, based on the ship and the cruise line. It also comes down to which type of suite you are sailing in. The 6 features are as follows: You have a seating area; you have a dining area; you have a bedroom area; a walk-in dressing/cupboard area; you have a bathroom; and then you have a big extended balcony area
The simplest version of a cruise ship suite is like the one that I cruised in on Regal Princess. Effectively, it's just one big room. So, you have a seating/dining area, and you have a separate bedroom. You have a bit of a divider between the two rooms and then an en-suite bathroom.
On Saga's Spirit of Discovery, this is perhaps a more common version of how suites are done. So, there's a couple of rooms. In one room you have the seating area, then behind you have the dining area. That then leads through into the bedroom, which then flows onto the dressing/storage cupboard area. That then flows to the bathroom and the toilet area. And last but not least, there is the big extended balcony. That's kind of the middle approach to suites
The next is the more elevated section, where you take what you've got here, and you basically expand into something much grander. So, for example, when I was on Viking Venus in an Explorer Suite. That had the same number of rooms, but they were on a much bigger scale.
Suite Experience
So, having got my head around the 6 key features that a suite should have, I started judging suites on how well they executed those 6 things. However, there was a 7th aspect to the suite experience which I came to appreciate, and that came to value – the additional perks and the benefits. That (again) split into three very distinct types
Having a great cabin on Saga Cruises
The first type was very much as I experienced on Saga's Spirit of Discovery. The suite experience is very much just about having a great cabin and having space. So, there's very few additional perks being in a suite. Yes, you had things like a butler service, although I never really figured out what a butler does. You had things like the mini-bar, which was stocked and re-stocked. But, you didn't have your own dining room, your own deck area, your own swimming pool or concierge lounge. And that was true of a couple of suites that I stayed in. It was true on Viking Venus. It was true on P&O's Britannia.
Enhanced experience on Princess Cruises
The second suite experience is one that I really liked, and I think helps justify the cost, as you move from a balcony to a suite. So, on Regal Princess, they have a few extra perks and benefits. You have a special Club Class entrance into the restaurant in the evening, you don't have to book, and they have an enhanced menu,. They also have a Concierge Lounge with a really helpful concierge who will book restaurants and sort problems. That's a very exclusive area where you can have drinks and snacks all throughout the day. When I moved onto Celebrity and Celebrity Silhouette, they enhanced it even further.
Another step up with Celebrity Cruises
On Celebrity Silhouette, the whole cruise ship suite experience had really been elevated to a degree that I liked. And they have what they call The Retreat, which is their overall suite experience. First of all, you have the suite that you've booked, which has your butler, or what they call your Personal Retreat Host. Then, secondly, you have your own dining room, which is called Luminae. It's quite fancy and rather nice, and it has its own kitchen. You then have the Retreat Lounge, which is hosted by two concierges who will sort out all your arrangements, and it's open 24-hours. You can have drinks, afternoon tea, and snacks, all hours of the day. The dedicated Retreat Deck – which on Celebrity Silhouette is on two levels – offers a bar and you can eat there or take a dip in the hot tub.
Overall
The Retreat experience is close to the next suite experience that a lot of people really really like, and that's the Ship-within-a-ship concept. All of the suites are in a controlled area, so on MSC Cruises, for example, they have the Yacht Club. On Norwegian Cruise Line they have the Haven. So, basically, behind a locked pass door, you step into a whole world which is just for suites. So, it's a ship-within-a-ship, and that's an experience that I've tried once on MSC Cruises and it is pretty special.
Suite Location
A lot of the suites are actually located in what they see as kind oF glitzy, showcase locations. So, they tend to be high up and at the front of the ship. Some are at the back of the ship or they'll even be, in the case of some, overlooking the pool deck. However, talking to maritime architects and designers, they argue that most times, suites are put in the wrong place on the ship. Because they're put in those locations which could have much more movement.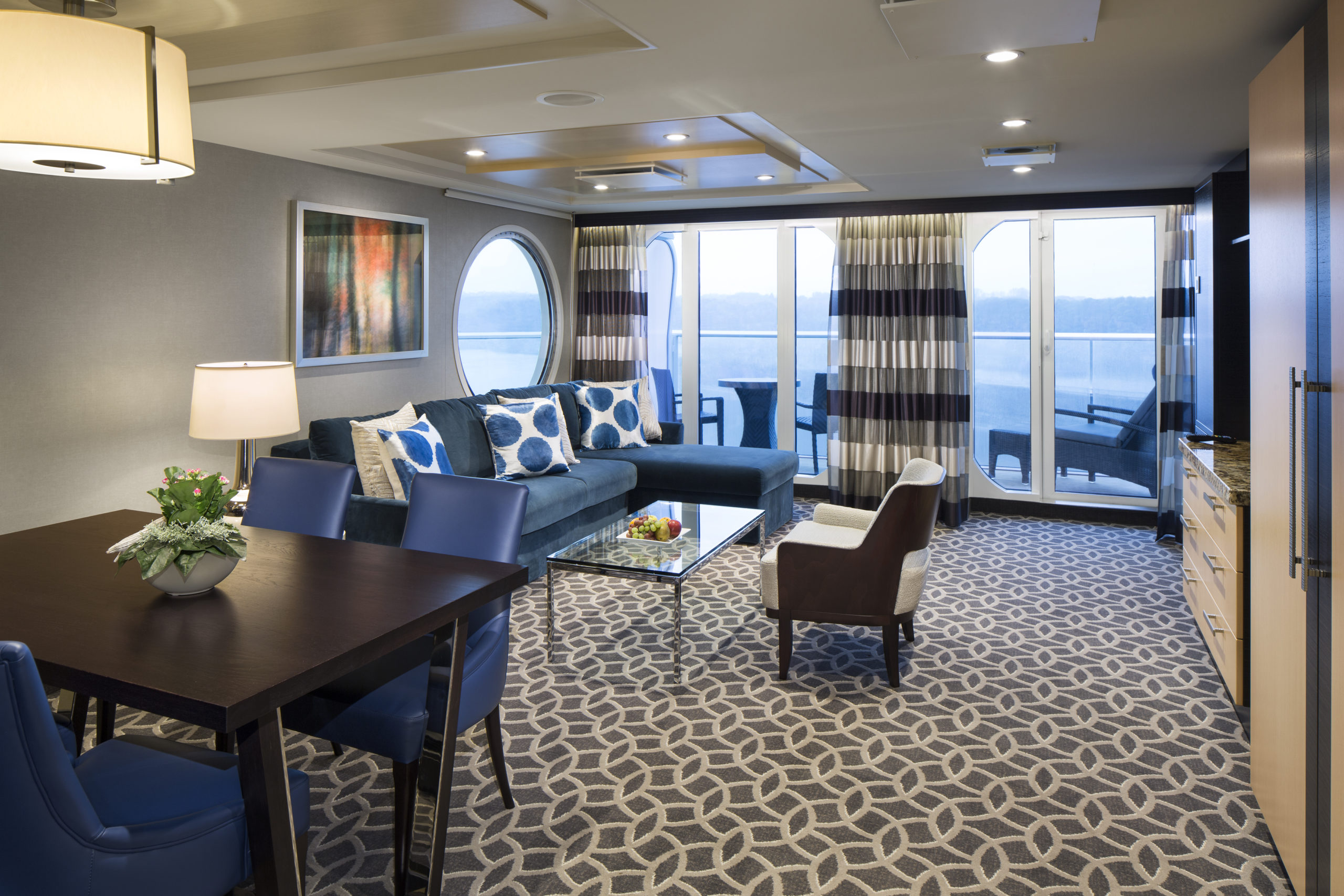 Be cautious
I was once offered an upgrade to a Sky Suite on Sky Princess, which I turned down because although it's a very glitzy-looking cabin, it's right overlooking the pool deck. It offers a great view, but you've got the noise of the parties, the Movies Under The Stars, and so on.
When choosing a suite you have to be super careful about location. One of the things I discovered in my suite experiment is that you have to be as careful with location as you do with all the other grades. So, don't necessarily assume suites are in the best location when it comes to things like, say, vibration, or external noise.
Midship suites
I tend to choose midship suites, as that is, in my view, is the best place to be. You have the least amount of movement. You are equidistant between all the activities on board. That was a really interesting one, that suites are given what are seen as the prestige locations but aren't, in my view, the best locations.
Through this rather expensive experiment, I came to a couple of key realisations that I think could be really helpful for you. And that's about what's important when it comes to cruising. I like to have a decent sized cabin, but I don't necessarily get hung up on the huge amount of space. This is because although I do spend a fair bit of time in the cabin. I don't need all that extra space and special dining tables, and that kind of other stuff.
Secondly, what I realised is location is important, and I do believe that location is one of the most important parts of the whole cruise experience. So, having a cabin in the right location is almost more important that having a suite in a noisy location or in a location which doesn't really suit you.
I also came to realise that I like the cruise ship suite experience that had some other things bundled in. So, I really liked having your own restaurant with open-seated dining, and all the extra attention and ability to get table for one or two or whatever you wanted. I also liked those that had a very specific deck, so on a particularly busy sailing, you had a quiet deck that you could go to get away from the crowds, and to feel a little more pampered and special.
But, what I came to realise, is the most important thing of all when it comes to choosing for me was location, and secondly being able to choose the cabin. So, not having the guaranteed fare was really important to me.
Hopefully this has helped you decide, as you've seen the perks, and the downsides and the upsides of cruising in a suite. I'd love to know what you think.
BECOME A TIPS FOR TRAVELLERS PATRON
————————————————————
Become a Patron on Patreon and get perks: https://www.patreon.com/tipsfortravellers
BUY MY CRUISE-THEMED T-SHIRTS
————————————————
Check out my T-Shirt range: http://bit.ly/TFTStore
FOLLOW ME ON SOCIAL MEDIA
——————————————-