6 Best European River Cruise Lines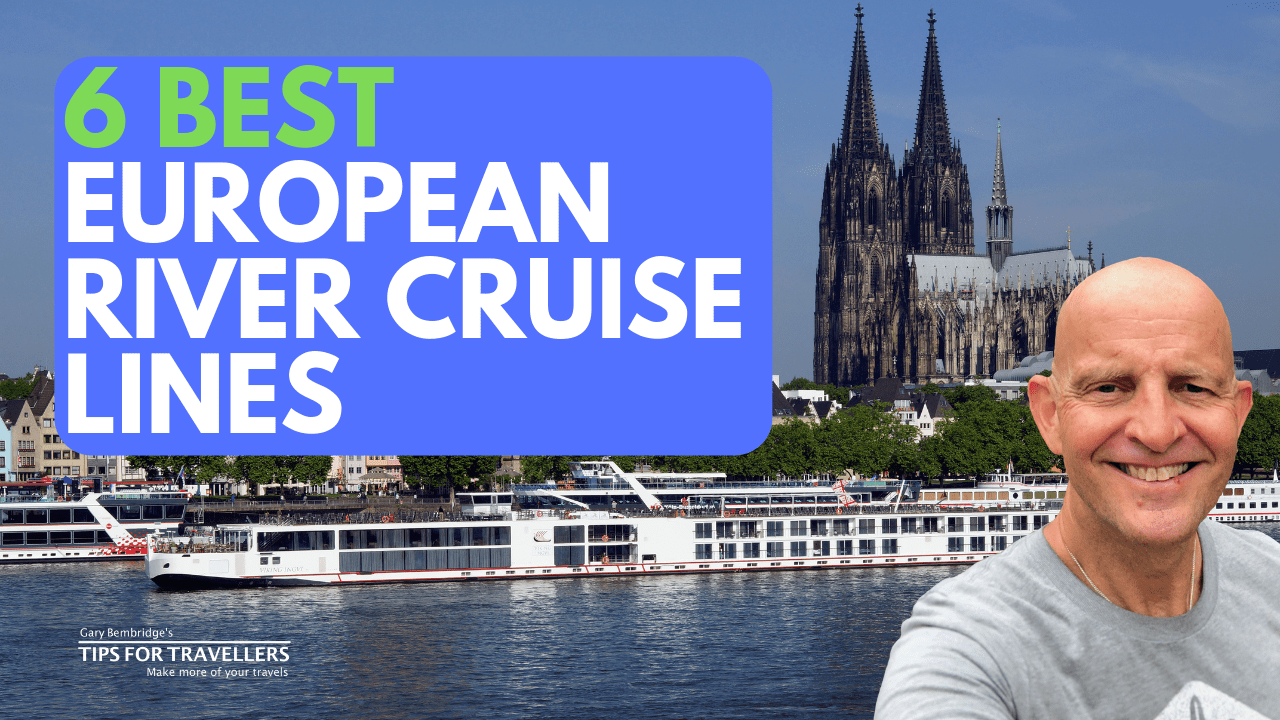 6 Best European River Cruise Lines
In this article, I'm going to explore, and share with you, what I think are the six best European river cruising lines, and hopefully help you decide which one of these would be right for your first (or your next) river cruise in Europe.
Choosing a river cruise line in Europe can be quite a challenge because when you take a look at them, they all seem to be the same. They are constrained by the rivers of Europe and tend to be the same length, the same width and the same height to be able to sail down the rivers. So, it's really important that you understand what goes on within the ship, and what the service is, to help you decide.
The other thing that makes it hard to choose between river cruising lines is all of them talk about all-inclusive fares. Largely they are all-inclusive, and most include accommodation, food and some or all of your drink. Many will also include gratuities and excursions. While largely speaking they offer all-inclusive fares, there are slight differences though when you get into the detail by a cruise line.
Let's take a look at what I think are the six very best cruise lines.
Watch my best river cruise lines video
Watch on YouTube: https://youtu.be/QvpVqYfhEXU
Uniworld
Let's start with Uniworld, which is probably one of the more prestige and expensive of the cruise lines sailing around Europe.
I've done a couple of Uniworld cruises and I really like Uniworld as a cruise line. They position themselves as offering six-star service, and the point is that they go way beyond what you would normally expect.
The ships are all very different and the decor does tend to be a little bit on the rich and glitzy side. While they are glitzy inside, they are beautiful, very comfortable and the bedding, beds, the service and the quality of everything onboard is phenomenal. The service is really outstanding.
They do cruise on pretty much all of the major rivers and, as I said, they are more on the premium side, so if you're looking for a particularly luxurious river cruise with very high degrees of service take a look at Uniworld.
AmaWaterways
If you like to travel in five-star upmarket hotels, the next two lines I want to talk about are probably in this 5-star area.
The first of those is a Cruise Line called AmaWaterways. I really liked AmaWaterways. They offer a great product and are owned by a group of friends, so it's really a family-owned company. It was established back in 2002 and still run very actively by the families.
They have great quality of ships, of service and food. I really like the decor as it's quite modern. One of their features is that they have cabins which have both a Juliet balcony and a normal balcony. The advantage of the Juliet balcony is that it means the cabins can be slightly bigger. Cabins on board river cruise ships are quite small, so the advantage of having both is it means they can allow a little bit of extra space.
Sophistication 
AmaWaterways are sophisticated terms of technology and you'll find lots of technology on board through the interactive television and on devices.
The food is outstanding, with huge choice on the menus. They also have a specialty dining option, called the Chef's Table, where you can watch the chefs prepare the food.
The line is also very big on wellness and has a dedicated person on board looking after a wellness program. They run classes and have lots of wellness excursions. They have bikes on board too.
If you like five-star service with a contemporary feel and a big focus on wellness, definitely take a look at AmaWaterways. I think they could definitely appeal to you.
Viking
Probably the best known of all the river cruising companies is Viking. Viking is incredibly well known, particularly in North America and in the UK because they do spend a lot of money on marketing.
They have a huge fleet they and at time of recording, I think over 70 ships across all the different rivers of Europe. All the ships tend to be the same. They have the Longships, which are on the bigger rivers and hold up to 190 guests. Then they have a smaller version of the Longships, which operate on rivers which can't cope with such big ship, for example in a Portugal.
Viking has a more traditional approach, so although the ships are quite contemporary and have a Nordic feel to them, they do tend to be a little bit more on the traditional side. So, unlike AmaWaterways, they don't have bicycles or a fitness centre. They don't have lots of that kind of fitness activity on board but they do offer some active excursions. So, you will find you can go on bike excursions. But Viking do tend to focus more on the hotel experience, with the destination more as the hero.
Known everywhere!
They are definitely well known and on pretty much every river that you want to go on they will have multiple itineraries. You'll often find when you go to a port there's often more than one Viking ship in there, because they have lots of different permutations of cruises of different lengths.
Viking I would say has five-star service, they have good comfortable cabins, good comfortable beds, good quality of service and good food. If you like five-star service with a more of a Scandanavian feel to it consider Viking.
Also, they have many permutations of cruises that you can do within Europe and if you're looking for something a little bit unusual or of different lengths. The advantage Viking has is they have loads of ships, so they have loads of choices of itineraries.
Avalon Waterways
The next two cruise lines, both of which I also really like, are probably a more in the four-star category if you try to equate that with what you can expect on land.
First of these is a company called Avalon Waterways. Avalon Waterways is part of a really big group as it's part of the Globus Travel Group. So, it has huge resources behind it and that means in the various ports they have long-established connections and really great excursions.
Avalon is definitely focusing more and more on fitness and wellness, and on board they have fitness people and fitness classes. They offer active excursions and you can go on excursions that include hiking and biking if that's the kind of thing you're looking for. Also reflected in the food is a wellness approach.
Suite Ships
One of the things that they talk about with their ships is their Suite Ships, and they do have great cabins. I really like the cabins on Avalon as in the cabins the beds face the window, which is a great feature because as you cruise through Europe there's often beautiful scenery you're cruising through. So, that's a small touch but it's a great touch.
Good levels of service and definitely something to look at if you are looking for something that is going to give you lots of active excursion options, and if you're the sort person on land who likes a four-star hotel. You like some luxury, but you don't want to go to 5-star prices with all the bells and whistles and extra service that comes with five-star, then take a look at Avalon Waterways.
Emerald Waterways
The next cruise line, which I also really like, is called Emerald Waterways. Emerald is owned by Scenic. Scenic is probably more a five-star product, probably a bit more premium, and Emerald is perhaps a little bit more affordable.
Again, there is a big focus on trying to be active and offering active excursions. They also try to attract a younger type of traveller to river cruising and you'll find that a lot of the activities they do onboard are trying to appeal to a younger crowd.
Bigger cabins and more
One of the things they offer to have bigger cabins is instead of having balconies they have panoramic windows which are the full length of the cabin which slide down. So, effectively your balcony is within your cabin and you have extra space, but the advantage is you can let fresh air into your cabin. That's a nice touch.
Another feature that they have at the rear of their ships is an area which during the day is a plunge pool inside, and in the evening, they convert that into a cinema.
Emerald Waterways don't have as many ships as some of the other cruise lines, so there perhaps isn't as wide a range of itineraries. But they certainly cover all of the major rivers that you would want to go on Europe – particularly if you're going on a first or second river cruise.
Emerald is an interesting line, it's probably a bit more youthful with nicely designed ships and good all-inclusive fares. So, if that appeals to you and you like a more youthful approach, take a look at Emerald.
CroisiEurope
All of the cruise lines that are spoken so far operating on the European rivers tend to be quite English centric and they tend to have mostly American, British and Australian travellers on them. If you want something different, take a look at CroisiEurope.
CroisiEurope is very interesting because they are, I believe, the river cruising company that's been operating for the longest across the rivers of Europe. They've been going since the mid 1970s. It's a family-owned company, owned by the Schmitter family, and the family still runs it. I think it's about the third generation that are currently now increasingly taking over the reins of the company.
It's real core is with French travellers. However, increasingly the ships are becoming more international. So, you are likely to have a more diverse group than you'll have on any of the other river cruising lines. And certainly you're going to have a more European experience.
Better value
They focus on providing great French food and a more European experience. If you're going to cruise through the rivers of Europe CroisiEurope is definitely something worth considering.
They sail on an enormous range of rivers and they even design ships specifically for rivers. I went on the Loire in France, which is a very shallow river, and they had designed a paddle ship specifically to go on that river. So really interesting and very innovative and pretty much if there's a river in Europe they sail on it.
They tend to be better value and they operate in the more value end. Depending on where you're coming from, the fares are constructed in different ways. Often you buy a cruise only fare and you then buy excursions ad-hoc or as packages. If you booked from the USA, they tend to do a more of a bundled package because people are coming much further.
They have regular and premium ships, so again lots and lots of choice.
CroisiEurope are definitely interesting as a cruise line because it's going to give you a much more European experience. You'll find it's more multilingual and it's going to definitely give you a much more European feel. Definitely something to consider.
Final Thoughts
There are many other cruise lines that operate in Europe but, for me, those are the six I think you should look at if you're considering your first or next river cruise in Europe. I have loads of videos of tips and advice about river cruising and ocean cruising, so why don't you watch another one of them right now? http://www.youtube.com/tipsfortravellers