Questions I Should Have Asked BEFORE Cruising the Nile!

Learn From My Mistakes: Questions I Should Have Asked BEFORE Cruising the Nile!
Seven out of ten travellers told me they really want to do a Nile River cruise. But almost all said they were unlikely to do it, because they had too many questions and concerns. Having done one, I have discovered the answers to those questions, and a few they should be asking but aren't.
While I will get to safety, security, and health in a bit, I realised I should have first been asking more about what a Nile River cruise experience was like to see if it suited how I like to travel.
#1: Is the off-ship experience going to be appealing and manageable?
I had focused on all the sights I was going to see, but I hadn't asked enough about how it would play out.
The trip packs in lots of sightseeing. There were long and intensive days both in Cairo and on the two-way cruise between Luxor and Aswan. I was surprised how limited downtime there was sailing, as I soon found out there's just 140 miles (225km) between Luxor and Aswan.
We spent multiple days docked in Luxor and Aswan. And, on the plus side, the sights were not too far from the docking areas, and probably the longest time in a bus was about a 45-minute drive out to the Valley of the Queens and the Valley of the Kings.
Everywhere, there were incredible sights to see. I dive into each of them more in my other Egypt blog. And I must stress 7-night cruise is a must to see everything and not be too rushed. So, check your trip is not one with a 3- or 4-night itinerary.
Templed out?
Did I get "templed" out? By the end of the trip, I was feeling a little bit jaded, and it stuck me when touring the Luxor Temple at the end of the trip that I was almost dismissing it as rather unimpressive. Which was insane!
We were in small groups of 24 with one Egyptologist per group for the entire trip. Nermeen, who was mine, was incredibly knowledgeable, and made the trip fascinating.
The other key thing of note when off ship is the vendors. They are relentless and all sites make visitors go through the stalls on the way in and out. There is no way to escape them, and they are very pushy. Ask your guide how to handle them, I found don't let them hand me anything, put anything on me, look ahead, ignore them, and go, "No, no, no, no," or "La, la, la, la," (which means no).
The stuff being sold seemed touristy and mass produced.
I found the public toilets grubby, and I had to pay to go into all of them, not very much. Just one US dollar or a couple of Egyptian pounds.  I took toilet paper and wipes out with me.
There were armed police, military, checkpoints, and at every site metal detector screening, with bags going through screening too.
Taking photographs
One thing I had not asked, but found I should have, was around taking photographs and video. Once in Egypt, our Cruise Manager (Walaa) warned us to be cautious of taking photographs and never take any of any screening areas, checkpoints, police, any of the authorities, or even of anything that could be construed as suspicious like at the airports where there are military aircraft too.
Also, I found I should have asked about packing. People on the trip with binoculars were told to not take them out. I had not taken my drone but just as well as they are totally banned.  Even some of my camera tripods I was advised to not take out as they could cause raise attention from authorities.
Prepare for the weather
Also, I am pleased I checked the weather and came prepared. I went in April which was between 30 to 35 degrees Celsius (86– 95F) and I found with good sunscreen, a hat, drinking lots of water, and wearing cool clothing, it was fine. Flies and bugs were something I had not asked about and I did get bitten quite a lot because I had forgotten to take bug spray with me.
I had just taken US dollars, which worked fine everywhere. Though I had not taken lots of small notes, like $1 and $5, which was what I needed most.
Moving on from the off ship experience, I found the on-board experience was not one I had asked enough about either.
#2: Is this the right on-board experience for me?
I had chosen to go on AmaWaterways because I knew and loved it from my experience in Europe, and though that familiarity would be reassuring.
However, what I didn't ask is if they really were running the show. I discovered it was not. By law they must be Egyptian owned, operated, and only use Egyptian crew. AmaWaterways, like other well-known cruise lines are just partnerships with Egyptian companies.
My cruise was much more a Wings cruise, which is their partner in Egypt, running under the AmaWaterways banner. Of course, AmaWaterways I could see had set certain standards and requirements, but it was not the usual AmaWaterways experience I was used to.
Ship and experience
The second aspect of the cruise experience I should have asked more about was the ship and experience itself. Having been on river cruises in Europe and Asia much of this wasn't as much as a surprise as it was to others.
Ships on the Nile are all pretty much the same, as the height is fixed to go under the bridges and the width to get through the Esna locks between Luxor and Aswan. This limited size means limited facilities.
The AmaDahlia had one main restaurant for breakfast, lunch, and dinner. An al fresco Chef's Table dining area open only on nights when sailing. A lounge with bar, for the briefings, entertainment, afternoon tea, and relaxing. A reception area. Small library. Shop with jewellery and souvenirs. Fitness room. Spa room for hairdressing and massage. Sun deck with plunge pool and bar. There was no casino nor medical centre.
I also realised I had not asked enough about the food and beverage offerings on board before going.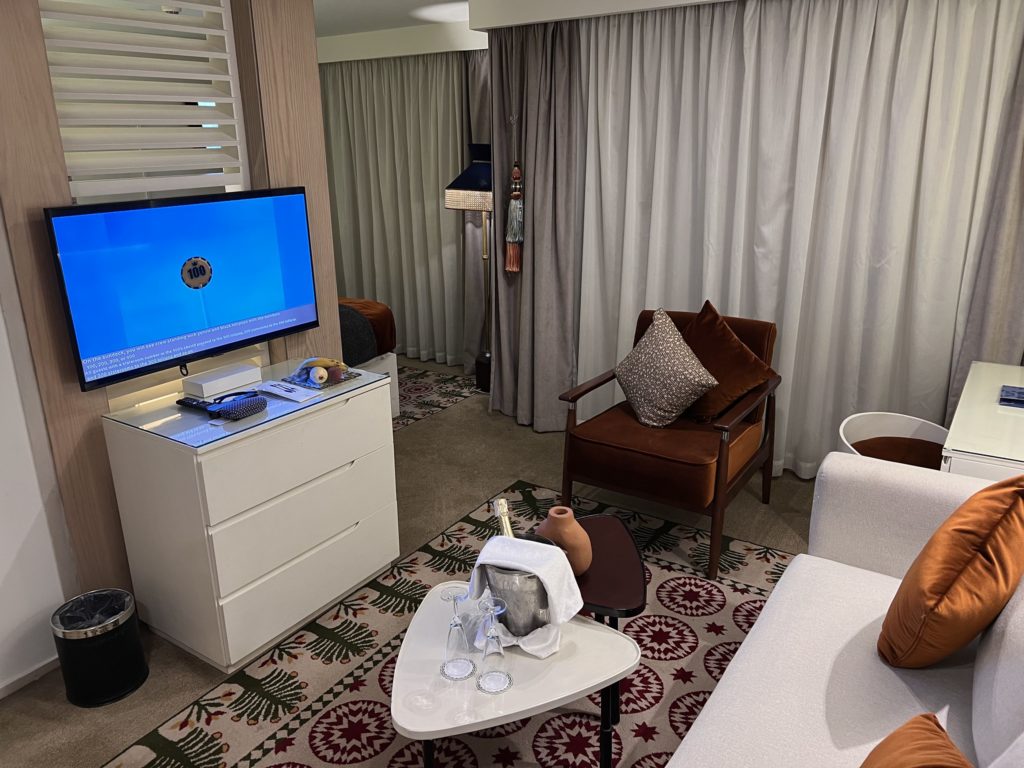 Food and beverages
On AmaDahlia, breakfast was largely buffet with items ordered from a menu. Lunch a buffet service and dinner a la carte. The menus were relatively tight, with some choice of starters, main courses, and desserts. The food was a mixture of international and Egyptian food. It was pretty good, but not amazing.
As I don't drink alcohol, I had not asked about what was included and found drinkers had a mixed view. Egyptian wines and beers were included at lunch and dinner. There was the AmaWaterways signature "Sip & Sail" hour every evening before dinner, with a decent menu of included drinks but only using Egyptian sourced sprits. So, if you wanted more international spirits, beers, or wines you would pay for those.
Entertainment was limited and was rather touristy, with a belly dancer, Tanoura Whirling Dervish dancer, and a Galabeya party where we were all dressed up in traditional garb.
All-inclusive definition
One thing I did ask is what is and is not included in the on-board experience as while billed as all-inclusive, the definition differs slightly by line.
On my trip, which included a land portion in Cairo, it included all the transfers, hotel stays in Cairo, flights to and from Luxor, entry fees into all the sites listed on the program, the cruise, food and drink mentioned, Wi-Fi, and the services of a Cruise Manager and Egyptologist guides. The extra costs on my trip were an optional excursions to Abu Simbel, afternoon tea at the Old Cataract Hotel Aswan, camel rides at Giza Pyramids, gratuities (which was around $250 per person), and then services like laundry or spa on the ship.
Next, I wish I had asked and checked more about the best cabin and location on the ship. This is a big one.
Cabin location!
There are a limited range of cabin types. The least costly are on the lowest deck and mostly under the waterline with a window about three quarters of the way up. The others on higher decks have floor-to-ceiling windows and some small balconies.
However, location is I found the most important factor of all.
The Nile is busy with at least 250 ships sailing that short distance between Luxor and Aswan, and dock almost every night, we were docked six of the seven nights. The ships docked side by side and in rows. So, often there will be a ship docked a few feet from your window blocking any view. And I had to walk through multiple ships to get to the bank.
But the mistake I made was not asking past travellers about locations to avoid. My seemingly, on paper, perfect cabin close to the front of the ship was a disaster. Later I found people had said so on the AmaWaterways fan Facebook groups.
Nile river ship engines run 24 hours a day, seven days a week, and they don't get plugged into shoreside power when docked. These are noisy and fume pumping. As ships are docked in rows along the bank it means the loud rear engines make cabins at the front of any ship docked behind them, like mine, unbearable.
Now what about how safety?
#3: How do I make sure I am safe?
I did find travelling in the bubble that AmaWaterways effectively created for the trip meant I felt secure and safe. It started as soon as I arrived at the airport as even before going through immigration, I was met by one of the team who explained the process, and from then onwards, there was always someone with us. In fact, right up until I went through final security at the airport to fly home.
I was always in the group, with the AmaWaterways team guiding, explaining, smoothing the way, and watching out for us. There seemed to added security at some places we visited too, as I realised some familiar faces kept appearing.
We were always briefed about what to do and what not to do, and how things would be and would work. Our group's Egyptologist (Nermeen) would even step in if the vendors got too aggressive.
This bubble was also a plus for travellers like the solo woman traveller, and an LGBT couple on this trip, as Egypt has a reputation of some intolerance and hassling of LGBT people as it insulated everyone.
There was also a lot of Egyptian security everywhere with armed and tourist police at every site. Checkpoints and guards abounded. We did have police escorts from the airport and in Qena north of Luxor, but nowhere else.
Egypt did feel, although politics is more settled, a little bit on edge and worried about safety and security and I assume at risk of things getting more intense. So, being in that bubble with local knowledge and guidance was key I feel.
This leads me to the other question I asked a lot!
#3: How do I make sure I don't get ill?
Before going and while there, I was bit obsessed with how do I make sure that I don't get an upset stomach that could ruin things?
Quite a few on the trip did get an upset stomach, but I did not because I was constantly focusing on it.
I used hand gel all the time, including after handling bank notes, which I was warned was a potential risk. I drank bottled water on and off the ship, even using it to rinse my mouth and toothbrush when brushing my teeth. Eating salad was off the menu because that was another risk, I'd heard. I never had ice. I only had fruit that was peeled or vegetables that were cooked.
Another question I found I should have been asking was if I did get an upset stomach, what was the best way of dealing with it? And the answer is, ask for the local remedy. Imodium, which is what I'd taken is according to people on the ship that had upset stomachs not effective, but a local remedy offered by reception was.
SUPPORT TIPS FOR TRAVELLERS
FOLLOW ME ON SOCIAL MEDIA
——————————————-