River Cruise Tips and Tricks: My European River Cruising Advice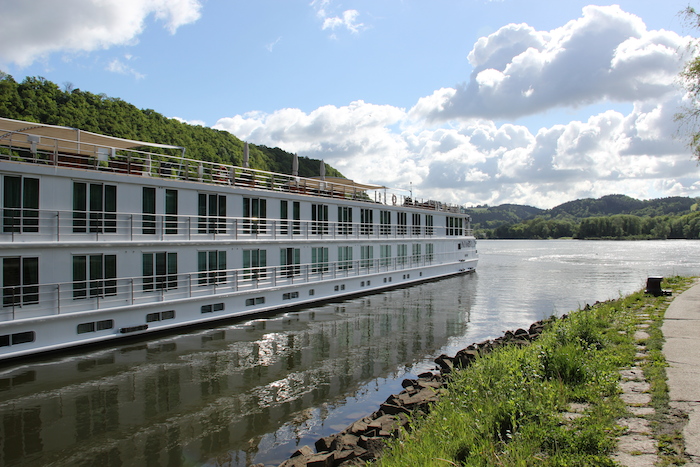 My Tips for Travellers: Answers to questions about river cruising in Europe
River cruising is growing in popularity at a furious pace. More travellers are attracted to this way of exploring the world and ships are launching at a brisk pace to address growing demand. In my book "The Cruise Traveler's Handbook: how to find and enjoy unforgettable cruise vacations" I covered the topic in detail. I am frequently asked the same questions by people interested in trying a river cruise, especially in Europe. These are my thoughts and tips to these questions:
Who is river cruising in Europe suited for?
Travellers who like everything being organised for them:
River cruising has a reputation of being more suitable for older travellers, which I think, is inaccurate. In my view it is less about age and more around the kind of travel that people like to do. A river cruise is perfect for those who want everything organised for them. It is ideal for travellers who don't want to have to worry about finding the right hotel, places to eat, tours and having to navigate foreign transportation or managing unfamiliar currencies.
A river cruise takes the hassle associated with travelling away. It provides a calming experience where travellers are assisted at every stage of their journey. This is why it appealed initially to people who embraced land-based escorted tours. On a river cruise you're meticulously looked after and everything you do has been carefully screened.
If you're the sort of person that likes having everything sorted for you, you'll find a river cruise very appealing. You can be assured that you will be taken to the highlights you need to see in each destination, you will be trying traditional and local dishes without having to go out and hunt for them all while staying in a floating hotel where you are assured of plenty of good food, high levels of service, safety and on-board activities.
If you like the unpredictability of travel and thrive on fathoming your way around destinations, spontaneously deciding where to go and how to get there, while happily embracing the risk of staying in a few underwhelming places along the way, then you might find river cruising restrictive. While you could go off and explore the destinations by yourself, it is not the real point of river cruising where the food, tours and transportation are already bundled into your fare.
In terms of organizing a holiday, it's simple because once you've decided the itinerary and cruise company, that's almost all you have to do – other than pack. If you travel on a Uniworld cruise out of the UK then you do not even have to arrange getting to and from the airport! Titan Travel, who exclusively sell Uniworld cruises there, even include a VIP Car Service to take you to and from your destination airport. They also have a representative from the company to meet you at the airport who escorts you to check-in for the flight. Transportation to and from the arrival and departure airport and the ship is also included when river cruising.
Arts, culture and history lovers:
If you have an interest in the culture, art and history of Europe then a river cruise is likely to appeal. The focus of talks and excursions are around exploring this aspect of the destinations along the river. You will be taken to experience the grand buildings, museums and churches while getting to sample the traditional food and drink through each region. It leans towards exploring the past and heritage of the towns and cities along the river rather than the contemporary.
Social types:
River cruising really suits highly social people. The ships are intimate with around 150 passengers and as well as getting to know your fellow guests on tours, it is open-seating dining around large tables so you're always mixing with new people. Dinnertime is a relaxed and leisurely paced activity with lots of time to talk to others. Evening entertainment is centred on the lounge with either local troupes showcasing the regional music, song or dance or the on-board pianist and singer performing. The crew get to know everyone and greet passengers by name. It is not a place where you will be invisible and anonymous.
Is a river cruise laid-back and quiet?
I had expected river cruising to be a very sedate and slow experience with not much to do. It was not. While gliding along the river is quiet and restful, and the scenery passes by in gentle waves of gorgeous, ever changing vistas, the pace during the cruise is surprising fast-paced.
Far from being full of people that like doing nothing cruises are more likely to be taken by active people who like to be constantly on the go. While passengers can sit in a calm corner reading and watch the region pass by undisturbed for hours, most come to explore and experience the region and want to make the most of it. The cruise line makes sure they can do just that. River cruises are so much busier than I thought they would be and every hour of the day has something to do: an event, a talk, a meal, a reception, a guest artist, an escorted walk or bike ride along the river or an excursion. From the time you wake up to going to bed there is something happening.
I thought river cruising was going to be incredibly lazy and I would be leisurely pottering around trying to pass the time, that's not the case. People who have been on ocean cruises on large ships always are sceptical about what there is to do on a river cruise – as they assume the small ships mean there is not a lot going on. There are not as many choices at any one time as you have on those ships but there is always something to occupy you.
Is river cruising suitable for people with mobility issues or disabilities?
Not as much as I had expected it to be. The river cruise lines will work with passengers to see if they can make it work and so anyone with mobility or other issues should discuss their needs with the cruse line before booking to see if a river cruise is suitable for them. I do believe that an ocean cruise on a large ship is probably going to b- easier for travellers with limited mobility as they are able to cater more for these passengers with specialist facilities, staterooms and land-based support.
The following are two key considerations:
Wheelchair access limitations:
Wheelchair access can be a challenge on river based cruises. The ships are very restricted in length, height and width to be able to pass under bridges and through locks and so the cabins and bathrooms tend to be fairly compact. Most ships do not have specific wheelchair access rooms and bathrooms. When docking passengers will need to navigate ramps on and off the ships, which can be steep and narrow. Often ships dock side by side in towns and you regularly have to cross through other ships to get on land. Although there will be wheelchair ramps and facilities in towns with steep banks, it is more challenging.
Walking-based excursions:
As the towns and cities along the rivers are ancient and the ship docks right in the old town, most of the tours are walking based and on uneven cobblestoned roads and hills. You do not have to be super fit but you should enjoy and be able to comfortably explore towns this way. Cruise lines like Uniworld offer a "gentle walking option" for those less mobile and will lay on transportation to the entrance of less accessible sites when possible for less mobile passengers, but it could limit what you can explore.
How much of a region does a river cruise really let you experience?
A river cruise gives you a flavour of a region rather than a comprehensive exploration. Many cruises are one week long and will take you to five or more destinations taking in key highlights close to the river. You will get a feel for the traditions, culture, sights and food of the places you visit. I find it gives me a memorable sample of the area being cruising through and informs and inspires me on places I want to return to and explore further. For example, on my "Enchanting Danube" cruise on the River Beatrice it ignited a passion to go back to Vienna to spend more time exploring the museums and to Budapest to experience and understand the history and associated buildings more. River cruising gives an overview and insight into a region and helps guide future travels. You should approach it with this mind-set.
How important is the river cruse line you choose?
Travellers who are not used to cruising tend to start with focusing on the destination they want to go to and then the provider, spending much less time on the second factor. I recommend using this approach with caution.
Obviously, destination is important but equally key is making sure you choose the right river cruise line for you. You are spending all your time on the vacation ensconced with the line and interacting with the crew, passengers and the particular experience they provide. You must ensure it matches your passions and needs.
Defining what experience you want up-front is essential. When choosing a river cruise line look beyond just the price which will determine the level of luxury and on board features but also understand the language and cultural focus of the line. On the river you will find lines focused on serving certain language groupings and country passengers and they provide different experiences.
For example, Uniworld attracts and is popular with English-speaking guests from the United States, United Kingdom, Canada and Australia. It has this sensibility well catered for, even though the crew are mostly from Eastern Europe or non-English European countries like The Netherlands. Make sure you cruise with a cruise line that's going to suit both your pocket but also your mind-set and culture.
How easy is it to go on a river cruise at the last minute?
Passengers going on ocean cruises rely increasingly on late booking as there is plenty of capacity and good deals close to departure, whereas in river cruising this is less likely. Although late bookings are possible, it is more advisable to plan and book in advance to ensure you can get the cruise, date and cabin you want. While many new river ships are being added, interest in river cruising is growing even faster and cruises are often sold out early. Unlike my ocean cruise experiences, people on board river cruises I have spoken to almost always planned and booked their trip well in advance.
What sort of cabin should I select to get the most out of the cruise?
I recommend booking a stateroom that has wall-to-floor windows with either a full or Juliet-style balcony. It will make a significant difference to your cruise experience. You are surrounded by beautiful scenery all the time, unlike endless sea on an ocean cruise or even on a bus or train when you will be passing through urban and industrial areas at times. On a river cruise there is a constant panorama metres from your window, and it is glorious being able to enjoy the views in the morning after waking up and getting ready for the day or evenings as you get ready for dinner. The lowest level of cabins on many river cruise ships are mostly under the water line with a window high up on the wall just above water level which can feel more enclosed and excludes the drama of the scenery.
What is included and not included in the fare?
Unlike ocean cruising, river cruising provides more all-inclusive fares covering food, drinks and tours. However, you should check by cruise line what is included as there are variances by provider.
On Uniworld, for example, drinks, food, gratuities and a choice of tours every day is included. Other lines only offer certain types of drinks, more limited tour options and require tipping to be handled by the guests.
The great thing about a river cruise is your on-board expenditure should be negligible, unlike ocean cruises where it is a major component of your overall vacation cost.
What packing tips do you have for a river cruise?
Bring layers of clothes:
A key tip is to bring clothes that you can layer, particularly at the beginning and end of the summer sailing season. In Europe the weather can be changeable even during the day. So plan to be wearing layers that you can peel off if or when it gets warmer.
Be prepared for rain:
Make sure that you are well prepared for rain and bring a raincoat or other waterproof coat. While lines like Uniworld provide umbrellas to take on tours, I recommend taking a collapsible one that you can then keep in a pocket or bag so less to carry through the day.
Smart clothes for the evening:
Bring something smart for the dinners and the Captain's Gala dinner. In the evenings on Uniworld people dress smartly for the meals although there is no strict dress code. Most gentlemen will wear a jacket or suit and ladies dress in smart dresses. It is not a ball gown and sparkly cocktail dress style at dinner, but people make an effort to get dressed up for the evening meals.
Walking and exercise gear:
There are fitness options on a river cruise including small fitness centres, brisk walks, hikes and cycling options. So come prepared. But most important of all though is to pack shoes that are good for walking on the daily tours.
Currency and money:
As your fare will include most things you do not need to bring much currency. On my Uniworld Enchanting Danube cruise I took some Euros with me and returned with most of them. Even in Hungary, which is not part of the Eurozone, all the markets and stores took Euros. You should check what your fare includes before deciding what cash to bring with you. Uniworld, for example, covers all the gratuities for the crew and guides, drinks, refreshments and food. So you only need money for incidentals and souvenirs you may buy in the towns where you can also use credit cards or draw cash from the ATMs.
Watch your airline restrictions:
It's always important to check what the baggage weight restrictions are for the airline flying you to the ship, as that will be the main limit on your luggage. Do also check with the cruise line if they have any weight or size restrictions. Most do not but storage is limited for suitcases, which have to be stored under the beds usually.
Personal toiletries and medicines:
Cruise lines will provide cleansing products like soap, shower gel and shampoo. In the case of Uniworld this is L'Occitane. However, as the shops on board are small and unlikely to stock daily essentials make sure you have brought your usual personal care items and regular treatments for ailments like headaches and items like Band-Aids. There is no medical centre on board either and so come prepared with medicines and prescriptions to avoid having to arrange to visit local medical providers.
Can I smoke on board?
Smoking is very limited and restricted to a space on the top deck.
Do you have any other questions about river cruising? Send them to me by email or via social media and I will answer them.
If you enjoyed this article, please follow Tips For Travellers on: