Compare River Cruise Lines: Tauck, Uniworld, Scenic, Amadeus and CroisiEurope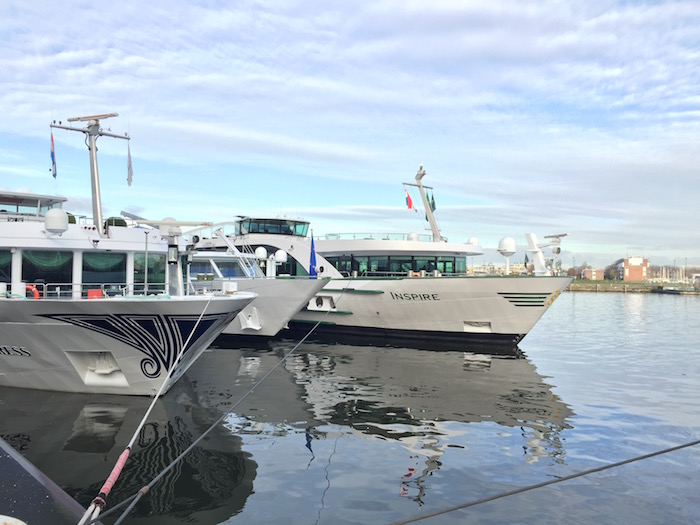 Are you considering giving European river cruising a go? More important than selecting the river to explore is ensuring that you choose the right line and ship to go on. Most of them cover the same rivers, and so you need to make sure that you are cruising on a provider and ship that meets your needs as well as budget. The choice is large, and growing.
I attended the CLIA (Cruise Line Association) River Cruising Convention in Amsterdam where I had a chance to tour a number of ships that were present for the event. This side-by-side comparison was a brilliant opportunity to poke around the public rooms and cabins – something most travellers will never be able to do. So, I made this series of short one-minute video tours of five of them to provide a convenient way to do just.
Scenic Opal
A luxurious and contemporary offering with a wide range of different types and sizes of cabins. It would appeal, in my view, to guests that are seeking a boutique modern hotel type experience.
Watch the video: https://youtu.be/1aocrCqgYvU
Uniworld River Empress
One of the most prestige and premium lines with a reputation for personalised service. This all-inclusive line has different decor styles for every ship but tends to be a blend of traditional with a dash of glitz as the River Empress shows.
Watch the video: https://youtu.be/6HfbupjXm4I
Tauck Inspire
Tauck provides a different feel to the two lines above with a grand and spacious feel with wide corridors, wood panel effects and a wide range of different cabin sizes and types. As with the other premium lines it is all-inclusive and prides itself on personal service.
Watch the video: https://youtu.be/U-56Wk3VJFQ
Amadeus Silver
This line felt more quirky and less formal than some of the other lines, with comfortable cabin options and right airy feel.
Watch the video: https://youtu.be/nfjzXFEXWDk
CiosiEurope Lafayette
This is a 40-year old line with a vast fleet of ships, covering more rivers than others in Europe at the time of writing. They are a more affordable option, and offer what they call three and four star ships. They are not fully-inclusive, and so items like excursions are extra, which you must factor in when comparing fares.
Watch the video: https://youtu.be/Y26pNg8tSUg
Get more tips and advice about cruising at tipsfortravellers.com/cruising