Mekong River Cruise Tips. Key Things You Need To Know
Mekong River Cruise Tips. Key Things You Need To Know
Interested in going on a Mekong River Cruise? They are fantastic. Here's my four essential things that I think you need to know about a Mekong River Cruise.
#1 Where does a Mekong River Cruise Go?
The Mekong River is an enormous river. It's over 3,000 miles long and passes through six countries: China, Myanmar, Thailand, Laos, Cambodia, and Vietnam.
Most cruises sail the Lower Mekong. Most of the cruises tend to go between Ho Chi Minh City in Vietnam and Siem Reap in Cambodia. The cruises tend to be around about 400 miles of the river.
Cruises go all year round. Unlike in Europe, where it has a very specific season, you can go all year round on the Mekong. The temperatures are pretty consistent, so they're about a low of about 20 degrees, up to a high of about 34 degrees!
9 day cruises are the most common. Cruises tend to be around eight nights long, about nine days long.But most people (and I strongly recommend you do this) will add a pre and a post to the cruise,
so, you get time to spend time in Ho Chi Minh City and very importantly, Siem Reap!
#2 What will you see and experience?
I think there are probably four key experiences.
Cruising sightseeing
Firstly, you're basically going to cruise through Vietnam and Cambodia and get a real sense and a feel for these two amazing countries. Plus, you're also going to cruise on some very important waterways. As you cruise through, you're going to see various floating villages. Then you're going through those two really important water areas. The first of which is known as the Cho Gao Canal. The other really magnificent and important waterway you go through is known as Tonle Sap lake, the biggest freshwater lake in Asia.
Exploring three major cities
The second really important experience, I believe, is you get to see three major cities or centres, the first of which is Ho Chi Minh City. Ho Chi Minh City, of course, used to be called Saigon, although the locals still actually call it Saigon. And it's a really buzzing place- it's crazy busy with scooters zooming all around! Unlike most Mekong lines, CroisiEurope docks in Ho Chi Minh Centre, which makes exploring and excursions really easy.
You get to see some really interesting remnants of the French time, when it was a French colony. And you get to see beautiful French buildings like the Notre-Dame, the old Saigon Post Office, the Opera House and the very beautiful town hall.
There's also a stop at the Cu Chi Tunnels. This is a network of something like 200 miles of underground tunnels, where the Viet Cong waged a big part of their war against the South Vietnamese, of course, sponsored by the Americans. It's a fascinating place. You could actually go down some of the tunnels, if you want to.
The next main place, which is somewhere I hadn't been to before, was Phnom Penh, which is the capital of Cambodia. Again, it's a very busy city, a very dynamic city. The most magnificent sight of all when we were in Cambodia was the Royal Palace. I was just blown away when I walked around the corner and saw this place- it was incredible! You visit the museum there, and you also get to learn about the pretty dark times in Cambodia (the Khmer Rouge period in the 1970s, when almost two million Cambodians either were executed, or died of starvation).
The third critical centre is Siem Reap. Siem Reap centre used to be the capital of Cambodia, but now it's really the gateway to the famous Angkor Wat temples. Not only is Angkor Wat here, there are some other key places like the Ta Prohm temple and the Angkor Thom, which is the old royal palace. These are now ruins, but still worth seeing.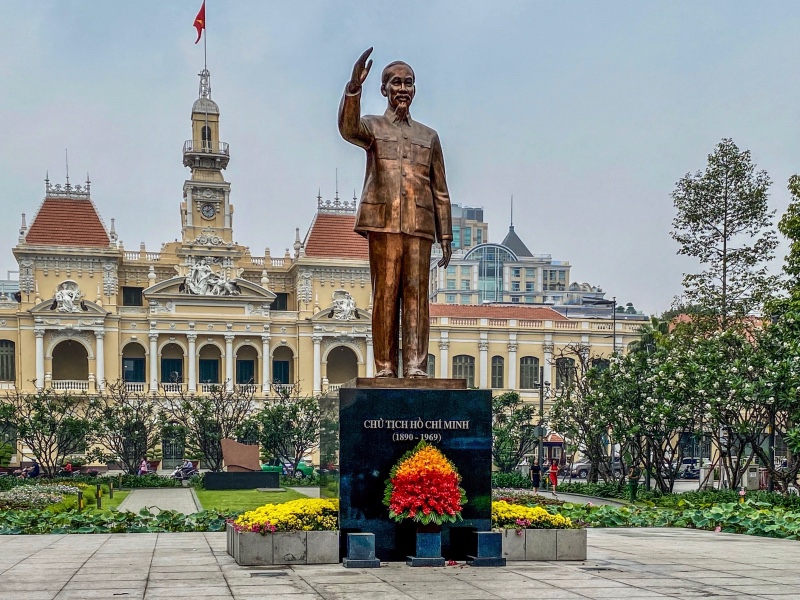 Visit small villages and floating markets
On the Mekong River Cruise, you get to go to little villages out of the way and see really rural places in both Vietnam and Cambodia. We went out to lots of small villages. You get to see how people live, you get to see the markets, you get to see the produce, and the traditional ways that they still make a lot of products.
For example, in Vietnam we went to a bee farm, where they then produce all sorts of honey products. We also saw how they made rice wine, (which is kind of surreal!) because they put cobras and scorpions in, but it's very interesting.
In Cambodia, we went to a few places. For example, we went to the Sensors Angkor which is a perfume factory where they make candles and stop and the Artisans D' Angkor, where they have wood and stone craft.
Explore famous and significant temples
You get to see some amazing temples on the cruise. Probably my favourite was the Tay An Pagoda. We saw this in Chau Doc in Vietnam. This is a magnificent building, and inside there were just such ornate and detailed statues.
Another memorable temple that we went to was Wat Kampong Tralach at Kampong Tralach. This was in Cambodia and what made it remarkable is that it is very much a local village temple, but we also travelled there on a traditional ox cart!
#3 What are the ships like?
It's actually a pretty luxurious way to travel through what is still a pretty rugged and remote part of the world, where there is not necessarily a lot of infrastructure. The ships themselves are smaller, generally, then you would have in European river cruises. For example, the Indochine II from CroisiEurope that I was cruising on that only had 31 cabins, 62 guests. The ships themselves are in a very different shape to the European river cruises.
They tend to be a little bit higher and shorter, because they are not constrained by the bridges
that you would have in Europe. Most of the ships on the Mekong that you see (including the Indochine) do have a sort of Colonial look and feel to them. Despite their small size they still have a fair range of amenities.
You'll have for example, on the Indochine, we have a sun deck which actually had a plunge pool.
On the sundeck level, a bar area where you had your briefing, entertainment and just a place to relax. Up here on the sundeck was also where you had the Wi-Fi. Then you had the cabins and then down on the lower deck you had the restaurant, which for breakfast was a buffet. For lunch, you had a buffet, but you also had a cooking station making something, the special dish of the day. Dinner was a sit-down meal and it was a multi-course meal with a starter soup, a choice of either meat, fish or chicken every day and then a dessert.
As you cruise through what is still a pretty remote and rugged part of the world, you will certainly appreciate the fact that you have a way of travelling through this area in comfort and luxury!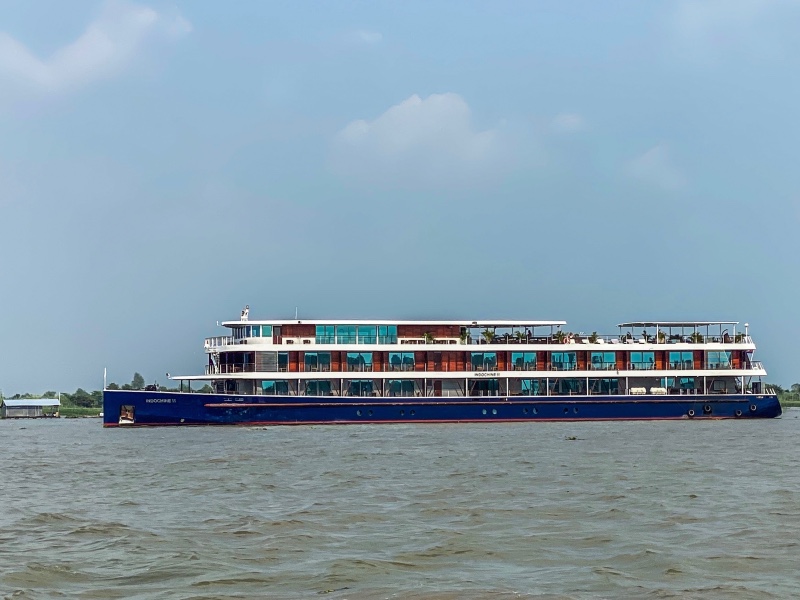 #4 What can you expect on board?
You can expect largely all-inclusive fares. You will find with river cruising on the Mekong that a lot of things are bundled into the fare.
I'll share my CroisiEurope experience:
Accommodation was included: all meals were included. wine, beer and soft drink with lunch and dinner was included.
All excursions are included. There is an excursion at every single stop and that includes a local guide who travels with you the whole way through the cruise. In Vietnam, we had a Vietnamese guide that was with us the whole way in Vietnam and then we had a local guide from Cambodia that was with the whole way in Cambodia for our very specific group.
Wi-Fi is also included, of course, on the rivers. (It is relatively patchy, so on the Indochine II it was available up on the sundeck area and in the lounge.

Also included in the fare is some on board entertainment. So, we had some dance troops, for example, came on board. There were movies every night and there were occasional talks.
What is not included?
Gratuities, which are optional, are not included.
If you want to have a massage, that is not included
Things like the airfare to the cruise, transfers. Those kinds of costs are not included. (Of course, you can work with your travel agent to build a whole package together and of course drinks out of mealtime are not included within the fare)
You can also expect a high degree of regional immersion.
There is the local guide, so you spend a lot of time with them really understanding the history, the culture of the region and then you have time to build a relationship with your Vietnamese guide and Cambodian guide.
You also have some of that entertainment on board, and also sometimes when you are out on an excursion; you will have entertainment. As I mentioned, excursions are very much focused on getting you into the region and into the small villages and to interact with local people – local markets and crafts people.
The food is very much linked to the region. In Cambodia, there are more Cambodian dishes. The menu every night, at lunch time, was very much focused on food from the region. So, you get a real chance to sample it.
Services levels are very high, because, again, the ships are small, there are not a lot of passengers, but the crew numbers are quite high. For example, on Indochine II, there were 62 guests, but 32 crew. So that is a two to one crew ratio -That's a very high level of service.
The Mekong river cruise has been on my wish list for a very long time, and I found it to be an incredible experience. I really enjoyed my time on board CroisiEurope, and I can strongly recommend a Mekong river cruise.
Watch My Mekong River Cruise Tips Video
Watch on YouTube: https://youtu.be/hAYQfKl0nnE
It's an amazing way to see this part of this world!
Remember, I have loads more videos with tips and advice about river cruising, ocean cruising. All types of cruising. So why don't you watch another one of those?
Subscribe to Tips For Travellers YouTube Channel (click image):

Follow Tips For Travellers:
Subscribe to Blog via Email