The Pros And Cons Of Suites On A Cruise Ship
What are the pros and cons of suites on a cruise ship?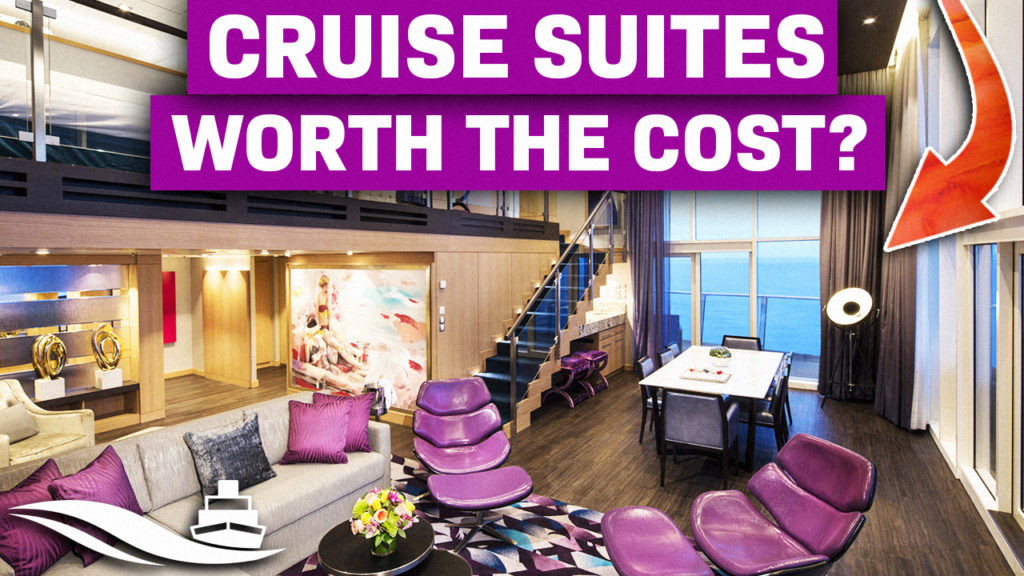 I thought I'd explore the best and worst things about cruising in a suite when you're on your next cruise. When I go cruising, I often cruise in a verandah or balcony cabin, but when I go cruising with my partner, we often choose to go in a suite for all sorts of reasons. I thought it would be helpful to explore some of the pros and cons about cruising in a suite.
The pros of cruising in a suite
Size
So firstly, let's start by taking a look at the pros – the best things about cruising in a suite. The first of those is size. A suite is going to be bigger than a balcony cabin, and depending on the ship, it can be just a little bit bigger, or on some ships they can be monstrous – probably bigger even than your apartment and your home – they can be multiple levels, and even have multiple bedrooms. Generally speaking, the great thing about a suite is that you'll have a sleeping area, some sort of living or seating area, and then a bathroom. Often, you'll have a bath and a shower, twin basins, and then connected to that you'll have some sort of walk-in closet area or dressing room. These tend to be the key features of a suite, then the scale just depends on how big a suite you're in.
The biggest pro is really the size and the scale of a suite versus, say, a balcony cabin, which is the next level down. You normally find that the balcony on a suite is also much bigger, so you have more room to sit outside, if that's something that you like to do. That's simply because the suite is longer than a balcony cabin, and therefore the balcony is bigger.
Location
The second good thing about a suite is that they are located in what the cruise line believes are the best locations on the ship. They'll normally be right at the top of the ship, so you get great views that might be in the front of the ship so you can look forwards over the bow, or at the rear of the ship, so you get that beautiful scene as you're sailing out of port or on seadays. I actually think there are some issues around where suites are located. I'll talk about those when we get to the cons section. But certainly, from the cruise lines' perspective, these are the premium locations on the ship.
Exclusive facilities
The next best thing about a suite is that you have all sorts of extra facilities. This will vary depending on the ship you're on. On some ships, you'll find that the suites are a ship within a ship. For example, on the bigger Norwegian ships, they have the Haven where you have your own swimming pool, lounge, concierge service, dining room, and bar. All these are within one specific area. This is the same on MSC with the Yacht Club. However, on other ships that may be more dispersed, but you're going to generally find you have your own restaurant, and probably some sort of lounge or bar area, plus a concierge or concierge lounge as well. There's also normally a deck with a pool or hot tubs that you can use.
There are also generally seven perks with a suite – some of these are really quite fun and some you might think are less important:
First of all, you'll get priority embarkation, disembarkation and use of the tenders. This can be great, particularly on really big ships, when there are thousands of people boarding, and you're able to arrive, have your own designated check in and get on board really quickly. Also, if you're in lots of tender ports, you're going to have priority access to get on those. When leaving the ship, you'll be able to leave early, or choose when you want to leave.
The second perk is that you'll get things like afternoon canapés brought to your cabin.
The third area could be that depending on the ship, many suites will have butlers, some will even be all-butler service. For example, on Silversea it is all-suite and butler service. On Cunard in the Queens Grill you have a butler, then on different ships, there are different rules. If you do have a butler, they will do things like pack and unpack for you, serve you your meals, sort out any problems you might have, make sure your shoes are shined… all sorts of little bits and pieces.
The fourth perk you normally find will be some form of complimentary drinks. You might find you have free drinks in your lounge, but normally you'll have a fully stocked complimentary minibar in your cabin, and you'll be able to choose what drinks you want in there. So, you might be able to have two big bottles of something, or extra wines, and you'll normally find these are included. You'll also find that when you arrive, you'll receive champagne, plus there will be lots of different cocktail parties and events that you're invited to, so lots of drinks are normally included in suites.
Another perk you'll find is that most cruise lines will give you upgraded toiletries. In balcony or ocean view cabins, you'll usually find fairly generic or the cruise line's own brand toiletries. In a suite you'll normally find much more exotic, premium toiletries.
The sixth area if that you'll normally receive free or discounted laundry. So normally they're bundled in laundry services, and you can send your laundry away to be cleaned free of charge.
The other perk that you'll often find with suites is that you'll get Wi-Fi included. So, there are a whole lot of little bits and pieces that you'll receive.
Spending time
A suite is a really good option if you need or want to spend a lot of time in the cabin. For example, if you're going on a transatlantic cruise where you'll have six or seven days at sea, whether it's on the Queen Mary 2 or the repositioning cruises on other cruise lines, you'll probably want so to spend some quality time chilling out there. If you're heading on a world cruise for example, you might want to have a suite, simply because that's going to be your home for weeks and weeks, and you'll actually have the space to spread out, relax and feel less claustrophobic.
If you have mobility issues, you might like a suite because it will have much more space and make it easier to get around. And although you can get accessible cabins for all different grades, if you are in a suite, you're just going to have so much more space to spread out, enjoy yourself and relax.
Travelling with a group
The next big plus of having a suite is if you're travelling with other people. That falls mainly into two areas: if you're a family, or if you're perhaps travelling with friends. The great thing about a suite is that you have that sleeping area and separate living area, and the living area will often have a sofa bed, so you effectively have two bedrooms. You also have space to spread out. If you're travelling with friends, you may want to look at a suite because you might find the cost per person ends up being lower by sharing a cabin. If you're travelling as a family and you've got kids – particularly older kids – having a suite could be useful because you'll often find that they have a separate or second toilet. The other time that I've seen suites put to good use is if you're travelling with an extended group, particularly, say, a
multi-generational family. Part of the family or group might be in smaller cabins like an inside, ocean view or balcony, but if you've got a suite, that's where you can all come together, get together before dinner or during the day, or you can have drinks together or even get room service there.
The cons of cruising in a suite
So, what are the worst things about booking a suite?
Price
Well, the first, and probably most obvious one of all is price. Suites are expensive. So roughly speaking, you might say if you go from an inside to an ocean view, you might pay 50% or 100% more on the balcony, but you could then be paying 50% to 100% or more per day per person to go in a suite. That's because they take up so much more space, so it's just the way that logic works: you're going to pay much, much more for suites. Obviously for a lot of people that's a real downside, because you can probably get two cruises for the price of one suite.
Can buy perks
The second downside of cruising in a suite is that many of the perks are not really worth actually paying for a suite, and you can probably pay to get a large majority of them. Increasingly, the cruise lines are starting to sell packages where you can buy a lot of those perks. For example, on Royal Caribbean they have The Key, and on Carnival they have "faster to the fun" where you pay to get lots of extra things bundled in like priority embarkation, disembarkation and seating at restaurants, Wi-Fi, maybe some laundry, etc.
So, it's going to cost a lot less to book an ocean view cabin and pay for the perks. And especially if you're really clever, you can buy fares where you'll find all those bundled in. Bear in mind when you pay for a suite and you get all those perks, you're really paying for extra space. I've booked a couple of cruises for this year where I've booked a balcony cabin in advance and they've thrown in drinks packages, Wi-Fi, speciality dining, etc. So, one downside is that the perks alone aren't worth the extra cost.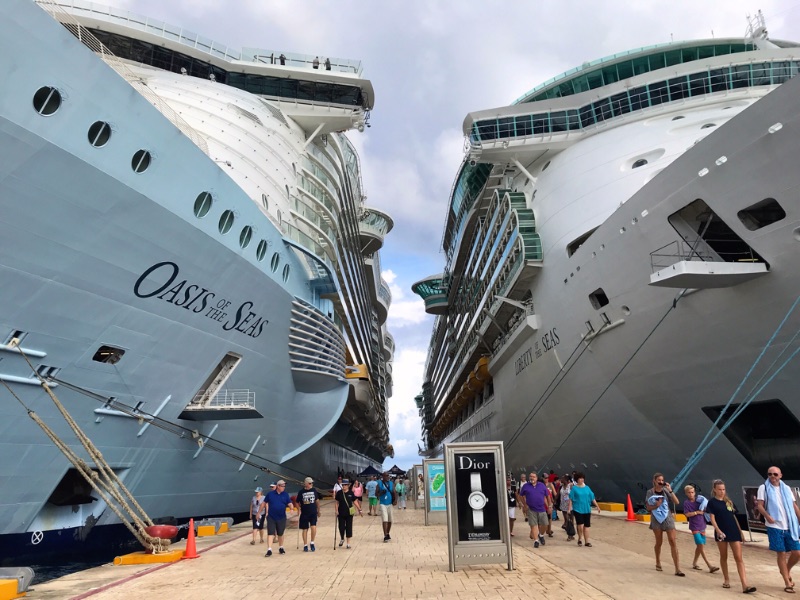 Motion
One of the things to consider which could be a downside is location. As I mentioned earlier, the cruise lines have the suites in what they consider are the best locations, in terms of a visibility and sightseeing perspective. However, if you're concerned about seasickness, many of those places are going to be where there's much more movement, for example at the top of the ship, right at the front or at the back. If you're worried about seasickness and motion sickness, you want to be midship and as low down as possible, and you're more likely to get that in a balcony cabin.
For example, we were on part of a world cruise, and we met some people who were staying in the best suite on board – right at the back of the ship. We were going through a period of stormy weather and we actually went to a cocktail party there. In the suite it was really difficult to stand up, and it was moving about like crazy, whereas in our cabin, which was midship, you barely noticed that you were going through a storm. So, if you're at all concerned about motion and seasickness, a suite could be a downside.
Port intensive
The next area that could be considered a downside is if you pay a lot of money for a suite but are on a very port intensive cruise, or in port for extended periods of time, with lots of things you want to do. You might find that you're actually not going to be using a suite that much other than sleeping, getting dressed and heading out. So actually, you need to ask yourself whether the extra cost of a suite is really worth it. It might be because
you've decided the perks or the access to some of those private suite facilities do make it worthwhile.
But if you're on a port intensive cruise, you need to think about whether you're going to make good use of the facilities and perks, or if you're actually better just booking a balcony cabin.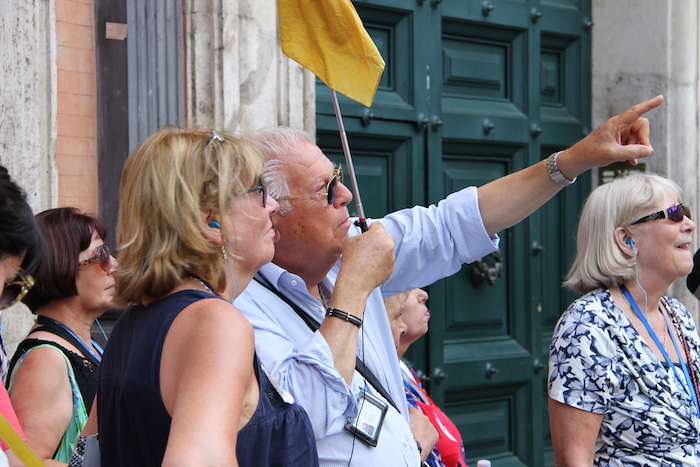 Still have to jostle
The final downside can be that although you've paid quite a lot of money to get the perks and facilities offered with a suite, you're still going to be mixing with other passengers. If you're heading to the casino, the theatre, or going out and about around the ship going to events, activities or talks, etc, you're going to be jostling normally with the rest of the cruise passengers so even if you buy your perks and benefits, when you're out of that special suite space, you're going to be with other passengers acting, interacting and doing the same as they're doing. Whether they are in an inside cabin, balcony, ocean view or suite, it's all going to be the same.
I hope you found that helpful. I have loads more tips and advice videos about cruising, so why don't you watch one of those right now?
Subscribe to Tips For Travellers YouTube Channel (click image):

Follow Tips For Travellers:
Subscribe to Blog via Email