The Pros And Cons Of European River Cruises
These are, in my views, the main Pros and Cons of European River Cruises.
What are the Pros?
Lots of choice
I thought it would be interesting to look at both the upsides and the downsides of river cruising, so let's start by looking at the positives. Probably one of the biggest pros of European river cruising is the enormous amount of choice. There's a huge choice of rivers – you can cruise on pretty much all of the major rivers within continental Europe: the Rhine, the Rhone, the Danube, the Loire, the Seine, the Elbe, the Douro… the list goes on and on. And some cruise lines will give you the choice of cruising on pretty much any of those rivers.
The second great thing is that you have an enormous amount of choice in cruise lines. Offhand, I could think of at least 14 or 15 cruise lines and there are many, many more that I've seen on the rivers that I just can't remember. You have names like A-ROSA, AmaWaterways, Amadeus, Avalon, Crystal, CroisiEurope, Phoenix Reisen, Nikko, KD Cruises, Scenic, APT, Viking, Tauck and many, many more. What's really important with this amount of choice is that you have the value lines at one end, like Riviera or CroisiEurope, which are more value for money, right through to really plush and expensive, five- and six-star cruise lines on the rivers, like Crystal or Uniworld.
You also have a lot of choice in terms of the type of experience that you want, so you'll find that some will create a very multilingual, European experience like CroisiEurope, and some will even be more German-focused or Swiss-focused. You'll find that some, like Riviera, Fred Olsen or Saga are targeting UK travellers, and then some, like AmaWaterways and Avalon, have a more American feel to them. There are even cruise lines that have an Australian focus: APT, Scenic, maybe even Emerald. So, you'll certainly find there's a huge amount of choice – of river, cruise lines and even types of experience – you'll definitely find a river and a cruise line that meet what you're looking for.
Immersive experiences
The second biggest pro is that it's an immersive and in-depth way to explore a region. If you're cruising the Danube, for example, you'll travel through several different countries, through lots of beautiful scenery and see a lot of little towns, allowing you to get really close to the culture. I think what's great about a river cruise is that you'll normally visit the big, iconic towns, so again on the Danube, you'll probably visit Bratislava, Budapest, and Vienna. On the Rhine, you'll visit major cities as well, and again you'll see some of the major sites, but also because of the nature of the river, you'll stop at very out-of-the-way little villages, or perhaps places that were really big in mediaeval times and have a historic castle there, or some significant agricultural wine making, or a chateau.
You definitely get a huge cross section, from big, bustling towns down to sleepy little villages. Also, to make it even more immersive, the cruise lines will cater the onboard experience to the location, so you'll find that as you cruise through the different countries, they'll serve traditional local dishes, and they'll also have wine from that particular country. They'll also bring onboard dancers or singers, musicians or speakers to give you more of a sense of the culture and history of that particular region, so I really like that you see a part of the world in a pretty in-depth way.
All-inclusive fares
Another big pro about European river cruising is that pretty much all of the lines on the European rivers have largely all-inclusive fares, unlike ocean cruising where there's often the fare and then lots and lots of add-ons. There are very few extras once you're on board. Normally, the key inclusions will be your accommodation, all your dining, and your excursions. So, depending on the cruise line, you'll either get one set excursion every place you stop, or sometimes you'll have a choice: some of them might be more active, some of them might be more cultural. Onboard entertainment is as included, as is Wi-Fi, and most cruise lines will include some drinks, either just drinks with lunch and dinner, or some will include all of your drinks all of the time.
Minimal extras will be gratuities – obviously they're optional – and some will include them; drinks, depending on whether they've included them all the time or not; and depending on the cruise line and where you booked, flights into Europe and transfers to and from the ship. Depending on where you're buying, many cruise lines will sell the whole package, and then with some you'll have to buy the cruise and then work with your agent to build any package: pre-stays, post-stays, transfers etc (or do it yourself). I've generally found when I've been on a river cruise that I've had bills that were almost nothing – perhaps I've given some cash for gratuities, but generally the great thing is that the fare is the fare, without lots of added extras.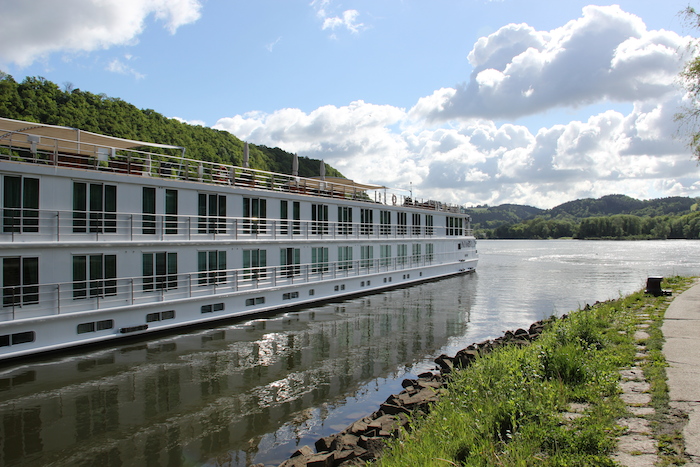 Hassle free
Another great pro of river cruising is that it's incredibly hassle-free, I think even more stress-free than ocean cruising. On a river cruise, everything is pretty much decided for you. Once you've booked the cruise and the destination, there's nothing else to worry about because you unpack, of course, and the ship becomes your sailing hotel until you repack at the end. Your meals are all set for you, your excursions are set, all your briefings are set for you, your transportation is arranged… You literally decide the itinerary, decide where you want to go, and you pitch up without having to make many decisions, so it's hassle-free. It's a great, easy way of travelling through Europe.
f you wanted to travel independently through three or four countries, which some of these river cruises do, there would be a lot of hassle, stress and downtime travelling on trains or planes. All of that's gone, because it's really quite curated and you're shepherded and looked after, and all the decision making is done for you.
Small and intimate
Another really great plus is the fact that it's a much smaller, more intimate experience. Obviously on an ocean cruise ship, you can be one of thousands of guests. Even if you're on some of the smaller lines, there are going to be at least a couple of hundred guests. River cruise ships in Europe are probably going to be between about 150 and 200 guests, so it's quite a small experience. Also, that means that you're going to get to know the crew very well. On river cruise ships there will generally be 30 or 40 crew, so you always get to know a lot of them. Overall, it's a much more intimate way to cruise and much easier to meet people. Of course, if you want to be anonymous, you're probably not going to find that on a river cruise, because everyone is going to get to know you.
So those for me are the big pluses of river cruising. What about the downsides?
Popularity
Probably one of the cons of river cruising in Europe is just how popular it's becoming. As I already mentioned, there are lots of river cruise lines, and more and more people are cruising the rivers all the time, so the places are getting busier, because obviously there are only a certain amount of rivers, and they all tend to go to the same places because that's what people want to see. So, you start to find that some ports and some itineraries are getting really busy. You may find, for example, that when you dock in a place, you have ships either side of you, and you have to go through or over ships to get there.
Out in the destinations, particularly some of the smaller places, you can find it gets really busy because you've got lots of excursion groups heading out from all the different river cruise ships there. In some ways, it's a victim of its own success. It's getting really busy, and I think one of the things that river cruising is starting to do as an industry is to find ways of alleviating that, for example introducing more excursions which take you further afield, and more active excursions like bike tours to try and disperse people much more.
Fewer onboard options
The second possible con for some people, especially if you're used to ocean cruising, is that the ships are small and there's not a great deal of choice. You'll have been used to a wide choice of dining venues, gyms, big production shows… lots going on. That's not the case on a river cruise ship. They have to be a certain size and height to be able to navigate the rivers. So, on a typical European river cruise ship, you'll have one dining room, which is where you'll have all of your meals. A few do have a second dining option, but generally speaking, there's just one dining room.
Typically, there'll also be just one lounge and bar where you'll go for briefings, drinks and entertainment. Up on the sun deck, depending on the ship, there may be just loungers or places to sit. Some ships might have a little crazy golf course, or they might have a plunge pool. Some of them will have a compact fitness centre or a massage room, but it will be very small.
You won't have lots of shops or other entertainment or dining options, so certainly if you're the person who likes lots of choice, then this will probably be a downside of river cruising for you. You do, of course, have everything you need: a place to eat, a place to relax, a place to sit in the sun… all the key things, but just not a lot of options. Also, because the ships have to be a certain size, you'll generally find that the cabins are relatively small and will normally only have a pretty small shower room.
Relatively structured
Another possible con of European river cruising, particularly if you're the sort of traveller that likes being independent and doing your own thing, is the whole river cruising process is relatively regimented. It's a lot similar to joining an escorted tour, because it has a lot of the same attributes to it. You'll find the days laid out with fairly few options, and of course you can just decide not to do some things, but bear in mind, you will have already paid for those things.
There'll normally be some sort of announcement first thing, because breakfast is at a certain time, then you'll head off on your different excursions. You might have to be back at a certain time because the ship's moving a little bit further along the river to the next port. On the excursions, you'll find they're pretty curated, generally walking tours although there might be, as I mentioned, some more active tours. You'll come back, have lunch at the same time and there will generally be a set time to have your meal. There might be a further announcement or briefing and you'll head off on another excursion or you might be sailing. You'll have a briefing for the next day when you're told what's going to happen and where any options will be explained, then you'll have dinner which will be at a set time, and again, not necessarily with lots of choices of places to eat.
And every day on a European river cruise is similarly curated, with not much opportunity to flex that. Of course, you can skip some of the excursions and go and explore yourself, and if you're perhaps docked overnight you can head into the town in the evening, but the days tend to be relatively regimented. So, if you're a very independent traveller, and you like to do things more on a whim, you might see that as more of a con. On the plus side, of course, it does mean that everything's organised and sorted for you, and they do make sure that you make the most of your day on the river and in the places you call on.
Couples
The next possible con depends a little bit on the type of traveller you are. I would say river cruising at the moment in Europe is mostly geared towards couples, and it does tend to be a little bit towards an older demographic, say from 50 to 70 and even older. If you're a solo traveller, for example, you'll find that it's a pretty expensive way of travelling, because you'll normally have to pay for double occupancy of the cabin.
A lot of cruise lines do, particularly in the shoulder seasons, will release some solo traveller deals, but you won't find lots of single cabins on board. Also, if you are a person of limited mobility, river cruising in Europe is a challenge, not only because the ships don't always have all the facilities, but the places you call on are not always easily accessible. Some ships will have an elevator between the floors, or accessible cabins, but this is by no means standard.
The big challenge, particularly if the ships are docked next to each other, is moving through the ships to get to the dock. But also, just the nature of the places you call on, which can be very old, with cobbled streets, steps and steep banks, are not ideal. If you want to go river cruising with your family, the offering is still very mixed. More and more cruise lines are trying to attract more families, so for example, AmaWaterways offer cabins with interconnecting doors on AmaMagna, which is a bigger ship.
Some of the cruise lines are trying to build in more activities for kids at school holiday time, particularly to try and attract a more multigenerational demographic, but really at its heart, it's still very much a couples experience. I've been on quite a few river cruises as a solo traveller and, of course, you get to meet people, but it is an expensive way of cruising unless you can find those particular deals.
Water levels
Another possible downside of river cruising is the fluctuating water levels. If you're ocean cruising, you can experience adverse weather, wind in particular, that can disrupt ships getting in and out of ports. In Europe, the issue is water levels, with the water being either too high or too low. There can be various times of the year where you have a real problem, for example, a couple of years ago in Europe, there wasn't a lot of rain and the rivers got very low, meaning that the ships were very restricted. In other years the water levels are too high, and the ships can't get under the bridges.
So, of course, you need to be flexible and understand that you may have that as a potential downside. On the plus side, sometimes the distances you travel are not that huge, so the lines will bus you in to a place instead, and you might find it's only an hour's drive to get to your excursion and bring you back to the ship, or occasionally they've moved people from one ship up to another ship further along the river, and then carried on.
River cruising in Europe is a great experience, and a wonderfully immersive way of seeing a region. Like everything, there are pros and cons, and for some people, some of those cons are pros, and vice versa.
I hope you found that interesting. I have loads more videos about European river cruising and ocean cruising, so why don't you watch one of those right now?
Subscribe to Tips For Travellers YouTube Channel (click image):

Follow Tips For Travellers:
Subscribe to Blog via Email