The Differences Between Mekong and European River Cruises
Discover the differences between Mekong and European River Cruises as I explore Mekong versus European river cruises
I recently cruised on board CroisiEurope Indochine II down the Mekong, and I wanted to share with you my observations about the differences between this cruise and going on a European river cruise.
Ships
The first key difference is the ships themselves. They certainly look very different and they are usually much smaller.
The Indochine II for example, has 31 cabins accommodating 62 guests, whereas if you go on a European river cruise, you would normally expect the river ships there to hold between about 150 and 200 passengers. They certainly look very different from the outside too as they tend to be much taller because they're not constrained by the bridges in Europe. Plus, of course by definition because they're smaller, they are shorter.
They're also very different in design: the ships on the Mekong tend to have a colonial style and feel to them, however, where they are quite similar is in the layout once you get inside. Like other river cruise ships in Europe, the facilities are of course relatively limited because of the size of the ships.
For example, on the Indochine II we had a sundeck with a plunge pool, and some river ships in Europe do have those as well, plus lots of space to sit outside. There was also a lounge with a bar which is where we had our briefings, which tends to be the real social heart of the ship. Then there was a restaurant with open seated dining, open three times a day for breakfast, lunch and dinner. Indochine II also had a massage room and of course some ships in Europe will have a small fitness centre or similar. So, once you're inside you'll find that the ships are pretty similar in terms of the range of facilities.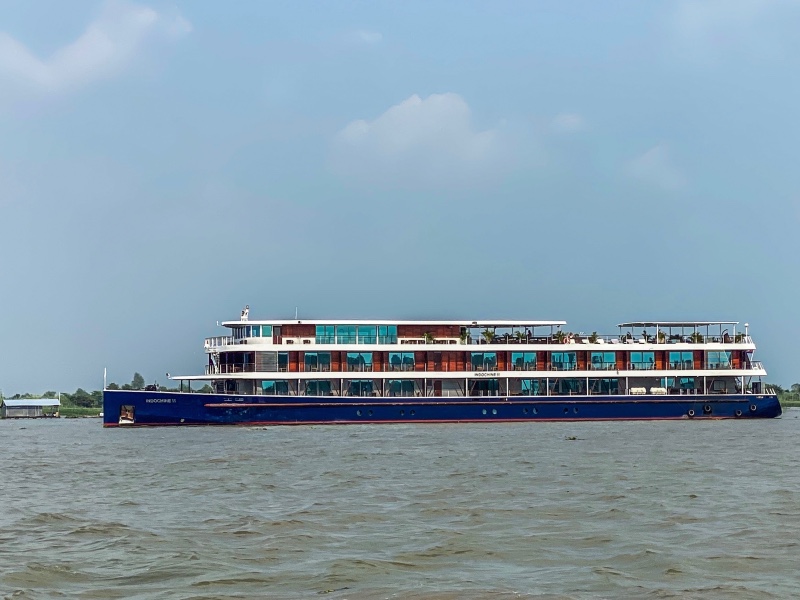 Fares
Another area where they are pretty similar is when it comes to fares.
River cruising generally tends to be all-inclusive and the Mekong river cruises are similar to the European river cruises in that respect. For example, they include your accommodation, as you would expect, plus all your meals. Breakfast on Indochine II, was a buffet breakfast, lunch was also a buffet with a cooking station as well, and dinner was a full table service meal with starter, soup, a main course choice of a meat dish or chicken dish, a vegetable dish and a dessert. Self-service 24-hour tea and coffee was also included.
Of course, being on the rivers of Europe means that Wi-Fi can be a bit erratic, but it was still included in the fare. All excursions were included too, so there was an excursion included at every destination on the itinerary. The key exclusions were gratuities, which of course, are optional, plus any extras like massage treatments or purchases in the little shop on board, and of course drinks. If you had extra drinks at mealtimes or at other times throughout the cruise, these were not included and at an extra charge.
Depending on the cruise line there are slight variances in how much alcoholic drink is included – for example, some lines offer wine and beer with meals. Exclusions are things like airfares, as well as transfers although of course, you can bundle those to get a better deal, the same as you can do with European river cruising. Surprisingly, the fares are pretty similar, and they're structured similarly as well.
When I compared the price of going on a cruise in Europe per day against the price of a Mekong cruise per day, the prices were surprisingly close. Of course, the big difference is that you have the cost of the flight to Asia, although from the US, you have the long-haul flight cost anyway.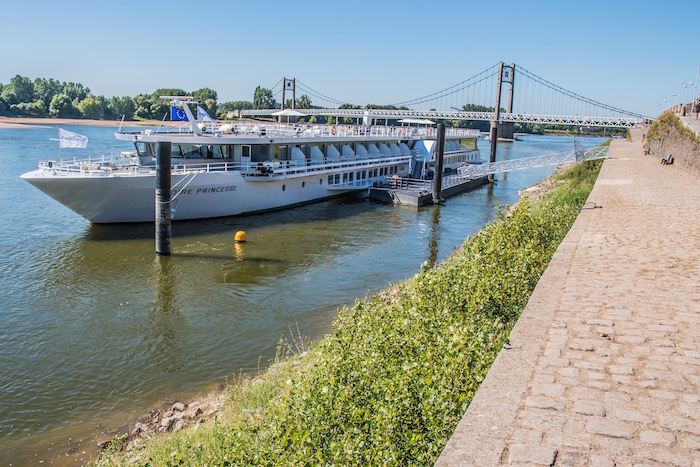 Cruise Format
The next area is one that I perhaps hadn't really expected to be quite as similar, and that's the basic format of the cruise. That may make sense of course because the format may work no matter where you are in the world if you're on a river cruise.
The evening before you get to a port you'll have some sort of a port briefing, then after dinner you might have some informal entertainment, which might just be a film, or perhaps a local dance troupe or musical group will come on board. In the morning, there'll be some sort of announcement, you'll have breakfast then will head off on your chosen excursion, which is generally included.
You normally head back for lunch, and then you'll either be cruising in the afternoon or go on another excursion, then you'll normally also be docking or mooring somewhere in the evenings. So, a very similar process that's relatively structured – when you look at your daily programme, there aren't many extra things to do. Everyone tends to do the same thing at the same time.
One of the key differences, though, is that European ships will typically be moored in one of the towns in the evenings, giving you the opportunity to walk into town and maybe spend the evening exploring or having dinner. On the Mekong, I found that most evenings we would stop sailing at some point in time, and we'd be moored in the river rather than actually in a local village or town. The only places where we actually moored were in the big cities like Phnom Penh, for example. But overall the format and structure are very similar.
Excursions
As I mentioned, it's quite normal for both European river cruises and Mekong river cruises to have excursions included, and I found that what the excursions focus on is surprisingly similar, though what you're seeing is very different.
There are probably four key things on both a European river cruise and on a Mekong cruise that you're likely to go and see. The first of these are the iconic sites in major cities, the same as you would do within Europe. In Ho Chi Minh City you'll head off to see all the key sites like the City Hall, the City Opera House, Notre Dame Cathedral of Saigon, and the old Saigon Central Post Office. In Phnom Penh, you'll see the Royal Palace, the Silver Pagoda… all those classic sites in the big cities.
The second group of excursions occur when you head out into the smaller towns or villages and tend to focus much more on the culture and how people live. You might go to farms or visit handicraft or produce markets to get an idea of how the local people live. On the Mekong, we went to lots of local markets, and visited various craftspeople making pottery, honey products, wood carvings and palm sugar. And similarly, in Europe, I've been to various farms, on home visits and factory tours where people make handicrafts.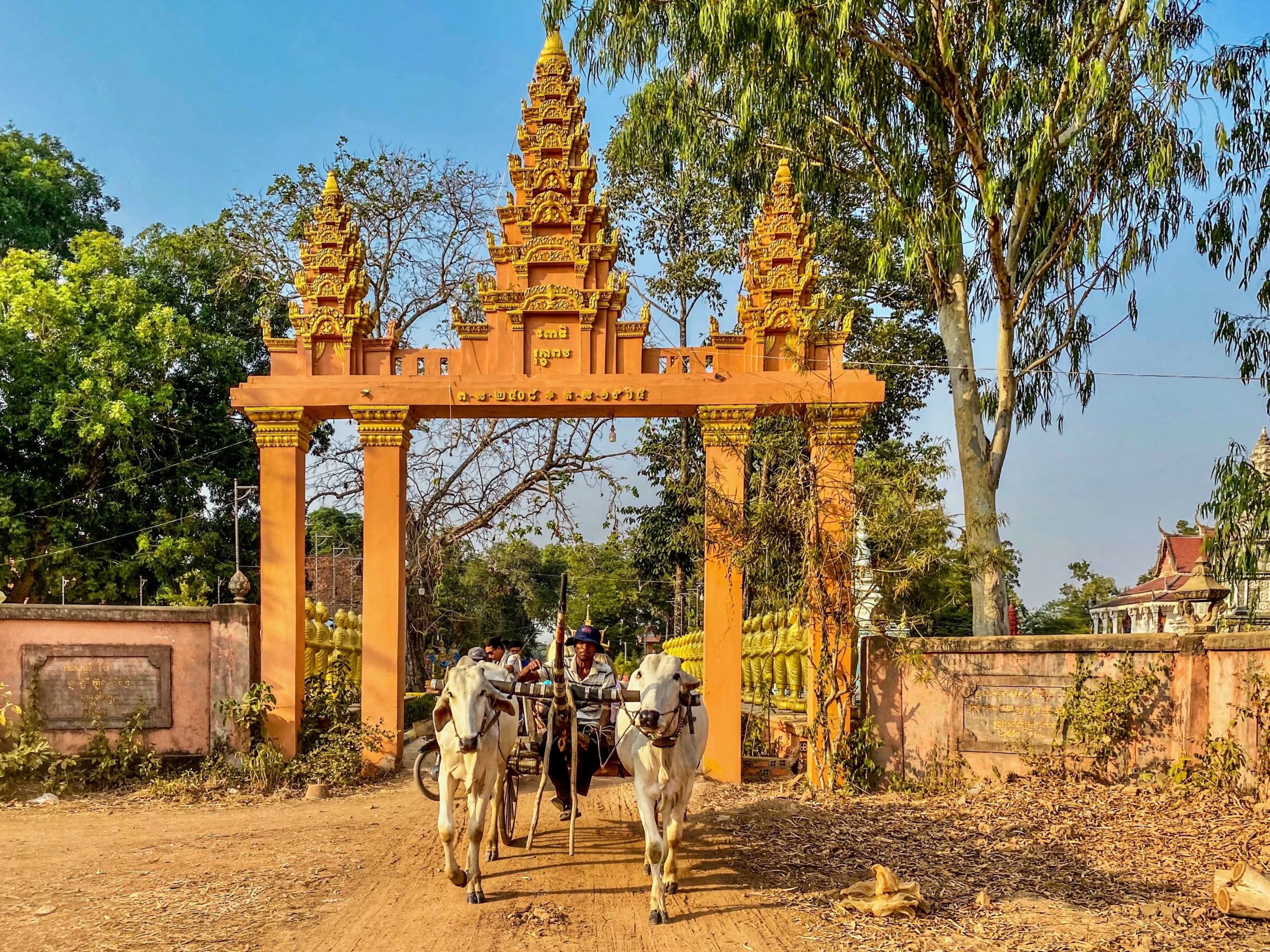 The third type of excursion is visits to historically significant places. In Europe, you'll visit the sites of major historical events that have happened in that particular country. The same is true on the Mekong. For example, in Ho Chi Minh you're likely to go to the Cu Chi tunnels, which is where the Viet Cong operated just outside Ho Chi Minh City during the Vietnam War. You'll get the chance to explore and learn more about the Vietnamese war. In Cambodia, in Phnom Penh you'll go to prison S-21 section 21, which was an old secondary school which was converted into a torture centre where people were imprisoned, tortured and eventually sent off to the killing fields. And again, you'll learn all about Cambodian history.
The fourth area, whether you're in Europe or whether you're in the Mekong is that you'll visit a lot of religious centres. Obviously in Europe, you'll visit cathedrals and big churches. Similarly, on the Mekong, you are given the opportunity to visit temples or as they call them, pagodas. We went to see some beautiful pagodas and temples. My favourite was probably the Tay An Pagoda in Chau Doc in Vietnam, which had these incredibly intricate statues. There was the white Kampong Trach layer, which we went to on ox carts, and a very old pagoda built in the late 1800s. And then of course we visited Angkor Wat, which is the hugely famous World Heritage Site with incredibly beautiful and amazing temples, now of course, ruins.
Less busy
Another area that is actually quite different is how busy things are. If you head down the rivers in Europe, they are incredibly busy, particularly the Rhine and the Danube. Often you'll see loads of ships sailing past you as you head up and down, and when you're docking in many of the key places the ships are often docked next to each other and backed up. So, lots of people, lots of tours out in town.
Sailing on the Mekong that's very, very different. We did see one or two other ships along the way, but for most of the time, we felt like we were the only passenger ship on the Mekong, and when you get off at different stops, you don't see loads of other tour parties. The only time that we saw more tour parties was in Phnom Penh because many of the cruises will stay more than one night, so there's more of a chance to see people. But broadly, it feels much quieter on the river and hence feels a little bit more special.
Passengers
Another key area where I think the two are broadly similar is the passengers. The passenger mix on the Mekong does seem to be a very similar passenger mix to those on European river cruises. Both sets of clientele do seem to be a little older: they tend to be 50, 60, 70 years old and you'll find lots of couples travelling together. I do think that the ships are designed for a couple's experience.
I went on Indochine II as a solo passenger and I was the only solo passenger on board. Of course, there are some extended groups, and sometimes bigger groups of people who were travelling together I guess, through a travel organisation, but very much the same sort of passenger.
Again, there was quite a diverse mix – cruising Europe tends to have a much more European focused passenger mix, but my fellow passengers were French, Spanish, some English-speaking people, mostly from the UK, and some Japanese English-speaking passengers. Of course, once you head into other cruises, you'll perhaps find more Americans, Canadians and Australians, so a very similar mix to European river cruising.
A river cruise in Europe, and a river cruise in the Mekong – both are incredible experiences for different reasons. I loved my time in the Mekong and was quite surprised because I hadn't expected quite so many similarities to the way that European river cruises are run.
I hope you've found this interesting and helpful. I have loads more videos about river cruising, Mekong River cruising, and ocean cruising, so why don't you watch one of those right now?
Subscribe to Tips For Travellers YouTube Channel (click image):

Follow Tips For Travellers:
Subscribe to Blog via Email