I Sail The World's Top-Rated Cruise Line That No-one's Heard Of!

I Sail The World's Top-Rated Cruise Line That No-one's Heard Of!
The "cruise bible", the authoritative Berlitz "Complete Guide to Cruising and Cruise Ships", has for years said this line has the best ships in the world, but almost no cruisers outside its home country have ever heard of it. Even though it's 50% owned by Royal Caribbean, a line everyone's heard of.
So, I decided I should test the line out to see if they were better, and if I would recommend that cruisers like you consider taking a risk and cruising a line you've never heard of.
Which Cruise Line Is It?
The line is Germany's Hapag-Lloyd. They have 5 ships, two classic cruise and three expedition ships. As an English-speaker there were only two ships in the fleet I could choose from that operate as "International", with bi-lingual (German and English) speaking crew and program. This is Europa 2, a classic cruise ship, and Hanseatic Inspiration, an expedition ship.
I chose the 230-passenger Hanseatic Inspiration expedition ship to Greenland and the Canadian Arctic.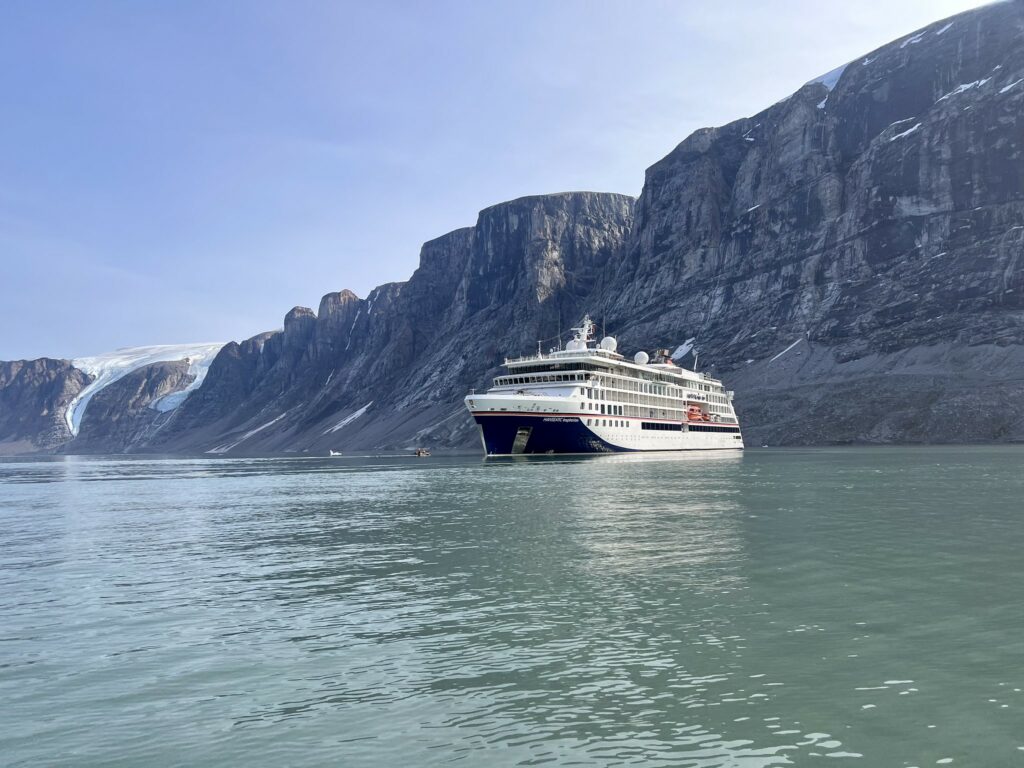 Concern #1: Second Class Passenger?
As the cruise approached, I was increasingly concerned that I would be made to feel like a second-class citizen, with English speakers less well accommodated. And I worried that I would be the only English speaker on board and feel isolated.
I soon discovered going on Hapag-Lloyd means that could be a risk, as the crew told me the number of English speakers varies dramatically cruise by cruise.
On my cruise there were 25 English speakers (so about 10%).  But 21 were travelling in one group on a tour via the UK Noble Caledonia tour operator. As there were so many of us, some English-language events were arranged. For example, the Muster Drill, Daily Briefing and all the enrichment talks. However, I discovered when there are only a handful of English speakers. Everything is done in German and a live translation is given via earpieces. That would have been challenging, and tiring, I think.
Both Languages
All the key announcements made by the Captain or Cruise Director were done in both languages with equal measure of content, and all the major events like Captain's Welcome and Farewell Parties were also done in both languages.
On board, everybody, passengers and crew, always spoke to me in German first. But because they are small ships, over time, a few crew (mostly in the dining room) started to recognise I was English speaking and adapted. So, for example, they'd hand me an English menu and talk first in English.
One promising thing I found is that the German passengers were mostly bilingual and seemed comfortable and happy to talk in English. So, it was a bit easier to get to know and chat to passengers, than I had expected, though with some limitations that I will talk about later.
An English-language daily program was available each day, and there was an English setting on the TV so all the information on there was in English. The entertainment was designed to be largely neutral and not language dependent, so pianist, song, and dance events.
Missing Out
Though, I did find it a bit draining, isolating and I felt I did miss out because one of the things that makes cruising is the upsides of the informal chatting, sharing experiences, meeting passengers and overhearing conversations.
So, at dinner English and German speakers were not put together. I only ever socialised with English speakers, and as most were in that group, they would hang out together anyway.
I did sometimes feel I was missing out. For example, on a Zodiac ride around the Crocker Bay Glacier in the Canadian Arctic, I was the only English speaker on the Zodiac, and the driver / guide spoke, I would say, 98% of the time in German because people were asking her questions, they were discussing things amongst each other.
It got a bit draining out on the landings over time, as when we got to shore, they had to repeat the briefing, as we landed, in both languages, as did the guides out in the landing sites.
I was travelling solo on the trip and I felt more isolated than on other lines. A key learning point was going on Hapag-Lloyd, or any foreign language line, is even though they do things bilingual, it would have been a better idea to go with a travelling companion or even better, with a group of friends because we could have created own social interaction.
Not An Afterthought
I would say though that Hapag-Lloyd didn't make me as an English speaker feel like a second-class citizen, or an afterthought. I did feel they tried hard to make me feel included, and welcome. It was more over time the bi-lingual everything and missing out on the informal interactions with guests did feel I was missing out on a fuller experience.
However, there was another thing I was worried about before going that I want to explain how that went, as it was rather different to what I had expected.
Concern #2: Too Different?
Hapag-Lloyd is priced around the Seabourn, Silversea, and Crystal Cruises level, and I was concerned if I would find it was worth it: design, facilities, program and level of service and inclusions. Particularly, as a German-focused line, would those feel foreign and unfamiliar to those more American rooted lines I am used to?
There are a several things that I need to talk about that I did find different.
Crew
The first is the crew. There was a noticeable difference on Hapag-Lloyd versus those other lines and pretty much any other line. They had mostly European, and specifically German crew, in pretty much every passenger facing role.
Although, the Cabin Stewards and some barmen were from more traditional cruise crew countries, overall, it was mostly a European crew.
I did find the service was good, and not stereotypically German as I expected it to be. It was more informal and jokey than I had expected. I guess I sort of expected German service to be more formal and reserved.
Family
The second difference was it was way more family friendly than any luxury line I've been on. I know they have amazing family cabins on Europa 2, connected cabins with bunk beds, toys, and family features. On my ship, there were multiple occupancy cabins and some, like the large cabin I stayed in, had separate bedroom and lounge area with a sofa bed for the kids.
They ran a big Young Explorers program, on the trip with events in the day, in ports and in the evening.
Design
The third difference that I found was in the ship design. I've already mentioned this is a small ship, so I knew there would not be lots of venues and facilities, but it was comparable with other luxury small ship lines with a large lounge for talks and shows, a bar and live music lounge, Main Dining Room, Buffet restaurant, Speciality restaurant, fitness centre, spa, small shop, and pool deck with hot tubs.
The big difference though was the look and décor.  It was a more Scandinavian feel. The closest cruise line to Hapag-Lloyd I've been on is Viking, which of course is a Scandinavian-based line. There's lots of light woods, modern and crisp design.
So, people who are more used to the darker, richer kind of design tones of those US-focused lines, would find this quite a stark difference. I felt it was a very different feel to those others in the luxury space. Though I really liked the feel.
They did though have a smoking room, which was called the Invisible Lounge which is not something you find these days on most lines I am used to, and I know on Europa 2 they have an even bigger one called Collins.
But there is another issue that I need to talk about as I did worry about this and was the most asked about area I got from followers while I was on the cruise.
Concern #3: Dining
That was about food. Now, I know from experience that going on a French line like Ponant or CroisiEurope the menus and food are very French focused. I worried it would be overall German on Hapag Lloyd, but realised beyond a stereotype of sausages / bratwurst, sauerkraut, Schnitzel, pretzels, Black Forest Cake, and Apple Strude,l I wasn't sure what that would mean.
Instead I found that while there was some German influence in the menu most days, like a sausage station on the buffet one day, sausage and beer pool deck party and so on, the cuisine was more international and themed to a region most days, so Italian, Spanish, French, Latin American, Japanese, and so on.
I was very impressed with the food because I don't think of Germany as being kind of a culinary centre.
The main dining room was good with attentive service. The menu at dinner would be quite an elaborate event with an amuse bouche, starter, a soup, sorbet, main course, and dessert or cheese. It had items of the day as well as some classics, like salmon, every day.
They have specialty restaurants that differ between classic and expedition ships. On Hanseatic Inspiration, I had Nikkei, which is an unusual Japanese-Peruvian crossover with interesting food.
Pay-As-You-Go
By the way beer and wine were included at lunch and dinner, and they did a very bizarre thing where they charged for water at meals, which I believe is a kind of running issue cruisers have with Hapag-Lloyd.
In terms of other inclusions, it was more of a pay-as-you-go mindset. Included in the fare was an hour of internet each day and then I could buy add-ons, but by the megabyte. There was no drinks package, it was charge per drink. And almost no upselling, other than on this trip a photo and video which cost a staggering 345 Euros and upwards.
Before I talk about the next issue, if you enjoy my content consider becoming a Patron where you can get exclusive bonus content, including live update videos while I am trips like this one, eBooks and unlimited access to ask questions. Visit Patreon.com/TipsForTravellers to find out more.
Would I Sail With Hapag-Lloyd Again?
So, the real big question is, would I go back on Hapag-Lloyd? I felt that while the ships were beautiful and service good, I'm not sure that they're way better than some of the others as the guide would suggest.
And I think I would only go back on Hapag-Lloyd based on the expedition itinerary or perhaps if I was a learning German and wanted to practice my German, as I can go to the same itineraries, particularly in the Mediterranean and the Caribbean and so on, on a line where I am going to feel a little bit less at sea as it were.
So, it'd be heavily driven by itinerary. One of the most telling things is I want to go back to Antarctica and I could find a similar itinerary on Silversea, which includes South Georgia and I booked Silversea over Hapag-Lloyd. So that's probably the telling thing.
But they were impressive, and if you want to push yourself out of your comfort zone and have the budget they are worth a try.
SUPPORT TIPS FOR TRAVELLERS
FOLLOW ME ON SOCIAL MEDIA
——————————————-