I Made A Cruiser Go Back On A Line He Hates

I Made A Cruiser Go Back On A Line He Hates
I decided to take a risk. Five years ago, I took my partner (Mark) on a cruise line which he was not a fan of by the end of the trip. Since then, I've gone solo on them, as I really like them.
As it's changed in those five years ago, I decided I would try and get him back on board, even though he's adamant that he would prefer we use his limited vacation time to go on his favourite line (Cunard) when we're cruising together.
But if I felt if I could get him to like this line, it would unlock so many more exciting places to go, as they have way more varied and interesting itineraries than Cunard.
First Hurdle
The first challenge was convincing Mark to go back on the line, Holland America Line.
I found a cruise heading out of San Diego to sunny Mexico for Christmas to escape cold London on the Koningsdam. It's one of their new Pinnacle-class ships, with bigger and with better facilities versus the Vista-class Nieuw Amsterdam he had previously been on.
It's also the class and template that the new Cunard Queen Anne is using. So, that piqued his interest.
Next, I pointed out that we could get a suite for 30% less than one in Cunard Queens Grill. And, like with Queens Grill, we would have a dedicated restaurant, called Club Orange.
I also pushed the entertainment versus Cunard, like the now expanded Music Walk area with live music rotating every night between Rolling Stone Rock Room, Lincoln Centre Stage, BB King's, and Billboard Onboard. Plus, they've ditched the standard cruise themed song and dance review shows that he found dull previously with the One Step Dance company in a modern high tech World Stage theatre.
More up-sells
Also, importantly for him, it has a big, busy casino with many blackjack tables and low table minimums.
The other sell was The Retreat. An exclusive area with a group of cabanas that we could hire for the entire cruise, which was way better – and quieter – than the busier and uninspiring Queens Grill decks on Cunard.
He loves the food in Cunard Queens Grill, seeing it as the best at sea, and he wasn't impressed with the food on our previous Holland America trip. I told him the food is way better now, as they've revamped it all with a Culinary Council led by Rudy Sodamin.
I also pointed out we'd have more speciality dining options. On Cunard, we just have the Verandah. But on the Pinnacle-class ships is Pinnacle Grill steakhouse, Tamarind Asian, Nami Sushi, Rudy Sal De Mer seafood, and the Italian Canaletto.
All of this clinched it, and it was a go.
Second Hurdle
Then next challenge I faced was once he was on board, as not everything I had sold him on worked out nor was to his liking.
I hit on a big 'aha' on board that will help you if you plan on going back on, or want someone to go back with you, to a line that you or them haven't had a great experience with, and that's really understanding what makes or break a cruise for you or them.
During this trip I realised more than I had realised before what really makes or breaks a cruise for Mark, and what things just need to be good enough.
Three things make a cruise for Mark, maybe for you too?
Evening
First, the evenings are key. For him that means a good dinner, great entertainment, and an active casino.
Dinner for him is the gold standard of Cunard Queen Grill with open seated dining, the same table for breakfast, lunch and dinner, same waiting staff, and being able to order off menu.
Club Orange did not offer any of that. It had the same menu as the main dining room, was only open for breakfast and dinner, we did not have the same staff, but as it was small we got to know most well, even though we weren't at the same table every meal.
Club Orange was a bit of a hit and miss, as although open seated dining, the ship was very busy and to guarantee a table was available when we arrived, we found we were timing our meals around that versus our ideal times. On the plus side, we could always get a table for two.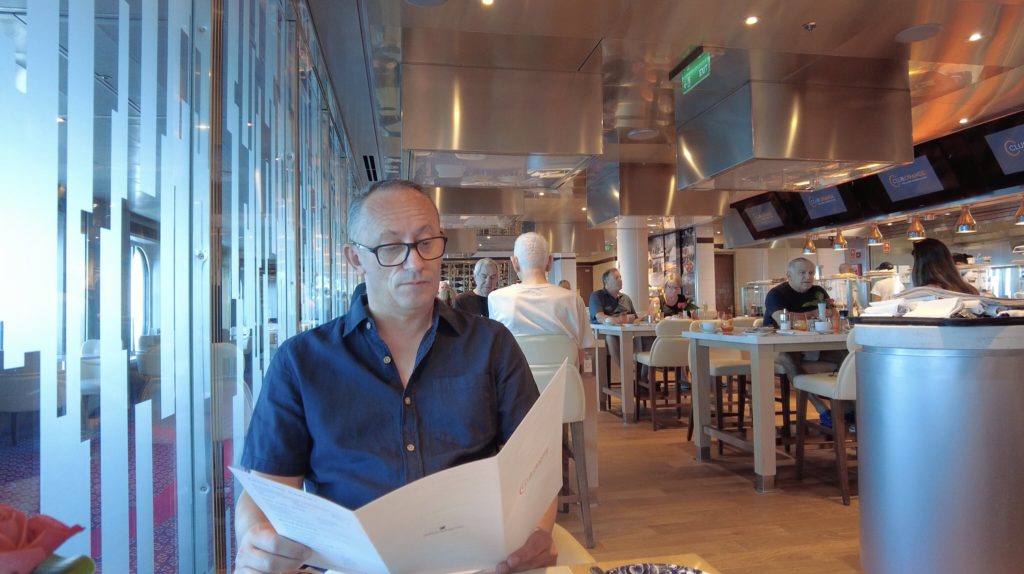 Better food
The food, he agreed, was way better than before.
It was also good enough that he did not feel the need to splash out on Specialty restaurants. We did go to Italian Canaletto and Tamarind, the Asian, as we had on-board credits for them.
When it came to entertainment, while I pushed the strength and difference of Holland America being the Music Walk venues, it was not of interest to him. He didn't go. I loved going there every night. I think it is great, but if it's not your thing then the evening options are limited.
He enjoyed the One Step Dance Company show and theatre. Well, the first one! He thought it was fresh, new, and exciting. However, he went to the second show and said it was too similar, just with different music and he skipped the rest. He probably has a point that the evening shows lacked variety.
They did have another Holland America staple, the BBC Planet Earth show where the on-board musicians play live to scenes from the show, and that was not of interest to him. Though many loved it.
The bigger casino was a big hit. He played longer than he has ever played on any of the 30+ cruises I have been on with him.
So, in terms of the evening being make or break the dinner, entertainment, and casino was a bit more mixed than I had expected.
The other make or break cruise thing for him is ports and port immersion. This was mixed too but laid down an important factor in their favour as you'll see.
Ports
He loved that we went to ports that neither of us had been to before: Cabo San Lucas, Mazatlán, and Puerto Vallarta.
However, one critical thing that was missing was Mark and I prefer self-exploring, but there was not much port immersion provided. There was one talk around the ports by the excursion team that mostly sold the excursions, no port guides available in paper or in the App, and no transfer bus into the town when we docked further away.
He doesn't want to do research; he wants to be given good information to go an explore. He compared that with Cunard who usually have good port immersion talks, great port guides, and I was surprised, as on most of the Holland America trips that's normally the case. So, this may have been an exception.
Relaxing
The third key thing that makes or breaks his cruise is the ability to chill and relax. He has a stressful job, with crazy long hours. So, on vacation, he wants to unwind.
This delivered as we had a couple of sea days, but the critical thing that made it was The Retreat, especially as the ship was so full for Christmas. It was a quiet area, with great service from Raymond, Clyde and Anika who brought us breakfast, lunch, drinks, and even chocolate covered strawberries in the afternoon.
However, this did come at a cost of a few hundred dollars.
I also came to realise that there were things that I thought were make or break, but just had to be good enough to make a cruise for him, and something I think may also be helpful for you to think about.
Cabin
The biggest of these was the cabin. I am obsessed about cabins and their location, but for Mark while he really liked the suite, and agreed that the Neptune suite is bigger than ones we usually can afford to book in Cunard Queens Grill, he did not see it as a make or break – unlike me.
He realised that he did not miss having a butler. And raved about the Neptune Lounge, and the ability through the day to call in and get cake pops, cookies, and coffees, but more important about Viny, who was the Concierge in there. He was helpful, added to his trip with tips and advice and sorted out The Retreat booking, which had been showing as fully booked before the trip. That alone made him a hero.
Program
Interestingly, and maybe not atypical, is the other thing that he felt only had to be good enough was the daily program.
While he felt the daily program was a little light, I pointed out the comparison with Cunard is always difficult, as they have one of the most packed daily programs of any I have seen.
The program was basically the same as most premium lines with trivia, deck games, dance classes, the odd cooking demonstration and so on. But the reality is Mark never does much on the program, other than the enrichment talks.
He enjoys these and it's hard to beat Cunard who have 3 to 4 speakers on every sailing, Holland America were very light on these this time. There were a few of the standard pre-prepared talks with audio visual effects given by the Cruise Director they do on all the ships like the Holland America Origins Story and the history of board games, but they are not the same, and he didn't find these appealing.
The other thing he pointed out was there a lot of promotion on board. To Holland America's credit, in the daily program they clearly marked what were promotion activities in the program, but it did some days seem half or more of the activities during the day were promotions, including the inevitable port shopping talk and events.
Judgement Day
To see where he felt after all this, I asked him at the end of the cruise if he had the choice of us booking seven nights on Cunard or 10 nights on Holland America, as that would equate roughly cost wise, say in the Mediterranean with the same ports, which would he chose.
He chose the 7-nights On Cunard, but agreed that Holland America would absolutely be a great alternative if the itinerary was unique and Cunard did not offer it, like this one in Mexico, and it was back on his list. So, some success!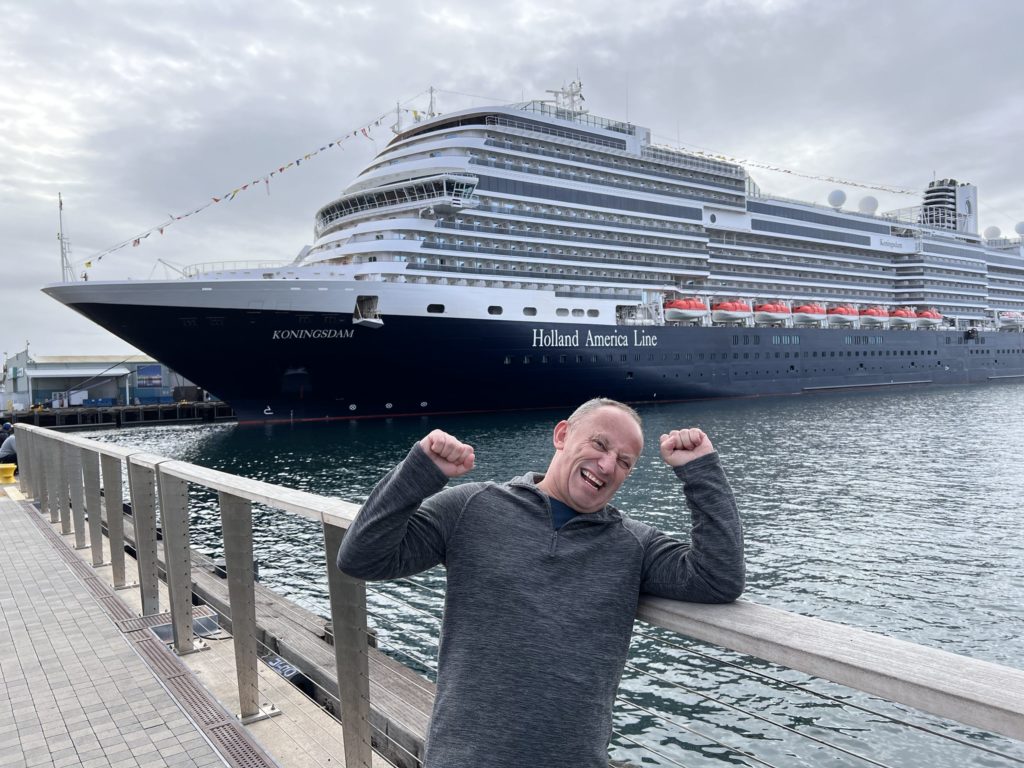 SUPPORT TIPS FOR TRAVELLERS
FOLLOW ME ON SOCIAL MEDIA
——————————————-