Emerald Waterways River Cruise Tips – Are They The Best For Your European River Cruise?
Emerald Waterways River Cruise Tips: Are they the best line for your European River Cruise?
On first glance it is difficult to see any meaningful difference between European River Cruise Lines.  The ships are the same size and look largely the same, which is dictated by the requirements and restrictions navigating the rivers. They follow a comparable cruising formula and usually call at the same destinations.
However, there are enough differences in on-board layout, décor and experience so I recommend taking time to make sure you chose the right one to meet your tastes, travel preferences and budget. It is essential to ensure your European river cruising experience is a success
In this article, I share a number of things to consider about Emerald Waterways, if you are considering travelling with them on one of the rivers of Europe.
Who are Emerald Waterways?
They are recent entrants to European river cruising, launching in 2014 with modern premium ships. They are part of a large global escorted tours company founded in Australia by Glen Moroney in the 1980s, and run the luxury Scenic River Cruise Company.
They do some things consistent with other European River Cruise Lines
Emerald Waterways do many things the same, or similar, to other European river cruise lines. These include the following:
All-inclusive fares. In the case of Emerald Waterways this covers:

Accommodation.
Three meals a day (buffet breakfast and lunch and served four-course dinner).
Drinks with meals.
24-hour coffees and tea.
Gratuities.
At least on excursion each day.
Captain's Welcome and Farewell Cocktail Parties and Dinners.
Port talks and some local entertainment.
Wi-Fi.

Itineraries on iconic major European rivers like Rhine, Main, Danube, Douro and Rhône. They are expanding every year with new ships and routes.
Good food, often reflecting the specific region being passed through. In my experience, all lines focus on delivering good food and Emerald Waterways do a great job in this area. I found the food to be varied and consistently high quality.
Like all lines, the ships have to be limited in size and so there is an intimate experience of around 170 – 190 guests. I found their ships, as a premium line, had generous space for public areas and overall cabin sizes, while cosy, felt adequate within these limitations.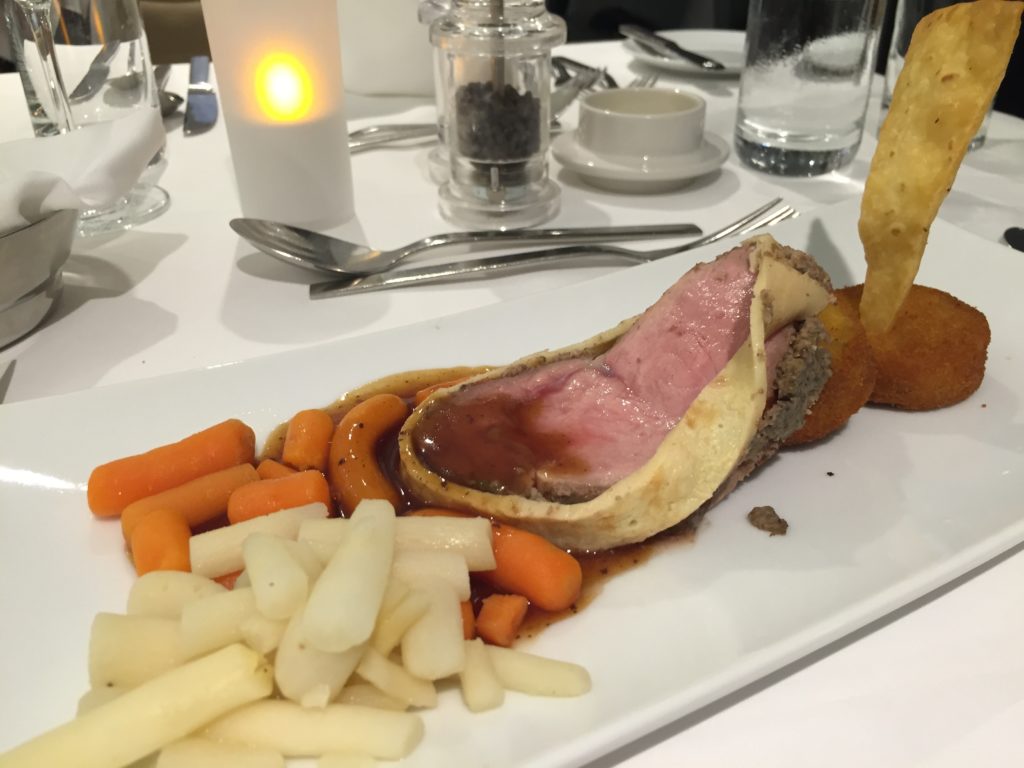 10 Things you need to consider before selecting Emerald Waterways for your European River Cruise
Premium Line. Emerald Waterways is a premium river cruise line. While it is not as expensive as some of the lines that position themselves as "luxury" or "six-star service", they are akin to staying at a four-star or four-star plus hotel. This means they have service and added features you would expect of staying in that grade – and with an associated fare level.  If you prefer either a more value-based or luxury option when travelling then there could be other lines that meet your needs better.
Drinks outside of meals not included. Although most costs of your cruise are included in the fare, drinks out of meals times are not. So this will be an added cost. Some lines include these, and so when comparing fares bear this in mind. They do sell a range of drinks packages to help minimise the costs on board. I also note that they run promotions on their site where drinks are included for early bookings, and so also ask your travel agent about these if not booking directly.
English language. Everything on board and on-land excursions is in English. The guests, therefore, tend to come from English-speaking countries like the United Kingdom, United States, Canada, Australia and New Zealand. If you are looking for a multi-lingual experience there are other lines that may cater for your needs better.
Modern contemporary décor.  The ships are sleek and contemporary in décor, more like a boutique hotel versus the more elaborate or country manor style of other cruise lines. I really liked the décor and found it to be bright, modern and different to many other lines. Some guests I spoke to missed the more ornate style of other lines, and so make sure this look appeals to you. You can watch my Emerald Dawn ship tour video to see more.
Unique Innovations. As a recent entrant to European river cruising, and building new ships, they seem to have tried to offer something different to stand out. The main ones I noted were the following:

Emerald Panorama Balcony Suite: They claim these are unique to European river cruising, and I have not come across it. The idea is to not lose space by having balconies and so effectively they have the balcony within the cabin.  There is a decking area with table and chairs and with the push of a button, the upper part of the suite's floor-to-ceiling window lowers. So you have fresh air and the feeling of a balcony in the room. On my cruise down the Danube we had great weather and I used it often.
Indoor Heated Pool: I have seen small plunge pools on other lines, but this is a different concept. At the rear of the ship is a large room with a heated indoor pool. There are floor-to-ceiling windows on three sides and the pool has a current so you can get exercise swimming against it. There is seating, tea and coffee-making machine and bar service. In the evening the pool can be covered over and many evenings it becomes a cinema.
Information Screens. In the Reception there are two wall-length screens that show latest news (internet connection dependant), daily program and other news about the cruise and Emerald Waterways.

Emerald ACTIVE. Understanding that travellers, even the 50+ who are the staple of many river cruises, are looking to be more adventurous and active they have incorporated activities and excursions to cater to this need. All ships have bikes available to use, a walking / running track around the Sun deck, the pool mentioned above and they include some optional active-based excursions on some days. These include guided bike tours around the Austrian city of Melk and Belgrade and hiking through Germany's Black Forest.
Emerald PLUS. On every cruise there will be at least one "EmeraldPLUS" excursion included in the fare. The idea of these is to immerse guests into the local culture by spending time with local people. For example, on my cruise in Osijek guests were divided into small groups to have lunch with families.
Discover More Tours. These tours have an additional cost and are ideal for travellers visiting a region or destination for a second or third time. They take guests further afield to see other attractions while the included tour focuses on the local sights that they will have seen on a past trip. For example, on my cruise there was a full-day trip to the Black Sea and another that enabled guests to go behind the scenes of the Belgrade National Theatre.
Supporting local communities. During my cruise it was clear that Emerald Waterways had incorporated ways to support local initiatives and communities, especially where they had a need for financial support. For example in Bulgaria we visited a school for under-privileged children in Alfatar.
River cruising may not be for you! Before booking a European river cruise make sure it is the right vacation for you. If you are a very independent traveller that likes to be spontaneous and want to make sure flexibility all through your travels, you may find river cruising too regimented for your liking. There is a rhythm to these trips, and the days are fairly structured and timed around set meal times, daily excursions and port talks or local entertainment. You will be stopping often at destinations along the river and they tend to offer an immersive overview of a region. The guests tend to be 50+ couples, with a good representation of solo travellers, who enjoy seeing the culture, art and history of life along European rivers – and the tours will focus on this. However, if you like a vacation where everything is planned and arranged for you, and want to unpack once and then have your days organised it will appeal. They enable you to explore multiple countries and destinations safely, accompanied and without having to navigate foreign language, transportation or figuring out where to go and what to see.
Watch my video tour of the Emerald Waterways Emerald Dawn
Hopefully this has helped you decide if Emerald Waterways is a line you should consider for your European river cruise. If you have travelled with them and have any thoughts to add please leave a comment to help other travellers.
Also read my article of "Highlights of the Enchantment of Eastern Europe River Cruise" and visit my Tips For Travellers Emerald Waterways page for more about the line including videos, photographs and articles.
Note: I travelled as a guest of Emerald Waterways River Cruises on the 7-night Enchantment of Eastern Europe river cruise.
Pin It:
If you enjoyed this post, please follow Tips For Travellers on: