The Best Food in Tampa Florida. My Tips For Travellers
Where can you find the best food in Tampa?
Tampa has a dynamic and innovative food scene. Something I had no idea about before visiting this Florida city. In my mind, America food follows a strong stereotype of fast food, overly generous portions and fried everything. So it was an unexpected pleasure to find that culinary delights became a key part of my Tampa experience. I visited the city for five days with Visit Tampa Bay and explored a range of up and coming Tampa restaurants, including the innovative Food Halls, as well as some long-established institutions like Donatellas that opened over three decades ago and is still packed every night.
The best way to tell the story of what I discovered is by showing the diverse and tasty dishes and meals that I had. I apologise in advance for making you feel hungry. Enjoy….
Breakfast
Breakfast Epicurean Hotel Elevage Restaurant

Hotel breakfasts are often a dispiriting miss. Not at the Epicurean Hotel where I was staying during my five days in Tampa. Their Elevage restaurant served a range of hot and cold dishes from an a la carte menu. Healthy and tasty start to the day. I can recommend it. https://epicureanhotel.com
Smoked Salmon breakfast at Oxford Exchange Tampa
This gorgeous space used to be a stables and is now a dynamic building that includes a book shop, gift store, coffee and tea bars, shared working space and excellent restaurant. Visiting the property alone is worth doing but the food is outstanding too. Very popular for all meals it is a great venue for brunch on the weekend. https://oxfordexchange.com
Cuban Bread French Toast at Goody Goody Burgers
Goody Goody Burgers will transport you back in time. Stepping into the restaurant you enter a reimagined world of a previously lost Tampa institution. People grew up at the chain's stores, which originally opened in 1925 but all had eventually all closed down by 2005. A few years ago the concept was resurrected using some of the original recipes, signs and even furniture. One of the specialities is this cuban bread french toast. Yummy! http://goodygoodyburgers.com
Hotel Le Meridien Bizou Brasserie
Although they are known for their lunch and dinner menu, the Bizou Brasserie inside the Le Meridien hotel is a great venue for breakfast. The hotel is in a grand old court building built in 1905 which is worth a visit and eating there gives you a great excuse!  It is centrally located within walking distance of the Museum of Art, Tampa Theater and the Tampa River Walk. http://www.bizoutampa.com
Lunch
Chicken Won Ton Soup North Star Eatery Hall on Franklin Tampa
The Hall on Franklin was one of my favourite dining spots in Tampa. This bright and cherry Food Hall has a range of dining stalls. There is waiter service covering all of them if you are dining in. I had the most delicious Chicken Won Ton soup I have ever had from the North Star Eatery. https://thehallonfranklin.com
Bernini Restaurant in Ybor City
Conveniently located on 7th Avenue, the busy street on Ybor City, this restaurant served great traditional Italian food and stunning salads. A great stop after walking the fascinating streets of the Historic Landmark District off Ybor City. http://berniniofybor.com
Salad lunch at Top Golf
We went for the fun of playing the Top Golf driving range but discovered they serve great food too. This was an unexpected find. Although you probably would not go for the food alone, if you go for the fun then eating there should be on the cards too. https://topgolf.com/us/tampa/
Dinner
Epicurean Hotel Elevage Restaurant
Art meets food in the Elevage restaurant in the Epicurean Hotel. This is the hotel's flagship dining venue and prides itself on modern and innovative food and recipes. As you can see even the vegetarian dishes are masterpieces. most to attractive to eat! https://epicureanhotel.com/taste/elevage/
Steak Dinner at Steelbach in Armature Works
Steelbach is the only waiter service dining option in the buzzing Armature Works complex as the other venues are counter service food stalls. This southern inspired steakhouse is famous for their (delicious) meat from their own herd. They have a farm-to-table approach to their food. It was fantastic. http://steelbach.com
Edison Food + Drink Lab Dinner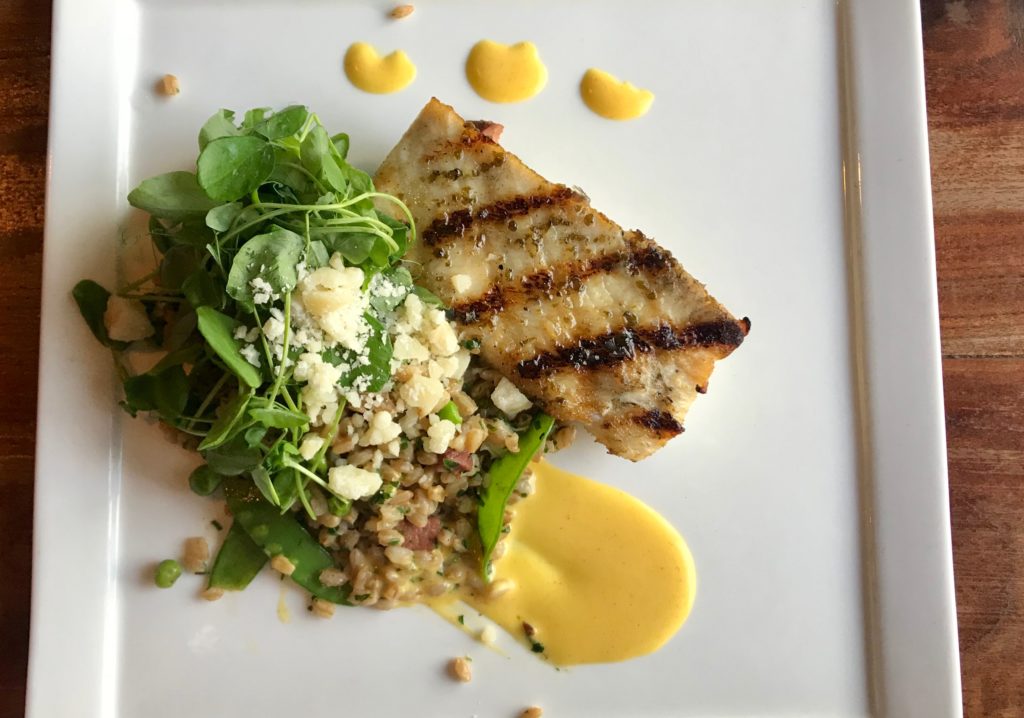 The Edison: Food + Drink Lab is very much one of the trendy and in places to dine in Tampa. The chef (Jeannie Perola) constantly introduces new dishes and so the menu is fluid. So every visit means new things to try. The fish especially was fabulous. http://www.edison-tampa.com
Tapas at Bulla Gastrobar
The Bulla Gastrobar is part of a small chain of tapas restaurants dotted around various cities. The menu is inspired by the traditional Madrid tapas scene. Tasty and varied selection of dishes. http://bullagastrobar.com/locations/tampa/
Donatellos Italian Restaurant
Established in 1984, this traditional Italian restaurant has a loyal following and serves great food. The decor and experience clings to a different era, but there is no doubt the food and attentive service is why it remains so popular. http://www.donatellotampa.com
And for a treat..
La Segunda Central Bakery Ybor City
For over 100 years the La Segunda Central bakery has been famous for its Cuban bread, which they also supply to many of the leading Tampa restaurants. The small shop at the front of the bakery is usually packed. The specialities include their Cuban bread and Cuban sandwiches. The cakes and pastries are outsanding too. https://www.lasegundabakery.com
Want more of my Tampa Tips?
Note: I travelled as a guest of Visit Tampa Bay who hosted me for these meals 
If you enjoyed this post:
Subscribe to Blog via Email
SaveSaveSaveSave