You Shouldn't Cruise on These Lines. Here's Why
You Shouldn't Cruise on These Lines. Here's Why
A while ago I made a video about the best lines to cruise on. And during that video, I said, "are there any cruise lines that I would avoid? Yes. That is a topic for another day and another video"
Well, that day has come. Now, just a warning. You might freak out because I may include your favourite cruise line as one to avoid, but that's less important because the key goal here is to help you avoid lines that won't work for you.
So, you shouldn't cruise on these lines, and I'm going to tell you why.
#1 Financial
The first lines I avoid are those that I think, or suspect may have financial issues, even if they have a big reputation. As the Pandemic was ending, and I was planning my future cruises, I crossed one key cruise line off my wish list. That was Crystal Cruises.
Now, why did I do that? Because there was chatter at the time about how slow they were during the pandemic to issue refunds. They were slow to respond to queries and there were warning signs everywhere. It gave me a flashback to a cruise that I'd booked with One Ocean Expeditions in 2019. Similar things were happening. People were cancelling, they weren't getting refunds. Responses were slow. Low and behold, they went bust.
Now, with Crystal Cruises, many people lost thousands of dollars when Genting Hong Kong went bust and Crystal Dream and Star Cruise Lines went under. If you have any doubts, you shouldn't cruise on these lines. It's better to be safe than sorry.
Cutbacks and experience
Of course, financial issues are not just about cruise lines going bust. It's also about the cutbacks and the experience. Already that is an issue with many cruise lines because post pandemic, they're in lots of debt and there are things right across the board that they are tightening up on.
When I'm planning sailings in 2023 and 2024, and beyond, I focus on lines that are held by the big corporations. Although they're also in lots of debt, they're incredibly well funded and they're already carrying up to 80% of passengers. That includes Carnival corporation with brands such as Carnival, Princess, Holland America, Cunard, and Seabourn.
Other major cruise groups that I look at are Royal Caribbean with Celebrity and Silversea , Norwegian Cruise Line, who own Oceania Cruises, Regent Seven Seas, and then, MSC Cruises.
I tend to avoid independent lines unless I'm planning short term.
One big tip I've got. I track and watch sites like the crew run crew-center.com and their Facebook group, because the crew are often the first spot issues. They're not being paid on time, recruitment's down, or the way they're being treated. 
#2 Ownership
The second set of cruise lines I avoid is any line that I fear, or suspect may change ownership, especially if the rumour is they're being taken over by a non-cruise operator.
I learned this initially with Voyages to Antiquity. I came back from a cruise to Iceland on their ship Aegean Odyssey. It was an old, but very characterful ship owned by an elderly billionaire. They started cancelling because of engine issues and they quietly disappeared and reappeared as Road Scholar.
More recently Azamara was sold to by Royal Caribbean, to Sycamore partners. And I made the mistake of going on soon after it returned to service, and before it had bedded in. It just wasn't working in the way it was before. I should have waited until it had bedded in.
There are rumours about Seabourn being sold by Carnival to a Saudi Arabian cruise company. Not sure how true those are, but I have only planned shorter term with them, just to be on the safer side.
But we have booked Paul Gauguin for next year. They were taken over by Ponant, but Ponant is an existing cruise operator and it's already bedded in.
But I certainly wouldn't book Crystal under their new owners, Abercrombie and Kent, because it's going to be a completely different line. That's new management, new crew, and we just don't know how that's going to settle down.
#3 Burnt
The third area of cruise lines I avoid are those I have grown apart from.
Over time, our tastes change. My very first ship was P&O Aurora. And because it was my first ship, I stuck with P&O Cruises after that. I booked a Mediterranean cruise. It was fine. Then, I tried Cunard, and I realised what I was missing.
P&O wasn't for me anymore. After a ten-year break, I gave P&O a try last year and it reminded me of why I no longer sail with them. It reassured me that once you've had a so-so experience and you've moved on it's best to keep going.
And it's important to remember that whatever category of cruise line, you have so much choice. So, in the P&O category, I've also got Princess, Holland America, Celebrity, Cunard, and Virgin Voyages to choose from. They are all in the same category and offer the same sort of pricing, so best to book one of those instead.
#4 Price
The fourth thing that I avoid is changing a cruise line for the sake of change. Particularly if I'm changing for the worst reason, which is price.
It took my partner and I 20 years to get his sister and husband to cruise and finally, they booked P&O Cruises. The absolutely loved it. It felt familiar and they enjoyed the fact it was full of British passengers. In short, it was everything they'd hoped for.
They returned home and decided to book another cruise, but they booked with MSC Cruises because it was so much cheaper. Ultimately, they hated it. The ship was too big, everything onboard was announced in several different languages and the food was not as expected. They also found a lot more onboard costs, like gratuities, and admitted that they changed cruise lines for the worst possible reason, price.
I discovered the same thing when I went on Costa many years ago. They had a great deal on the Mediterranean. So, I walked away from Cunard and went on Costa. It was a miserable experience. The ship was too gaudy. It was 95% full of Italians with limited English options. And I felt a like a bit of an outsider. I looked enviously at Holland America, Princess, and Celebrity, also in port and realised I had moved for the wrong reason.
#5 Not for Me
The fifth line that I avoid is any line that's just not for me. Now that might sound obvious, but it's important not to get it wrong.
First, I avoid going on Carnival. It's not because I think that they don't do things well. It's because it's just not for me. They're fun ships. They're boisterous, they're party ships, high energy. Essentially, they are catering for younger couples and families. They want to have lots of busy fun. There's drinking, belly flop competitions. It's packed. It's action filled.
I avoid lines like Carnival because it's not targeted to me. I like enrichment. I'm very much into the destinations. I like quiet spaces. It's that simple.
And that's my point. Choosing a line that's right for you is fundamental.
Secondly, I avoid mega ships from lines like Royal Caribbean and MSC. You know, the 5,000, 6,000 plus guests. It's very busy. The busyness of getting on and off doesn't appeal to me. I like going on smaller ships because you can go into out-of-the-way ports and it's a more intimate experience.
I don't even like the big ships in the Princess fleet. Sky Princess at 3,660 passengers is too big for me. Even on Celebrity, I will go on the Solstice-class ships, which are more like 2000 passengers. And if I'm going on Holland America, I will lean towards their Vista-class ships, which again are more like 2000 passengers.
Also, and importantly, with those big ships, they again are attracting more families. More kids. I like adult only experiences. That's why I lean more towards cruise lines that offer that.
#6 Non-English speaking
The next lines I avoid are those that are mostly non-English speaking with one big exception.
Other than my Costa experience that I spoke about earlier, I have been on other non-English speaking lines, and I've learned a lot about what I would avoid and importantly, what I wouldn't avoid.
Learning from mistakes
I've been on CroisiEurope on barges where it's mostly been French. I've been on Hapag Lloyd Europa where the passengers are mostly German. I've been on Ponant to Antarctica, which is mostly French. And I've learned a lot from those.
On Ponant, 90% of the passengers were French. There was a group of about 20 US Koreans, two US couples, and me. But there was a sense of frustration amongst the English speakers. They felt that the French got more attention to detail. Not surprisingly because the crew were all French.
Food they saw as an issue. It was too French. It is a French line after all. Now for me, I was ready for that. I used to have a global marketing job and travelled a lot. I was more used to being in the minority and not knowing the language.
But you absolutely need to be ready. Avoid any line that's non-English speaking unless you are 100% ready for the differences.
There's always a 'but'
I will go with non-English speaking cruise line when it's the only option. For example, I went on CroisiEurope because I wanted to go on a barge cruise through France and that was the only option.
However, I wouldn't go on a CroisiEurope River Cruise again because there are many good English-speaking options. But I have booked to go on German speaking Hapag Lloyd next year to Greenland and the Canadian Arctic because it is the only itinerary that covers the places that I really want to go. I'm prepared for that.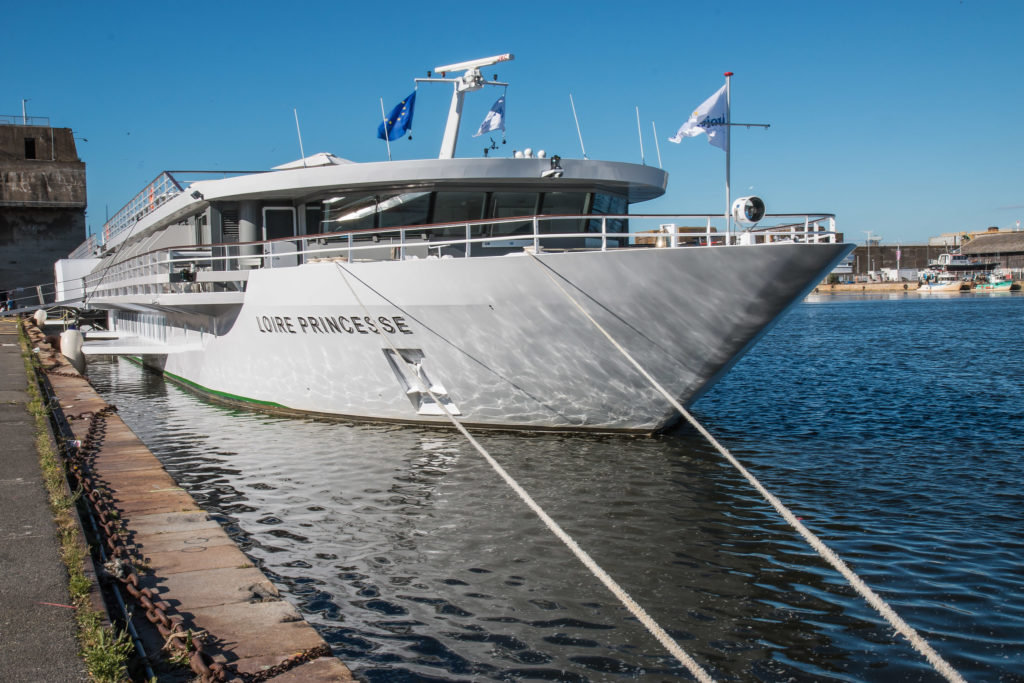 #7 Bad Reviews
The other thing people ask me about is do I avoid lines with bad reviews?
In the last week, I've had a question around Azamara, Cunard, and Star Clippers. People have seen bad reviews. So, what do I say? Always go with your gut. If it feels wrong avoid it because you're going to be stuck in that mindset and you're going to be attuned to issues.
I don't necessarily avoid cruise lines with bad reviews. I just research them as much as I can.
Nothing is perfect in my mind. So, I always try and focus on what is important to me. I've already mentioned things I like such as good enrichment,. quiet spaces, good food, out of the way ports. So, if those things are being reported up as issues, then I might avoid that line.
If that's interesting and I've got you thinking about what lines you should go on, why don't you take a look at this video where I talk about the lines that I think are doing things well right now. Starting with the one that may surprise you in the resort area. See you over there.
SUPPORT TIPS FOR TRAVELLERS
FOLLOW ME ON SOCIAL MEDIA
——————————————-