My Week Cruising in A Controversial Ship-Within-A-Ship – MSC Yacht Club

My Week Cruising in A Controversial Ship-Within-A-Ship – MSC Yacht Club
So many cruisers contact me saying they are getting frustrated, because more cruise lines are closing areas of their ships and making them only available to a select group of passengers in what lines call "ships-within-ships". With exotic names like "The Retreat", "The Haven" and "The Yacht Club".
These are eye-wateringly expensive, starting at $800 /£700 per cabin per night, making them out of reach for most cruisers. But curiosity got to me, so I raided some savings and booked myself in the MSC Yacht Club on MSC Virtuosa on a 7-night Norwegian Fjords cruise to see what's their ship-within-a-ship is all about – and if you've got the cash if it's worth it.
Here's what I discovered.
What is the MSC Yacht Club?
The Yacht Club covered several decks high up in the front of the ship. My cruise card granted me access through big sliding glass doors on Deck 16. Inside were all the Yacht Club cabins, a Guest Services/Concierge desk, the Top Sail Lounge and bar with snacks all day, afternoon tea and live music in the evenings. The MSC Yacht Club Restaurant with open seated dining for all meals and dedicated menu and kitchen, and a large deck with plunge pool, hot tubs, bar, and a grill serving breakfast and lunch.
But I also got added perks including the premium drinks package, two devices streaming internet, a butler, pillow menu, welcome bottle of Prosecco and chocolates, daily canapes, and treats, access to the Spa's thermal suite and some other perks I'll come to which helped me navigate around the crowds and lines around the ship.
MSC Yacht Club – Not Just Suites
Unlike other line's ship-within-ships, Yacht Club was not only suites. This means that there are some even more affordable ways to get into their ship-within-a-ship versus other lines. It had 15 inside cabins alongside two Royal Suites, eight duplex suites and 77 deluxe verandahs, which is what I booked.
This cabin was probably size wise more like a mini-suite on many large and mid-sized ships. Though comparable in size to suites I have stayed in on smaller ship luxury lines like Seabourn, Silversea and Regent Seven Seas.
The décor was neutral, although rather brown with a good-sized bathroom. It did not have well-known branded toiletries like on other luxury suites but just dispensers in the shower labelled "body wash" and "shampoo".
One big plus was the cabins are well away from noisy and busy venues, and my cabin was incredibly quiet. I would say my cabin is one of the quietest I have had on any cruise ever! As the ship was modern and new, even the air conditioning was very quiet.
As the Yacht Club is in the front of the ship and high up, the restaurant had incredible views out the vast windows. I had the most gorgeous scenes of the Norwegian Fjords from my table there.
So far, I'm sure you're thinking this mostly sounds exotic and wonderful. But let me talk about some other sides to the ship-within-ship experience that raised more doubts.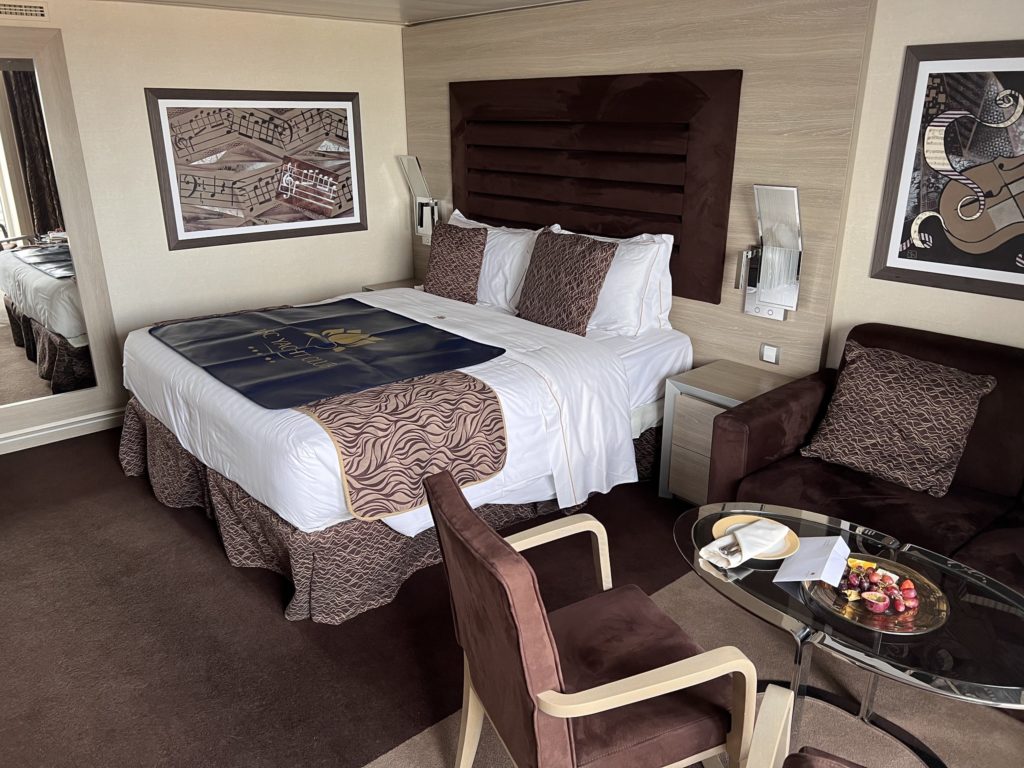 Escaping the Whirlwind
MSC Cruises ships are big. MSC Virtuosa, when full, has 6,300 passengers. It is jam-packed, boisterous, and noisy all over.
One big plus the Yacht Club gave me was a less busy and calmer place to escape the manic atmosphere of the ship. It felt like stepping out of a whirlwind of activity and noise into an immediately more sedate and quieter space without hordes of people. Although it was not totally quiet, and it wasn't just an adult space.
MSC is a family friendly line, and so although there were 102 cabins in Yacht Club, which means 202 people at double occupancy, because most of those have sofa beds, there could be 70 to a hundred kids in there.
My sailing was not in school holidays, so there were only a handful of families, but they still did often take over the small pool, run around during afternoon tea and moan, cry and basically be kids at meals.
Secondly, although it's supposed to be an exclusive area, clearly some people staying in the Yacht Club were travelling with friends and family who weren't in the Yacht Club and so would bring guests in, mostly heading to the deck, but sometimes in the lounge. A blind eye was turned to this.
Navigating the Crowds
I do feel though an even bigger MSC Yacht Club plus was all the things designed to get me around the crowds.
For example, check-in was incredible considering many thousands had to be checked in.
On the day I embarked, I could check in at 10:00am. So early! There was a dedicated spot to hand in my suitcase before being whisked past the lines for security, then shown to a special seated check in area where I was offered drinks and snacks while checked in at my seat before being escorted by a butler to the Yacht Club lounge.
I was in that lounge about 18 minutes after pulling up at the terminal.
Another was avoiding the crowds for excursions. Instead of having to join hundreds of people meeting to depart, I waited in the Yacht Club lounge. Once the tour bus was ready to depart, a butler would then whisk me down through security right out to the bus or port side departure.
MSC Yacht Club Priority
And Yacht Club guests got priority, for example in Flam we were led right to the front of the many hundreds queuing for the scenic train, and so got to board first and choose the best seats.
In Olden I was led by a butler right to the shuttle bus to the Loen Skylift and boarded that first.
Seeing shows in the theatre also meant skipping crowds and lines. As the MSC Virtuosa theatre holds fewer than 1,000 people, they ran three shows a night and regular travellers had to book, and some were sold out. And guests also had to wait in long lines even if booked to get scanned in.
But there was a dedicated Yacht Club seating area, meaning no booking and I could also get whisked down by a butler past the lines if I wanted to. So sold out shows like the crew talent show and Opera shows anyone in Yacht Club wanting to see those could.
No Queues
For the Cirque du Soleil style shows in the Carousel Lounge, again we Yacht Club guests were escorted down by a butler, past the lines and got to choose our seat before others.
The Yacht Club Concierge desk meant no waiting in the often-long lines at Guest Services too.
The lounge and bar meant no fighting to find a seat in the other bars or waiting ages to get a drink. In the Yacht Club lounge there was always spaces to sit and live music too.
MSC Yacht Club Dining
Dining also offered a way around crowds. Non-Yacht Club guests were allocated one of the three dining times (5:30pm, 7:30pm or 9:30pm) with few options for anytime dining or changing those times. It was busy and hectic in the main dining rooms with tables tightly packed together.
Yacht Club was open breakfast, lunch and dinner and open seated dining. So, I could go any time I wanted, and could have a table by myself or chose to sit with others I met if I wanted.
On the Yacht Club deck, they served buffet-style breakfast and lunch, so no need to battle the crowds in the very popular Marketplace buffet.
On disembarkation day I could meet in the lounge and the minute the ship was cleared, we could get off as our bags were taken off first. Again, I was whisked down by a butler, jumped the queues. The ship was cleared at 6:30am and I was in a taxi heading to the train station within 15 minutes.
For me, probably the biggest plus of the Yacht Club was how it helped avoid the downsides of the crowds and lines on this big resort ship. In fact, some of the premium and pampering aspects that I expect were going to be the highlights were less so. Let me explain.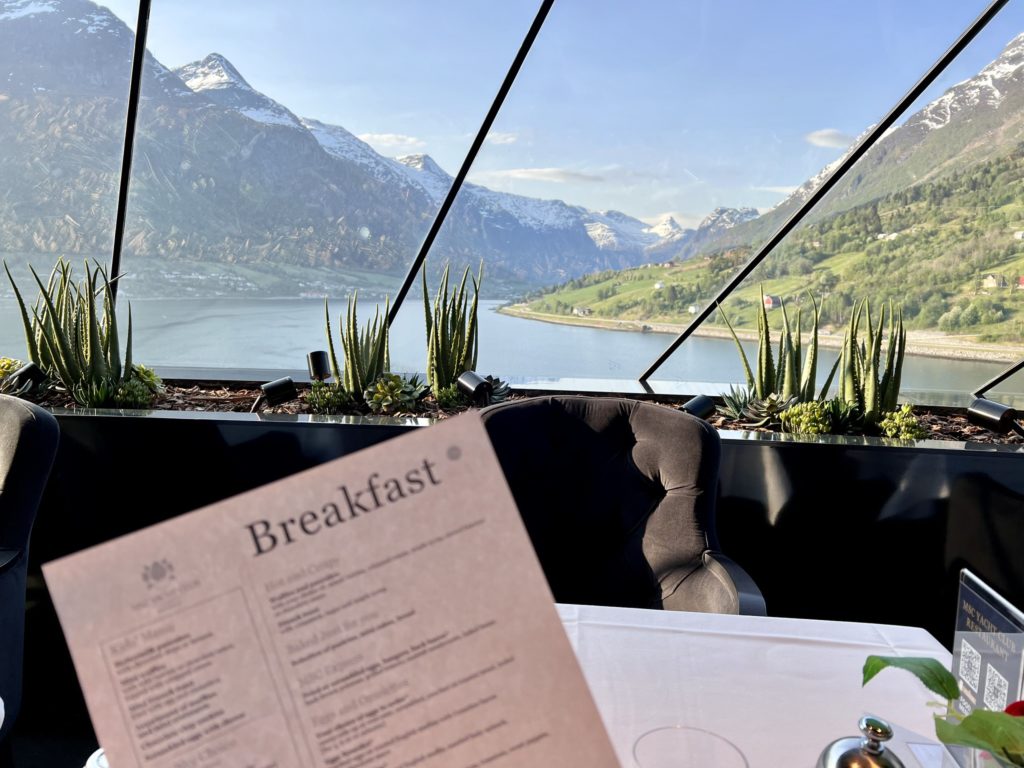 High-End Service?
I have cruised on some "high-end" lines in the past, like with Celebrity Retreat suite experience, Cunard Queens Grill and on luxury lines like Seabourn and Regent Seven Seas. Many asked me during and after if Yacht Club was that kind of experience.
It missed in two striking ways.
First, the service and attention to detail was pretty good but varied, erratic at times and wasn't very personal or personalised. Something the more luxury high-end lines are masters at.
So even though I was on there for a week, the concierge or rest of the crew in MSC Yacht Club never greeted me by name, which is the norm on those other lines. Many on the desk didn't even always greet me and I had to fight to attract attention at times.
Butler Service
The butler service was erratic and seemed to vary based on who people had rather than be consistent. I clearly though did have a less optimal experience as my butler disappeared for a couple of days off ill and was not substituted or covered by another butler leaving it to my cabin steward.
I did not find the overall service in the restaurant or across the MSC Yacht Club matched a high-end line, but it was faster than across the ship overall.
MSC Yacht Club – No Attention
Another example of how the promise and reality did not match was I was sent a beautiful email before the cruise, asking me to submit all my preferences including the type of pillow, mini bar items, and what daily newspaper I wanted delivered. They paid no attention to it. And I heard several people going to the concierge and asking, "Whatever happened to these specific requests?".
Second, I though the food was good and enjoyed it, and MSC Yacht Club had a different menu to the main dining room. But I did not find it as elevated as on other more premium lines in their equivalent restaurants like Queens Grill or Celebrity Luminae. Though to be fair those also charge way more, so I feel that I had to considered this when assessing.
I was concerned at my very first meal, which was lunch on embarkation day, as the salad looked very basic and had lettuce that looked wilted and brown at the edges.
However, over the week I found the MSC Yacht Club ingredients were good, and the menus had a decent choice with good pasta especially, though probably lacked some of the finesse and flair on more premium lines. However, I always found dishes that appealed and after that initial reservation no other issues.
The gala night dinner menu with Beef Wellington was the highlight of the week, and I do think that the Chocolate Volcano cake dessert, which many lines get wrong, was probably the best I have had at sea.
Good Value?
The MSC Yacht Club was good value for what it is and I decided that for anyone that wants the benefits of the buzz and excitement of a big ship with ability to dip into water parks, rope climbing, production shows and so on, but want to be able to escape the noise and the hustle and the bustle and have ways of mitigating the crowds, the Yacht Club is a plus.
For me though, it was not enough as MSC itself had issues that I think you need to also consider. So, watch this video where I dive into all of that starting with the biggest misconception about the line.
SUPPORT TIPS FOR TRAVELLERS
FOLLOW ME ON SOCIAL MEDIA
——————————————-