Silversea Silver Cloud Expedition Cruise Ship. My Review And Video Tour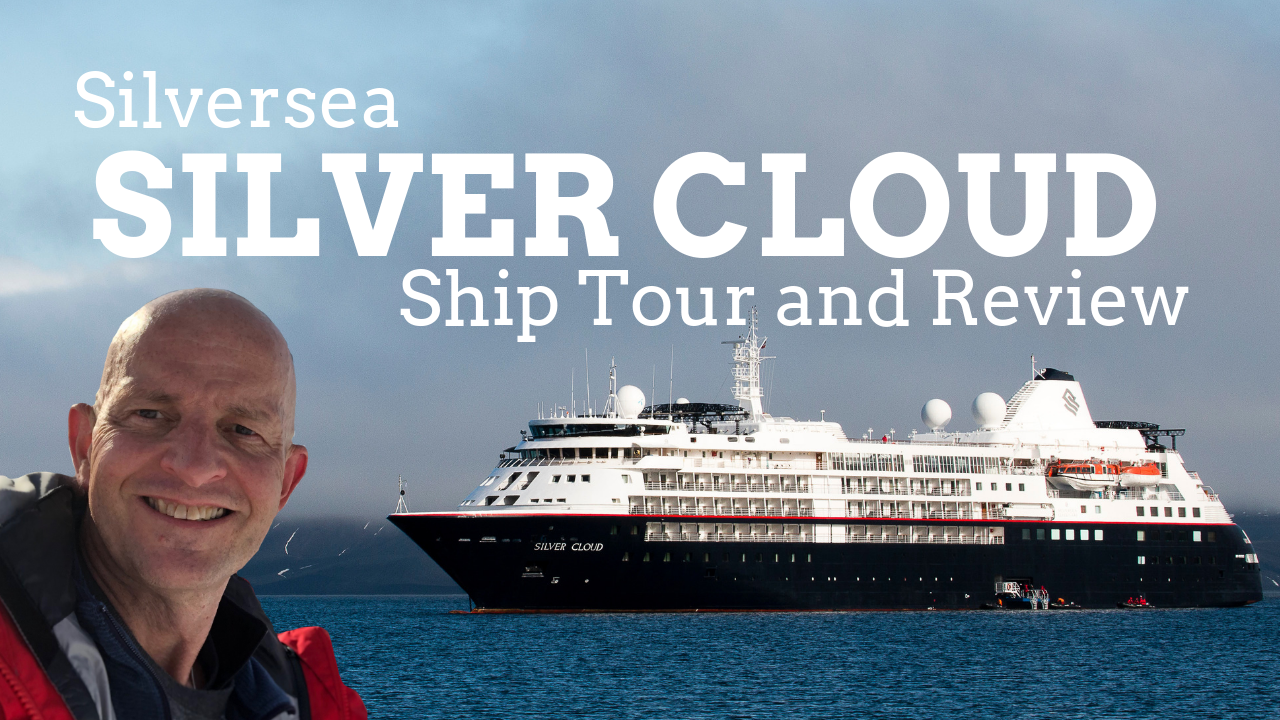 You're about to discover everything you need to know about Silversea Silver Cloud Expedition cruise ship.
Watch my Silversea Silver Cloud Video
Watch the video on YouTube, and subscribe to my channel: https://youtu.be/VJxPukHYIJs
Background
The Silver Cloud was built in 1994. It was converted in 2017 from a cruise ship into an exhibition ship. It became an ice class 1C, which means its hull was strengthened so it can push through some sea ice.
It has seven passenger decks, 212 crew and in the polar regions it takes 240 passengers. It is a pretty fast ship, which is important for things like traversing the notoriously troublesome Drake Passage between Ushuaia and Antarctica.
During my time on board the Silver Cloud, I came to really love this ship. When I first boarded, my initial reaction was I thought it looked a little bit dated, but I came to appreciate the look, feel and design of the ship. I found the decor really appropriate as it's not modern, brash and glitzy and works really well, I think, with expedition cruising.
In terms of choice of facilities, the ship has a lot to offer especially for an expedition ship. Let's take a look at the main facilities.
Dining
Silver Cloud has a wide choice for an expedition ship of dining, actually 5 dining options altogether:
The main one is the Restaurant, that's the main dining room. It's open for breakfast, lunch and dinner and, of course, it is a waiter served restaurant. Great food down here, and whether you want to table for two, even a table for one or larger table they have enough space to cater for all of those different needs.
The second most popular dining option is La Terrazza which is up on deck 8. During breakfast and lunch, it's a buffet, and in the evening, it becomes an Italian restaurant. You have to make reservations for that, and it is included within the fare. It is very popular with really good Italian food.
On deck 8 is the Grill, and this is an open-air dining space on the pool deck. It's surprisingly popular, even in the cold of Antarctica. During the day it serves informal food, it has lunch of things like burgers and hot dogs. At night it becomes the place where they serve the service Silversea Hot Rocks, which are the volcanic lava rocks where you cook your own meat, fish or vegetables. It's really good fun being out there when it's really cold and blustery outside wrapped up and having the Hot Rocks experience. It is really popular.
The only restaurant which does have a charge is La Dame. La Dame is the premium prestige dining experience across most of the Silversea ships.
The last dining option is 24-hour room service with breakfast, lunch, midnight snacks and also during evening you can also order from the main dining room menu.
The one thing which they don't really have is, because there's no buffet option in the evening, if you do
want something ready just quick and fast your only real option is room service. I did it a couple of times because I didn't want to go and do a whole sit-down meal after a day exploring.
Bars and Lounges
Let's take a look at bars and lounges, and there are a number of these:
First of all, up on deck 9 you have Tor's Observation Lounge which is right in the front of the ship. it's a magnificent place and overlooks the bow of the ship. It is fantastic, particularly on expeditions, when you're sailing through scenic parts of the world. It's a great space and often the expedition crew will be based in here and they'll be able to provide commentary about what you are seeing.
Down on Deck 8 is the Panorama Lounge. This is where you have early riser breakfasts and teas and coffees in here all day. In warmer climates you can also sit outside. Just off there is the smokers' lounge. Particularly because in some places it's too cold to go out and smoke on deck, Silver Cloud has its own smoking lounge just off the Panorama Lounge.
In warmer climates, although to be honest even in cold climates, the Pool Bar is open pretty much during the day into the evening.
The nicest bar, in my view, especially in the evening if you are looking to have a cocktail before or after dinner Is Dolce Vita, which is on deck 7. In the evenings they normally have a duo playing and performing live music.
Entertainment
In terms of entertainment, being an exploration ship, there is not a lot of laid on entertainment. Saying that, you do have the Explorers lounge where you have all your briefings and expedition lectures.
The main focus of entertainment is enrichment.
The expedition team, of which there can be up to 28 people, ranging from historians to botanists to experts in birds and wildlife and they hold briefings every day and give lots of different talks.
There are no production shows and it's very much enrichment focused, and that really happens in the Explorers lounge.
Other Facilities
Photo Studio
One thing that I really loved is the Photo Studio. The Photo Studio is fantastic. They have loads of machines, both Mac and PC based. On those machines, you have programs like Lightroom and Photoshop.
During the cruise you can go down there with your SD cards and you can work on your photographs and you can also print those out. There is a charge to print.
The other thing which they do is offer a range of free and paid for training sessions. You can learn how to use Lightroom, go on one-to-one photography tuition or go on group classes. It's a really
great initiative.
Fitness and Spa
They have a pretty big fitness centre considering the size of the ship. A Spa, of course, with a Beauty Centre and the usual spa treatments.
Other
They also have a small library, which is actually pretty well stocked. There's also a free-to-use guest laundry. Then the Mud Room where you keep all your boots, where you get ready and come back from expeditions.
Being an expedition ship it also has 18 zodiacs to take people out on the various excursions, and it has 10 kayaks. I know they are trying to increase the number of kayaks they have because it's incredibly popular.
Accommodation
The main type of suite on board Silver Cloud is the veranda suite. I like it a huge amount.
I think particularly if you're going on an Expedition, especially to places like the Arctic or Antarctica, having a veranda cabin is fantastic because there might be things like whales passing by or incredible scenery and I found it great that I could just go on the balcony and take great pictures or video.
The vast majority are these veranda cabins and, as you can see, really nice with comfortable beds, really nice bathroom with a nice big shower.
They do have more premium suites like Owners suites, Medallion suites and Silver Suites which are
much bigger but the main type of cabin is Veranda suites.
Final thoughts
Built originally as a classic cruise ship, the Silver Cloud was converted in 2017 into an expedition ship and, as I've mentioned earlier, my first impressions when I came aboard is, I thought maybe it was a little bit dated. However, I came to really appreciate the look and feel of the ship because I felt it tied beautifully with the expedition process.
It wasn't glitzy and modern. It really fitted in with a classic and historic sense of going on an expedition.
The accommodation itself was incredibly comfortable. I loved my suite. I loved the beds. I loved the space and really appreciated the bathroom with a nice big shower.
There's a surprisingly large amount of choice in terms of dining options and bars considering this is an expedition cruise and probably the only niggle out of everything was that in the evenings if you want to have something quick and fast, your only real option was to have room service, because there was no quick and fast option.
The Silver Cloud expedition cruise ship is a great ship. I really liked it. I can see why so many people are so passionate about the ship. So many people I know really love this ship and it is a great ship to do an expedition cruise on.
If you're considering going to Antarctica and you've got to go through Drake Passage, this ship is very fast, and it can actually deal with waves pretty well.
Hopefully, you found that helpful and has helped you decide if Silver Cloud is the right ship for you if you're thinking of going on an expedition and thinking of an expedition with Silversea.