Queen Elizabeth II's Thames Diamond Jubilee Pageant Flotilla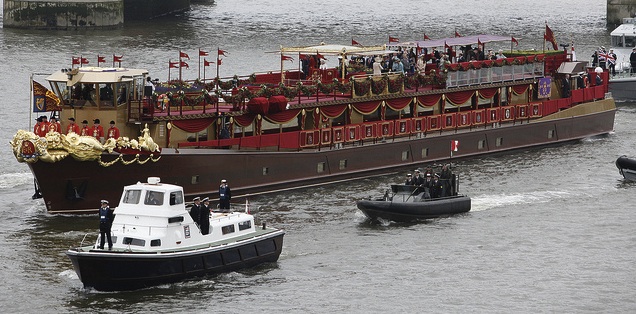 There was a 4 day weekend of events celebrating Queen Elizabeth's 60 years on the throne in June. It is only the 2nd time in British History that someone has reigned this long. Queen Victoria was the other Monarch reaching this milestone. The celebration had 4 days of key events, plus many more private and regional events as well. 


On the Saturday she attended the big Epsom Derby Horse Racing; on the Sunday was the Thames Diamond Jubilee Pageant down the Thames; on the Monday was a massive concert in front of Buckingham Palace and then on the Tuesday a service at St Paul's Cathedral with an open coach ride through London and appearance on Buckingham Palace balcony.


At each of the major event, over 1 million people attended and watched. A staggering sight and celebration.


On June 3 2012, one of the main showcase events to celebrate Queen Elizabeth II's Diamond Jubilee took place. This was a remarkable and historic flotilla of over 1000 ships along the Thames River that was 7 miles long.


It was an impressive and unique event called the Diamond Jubilee Pageant, that travelled down the Thames. Use of the Thames for Royal events goes right back to Henry XIII and behind days. But nothing like this has been seen for centuries. Making it historic and significant.


The crowds of people watched along the banks of the river, or from bridges across the Thames that were closed to traffic. There was also a ticket only event in Battersea Park which had concerts, stalls, events, fair and other attractions. I was lucky enough to have got tickets for this amazing event.


The Thames Diamond Jubilee Pageant consisted of 1000 ships, many with a history in their own right. The sections of this massive procession included man-powered vessels, Commonwealth Vessels, Royal Vessels (including a special Royal Barge that the Queen and major Royals were on created using the Spirit of Chartwell luxury river barge), Dunkirk Little Ships (that had evacuated thousands of Allied Forces from France to avoid the advancing Nazi forces), steam boats, recreational motor boats, narrowboats and barges). Then further down the river was a Sail Boat alley where ships too large to pass under the bridges met the flotilla.


It was a stunning and incredible experience.


Below are some photos by the Official Diamond Jubilee Pageant and then a short video by ITV of the highlights of this historic and incredible event. It was really something to attended and be part of. The excitement and feeling of goodwill was electrifying – despite the lousy weather and rain. 


I have then posted some photos and comments of the event in Battersea.


A view down the Thames of some of the man-powered boats in the Flotilla 
A view from The London Eye of the passenger boats in the Flotilla
The Royal Barge (The Spirit of Chartwell River Barge decorated for the event) carrying the Queen and other Royals
The rain really started to fall as the barge went under the iconic Tower Bridge where the procession ended
A video lasting just over 3 minutes of the Highlights of the Thames Diamond Jubilee Pageant by ITV
Thames Diamond Jubilee Battersea Park Event
Some personal photos from the running before, during and after the Pageant
Hello Magazine gave out thousands of Union Jacks to the crowds
There was a stage with varied artists performing 
A fairground with old fashioned rides and games
Crowds gathered 20 or 30 deep along the Embankment Roads
While in the Park the crowds gathered hours before the Flotilla arrived