Kent Seaside towns: Margate, Ramsgate & Broadstairs. Potential still to come?
Visiting English seaside towns in winter is probably not going to give one the best impression and view. But this is exactly what we did when this past December/ January when we headed off on a  short trip to the Kent Coast in England.
Kent is situated in the South East and across the Channel is France. The main port town in the general area is Dover, where the many ferries criss cross the channel. Increasingly, some of the cruise lines also use it as a departure port.
English seaside towns overall tend to be disappointing. As they have never really found a way to recover from the hammering they took when affordable package holidays, and then low cost flights, made travelling to Europe and guaranteed sunny and warm weather. The problem with taking a summer holiday in England is that the weather is unpredictable. You can get glorious hot and sunny days, or you can find your week or two is full of grey and rain.
In their day, English seaside towns were buzzing and popular. Many had holiday camps, such as Butlins. They offered affordable and entertaining breaks. But as the tourists moved away, the towns have generally declined and slowly got more and more run down. The cycle took its toll, as they got more run down and less up-market they relied more and more on budget visitors who had less money to splash out. Less money meant less revenue and less to invest.
Some of the seaside towns down in Devon and Cornwall have not suffered the same fate, as the weather is slightly better and have managed to attract a more affluent visitor. So even towns even like Sidmouth (which personally I am not a fan of) and Beer proposer.
The seaside town stretch in Kent we visited is known collectively as Thanet, and as all are very close to each other they do try and market themselves as one. The link to the official Thanet site is at the end of this posting. 
The 3 main towns in the area are: Margate, Ramsgate and Broadstairs. The advantage is that as all are quite close by, if you are visiting the area it is possible to visit and explore all three of them. Although most do it by car, the area is also popular for hikers and walkers.
It is clear that all of these towns have suffered over the years from lack of investment and a vibrant economy. They all have an air of being past their glory days, and some areas are quite run down and shabby, but it is also clear that there is a pride and passion in the area by residents. You can also now see visible signs that in some parts there are plans,   investment and signs that the authorities are trying to reinvigorate and energise the towns and the area. This will take some time, but it is clear that this is the intention.
Below are some thoughts and observations of each of the towns:
Margate in Kent England
Turner Contemporary Gallery Margate Kent England
Margate felt the more run down of the towns overall, but at the same time also has the most visible efforts to reinvigorate and refresh the town with the opening of the very stunning and modern Turner Contemporary Gallery and updating in the area around it on the beach front. There are also plans to rebuild and open the once vibrant and popular Dreamlands amusement park. There is also the Margate Winter Gardens theatre which always has some show or artist performing.
Ramsgate Kent England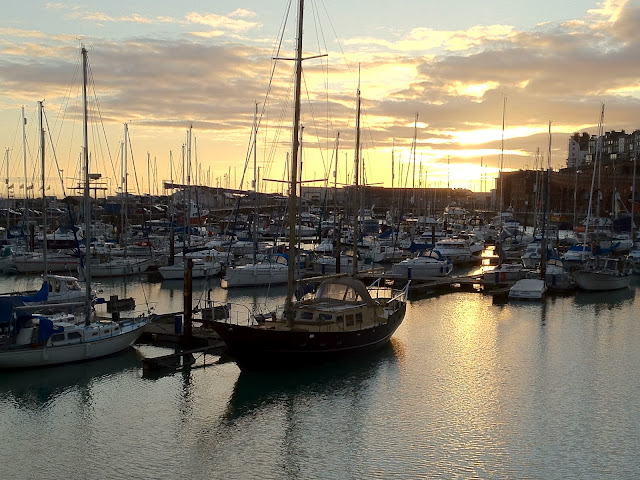 Ramsgate Kent England
Ramsgate has a very large and attractive harbour which is packed full of yachts and boats – and suspect in Summer this is a buzzing and exciting area. There are a number of bars, restaurants and coffee shops overlooking the pretty harbour which even in winter are busy. The town centre is less attractive, both in layout and in types of shops. This town is more for people looking towards the sea and sea type activities, and there are many boat trips on offer.
Broadstairs Kent England 
BroadStairs Kent England
Broadstairs apparently is also is a much sought after residential area, with some expensive properties and has been featured on UK Tv shows like "Location, Location, Location". The town has some character with winding streets and lots of pubs and places to eat. Again in Summer I suspect this town will be buzzing and have a positive air about it. It has a long, broad and sandy beach area that no doubt gets busy. It is the Broadstairs beach in the picture at the top of this posting. The town also has a number of the traditional, if a bit shabby, amusement arcades where one can end up spending too much time (and money) on penny machines and shooting games. There are a number of attractive walks around the area.


Links
Official site for the area: http://www.visitthanet.co.uk/
Explore Thanet site: http://www.explorethanet.co.uk and for specific details on the beaches (including facilities they offer): click here


RTHUN3DTCWTQ


Do you have any thoughts, tips of comments? Leave a comment on the blog. Where you will also find details of how to subscribe for email updates, follow me on Twitter and Facebook, or subscribe for the free podcast.