Royal Plaza Hotel, Montreux, Switzerland (Review, Video and Photos)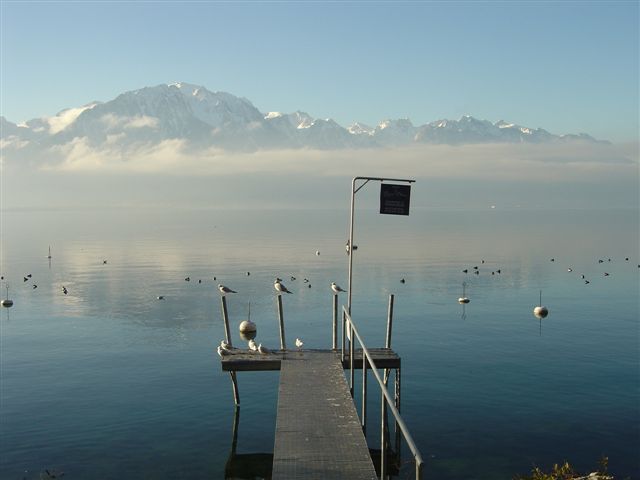 I stayed at this hotel for 4 nights in mid January 2006 for a conference.
This hotel is right on Lake Geneva and you get the most amazing views of the lake and the mountains. But make sure when you book and check in that you get one of the rooms facing the lake – or you may find yourself in a room overlooking the road at the back. This will be a terrible outcome as the views are just quite breath taking. I have posted photos of how lovely the lake and mountains look in winter on my site:
click here.
The hotel has a high star rating (5 stars) but I am not sure why.
It is a perfectly good hotel – for business and the conference I was at. The rooms are small but comfortable and well equipped for the traveller who is not going to spend much time in the room – and has large desk to work at. Bathroom is pleasant but small. The hotel has wireless broadband but it is costly. The place is not that soundproof as you could hear all the noise as people came and went from their rooms. The rooms were very hot from the winter heating.
The food in the hotel is good and reliable with lots of salads – but not stunning. I feel the hotel is more four star. Personally, it is not a hotel I would like to stay at for pleasure but for work it was brilliant.
Here is a video of the room I stayed in:
I have a podcast about visiting Montreux, home of the famous jazz festival. Visit
tipsfortravellers.com
to download it, or using the links on the left hand side of this blog.