There's Way More To River Cruising Than I'd Realised

I've Learnt The Hard Way Who Should (& Shouldn't) River Cruise
Unlike ocean cruising, where I believe there is a cruise and a cruise line for everyone, I don't think the same is true of river cruising. It's only for some types of travellers. And here is why.
They Work Best When..
I've been on numerous river cruises in Europe, Asia, and Africa but found they work best when I want to visit a region or country that has one of two issues.
Complicated
Firstly, I worry the language, culture, currency, and logistics of getting around there will be complex, challenging, or stressful to deal with doing it any other way.
For me that was Vietnam and Cambodia. Both of which fascinated me, but looked daunting to travel through. However, taking a river cruise made it easy and simple as the line handled it all with my CroisiEurope ship as my moving hotel, meaning I lost no time commuting from place to place as that became scenic cruising.
I don't find travelling around Western Europe daunting, as I know it well and so found my river cruises here okay but not amazing, but speaking to others on board many were coming to Europe for the first time and they said touring Europe looked horribly complex to them due to the different languages, culture, currency, and moving by train or planes between the countries and so it worked for them well.
A river cruise drifting through multiple countries, for example on a classic Danube cruise meant they saw a slice of Germany, Austria, Slovakia, and Hungary in less stressful way.
That's why when I wanted to tour Eastern Europe, I went on an Emerald Waterways "Enchantment of Eastern Europe" cruise between Bucharest to Budapest that took me to Romania, Bulgaria, Serbia, Croatia, and Hungary in just 8 nights.
Safety
The second time river cruising has worked well for me is when I've been nervous about visiting a region or country due to safety and health concerns. So, for example, I'd always wanted to see the pyramids and ancient sites in Egypt. But I was put off by security, safety fears and health concerns, being harassed and reports of easily falling foul of the authorities by doing something as simple as taking photographs of the wrong things.
And, as the things I wanted to see were very spread out as the pyramids are in Cairo, but the ancient Egyptian sites are in Luxor and Aswan, the logistics and complexity looked challenging doing it independently. A Nile River cruise solved all of that.
I also learnt through this that even if those two factors are not an issue, for any traveller that doesn't want, or like, getting into the nitty gritty planning of the details and logistics of a vacation, like how to get around, where to stay, where to eat, what the must-see places are and the best excursions to see them are, then then a river cruise is brilliant as they handle all of that.
Getting An Overview
I found another time river cruising works is when my vacation time is limited I still can in a week get an intense overview of must-see sites or cities in a region.
That's because river cruises, unlike ocean cruises, cover relatively short distances and focus on a exploring a relatively small section of a river, often calling into two places a day.
For example, my last classic European Danube cruise on Viking covered just 330 miles in a week, around 47 miles a day.
Getting A Taste
However, on that cruise I got a taste of Germany, Austria, Slovakia, and Hungary and visited three capital cities: Vienna, Bratislava, and Budapest. In fact, the distances were so close the tour busses followed the trip and were the same each day.
As did the busses on my Nile trip, where I got to see all the major sites in a week including Valley of the Kings, Valley of the Queens, Abu Simbel, Temple of Horus in Edfu, Karnak Temple in Luxor, Philae Temple in Aswan and more.
When I was on the Mekong as well as cruising through remarkable rural sites, I got to tick off the major cities of Ho Chi Minh and Hanoi in Vietnam, Phnom Penh in Cambodia, and the famous Angkor Wat temple.
However, this is also though where for me it has several downsides.
Managed Explorations
First, these are very controlled and carefully managed explorations, with a tightly scheduled program and limited downtime.
People I meet on river cruises used to ocean cruising often find this a challenge. While ocean is all about choice with a range of suggested things to do at any one time, a daily program on river is much more directive and limited.
It is, in my view, like going on an organised escorted tour with a more shared experience that everyone follows. The progam is tight, often with early starts, and has a packed itinerary of time allocated for meals, excursions, talks and daily briefings and requires much more compliance and attention as every day is different with varied sailing times each day.
And unlike ocean cruising where usually cruise ships are in port for the entire day and sailing at night, this is less likely when river cruising. The sailing schedule is more varied. So, there may be a stop in one place in the morning, then sailing to another to explore in the afternoon. But the next day totally different.
There is often little time to self-explore in the program, to try local restaurants or bars by yourself, or meet and interact freely with locals.
People often criticise me for saying there is little chance to self-explore on river cruises. Of course, it is possible but only by missing the daily included excursions which are bundled in the fare, and so it comes as a cost to you.
If I skip them, I do not get refunded. So, I would effectively be paying a premium to self-explore.
Overnight Stays
On the plus side though, I find there are often overnight stays on river cruises. For example, on my Danube and Rhine European cruises we often moored for all or some evenings and nights, so I could pop out after dinner or eat in the town.
On my Mekong cruise in Phnom Penh, I was able to go out and stroll into a night market close by. On my Nile cruise we were docked 6 of 7 nights for some or all of them.
While some European river cruises have some choice within included excursions, on my Mekong and Nile ones there was only one excursion in each stop. So, it is important that looking at what those are as many joke on my European river cruises that by the end they are tired of seeing cathedrals.
I do find river cruising overall a restrictive way to travel as I do like to have more flexibility, and so again something to consider.
Way Too Busy
By the way, while the brochures and promotional videos show a solitary river cruise ship cruising the river, in my experience that is not the case. I find most rivers are very busy, especially in Europe and on the Nile, with many ships. And this has big implications.
All ships are calling on the same key places and with limited spots to dock, I have found multiple ships in most locations. The most extreme I found on my Nile cruise with up to 50 ships crammed in and docked in one place at one time.
While not as packed in Europe, I usually find several in each stop. This not only means the sights and places are busy with tour groups off each of the ships, but the ships dock in rows side by side.
This means having I'm having to walk through, or over, multiple ships to get to the dock side. It also means that even if I splash out on a cabin with a nice, beautiful floor-to-ceiling window, I often have another ship docked, right slap bank up against that, literally a few feet away, making it dark and I'm staring into another cabin.
It also means venues, like lounge and dining room, can be a little bit dark and that's quite shock for many travellers.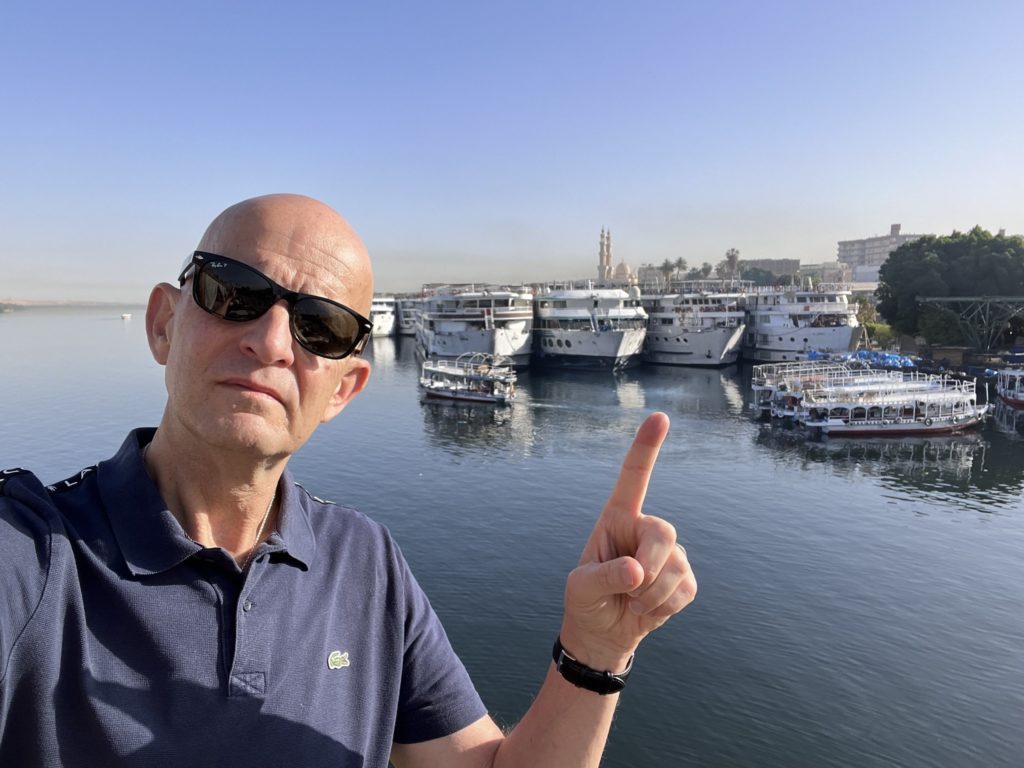 Heavy On The Wallet
Another big plus is river cruising is generally all-inclusive, and so I know before I go what my trip will cost, and I usually have a tiny bill at the end. However, my watch out is that the definition of all-inclusive varies by line.
Most include accommodation, food, excursions and entry fees, transfers, Wi-Fi, and some drinks, with some only at lunch and dinner and others all the time. The main added cost is usually gratuities.
River cruise ships are small and must be to fit under bridges or through locks, which makes them more costly to run. In Europe I find ships tend to be between about 100 to 150 passengers, on the Nile around 70 and on the Mekong my ship only carried 60.
This makes them a rather costly trip, especially compared to ocean cruising. It is not a cheap vacation option.
Cost Examples
Here is an indication of cruise only costs, looking at a week-long cruise of the Danube in June next year. Even a value line like CroisiEurope starts from $290 / £227 per person per night, a mid-range like Avalon Waterways from $440/ £350 per person per night and a luxury line like Uniworld from $720/ £565 per person per night.
I could get a Mediterranean Ocean cruise out of Barcelona at the same time from $100 / £78 per person on Carnival Legend or $170 / £137 on MSC Seaview per person per night.
Surprised About The Choices
The small size of ship has two big implications that I have seen come as a shock to some travellers, especially those used to ocean cruising.
First, the small number of passengers means you cannot be anonymous. Soon everyone knows who you are and probably knows your name. So, if you are a social person, you will love it. If you prefer to lay low and just hide away in your own little corner, that is going to be much more challenging.
I am not a highly social person and find river cruising more wearing as it is way more social, as dining too is always at shared tables.
The other implication of size is choice on river ships is limited. For example, most ships have at mostly two types of cabin, those largely below the water level with a window you cannot open about three quarters up, and those on higher levels with floor-to-ceiling windows or Juliet or small balcony. A few do have bigger suites these days too.
In terms of facilities, most ships I've been just have one dining room usually with buffet breakfast and lunch and served dinner, only a few like AmaWaterways will have a second dining venue; a lounge/ bar for briefings and any entertainment; a sun deck where some have a plunge pool, and some have small fitness centre and massage room. They do not have things like a medical centre or casino.
Entertainment is limited with usually a pianist and some local entertainers brought on a few nights.
Best And Worst For
Despite what lines say in my experience, I also learnt that river cruising is still mostly set up for and catering to an older travellers or those who prefer a more curated and organised way to travel as I have explained.
Some lines are trying to shift a little bit more to attract families with more interconnecting cabins and family activities in the school holidays. But I am not yet convinced it's a family vacation.
It can be difficult for solo travellers too, which I have done most of mine as. There are few solo cabins, few solo deals, no solo programs and on most trips, I find couples or groups of friends so breaking into these can be difficult and I often found I feel I am trying to edge my way onto a table with others for the evening meal as a spare wheel.
I also feel it is not ideal for travellers with mobility issues. Not all ships have elevators to all levels, excursions are mostly walking or bike tours, often mean walking over or through ships to get to land, and dock in places that have challenges. In Europe that's steep ramps to get to land and cobbled streets. In Egypt it's dusty paths, steps, and uneven surfaces and in Mekong the same and often getting in and out of small boats.
If river cruising does sound ideal for you, watch this video where I talk about the six best river cruises in the world starting with my favourite of all time.
SUPPORT TIPS FOR TRAVELLERS
FOLLOW ME ON SOCIAL MEDIA
——————————————-