I Cruise On A Ship After It's Been Split in Half & Stretched – Star Pride Ship Tour

I Cruise On A Ship After It's Been Split in Half & Stretched  – Windstar Star Pride Ship Tour
The last time I was on this ship, the cabin is stayed in and a whole section of the ship didn't exist. It wasn't even here. On its 30th birthday, this ship was cut in half, wrenched apart, and an 85-foot section was put in the middle of the ship with cabins and bunch of other facilities.
I want to tell you what it's like to be back on a ship that has gone through such major surgery. The quirky bits, what bits you can tell are different, and what it's like being on Windstar Star Pride now that it's been stretched-  Let's go.
Originally Seabourn Ships
This ship, along with its sisters, Star Breeze, and Star Legend, were originally Seabourn ships. They were bought by Windstar and entered the fleet some years ago. Then they have all gone through this massive transformation where they've increased the number of passengers from 212 to 312, and it has around 200 crew, so it's still a small ship.
I think it has improved the look of the ship. The ship looks sleek, it looks kind of jaguar-like, very athletic-like. I think it looks fantastic and still very stylish. You can't really tell where the joints are.
There is only one area where you can tell this ship was extended. If you didn't know it was extended, you wouldn't have spotted it at all. Let me talk about the things that have changed. Let's start with dining.
Star Pride Dining
In the change, they've increased the number of dining venues by adding two important dining venues.
One of the important things to note when it comes to dining is Windstar is the official cruise line of the James Beard Foundation. What does that mean? Well, James Beard was a very well-known celebrity and expert chef and wrote lots of books.
When he passed away, the James Beard Foundation was formed. They effectively give the Oscars of cooking in North America, it seems mostly. They have a partnership with James Beard Foundation and, as you'll see, there's some partnerships in some of the restaurants, but all the menus have different chefs from the James Beard Awards sprinkled through the menu. That's important to understand.
There are six different places that you can get food onboard the Star Pride.
What Are The Options?
The main one is Amphora. This is the main dining room. It's open-seated dining. It's open only in the evenings for dinner, and it's a very stylish venue and place to eat. One key change that I have found is when I was on the ship before it was extended, there was plenty of room for everybody in the dining room in one go, which there still is. However, there was more chance to have tables for two. What I've noticed in the change is there are much more bigger tables, and it's a little bit harder to get tables for two or individual tables if you're travelling solo. There's much more encouragement to dine with others.
La Veranda…
The second key venue is La Veranda, and this is one where you do see the impact of the ship having been cut and stretched in because of the layout. La Veranda is for breakfast and for lunch. The buffet restaurant. There is a small menu where you can order items. For breakfast, things like eggs Benedict, pancakes. At lunchtime, things like hot dogs or hamburgers.
…Becomes Candles
In the evenings, it becomes Candles, which is the steak and seafood restaurant. This is a long-established brand or restaurant on Windstar. It has pretty good steaks, pretty good seafood, pretty much as you'd expect with your sides of fries and onion rings, that kind of stuff.
Now, the layout of La Veranda is interesting. You have the outside area, which is great. People like it particularly in warm climates. You then have the buffet area. However, that used to be the main part. Now there's two passageways down the side where there's extra tables, which were part of the extension. Also then, because the whole first part of the buffet can't hold all the items, there's a second area. Breakfast, for example, you might have the fruit and stuff in that area, and then hot stuff in the front. It's a little bit of a strange layout because it's quite a big distance to walk between those.
Added In The Stretch
Two venues were added in the stretch. The first of those is a big favourite of mine and it is called Cuadro 44. It's a restaurant that's created with Anthony Sasson, who's a Michelin star chef, best known apparently for a restaurant called Casa Mono. This is a Spanish restaurant, so you have tapas, typical Spanish dishes, and one of my big favourites, it has churros with an amazing chili chocolate sauce at the end.
The other venue that was added which is very popular, is an informal dining restaurant called the Star Grill. The Star Grill again has a partnership with a chef called Steven Raichlen, who is billed as a global grilling authority, whatever that means. This is open mostly for lunches. You can get your burgers, your informal dining here. In warmer climates, it's also open for dinner, although on my sailing it wasn't open at all.
This means that the only informal dining option in the evenings is room service. It's a very small room service menu, although you can order from Amphora restaurant in the evenings. There is one other place that you can get food from during the day as informal food like light breakfast and little snacks, which is the Yacht Club.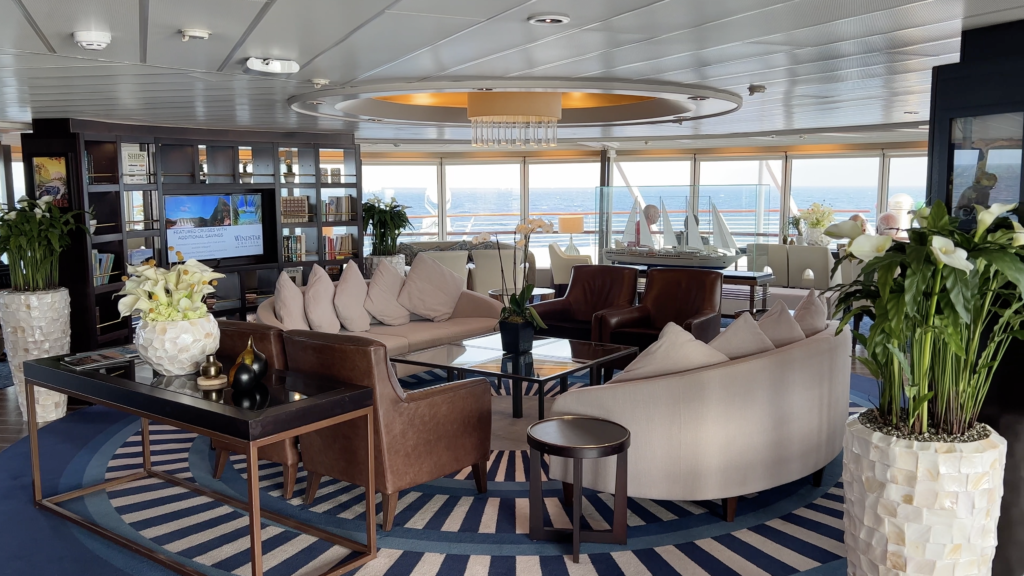 Star Pride Lounges and Bars
The Yacht Club brings me into the second thing I want to talk about which is lounges and bars. Now, there is relatively limited venues and bars and lounges and places to hang out onboard, even with the stretching of the ship. In fact, there is no increase in those.
The main lounge is called Compass Rose, which is interesting because that's the name of the restaurant, the main dining room on Regent Seven Seas. Anyway, Compass Rose is a much bigger venue than it used to be in. They've made it bigger by getting rid, unfortunately, of the casino, which I really did miss on this sailing.
Compass Rose is where they'll do the evening entertainment, so you'll have live music in here and some of the parties will be in here.
My Favourite
However, the Yacht Club, which I mentioned earlier, is my favourite venue on board. This is a lounge that overlooks the bow of the ships. You have incredible views on three sides, and you have that coffee bar, which is open till about six o'clock in the evenings. It's a fantastic venue. Now, this is where you do see an element of this being an old Seabourn ship because it does have a real feel of the Seabourn Square, those of you who've been on Seabourn. But it's an absolute great venue.
The other key venue, of course, is the lounge, which is where they have the various talks. They'll have the talks. They'll do things like the crew show, for example, in here. In fact, when you're checking in, it's also used and doubled up as the check-in point when you embark the ship. This is a slightly tiered seating area. This has not increased in size in the update of the ship.
The place that you really hang out and have a drink is the grill bar, which I've already mentioned as part of that restaurant. That is open a little bit later into the evening, particularly on warmer climates.
Star Pride Pool Decks
Now, in terms of pool decks, this is one of the biggest and best changes that's happened. In the stretching, that has basically all become pool decks. That now has a more swimmable pool. It's still tiny. It's almost like an infinity pool and hot tub. It used to be a tiny little pool before. The pool's very nice. It's not very big.
Also, but you have so much more space and it's particularly fantastic when you're doing, we did scenic cruising through Geiranger Fjord and stuff like that because you now have loads of deck space that you can hang out and look at the beautiful scenery.
There is also a hidden venue which many people miss, which is on deck five right in the front in the bow of the ship where there's a hot tub and a very nice deck. This is fantastic doing scenic sailing or when you're setting out a port and stuff because it's fantastic to be there. When we started off at Edinburgh, for example, I was able to watch the tugs pull us out.
A couple of other interesting venues that they have is just near the main lounge as they have what's called the viewing room. They do have a couple of comfy seats in here where they run movies, although that you can watch them on the television anyway in your room. This is where they'll have un-hosted bridge, or on my sailing, they had some Mahjong classes which were hosted.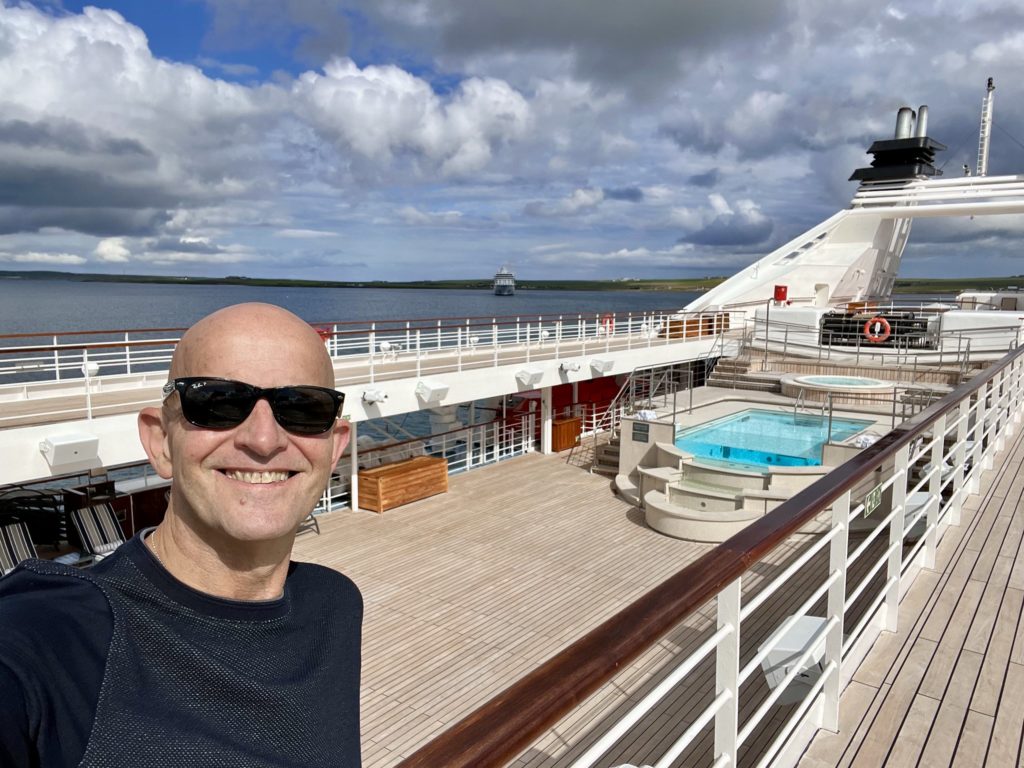 Unusual Things
In terms of other recreation, of course there's a fitness centre and spa. Now the fitness centre is significantly bigger than when I was on here before.
There are two slightly unusual things about the spa and the fitness centre. First, the fitness centre has no bicycles. It only has running machines and cross trainers. I thought it was strange not having bicycles, particularly if you think about the profile of people.
Secondly, across the ship, the ceilings are low. You might have noticed that when I did this intro. Where the cardio machines are, they've built a little indent into the ceiling so tall people like me don't bash our heads on the ceiling.
The spa, of course, has all the usual treatment rooms. It has quite a big hairdressing now salon barbers.
The Open Bridge!
One of the other big features onboard which is unusual and great is an open bridge.
The bridge is open. It's only closed really when you're going in and out of port, but you can go in there pretty much any time and chat to the crew on the bridge, the captain, the staff captain, whoever's on there. That hasn't changed, and it's a real big plus about this ship.
Of course, you're going to have your guest services, your destination services, and your future sales. They're all in this atrium area. Now, those of you who've been on Seabourn will recognise this as almost again, another Seabourn icon because it has that circular staircase which they've maintained. Every time I come in; I do feel like I'm on a Seabourn ship.
I would say though that with the stretch of the ship and the updating of the decor, this feels much less like a Seabourn ship than when I was on the first time.
Another key facility, of course, is the shop. The shop was created in the stretch because this was where actually some of the lifeboats used to go, apparently. Now you have a shop, which is again, a slightly strange layout. It sells all the usual stuff, your jewellery, and branded items, that kind of stuff. In fact, on the other side is where you've got the Cuadro 44 restaurant, which also used to be where there were lifeboats.
Star Pride Cabins
Now let's talk about cabins. I mentioned this is a brand-new cabin that's on board. Let's talk about this. This is what's called a Star Balcony Suite. As you'll notice, quite interesting because you've got the seating area by the door and the bed by the very small balcony.
When you see the ship, the balconies are really, tiny. I haven't decided whether I like the bed being by the window or not, so be interested to know what you think.
Now, in some of the older cabins, it's the other way around.
You do have everything on the ship from porthole cabins right down low, which have very small portholes do more traditional ocean views. Then you have these cabins, which are the bulk, which have either four windows or these little mini balconies.
No Interconnecting!
One of the things that I do absolutely love about the cabins is they don't have interconnecting cabins. What they have is a door, and then you have a V-shape with the doors to each cabin in. Even if you want to share with people, you don't have a cabin door right between you there with noise seeping in. It's fantastic. I'm obsessed with interconnecting doors into other cabins, but this is a great solution. It probably does take a little bit of space in the cabin, but it really does make a massive, big difference.
I really like that on the ship, a big plus. They didn't change that in the stretch with the new cabins.
Although this ship is 30 years old, in terms of the updates they've done, which included things like new engines, new generators, new bathrooms in all the cabins is ship doesn't feel old at all. It feels very fresh. There are a few little design things around that probably are a little bit dated. Overall, I think the change has been a good one. One of the fun things to do is to spot where the cuts were. It's difficult, but I did find them!
SUPPORT TIPS FOR TRAVELLERS
FOLLOW ME ON SOCIAL MEDIA
——————————————-