The Highs And Lows Of Cruising French Polynesia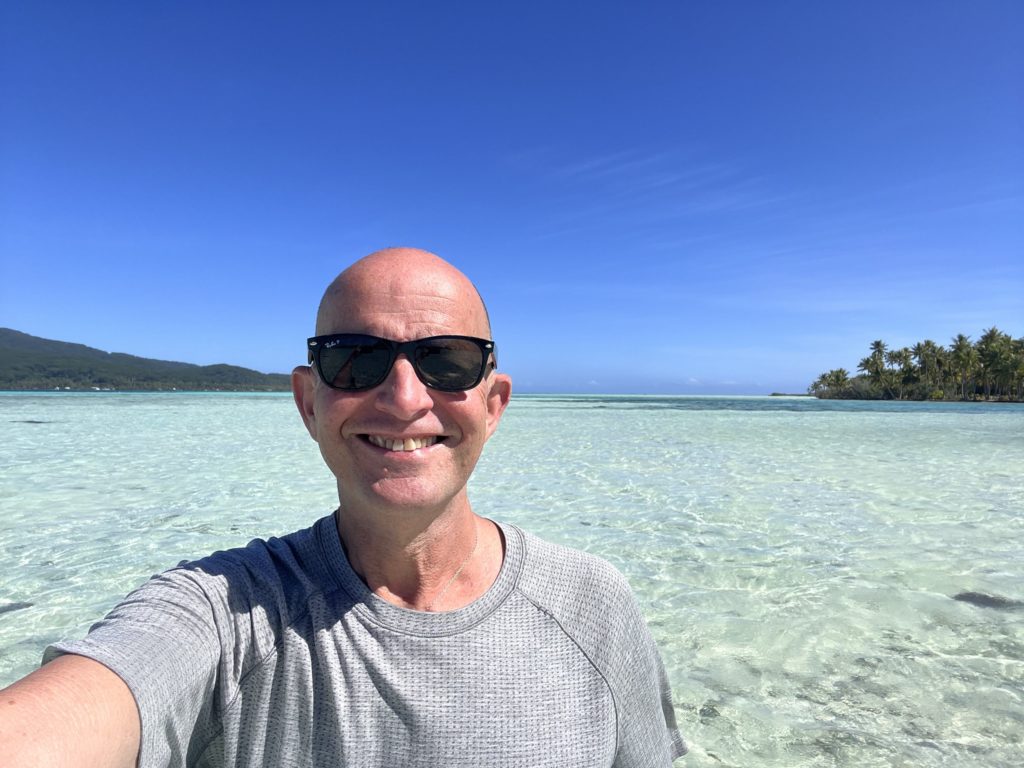 The Highs And Lows Of Cruising French Polynesia
It took me 26 hours, three flights, and a time change of 12 hours to get to my cruise. It was brutal! But how did it go once I got there? And do I recommend putting yourself though all that?
Let's start with the best bits of cruising French Polynesia.
In case you don't know, it took so long to get there because French Polynesia is in the Pacific. Located roughly halfway between South America and Australia. In all there are 118 islands, stretching over a staggering 1,200 miles (2,000km).
Cruising French Polynesia Best #1: Islands & Scenery
Without a shadow of a doubt, one enormous highlight of the cruise was the phenomenal and unique scenery across these islands. I was absolutely blown away by what I saw. Volcanic, soaring mountains, lushly covered with vegetation, beautiful coral reefs surrounding most of the islands, powder soft beaches, teeming sea life, and an ocean the colour of which is mind blowing.
On my Paul Gauguin Society Islands cruise out of Tahiti, I saw Huahine, Taha'a, Bora Bora and Moorea. And one lasting memory is how undeveloped and pristine they were, a stark contrast to the Caribbean islands I have visited on numerous cruises.
Clean, No Big Resorts And No Docks!
All had low population, even the famous Bora Bora has only 10,000 residents. There were no big resorts crammed along the beaches. Quaint over-water bungalow resorts are more common here.
There aren't even cruise docks on the islands, other than at the embarkation port of Papeete on Tahiti. So, we tendered to and from the ship at every island surrounded by the incredible scenery.
But what also struck me was how clean it was. There wasn't plastic and rubbish strewn all about. It is spotless.
And they were not packed and busy with mass tourism and busy cruise ship calls, more on that later as to why.
Another plus of exploring the Society Islands is how close they are to each other, with surprisingly little sailing. For example, from Taha'a to Bora Bora was only about three hours. And about one and a half hours to sail from Moorea to Papeete. So there were some overnights which allowed exploring and appreciating some islands more in-depth. This included Bora Bora, Moorea, and Papeete.
There is though some downsides about all this to come, but let's keep going on the highs.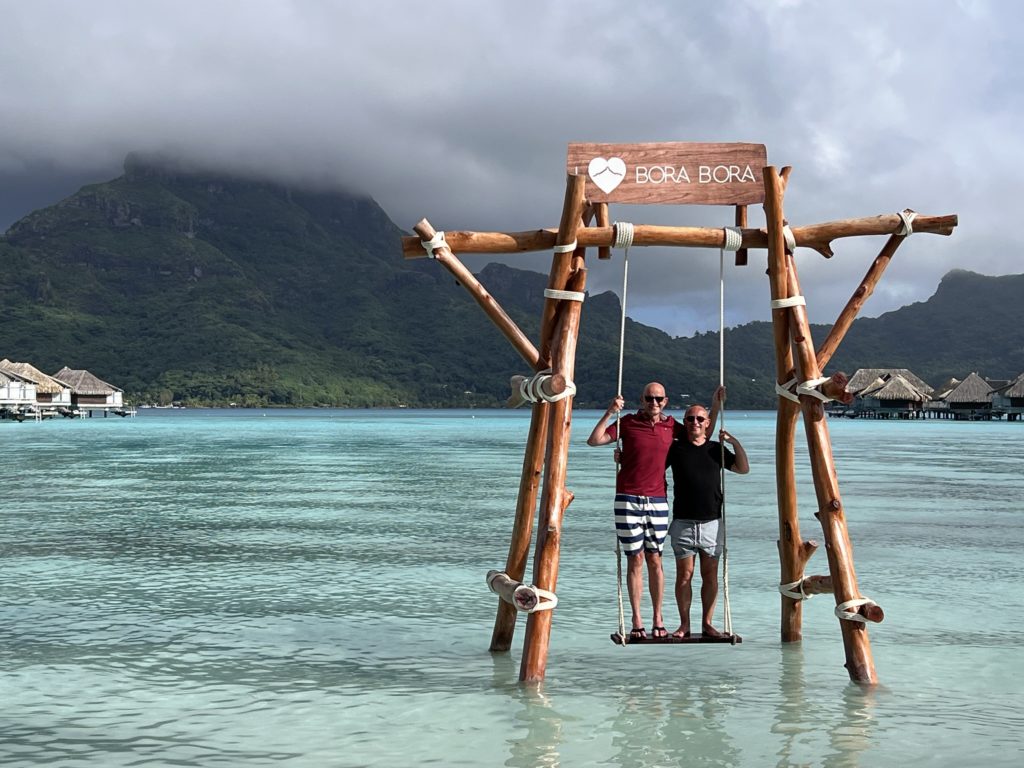 Cruising French Polynesia Best #2: Activities on the islands
The second big plus for me was that the best things to do on the islands were active. And those overnights meant being able to do multiple activities.
Of course, many were water based with excursions including snorkelling, scuba diving, catamaran rides, and Flowriders. One big highlight was in Bora Bora where I snorkelled with sharks and rays, obviously not dangerous sharks, and through an incredible coral garden packed with fish.
On land, I went on several eBikes tours. Riding through pineapple fields and to the Belvedere lookout high up the mountain on Moorea, I cycled 27km right round one of the islands in Huahine and about 32km all the way around Bora Bora.
There were also great hikes to do. For example, I hiked up Magic Mountain in Moorea, which is about the equivalent of going about 55 stories up high, for stunning views.
Even just going to the beach meant snorkelling opportunities as there were reefs, rays, and fish everywhere.
Plan Ahead
One downside was that unlike other cruising regions I've been to, I quickly discovered if I wanted to self-explore, I needed to plan ahead. I found there were no or limited taxis, places to spontaneously hire a car or bike, or tour operators waiting to sell tours and trips.
Myself and others instead found it was best to pre-book something online a day or two before a port to make sure the taxi, bike, hire car, or local tour guide was waiting.
I did notice there seemed to be relatively few health and safety rules here when on tours. So, unlike other regions where I cruise, I wasn't asked to sign waivers before snorkelling or e-biking. Nor given and required to wear a life vest when snorkelling and so on.
One thing I liked about the islands is at all the tender boat drop off spots there was a local market. And, unlike most cruise regions like the Caribbean and Alaska, it was all handmade, handcrafted items. Although they were incredibly costly, a topic I will return to later.
Cruising French Polynesia Best #3: Exclusive Places
The third real high for me were Paul Gauguin's private island and beach as they were special, secluded, and stunning places.
In Taha'a we spent a day on Paul Gauguin's private island called Motu Mahana. This is a beautiful little island. We had magnificent barbecue lunch there, and could go kayaking, snorkelling, swimming, or just laze about.
The onboard entertainers called Les Gauguines played Polynesian music, showed how all the coconut tree is used, ran dancing classes and even how to make a head garland. The specialness of the day was added to as one of the guests chose to propose to their girlfriend here, which created lots of excitement.
There was also the Paul Gauguin private Bora Bora beach, which was stunning and a beautiful special experience. I will talk about the line's pros and cons in a bit but before that there is a more general point.
Cruising French Polynesia Best #4: Small Ship
One massive highlight and a must is choosing to cruise there on a small ship like I did. And on one that specialises in the area.
The three main lines with ships based for some or all the year within French Polynesia are Paul Gauguin with 330 passengers; Windstar with Wind Spirit with 148 and Star Breeze with 312; and Aranui. The latter being part cruise ship part freighter, carrying 230 guests.
Going on a small ship was best for two key reasons.
First, since shutdown French Polynesia have outlawed mega ships coming through the region at all. Also, they have severely limited the islands that larger ships of up to 2,500 can call on and if you are coming to the region, you should visit the most iconic of all, Bora Bora. That can only be done on a small ship as they now allow a maximum of 1,200 passengers per day.
Then of course the other benefit of being on a small ship beside easy embarkation, never any lines, always getting a table, no crowds waiting to go off on excursions, crew getting to know your name and likes, was the islands did not get swamped and as all islands are tender ports there was no waiting around and it was easy to head to and from the ship on a whim.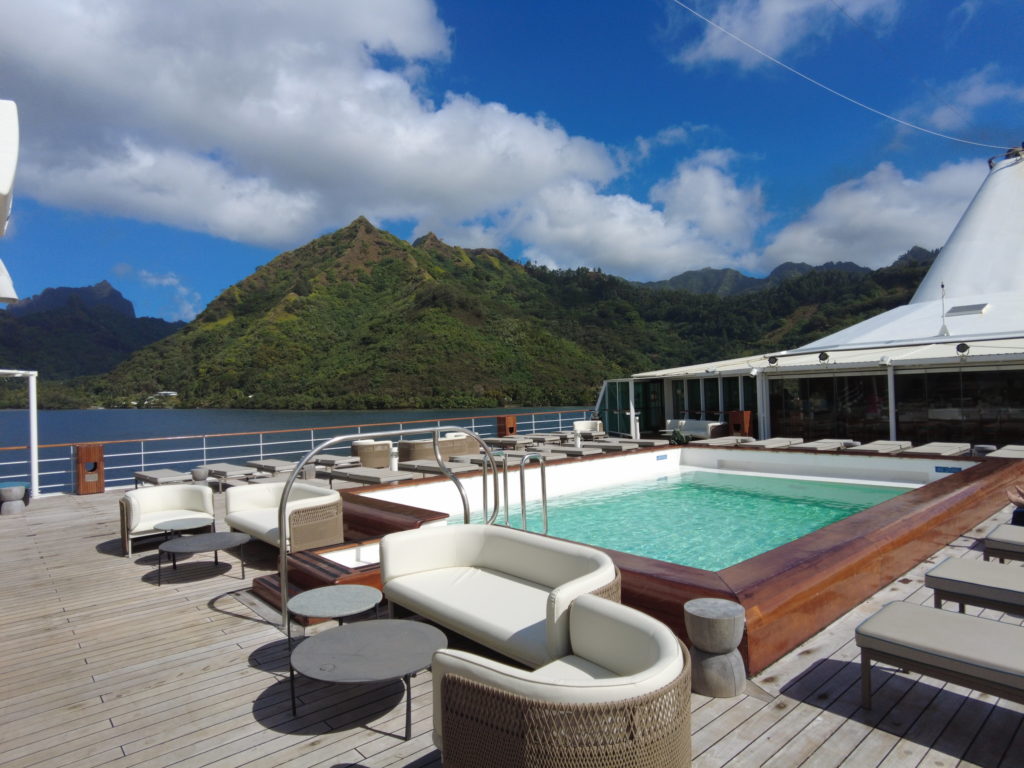 Cruising French Polynesia Best #5: Paul Gauguin
I chose Paul Gauguin as they are so intertwined with the region and have been based and sailing here all year round for 25 plus years. Since 2019 they have been part of the French cruise line Ponant.
A highlight was that much of their crew was French Polynesian and instead of an entertainment team they had that local troupe called Les Gauguines. They ran daily immersion into the culture, with Polynesian language, dance, and crafts events, met and greeted us on the islands when getting off the tenders and put on some local dance shows in the Grand Salon lounge.
Though they did also run the daily bingo too! They probably weren't the slickest entertainment group on cruise lines, but it felt authentic, genuine and was local.
I also liked that Paul Gauguin brought local Polynesian performers on several nights and had a Polynesian themed gala night.
Another reason I chose Paul Gauguin is their only ship was also designed for the region with a very shallow draught. Meaning it can maneoevre into islands with the reef around it.
That does have a downside, as when sailing there was quite a lot of movement. Much more than most passengers expected, even when swells were small.
There were 4 other highlights and best things about Paul Gauguin for me:
First, it was rather luxurious and pampering, important as this trip was to celebrate being with my partner for 20 years. Although the ship is old, built in 1997, it has been beautifully updated by Ponant.
Second, the cabin we booked, a Verandah Suite, was a great size for a small ship and very comfy with a decent sized bathroom. Though the regular verandah cabins are a bit tight, especially as some told me if they had a child or teen sharing with them.
Third, we had amazing food, and many inclusions like drinks, Wi-Fi, and gratuities.
Onboard Dining
In terms of dining, we had La Veranda or La Grill for buffet breakfast and lunch, with lunches themed each day by a different part of the world, of course including Polynesian.
For dinner, we had L'Etoile, the main dining room with open seated dining. Or we could book La Veranda, which became a chicer a la carte restaurant, or La Grill some evenings for a more steak and fish menu. All restaurants had a wide vegetarian section on the menus.
The fourth thing that I liked about Paul Gauguin is the passengers, and the diversity.
I knew it would a vibrant, adventurous, and active crowd of people. The average the age was probably 50s, but it was a wide range of ages from kids through to 70+. There were several multi-generational families, groups of friends and even a cycling tour group on board. The nationality mix was diverse too, with Americans, Canadians, French, Italians, Brazilians, Australians, and Brits all well represented.
There were few solos, though they do offer low or no solo supplements on some sailings.
So, while these highs made the long trip and jet lag seem fine, there are some lows I had to also consider before making a final call.
Become A Patron
Before I do that, I wanted to mention that, as I do on all my trips now, I posted four video updates during this trip showing what was happening and answering questions posted by my Patreon Patrons. To find out more on getting those exclusive Patron video updates while I am on upcoming trips go to patreon.com/tipsfortravellers.
Cruising French Polynesia Worst #1: Long Way Away
Of course, one key downside is the one I've touched on. With the time it takes to get there and the time difference, the struggle to make sure jet lag does not negatively affect the experience is a big one. A key consideration when most French Polynesian cruises are 7-nights long.
While it's 26 hours travelling and 12-hour time difference from Europe, it's still at least 15 hours from East Coast USA with 7-hour difference and 8- to 9-hour flight from West Coast and 3-hour time difference.
So, a downside I found  is that I really needed to build in time before and afterwards to make sure that I was in the zone. So I could appreciate it, see as much as possible and be ready for the busy schedule once on the cruise. Key as this really is likely to be a once-in-a-lifetime trip.
I'm glad that I'd built in pre-stays in Papeete and a post-cruise stay in Bora Bora. One alternative I wish I had considered was instead of doing the classic 7-night Society Islands cruise was doing one of the 10- to 14-night cruises. These go further afield to the Tuamotus and the Marquesas Islands.
Cruising French Polynesia Worst #2: Bank Balance
Maybe this next downside should have been the first as it is huge. The cost.
First, it is expensive to get there with limited flight options, so probably it's got to be Air Tahiti Nui or Air France from Paris via Los Angeles (or also via Seattle for Air Tahiti Nui). United flies there from San Francisco. But airline choices are limited.
And I found it is costly. For example, June next year an economy flight costs from $2,600 (£2,000) from Europe, and $6,000 (£4,700) in business. From the West Coast, it's from $1,600 return in economy up to $3,600 business.
The cruises are also crazy expensive, even considering the inclusions. For example, repeating my 7-night Paul Gauguin Cruise in June next year in the cheapest option, a porthole-only cabin, will cost $9,000 for a couple for seven nights (a staggering $640/ £500 per person per night). For comparison, Windstar in their porthole cabin with similar all-inclusive rate would be around $7,000 for a week for a couple ($500/ £400 per person per day).
The excursions are extra and pricey. The snorkel tour I mentioned earlier in Bora Bora was $145 per person. And out and about, things are expensive. I paid $6 just for a can of Coke. In the craft market, prices were hefty with even some simple handcraft wooden boxes going for $200.
Cruising French Polynesia Worst #3: Weather
Bearing in mind both downsides, I was very aware that weather could ruin it all as having cloudy, wet, and windy days would not be great, as that could mean activities were cancelled – or be less enjoyable.
French Polynesia is in the Tropics so rain and wind are common. That's why although I could go anytime of the year, I went in June, as June to September is considered the best time to visit, as it's driest and the temperatures aren't too warm, but by their definition not too warm is 25C to 28C degrees (77F to 82F).
The rainy season is from November to April, and I didn't want to spend all that money to go in the rainy season. We had one day wiped out by massive rainstorms in Bora Bora, and if we did not have that post-stay to enjoy it, I would have felt more aggrieved.
Although usually it doesn't rain for long periods of time, but if like me you want to get the most of your money stick to what is that rather short 4-month prime season.
So, considering the best and worst sides of cruising French Polynesia did I regret it? If I could get the money together, I would go again actually. But as I said I would do it differently, like the longer cruises going beyond the Society Islands or cruise the Aranui half ship half freighter to see more remote islands.
However, if this as a bucket list cruise doesn't appeal to you, watch this video where I count down what I think are the 11 must do cruises and you'll find out where French Polynesia ranks in that too. See you over there.
SUPPORT TIPS FOR TRAVELLERS
FOLLOW ME ON SOCIAL MEDIA
——————————————-