11 Most Costly Cruise Mistakes… And How To Avoid Them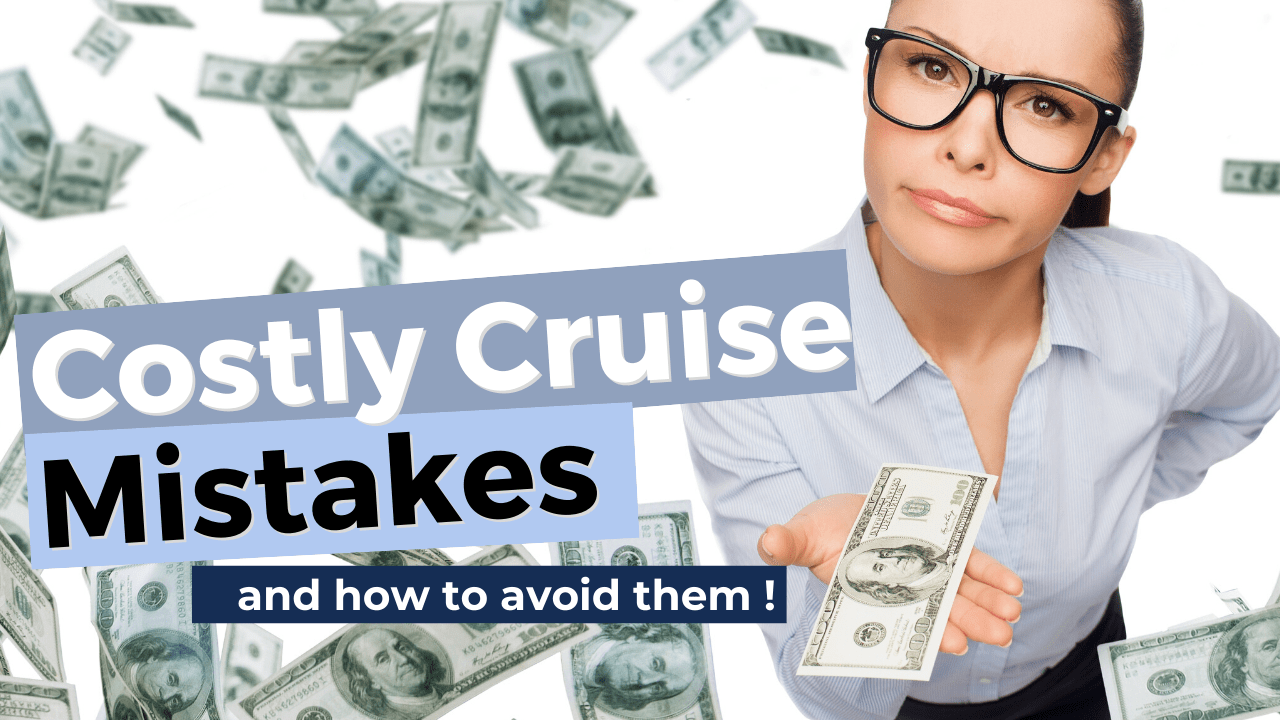 11 Most Costly Cruise Mistakes… And How To Avoid Them
Cruisers make a lot of costly cruise mistakes that end up costing them a large amount of money. I'll share what they are and more importantly, how you can avoid or mitigate against them.
Watch my Costly Cruise Mistakes video
Watch on YouTube: https://youtu.be/R5T9AxHK1mA
#1 Not having travel insurance
The first of these is not having travel insurance. A lot of people go on cruises and they don't see the need for travel insurance. However, if something goes wrong, it could cost you an enormous amount of money, many thousands of dollars of costs.
It's worth taking out a travel insurance policy, and it's not going to cost that much in the scheme of things. But if you fall ill on the ship, and they force you to disembark, all the costs are yours for the hotels, hospitals and getting back home. None of us plan to fall ill or have something happen to us when we're on vacation, however, if it does the costliest mistake you could ever make is not having travel insurance.
#2 Not looking at alternatives to excursions
One of the biggest costs on a cruising vacation is excursions. You could be spending a hundred to two hundred dollars per person per day on excursions, so one of the costliest things you could do is not look at the alternatives even if you end up going with the cruise line.
One of the things that I love to do is hop-on-hop-off buses, for a few reasons. They're inexpensive, they'll often come to the cruise port, they give you commentary and take you around the key sights, and then normally bring you back to the cruise port.
Secondly, there are independent providers that will provide similar excursions to the cruise lines normally for much less money and with smaller groups.
A lot of those will also offer guarantees that if they don't get you back to the ship in time, they will cover the cost of you catching up with the ship, which is good news.
The other thing to keep in mind is most cruise lines will have port talks, port guides and tourist information desks at the port.
So, another costly cruise mistake you can make is not look at alternatives to cruise line vacations. It could save you a lot of money and you could do some amazing and different things.
#3 Not switching off roaming on your mobile phone
Another costly cruise mistake that you could make is not switching the roaming off on your mobile phone.
If your phone connects to a foreign country network where you don't have a deal with your provider or it connects to the ship maritime system, you could find you're spending $6 per megabyte and 75 cents to $1 per call!
Therefore, not switching off roaming on your phone could cost you an enormous amount of money, particularly if you've got Apps running in the background. So, really important when you're on a cruise, switch off roaming and rely on Wi-Fi.
Having said that, also be extremely cautious about being connected on a cruise as most
cruise lines charge for Wi-Fi and it can cost anything from 40 cents up to 75 cents or more per minute. If you want to get around that, you can of course buy WIFI packages however you could easily be spending $200 for one device across a week-long trip.
If you don't want to spend that kind of money, a couple of things you can do is when sailing at night disconnect your phone, and when you get to port you can either use the port Wi-Fi or a coffee shops Wi-Fi.
Alternatively, what you could choose a cruise line which includes Wi-Fi. Saga Cruises include Wi-Fi, the new Virgin Voyages includes Wi-Fi and many of the premium lines include Wi-Fi within the fare. So, I think we're going to see the price of Wi-Fi coming down.
#4 Buying a drinks package
Another costly mistake could be buying a drinks package.
I have a whole series of videos about drinks packages which go into this in more detail, however, drinks packages could cost you anything between $60 and $100 per day, meaning that you have to drink a huge amount to make them worthwhile!
I recommend avoiding the drinks packages and buy drinks ad-hoc. That way, you find you're probably going to drink less, spend less and you're ultimately going to save more money. Drinks packages could be very costly in my view, so avoid them.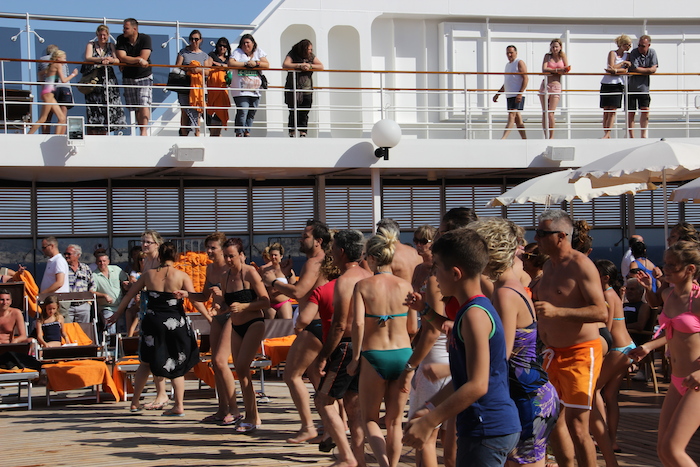 #5 Not paying attention to ship times
Another one of the costly mistakes that some cruisers have made is not paying attention to what is ship time and all-aboard time. Don't let your phone automatically find the time zone.
Manually set it to wherever you are because you could find that ship time and the local destination time are different times. They will leave without you if you're not onboard!
The only exception to that is if you are on one of their organised excursions. If you don't pay attention to the time, and you have not made sure that your mobile phone is on ship time and you miss it, you could end up being one of those people that appear in videos running down the quay side as the ship pulls away. You don't want to be one of those people!
Most importantly, make sure you're on ship time and you know what the all aboard time is to avoid the costly mistake of trying to get yourself to the ship at the next port.
#6 Not taking the daily program with you
You can also avoid a costly mistake on a cruise by taking the daily program with you. On the daily program it will have either the ship telephone number or the port agent.
Another thing you can do, and is what I do, is take a photograph every night when I get the daily program so have a picture on my phone of the port agent.
This is important because if you get lost, or something happens like you have an accident or miss the back time on an excursion and the guide or the bus leaves without you, you know who to contact.
You can also go to the exact right port you need to go back to and how to get there, and also to alert the ship that you have a problem. This means there is a small chance that if you let the ship know they will wait for you.
On the last cruise I was on, a couple got separated and lost from an excursion and didn't have the port details with them. They found a taxi and it cost hundreds of dollars but they went to the wrong port (as there was more than one port) and eventually they did manage to track down somebody who was able to contact the ship but it was a very convoluted and very expensive process.
They were many hundreds of dollars out of pocket, embarrassed and they just made it eventually to the ship on time.
So, always have the program with you and the photo of the port agent, as it's a great insurance policy if anything happens.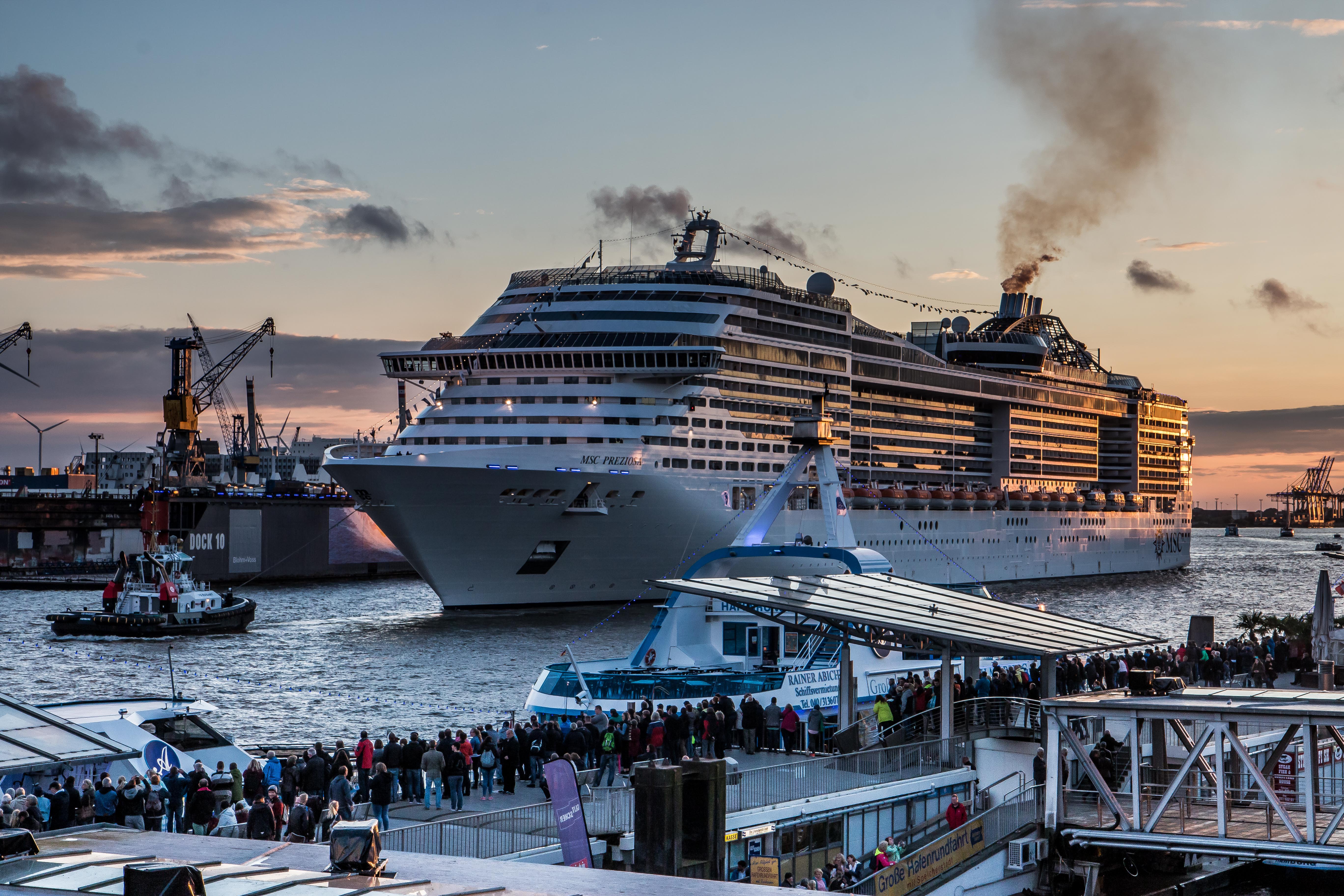 #7 Booking without a solo cabin
If you are a solo traveller and travel on trips by yourself, one of the costly mistakes you can make is to go on a ship that doesn't have solo cabins or a cruise line which isn't promoting and offering low supplements.
I often travel by myself on cruises and one of the things I do if I'm booking is I look for two things:
● I look for ships and itineraries that have solo cabins
● For all the cruise lines or routes that I want to go on, I keep an eye out and set up alerts and talk to the agents about alerting me when that Cruise Line is doing low or no single supplements.
You'll find many of the big cruise lines will offer that. On Saga Cruises, they have 109 solo cabins (I think something like 20% of the ship is solo cabins).
Many new ships when they come into service nowadays have solo cabins because it's a growing demographic. Some lines, like Seabourn don't have solo cabins, but throughout the year on different itineraries they slash the single supplement right down to either no or very low supplements.
So, one way of avoiding a big cost if you're a solo traveller is make sure that you travel either on ships with solo cabins, or you look for and talk to your agent about making sure you know when there are low single supplements.
#8 Not washing your hands
Sounds simple, but a really costly mistake you could make is by not washing your hands properly throughout your trip.
If norovirus breaks out on a ship and you get it, you will find that you are quarantined to your cabin until it passes, and it's a pretty miserable experience.
You spend all that money you've saved up to go on your vacation, and you could spend it feeling lousy and confined to your cabin!
The way you can stop norovirus is by washing your hands with soap and water, and additionally using hand gel. (A little tip that one of the captains once gave me, is as you wash your hands, sing to yourself happy birthday- that's long enough to do a good job!).
By not washing your hands properly, you could have a really miserable time and it could be very costly because you're basically throwing away all of your cruise money by being
quarantined.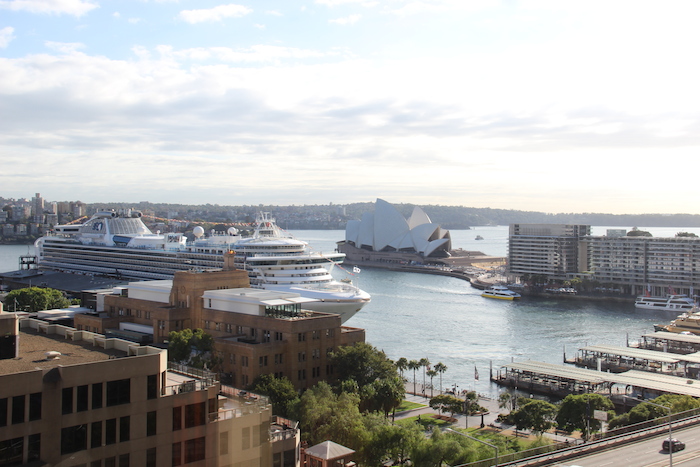 #9 Choosing the wrong cruise line
For me, one of the biggest mistakes that people make is choosing the wrong cruise line.
For example, I've been on a cruise with people who hated dressing up, but they were on a Cunard transatlantic cruise where there were many formal nights. And were expected to wear a suit & tie, tuxedo or beautiful gowns.
Those people on the cruise hated dressing up. So, ultimately, they were on a cruise for seven days doing the thing that they hated enormously, and wasted money in the process.
I've been on other cruises where people don't like lots of partying, and they've been on fun cruise lines with lots of parties, belly flop competitions and rowdy parties around the pool because it was a cheap cruise. They didn't enjoy it, obviously!
So, one of the costly mistakes you can make is to go on the wrong cruise line if it's not a cruise line that's perfect for your style of cruising. You're then wasting your money on a cruise. Avoid this by doing your research and work with an agent to help you make sure you get on the right Cruise Line.
#10 Not carefully selecting the right cabin
Following on from that, there's another really big mistake you can make and that's by not choosing the right cabin for you.
A lot of people like guaranteed cabins because you pay the lowest fare for a grade and then the cruise line allocates the cabin. That's great if you're not bothered about where the cabin is located, or the shape of the cabin.
If you're a little bit like me and you like a really quiet cabin and you don't like to be by any noisy areas or late-night venues, then I like to choose my own cabin and I'm happy to pay a slight premium for that.
My little tip for booking a cabin is if you are worried about cabins, choose cabins that are surrounded on all sides by cabins – so above you, below you, to the left to the right and opposite so you have a cabin that's going to be the quietest calmest cabin.
Also, when you're choosing a cabin, make sure it doesn't have an interconnecting door, so you're not getting noise from next door.
One of the costliest mistakes that people make on a cruise is they find themselves in a cabin which they're unhappy with. Because it's too noisy or it's near some disruption so they don't get a good night's sleep.
If you don't mind that, then of course it's fine. But, it could be a really costly mistake. Just make sure you understand what's important to you in your cabin and make sure that you do whatever it takes to get that cabin.
#11 Not understanding the exchange rate
The last costly cruise mistake I see is cruisers not understanding what the exchange rate is and also mis-understanding what the charges are for when using their credit or debit cards in different countries.
It's very easy to get confused in a lot of the markets and stallholders in places where there's lots of cruise ships coming. Some of the locals might bamboozle you and confuse you with exchange rates, so really make sure that you understand the exchange rate in each country you visit.
Of course, one of the things to do nowadays with mobile phones is that there are apps that work without using data that will convert currencies for you, very simply and easily.
I have seen lots of people ending up paying what ends up being the equivalent of hundreds of dollars for something that's not worth it. So, before you go make sure you understand the charges, as debit cards and credit cards charge a foreign transaction fee, which can mount up and be fairly significant.
In addition, the exchange rate that you may get is not always a great exchange rate, so sometimes it's better to actually have taken cash with you – or one of those cards where you've loaded up cash so you're not going to be affected by a bad exchange rate.


View more of my cruising tips.
SUPPORT TIPS FOR TRAVELLERS
FOLLOW ME ON SOCIAL MEDIA
——————————————-