10 Good Reasons To Stay On Your Cruise Ship In Port
10 Good Reasons To Stay On Your Cruise Ship In Port
Just because the ship arrives in port, it doesn't mean you have to get off and explore. You might even have a better time staying on board.Just because the ship arrives in port, it doesn't mean you have to get off and explore. You might even have a better time staying on board.
On a recent cruise I decided to stay on board in port. That got me thinking – why don't I share with you 10 reasons that I think are great ones to stay on board?
Watch my video about staying on board
Watch on YouTube: https://youtu.be/cBNJ4Atc_aU
#1 A cruise is also about relaxing
It is important to remember that cruise time is also vacation time.
It's a time to relax and if you are on a port intensive cruise you could end up coming back from your cruise tired – because you are exploring, coming back and eating, drinking, going to a show, and probably staying up late.
Taking a day out one day when the ship is in port and just sleeping in late will make your day much quieter. It is a time to slow down and relax and make your day a totally relaxing day.
After all, you've come for a great time, but also to unwind!
#2 Port not of interest, or you've visited before
The second good reason to stay on board is if the ports are not interesting, either because you have been before or the place is just not interesting to you.
Perhaps the place at port isn't very appealing or the weather is not great.
Or, maybe you already have seen all the key sights and even the secondary sights are just not very interesting to you.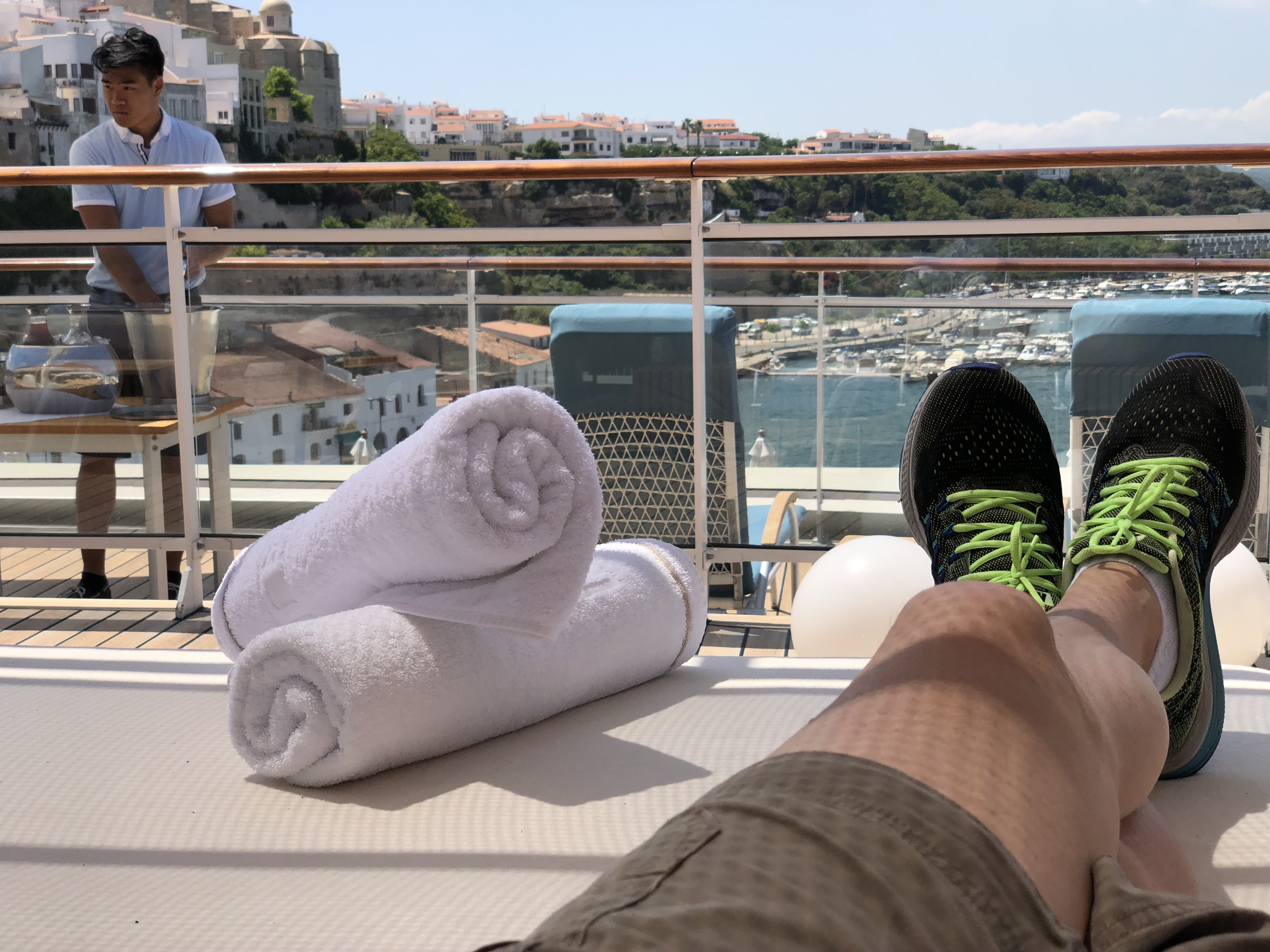 #3 Port or City is too busy
Another good reason for staying on board is if the port is going to be crazy busy.
I take a look on websites like CruiseTimeTables.com and take a look at how many ships are going to be in port.
You could be going to some ports, like the Caribbean, where there could be 15,000 to 20,000 passengers coming off ships and making the place far too busy, so it might actually feel nicer to stay on board rather than fighting the crowds.
#4 Enjoy the facilities
The fourth reason for staying on board depends on the type of ship you are cruising on. If it's a big resort ship which has huge amounts of facilities, like rock climbing walls, ice skating rinks, go karting and 4D rides and a huge amount of facilities – enjoy them!
If you are out exploring ports all day you won't have time to experience them all. For resort ships, I like to plan a day on board rather than going to the port, as it is a resort in its own right.
On smaller ships with much less facilities it may be less worthwhile to stay on board, but with resorts, you're spoilt for choice!
So, if you are cruising on a ship with lots of facilities it is a good idea to spend at least a day on board.
#5 On board offers
Another good reason for staying on board is you will find on port days there are usually lots of interesting offers.
In particular, the spa will have discounts or 2-for-1s which making going to the Spa much cheaper. I love going to the spa, but I always only go on port days.
There might also be happy hours and cocktails of the day or other activities which are much cheaper than usual. It is a great way of doing some of the things you want to do but for much less money, like personal training or taking advantage of specialty dining offers.
#6 No wait for laundry
When you are on a cruise you know that finding space and time in the laundry can be quite difficult. On port days the laundry is usually quiet, you can get a machine and drier and you can do it much easier.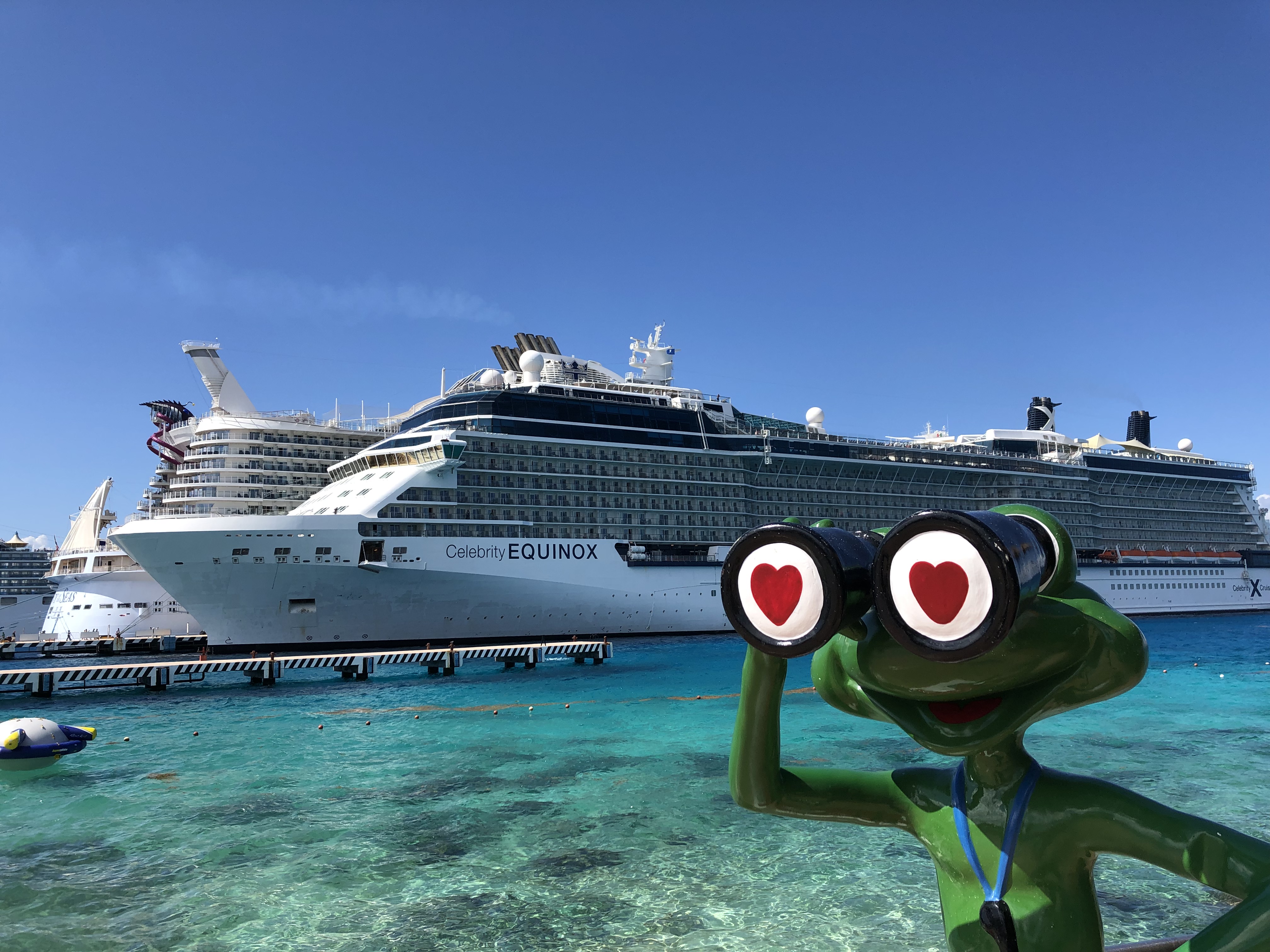 #7 Quiet onboard
A great reason for staying on board is simply that there will be space available to do whatever it is you need to do.
And that is particularly true around the pool. Usually, finding a great lounger and good spot close to the pool can be a challenge. Also, using the hot tubs can be tricky.
If you stay in port, you're going to be able to do all of that easily and be able to use many of the other facilities around the ship. The restaurants and afternoon tea slots will be quieter. Additionally, if you want to go on the flow riders or use the waterslides, you are going to be able to do it multiple times without lining up.
So, many of the things you want to try and do will just be completely empty or free to do.
#8 Lots of activities and things to do
Another great reason to stay on board is that even if there aren't lots of facilities on board, there will be lots of activities to do on the ship like trivia, craft classes and fitness classes.
There will always be a full schedule of events. The ship will have a full program of things for people who stay on the ship to do, even if you are on a small ship.
So, if you are yearning to win that trivia competition, the advantage on a port day is there will be less competition and an increased chance of winning!
If you're staying on board don't think that there will be nothing to do, as there will still be a full daily program of events.
#9 Videos and photos
One of the key reasons I stay on board on port days is I can get around the ship and take videos and photographs of the ship when it is not crowded and full of people.
You can get great pictures of your friends and family on port days, as you will be able to take nice photos without crowds, perhaps of them posing on staircases or with a good view.
It's a great way of exploring and seeing the ship and taking the photos you want, and a cheaper option than the photos taken by the ship photographers, because they are pretty expensive.
#10 Helps your budget
Lastly, staying on board will also help with your budget. If you go out on excursions, it could cost quite a lot of money.
Cruise excursions can cost from $50 – $100 and upwards per person per excursion. So that can ramp up quite fast price wise.
Even if you're exploring on your own, you will have costs for touring and entrance fees for museums and sights, eating out, drinks and so on.
So, staying on board can help you with your budget by avoiding some of those costs like food and entertainment are included in your fare on the ship.
It is really a good way of helping to manage your budget. So, if there are some excursions you really want to do in some ports, then staying on board on other days could help make them possible within your budget.
There are a lot of good reasons for staying on board in port. Those are the ones I think are particularly useful- if you have any others, let me know!

View more of my cruising tips.
SUPPORT TIPS FOR TRAVELLERS
FOLLOW ME ON SOCIAL MEDIA
——————————————-