Should You Pay Off Your Cruise Early, Or Just In Time?
Should You Pay Off Your Cruise Early, Or Just In Time?
As someone who does it regularly, I wanted to find out if there was anything to be gained by paying a cruise off early before final payment date. This is what I found out.
MORE WAYS TO PAY
There are 3 ways to pay for a cruise, and which one you use will affect what benefits there are – or aren't – in paying your cruise off early
First, you can pay your cruise in full when booking.
For most cruise passengers this happens when booking a cruise after the final balance due date has passed.
For example when booking a last minute getaway, or taking advantage of a great deal for a cruise departing within 3 months, you have to pay in full at time of booking.
Secondly, you pay the deposit (usually between 10% and 20%), and then you pay off the rest of the fare through a monthly payment plan.
Now, many travel agents offer these to help spread out the cost of a cruise, and to avoid you having to find a lump sum.
I hadn't realised that many cruise lines also offer monthly payment plans at check out if you are booking direct. They usually use a third party provider to manage the payment plan, but it is interest free. For example, at time of recording Carnival has Carnival Easy Pay, Princess Cruises has EZPay in USA and Princess Pay in other regions.
Of course, there is nothing stopping you paying something off every month either to your travel agent, or the line if you booked direct to slowly reduce the amount owed.
Thirdly, the more traditional way is paying a deposit at booking and the balance before or on final balance due day.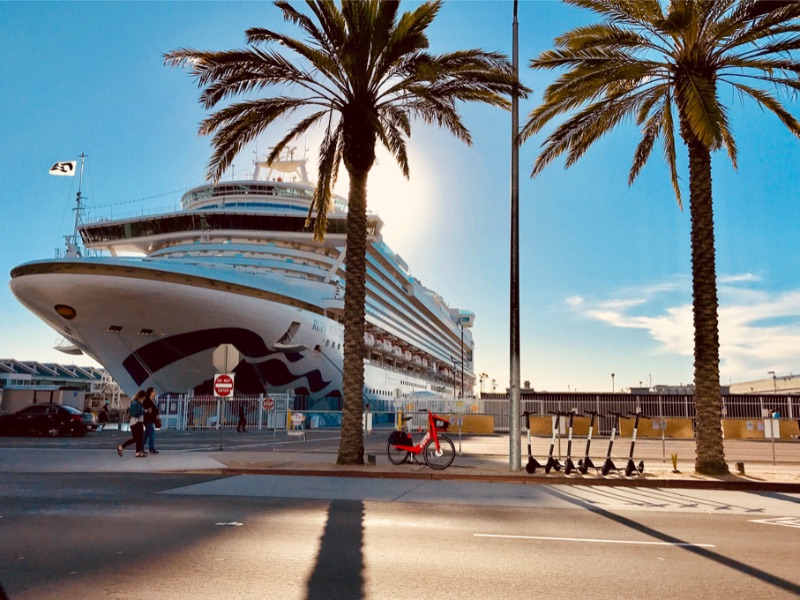 BIGGEST DOWNSIDE: FARES
If you pay off your cruise early using any of these methods, while there are benefits I will come to, there are a few big downsides to talk about.
And there is one really big downside that could be the deal breaker. And this is what happens if your cruise goes down in price.
Once you have booked a cruise, especially if you have booked it way in advance, you must track the fares. If not you could be paying much more than you need to. I have been able to reduce individual cruise fares by hundreds by tracking fares in the past.
If fares go down you need to act to get your fare reduced. But if you have paid it off early you have less options, and are at a big disadvantage.
How do I track fare movements? I track fare changes in three ways. First, I ask my travel agent to watch pricing. Second, I sign up to the cruise line email newsletters and watch out for promotions covering my booked cruises.
But easiest, by a mile, is I use one of the free cruise fare tracking sites. There are a number of these but the one that I like and has worked for me best is on CruiseWatch.com .
I input my cruise and cabin grade and they alert me by email every time fares change, which usually do multiple times as cruise line fares change based on demand I've put links to the tracking options in the notes of this episode.
If fares go down you must act.  Contact the line if you booked direct, or get your agent to if you booked that way, and ask for the new fare.
If you still owe them money, they will usually just reduce the fare in their system. So nice and simple. You owe them less for the same cruise.
By the way: Many lines promise to price match fares when they go down, but they do not make it automatic – you still have contact and ask them.
If they won't cut the fare, and you have a refundable deposit, then ask to cancel and simply rebook at the lower fare.
But, what if you have paid your cruise off early? The line will say either you can't have the lower fare, suggest an upgrade or they will add some On-Board Credit to the booking. They will almost never refund your cash.
So, that means that (as nice as extra On-board credit is)  you are locked into firstly paying a higher fare than you need to for that cruise, and secondly you have to spend the lost "savings" with the line on that cruise. They keep your lost money.
By paying the fare in full early, you have lost the ability to pocket the savings from fares going down and do whatever you want with it.  It also makes the option of cancelling and rebooking at the lower fare very complicated.
Remember fares can, and probably, will change a number of times keep contacting the line every time they do.
If you really like to pay off your cruise early, as it helps with your cash flow and budgeting, I suggest you hold back some, so maybe $200 or $300, so if fares go down you can still benefit and pocket the savings.
DOWNSIDE: REFUNDS
Another downside of paying early is if you have to cancel or cannot go, and want to or need to move to a later date, the cruise lines are known for being pretty slow at paying refunds or you risk tying up your cash for a long time when you push a cruise a back. You then have hundreds or thousands tied up with one line.
This lesson was learnt during the pandemic shutdown when hundreds of thousands of cruise passengers had money locked up in future cruise credits. It's the same principle.
BENEFITS
So what are the benefits of paying early?
Of course, the satisfaction knowing your cruise is all paid for and no need to have a lump sum ready.
There is also some suggestion from industry insiders that it may affect what order you are in any upgrade list, and it works in your favour over those just with deposits paid. But you cannot count on that.
And as I explained earlier you can still negotiate some benefit when fares go down.
ABOUT TIPS FOR TRAVELLERS
—————————————–
Gary Bembridge's Tips For Travellers aims to help you make more of your precious travel time and money on land and when cruising the oceans or rivers of the world. To help you, in every video I draw on my first-hand tips and advice from travelling every month for over 20 years and average of 10 cruises a year.
BECOME A TIPS FOR TRAVELLERS MEMBER
————————————————————
Become a Channel Member to get perks: https://www.tipsfortravellers.com/Join
Become a Patron on Patreon and get perks: https://www.patreon.com/tipsfortravellers
BUY MY CRUISE-THEMED T-SHIRTS
————————————————
Check out my T-Shirt range: http://bit.ly/TFTStore
FOLLOW ME ON SOCIAL MEDIA
——————————————-