8 Things I Didn't Expected To Happen On Ultra-Luxury Cruise Lines

8 Things I Didn't Expected To Happen On Ultra-Luxury Cruise Lines
On the first morning of my recent ultra-luxury cruise on Regent Seven Seas Navigator, I discovered that even passengers paying outrageous amounts of money played the chair hogging game. All the prime locations had flip-flops, books and caps reserving them, long before 8am.
When I returned from an excursion at one o'clock, they were still unused and reserved. So, even on ultra-luxury lines, the crew are reluctant to confront chair hogs.
When an ultra-luxury cruise line costs me as much for one day as an entire week-long cruise on resort and even premium cruise lines, I expect everything to be better, but that isn't always the case. As you will see…
No Bad Cabins?
The biggest revelation that I had going on an ultra-luxury cruise was that there are still bad cabins, despite guests paying a lot of money.
On Seabourn last October, for example, I'd booked late, and because it was so costly, I booked an entry level-grade veranda suite which sat towards the front of the ship. This was a cruise of the Greek Islands, and it was mostly tender ports. Every morning around five o'clock, I'd get the rattling of the anchor chains and the noise of the tenders being lowered waking me up.
When I went on Silversea Silver Cloud and booked a relatively inexpensive ocean-view cabin, underneath me there was constant clunking from some machinery whirring away.
I have also noticed that ultra-luxury doesn't necessarily mean the cabins have better soundproofing. If I'm underneath the pool deck, I still hear the scraping of chairs and if I'm next to the laundry, I still hear the noise of the machines and if the next-door neighbour plays TV loudly, I can hear that, too.
So, now the same cabin choice rules apply whether I'm going ultra-luxury or not. I make sure I choose a cabin with cabins on both sides, above, below, and opposite, so I have the least chance of noise from rowdy venues or pool deck ruining my trip.
I expected, when paying for an ultra-luxury cruise, every single cabin was going to be super quiet. That isn't the case.
No Groups?
No matter which cruise line I'm on, I have no idea if there's going to be a big, organised group on board. The problem with a large group is that they can change the whole vibe of the ship, especially when they are a large proportion of the passengers.
For example, when I went on that Seabourn cruise in the Greek Islands, there were around 100 travel agents on board, that's over a third of the ship, and they were different to the normal Seabourn passengers. They were drinking, partying, and going a little bit crazy. But the bigger problem was that some venues were closed off for their own events, like cocktail parties, which on a small luxury ship is an issue.
On my recent Regent Seven Seas cruise in the Caribbean, there were around 170 people from Forbes at a conference on board, which meant 35% of the ship was this group. It changed the atmosphere, some venues were closed for events, and affected some activities. For example, the Captain's Welcome Party had fewer than 100 attendees, when traditionally it's a big important event.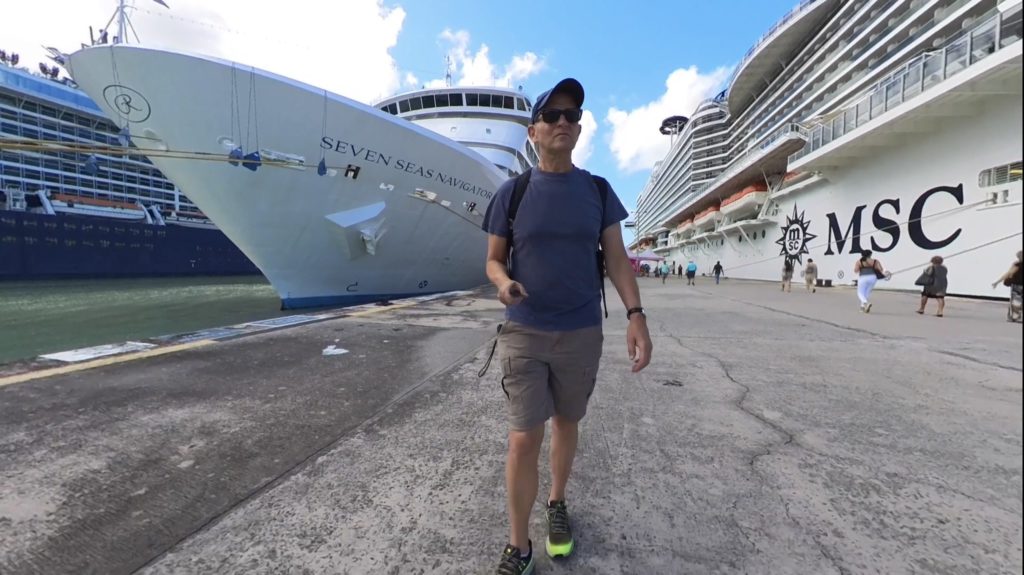 Well-behaved and classy?
My mother always said that money doesn't buy you manners. And besides chair hoggers, there is always some bad passenger behaviour on every cruise line, including on ultra-luxury lines.
People still reserve seats, arrive late to theatre performances, which I think is rude for both the guests and the performers, wave at each other, flash their phones to show where they are sitting during the show, and still chat away throughout.
On my recent Regent Seven Seas Navigator cruise, in the library they had to have reminders telling people that the newspapers weren't to be removed and taken away.
They also had some of the most draconian rules I've ever seen for smoking on there. If you didn't smoke in the allocated areas, or you smoked in your cabin, you would be thrown off the ship with no compensation.
One behaviour which drives me crazy on cruises is when passengers on excursions hold everyone else up by being late for meet-up times.
On an excursion to a Barbados beach on my recent ultra-luxury cruise, one couple held up the whole tour because they decided on one last swim in the sea just as we were due to be packing up to return to the ship. They expected us all to wait for them. This meant we were late and missed lunch.
Bad behaviour happens at all levels, I found.
Will the ship wait for you?
Something that I've found, even on the most luxurious of lines, is that the captain will not hold the ship just because you've paid more.
When I was in St. Maarten, on that Regent Seven Seas trip, just before our 3pm departure, the captain announced we would be leaving on time because we needed to be in Miami by a certain time for our slot. We would be leaving without two passengers, who'd gone self-touring and hadn't got back to the ship in time.
So, remember, the ship will not wait no matter what you pay!
No laundry rooms?
Now here's an interesting story. In 2016, Seabourn Encore was unveiled to the world, with interiors designed by Adam Tihany. He had decided that ultra-luxury passengers wouldn't need such common things as a guest laundromat because they would surely be sending their finery for laundry service
This caused an outcry. On its maiden voyage to Singapore for the naming ceremony, the passengers were so upset that by the time it arrived into port, Seabourn had arranged to convert some of the offices into a laundromat.
Unlike some resort lines, like Royal Caribbean and Norwegian, and premium lines, like Princess, every ultra-luxury ship that I've been on has guest laundromats. So even the most luxurious of passengers like to penny pinch or simply have more control.
No "Nickel and Diming"?
Speaking of penny pinching, one of the pluses of going on an ultra-luxury line is that there's less of the constant upselling known as 'nickel and diming'. They're not trying to sell photographs or packages for drinks or speciality dining.
I don't even have to pay for drinks, speciality coffees or speciality dining. In fact, on my recent Regent Seven Seas cruise, even the excursions were included.
However, ultra-luxury lines still push shopping big time, usually through regular sales.
On my recent Regent cruise, the sales tables were always piled high with all sorts of clearance items. They also sold the spa like crazy, which has even more eye-watering price tags than on other lines.
One pleasant thing, though, about going ultra-luxury is that I disembarked with no bill. In fact, on that last trip, I struggled to spend the $200 onboard credit, as all things it usually gets eaten up by like gratuities, drinks, dining, excursions, fitness classes were already covered in the fare.
Premium Entertainment?
One of the big revelations I had on that recent cruise, is that every line I go on has the same daily program, no matter what cruising category I go on. The only difference with ultra-luxury is there is less on offer than on bigger ship lines.
Let's look at the daily program on that Regent trip. They had trivia, deck games, the odd enrichment talk, and live music around the ship. It's basically the same as on any other line.
Ultra-luxury ships also have those classic song-and-dance revue production shows in the theatre, but they are more scaled down and with smaller casts. They play the same music in those and around the ship, and like many lines a lot of it very dated in my view. That means lots of 50s, 60s and Beatles.
Some people I know who have been on ultra-luxury cruises do say they feel it can be a little bit boring versus bigger resort ship lines, like Royal Caribbean, Carnival and Norwegian, and even Premium lines like Princess and Celebrity, because there really isn't that much on offer compared to those.
Cruising ultra-luxury does not mean a ramped up but a slimmed down daily program, with more focus on dining, relaxing, and entertaining oneself.
Dining options?
One other thing that I have found on all the ultra-luxury lines is that although the food is totally amazing with huge menus, there aren't any casual dining opportunities in the evenings.
They have buffet restaurants for breakfast and lunch. So, on Silversea, there's La Terrazza, on Regent Seven Seas there's La Veranda and on Seabourn, The Colonnade. But in the evening, they become a la carte waiter-served restaurants.
So, other than room service, there aren't any opportunities to get a quick bite. I don't necessarily want to have three courses every evening, particularly if I'm travelling solo, but I simply can't have a quick and easy dinner, as I can on other grades of lines which open the buffet for dinner.
Maybe as people are paying so much, the lines feel the need to give passengers grand three-course dinners to make it feel like they are getting value for their money. And I do think that to most ultra-luxury passengers, that is one big appeal of luxury cruising.
SUPPORT TIPS FOR TRAVELLERS
FOLLOW ME ON SOCIAL MEDIA
——————————————-