I've Changed My Mind About Cruise Gratuities. Here's Why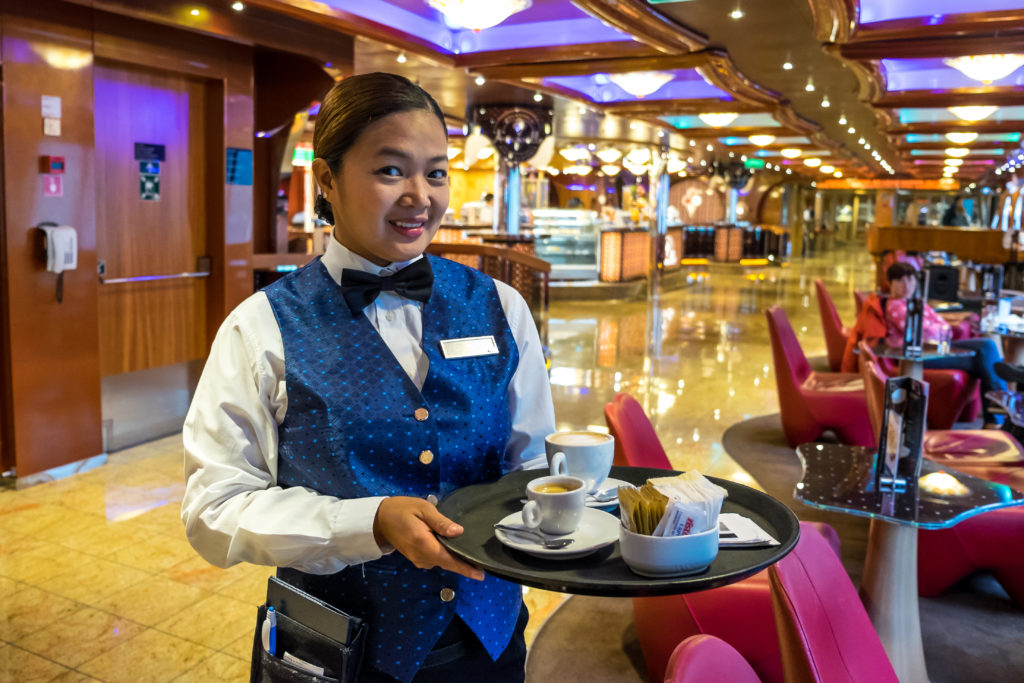 Cruise Gratuities
On my last cruise, a Queen Mary 2 crossing, I was nervous about disembarkation. Not because the trip was ending. I was apprehensive about a potentially uncomfortable encounter with my cabin steward.
Him loitering and wondering if I was going to give him a tip, and me feeling guilty because I wasn't.
Gratuities on a cruise have got more complicated recently, and I want to talk about that. What it means and why I wasn't leaving a tip.
I'm hoping you will join the gratuities debate. I know you will have strong views on what I'm about to say.
The first big issue I wrestle with is: what exactly are gratuities on a cruise these days?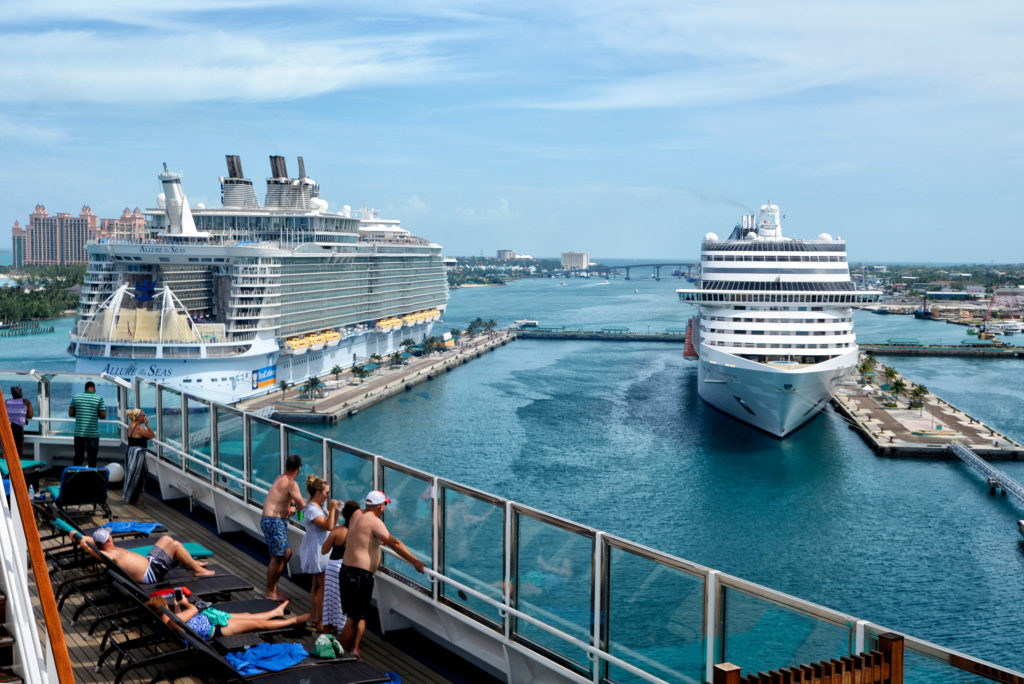 What are gratuities?
Every dictionary definition says they are something given voluntarily to thank someone for good service. Two key aspects: "voluntary" and "good service", suggesting people going above and beyond their duty.
Lines are now giving up any pretence that gratuities are either voluntary or for added good service.
When I first started cruising, gratuities were just that. We all gave cash tips directly to the crew members we felt had done an amazing job and we all assumed the crew in every department were getting a fair wage. These were a bonus for passenger-facing roles.
The lines argued when auto-added gratuities were introduced, that it was fairer. That  the pool of money would be split and cascaded to all departments contributing to our experience. All would benefit.
However, if that was the intention that soon changed.
Are they a tool?
Gratuities became, in my view, a tool cruise lines used to achieve lower fares to entice us to book. Funded by paying crew lower base wages. They then used auto-added gratuities to claw money back to bolster crew pay to what it should be.
Let's be clear, cruise lines expect us to pay more for our cruise than their advertised fare suggests. They expect us to pay the fare plus gratuities. Really, they need us to do this for crew to get wages that are at the going industry rate.
To ensure we paid up, lines auto-added them onto our bills. I now see 3 trends emerge to enforce this as resistance grows to them.
Name Change
First, lines auto-adding cruise gratuities are starting to try and cloud the narrative by giving them alternative names.
For example, Princess Cruises on my recent Alaska cruise called them "Daily Crew Appreciation", Holland America called them "Crew Appreciation and Service Charges" on my Scandinavia cruise, while on my Cunard Queen Mary 2 Transatlantic voyage it was just called a "service charge".
Maybe they're renaming them to cloud that they are ramping up the cost of gratuities at the same time.
Most lines now have gratuities at between $14 and $20 per person per day based on cabin grade. This also applies to children sharing their parent's cabin.
That adds between $200 and $300 for a couple for a seven-day cruise. So, between $400 to $600 for a family of four. And that's constantly increasing.
As the cost grows, passengers are noticing the scale of, and pushing back on these charges.
Obscuring
That's why I believe I am seeing more lines trying to obscure the size of them. How? By offering optional fare upgrades that bundle gratuities with Wi-Fi, Drinks Packages, Speciality Dining, or excursion credits. For example, Princess Plus and Princess Premier fares and Windstar All-in Fares.
Celebrity Cruises went a step further and changed to "Always Included" fares. They made this the only fare they offered and increased their fares upwards accordingly.
At time of recording, they are not offering standard fares without these. But by branding it they have left it open to bringing back a regular fare too.
Giving Up Pretence
The third change came as many value and premium lines, mostly UK based, bit the bullet and joined the ultra-luxury lines like Seabourn, Silversea and Regent Seven Seas. These lines increased fares to include gratuities in the base fare instead.
Including, Virgin Voyages, Azamara, Saga Cruises, P&O Cruises UK, and Marella.
The effect of these changes is that cruise passengers are now paying a rate for a cruise that covers gratuities, no matter what line we cruise on.
While it is possible on almost all lines, except Norwegian Cruise Lines at time of recording, to remove auto-gratuities on board, few passengers seem to.
Removing gratuities
In a survey on my channel of more than 4,000 cruisers only 10% said they removed the gratuities.
I never remove those particular gratuities as I feel if I do, the crew are subsidising my trip with lower wages.
Is the fact that I am now paying cruising gratuities the reason I did not tip anything to the cabin steward I mentioned earlier? No, it's more complicated and getting more so.
Close And Regular Contacts
Knowing that I have paid my cruise gratuities does put me in a dilemma around what the right thing to do is, especially for crew I have close interactions with like my cabin steward, butler if I'm in a suite, and if doing fixed dining, the waiting staff that deal with me daily.
Possibly, as I started cruising in the days before auto-added gratuities and I handed out envelopes of cash at the end of a cruise, I feel guilty not doing that.
In that poll I mentioned, 50% of cruise passengers say they pay cash tips to select crew members on top of auto-gratuities or when on lines where gratuities are in the fare.
I am, as you now know, one of those people, but recently I decided to stop double tipping as a habit, as it can mount up and fares and costs of cruising are ramping up.
Now I am trying to get myself used to following these five principles
Cruise Gratuities Principle #1
First, I budget on the basis that I will pay a cruise fare that always includes base gratuities for the crew. So, that could be they are auto added, included in some bundles like Princess Premier or within an all-inclusive fare like on Azamara. This will be in a pot shared to all those I deal with often, infrequently and behind-the-scenes.
Yes, I will increase those auto-gratuities if, throughout the cruise, service and the experience has been high, so all benefit. This was the case on my Oceania Marina Panama cruise earlier this year, where right across the board service was great and I felt all should benefit.
Onboard credit
I'll especially do this if I have on-board credit that I do not use up or find myself slipping into that habit of looking for ways to spend it, I instead I use it to increase auto-added gratuities.
However, I was about to do this on my recent Azamara Quest cruise, as I had a lot of on-board credit given to me as a fare price match BUT their rules did not allow it to be used for extra gratuities. So, I could have ended up with unspent OBC and an extra bill – you must always double check if it can be used.
The other downside of upping auto-gratuities is the people you interact with often who may hope or expect a tip will not know you have done that. And so, this leads me to my second principle.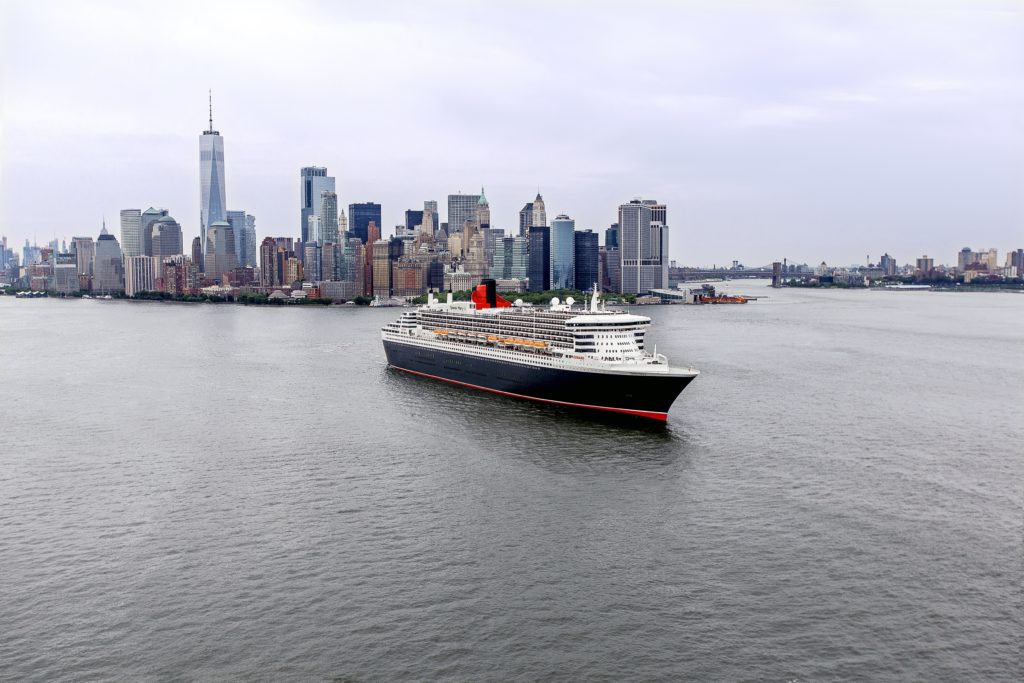 Cruise Gratuities Principle #2
I take cash with me, although not on the scale in the days before auto-added, to tip crew that I come into regular contact with that go above and beyond in some way and make my cruise special.
By the way, when it comes to paying cash tips, I pay either in U.S. dollars or the official currency on the ship, which in most cases is U.S. dollars. But if I were, say, on a P&O Cruises ship or a Saga Cruises. ship where the official currency was pound sterling, that is what I would pay.
Let me give an example of how this has played out, which is where that cabin steward comes back.
A closer look
On my recent Cunard Queen Mary 2 Transatlantic crossing, the waiters were fantastic. We had the same waiters allocated for breakfast, lunch, and dinner.
They learned our quirks, preempted everything we needed, from oat milk on the table for breakfast, to spinach as an extra with my meal and even pre-emptively requesting a non-dairy Baked Alaska alternative for my partner.
They joked with us and elevated the experience, so we gave them extra tips.
In great fortune, we had a butler and a cabin steward. They provided a fine service, but it was as expected. Although, we had to chase up a couple of things, there were a few errors, and they did not really elevate the trip. In this case, I felt the normal auto-added gratuities were fine.
Butler
Unlike on my Oceania Cruises trip the month before, where I had been upgraded into a suite, where the butler and a cabin steward were super attentive, learned all my quirks, what I liked and I didn't like, and without asking, tweaked the evening canapés by observing what I left. They knew I didn't drink alcohol, caffeine and sugary drinks, and hunted for options and even brought a non-alcoholic sparkling wine to replace the champagne.
The butler even offered me his personal multi-USB charger to borrow because he saw I had lots of camera equipment to charge. I tipped both generously, but I didn't tip the waiters because, again, that was a normal service.
Another example was from my partner who spends hours every day playing blackjack and interacts and gets to know the dealers who make his cruise. So, tips the dealers at the end of playing.
I do tip on top of auto gratuities if I genuinely see added service, but I still find it stressful as old habits die hard. There are some people I never tip, which I will come to after quickly discussing my third principle.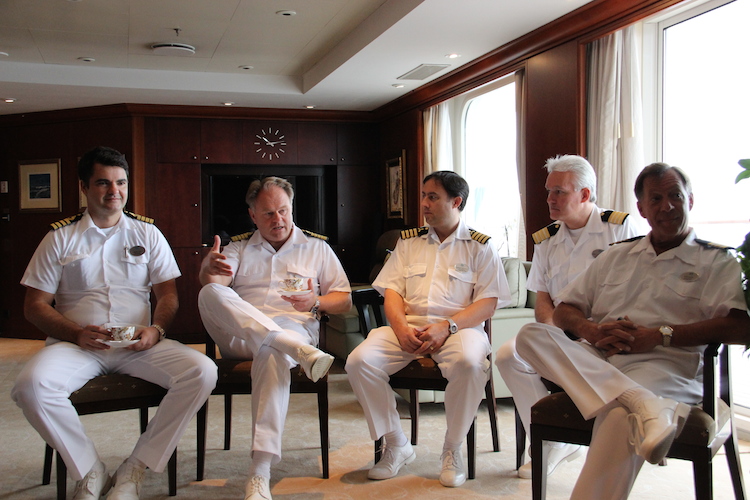 Cruise Gratuities Principle #3
When I can, I try to name everyone that has given great service in the post-cruise survey. The crew and managers keep telling me this is key for staff to get recognition, bonus, and promotion. So, even if not tipped individually, this can help crew enormously.
To make sure I don't forget anyone I take photos of their name badges, so I can get their name and position right. This was a tip a crew member once gave me when stressing how important calling people out in the survey was.
So, who do I never tip?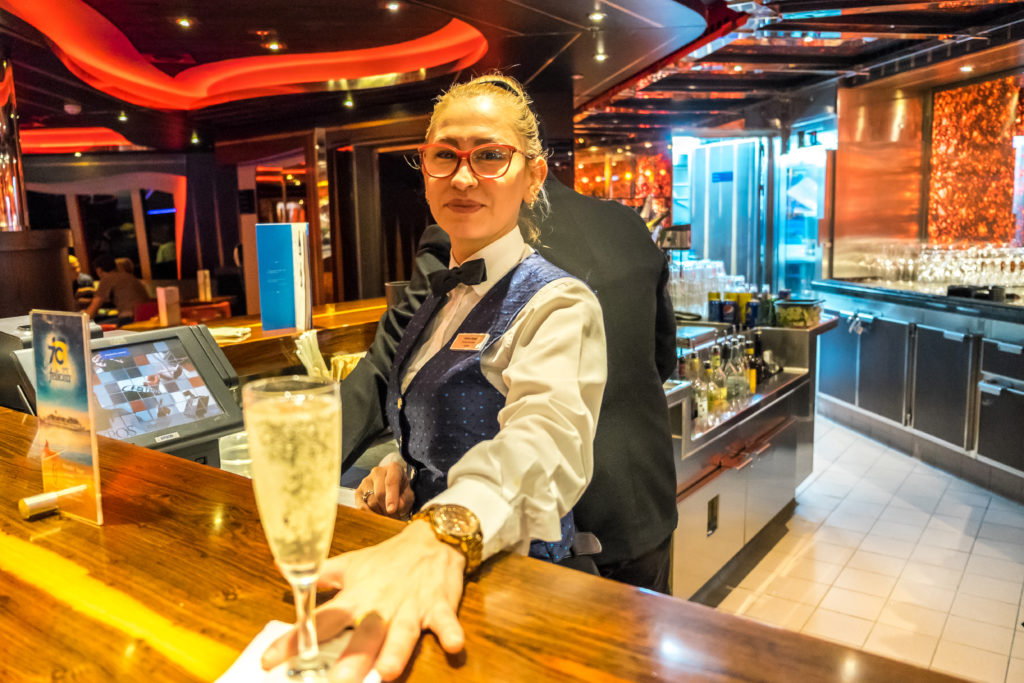 Cruise Gratuities Principle #4
I never tip when I'm buying drinks as frequently 18% is added on automatically. So, I leave the section to add even more tip blank.
Gratuities are also added on to the price of any drinks package, too.
The same is true in the Spa, salon, or hairdressers.
If I'm having specialty coffees or buying ice cream or gelato, again, I don't give a tip. Either it's auto added, or there's none expected.
Special requests and more
When crew members handle special requests or fix things, like a broken toilet or air conditioning, I don't tip for that.
My preference is to never tip senior crew, including the Captain, Cruise Director, Head Chef, Maître de, Guest Services, or Excursions Team. They are usually well paid, and in some cases, it's not considered appropriate.
That also applies to the entertainment team who run events, the performers or the guest artists. Or any people playing live music around the ship. Some friends like to tip the pianist in a piano bar to get their requests higher up in the priority.
What are your thoughts on gratuities, and have you changed, or are you thinking of changing what you do?
ABOUT TIPS FOR TRAVELLERS
—————————————–
Gary Bembridge's Tips For Travellers aims to help you make more of your precious travel time and money on land and when cruising the oceans or rivers of the world. To help you, in every video I draw on my first-hand tips and advice from travelling every month for over 20 years and average of 10 cruises a year.
BECOME A TIPS FOR TRAVELLERS MEMBER
————————————————————
Sign-up as a Channel Member to get perks: https://www.tipsfortravellers.com/Join
Become a Patron on Patreon and get perks: https://www.patreon.com/tipsfortravellers
BUY MY CRUISE-THEMED T-SHIRTS
————————————————
Check out my T-Shirt range: http://bit.ly/TFTStore
FOLLOW ME ON SOCIAL MEDIA
——————————————-