What Went Right And Wrong On My Alaska Cruise? And What You Can Learn From it!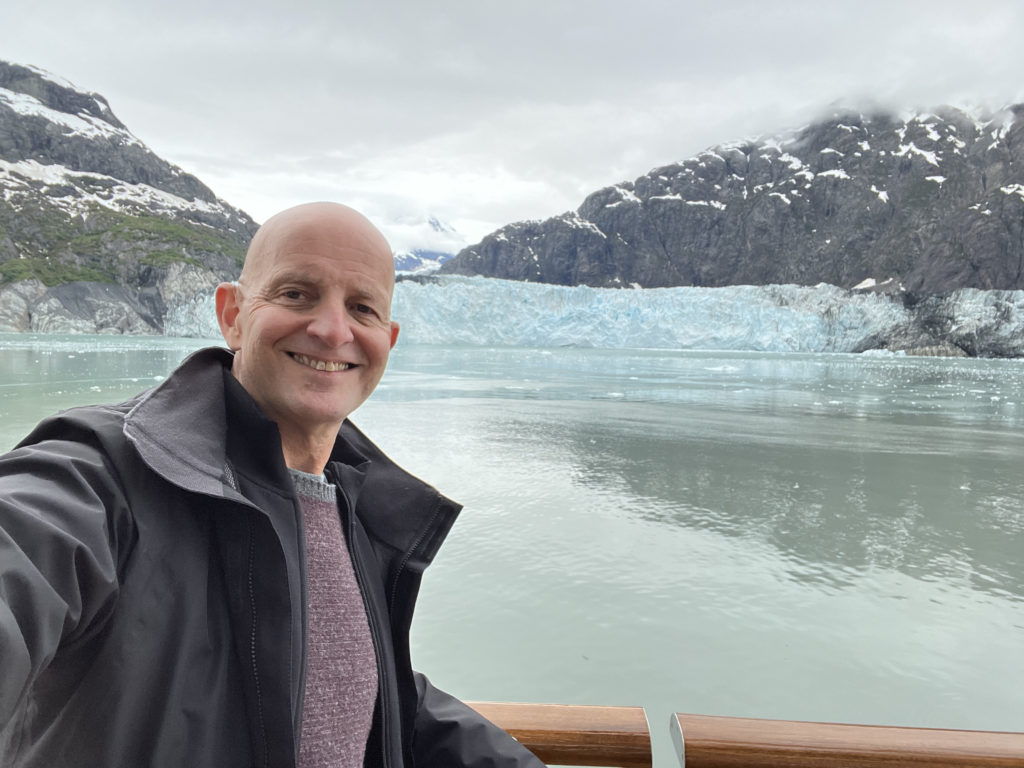 What Went Right And Wrong On My Alaska Cruise?
Before the pandemic shutdown, I booked a North to South Alaska cruise on Princess Cruises, from Whittier, near Anchorage to Vancouver. Firstly, because I thought the itinerary would be better than the Inside Passage I'd done previously, and Princess claims to be an Alaska expert.
I finally did that trip this year, and neither of my assumptions turned out as expected. I knew it was a different world to when I booked and would be a different experience. But I didn't appreciate quite how many differences and surprises awaited me.
One of which was coming back from Alaska with more than memories, a souvenir unique to this time: COVID.
I want to talk about the good things and the bad things about cruising Alaska and on Princess Cruises these days.
A Promising Start
The trip started with an unexpected highlight thanks to embarking the ship in Whittier. As the trip got closer, I thought it was a bad idea choosing this itinerary, as I discovered that Whittier was not easy to get to.
My travel agent (Sarah Bolton) suggested the Glacier Discovery Train that runs from Anchorage down to Whittier. It's about a two-and-a-half-hour train ride through the most phenomenal scenery. To put it in short, t was a brilliant way of setting the scene and seeing parts of Alaska that I would not see on the cruise.
Baggage and the train
There I was, I checked my baggage in at the train station and the trip had officially begun. They told me the next time I would see my luggage would be in my cabin. However, what they didn't tell me is that it doesn't travel with the train. They hold all the bags there and it comes down when other cruise lines run trains later in the day – very odd!
Stressed? Yes, because by 6:30pm, despite arriving at noon, I still had no bags – I finally got them just before seven.
Checking in at Whittier, was an absolute breeze, so much better than my last trip embarking in Vancouver. I was on the ship within a couple of minutes of leaving the train.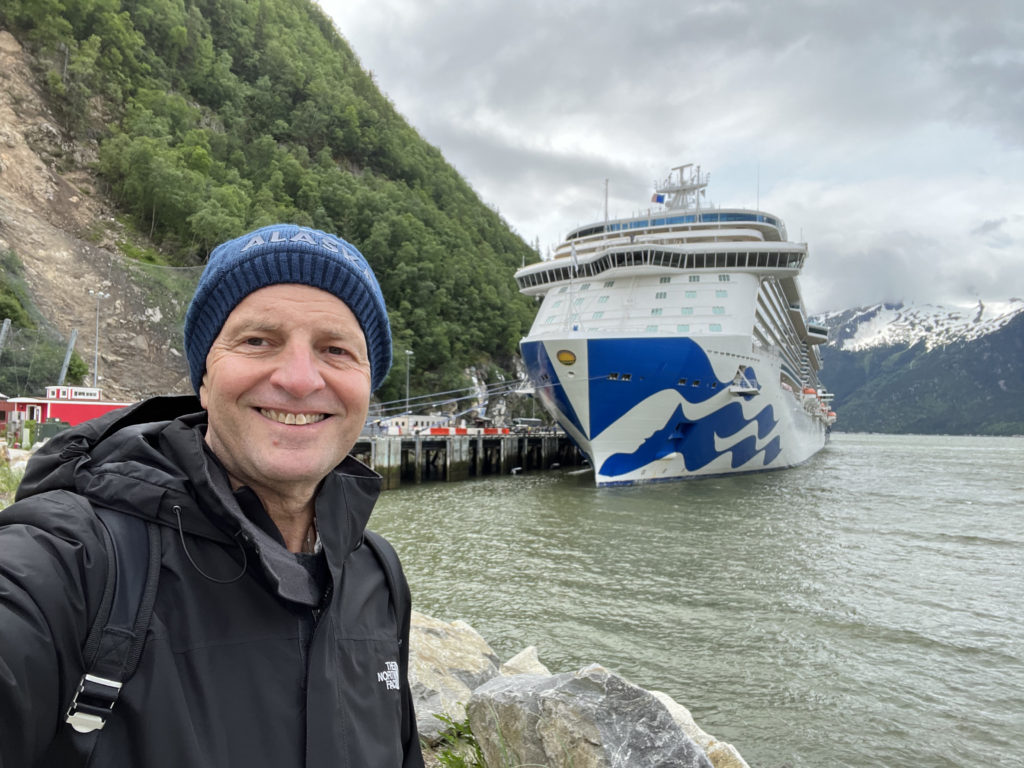 A Mixed Bag On Board
Before I get to what I experienced in Alaska, I need to talk about Princess Cruises and the ship, as it was a mixed bag.
Princess was my choice due to their reputation and experience of over 50 years in Alaska. However, between booking the trip years ago and going, I had gone off Princess after my Regal and Sky Princess trips last year, where food and service were average.
I'd booked an itinerary on Majestic Princess, not clicking that the ship had been designed for the Asian market. And I'd had several people saying, "I'm not sure you'll like the ship."
THAT app
To add to my Princess reticence, I was not having much joy with the much-touted Princess Medallion technology and App.
Persistently, I was getting messages before the cruise saying that I had to reserve my check-in time, but the App wouldn't let me. Frustratingly, It also kept changing from saying I had submitted everything required to board, to saying I hadn't.
The app never got much better. I hadn't paid in full for my cruise once on the ship, or so it kept telling me. So, I couldn't book dining times which we were supposed to do through said app. Eventually, I gave up on and used the big interactive screens dotted around the ship, which worked well.
Majestic Princess
The cabin I loved and the ship itself I was fine with, but there are a few things that did strike me as not ideal.
On boarding it did have one thing I think is a pity across the Princess fleet and that's the sense of sameness. Their ships basically all look the same, the decor, the layout – they don't each have any unique character.
While there is the huge advantage that I knew my way around and where everything was, it lacked the excitement of exploring a slightly different ship.
Vast atrium
One thing many love about a Princess ship is that the atrium is across 3 decks. So, if I wanted a buzz, find the stuff going on, and access to most things it was here.
As standard, the International Café, restaurants, bars, shops, photo centre and so on were all present.
As great as the Atrium is, I find it very inward looking. There are no big views out to the sea. This was a pity for Alaska which is all about the outdoors and scenery.
Scenic cruising – not so much
Another thing, which was even mentioned by one of the Alaska enrichment lecturers, is Majestic Princess is not the best ship for scenic sailing and sightseeing in Alaska.
The ship layout means they can't open the bow when scenic cruising in places like Glacier Bay, nor does it have a wrap-around and covered promenade deck.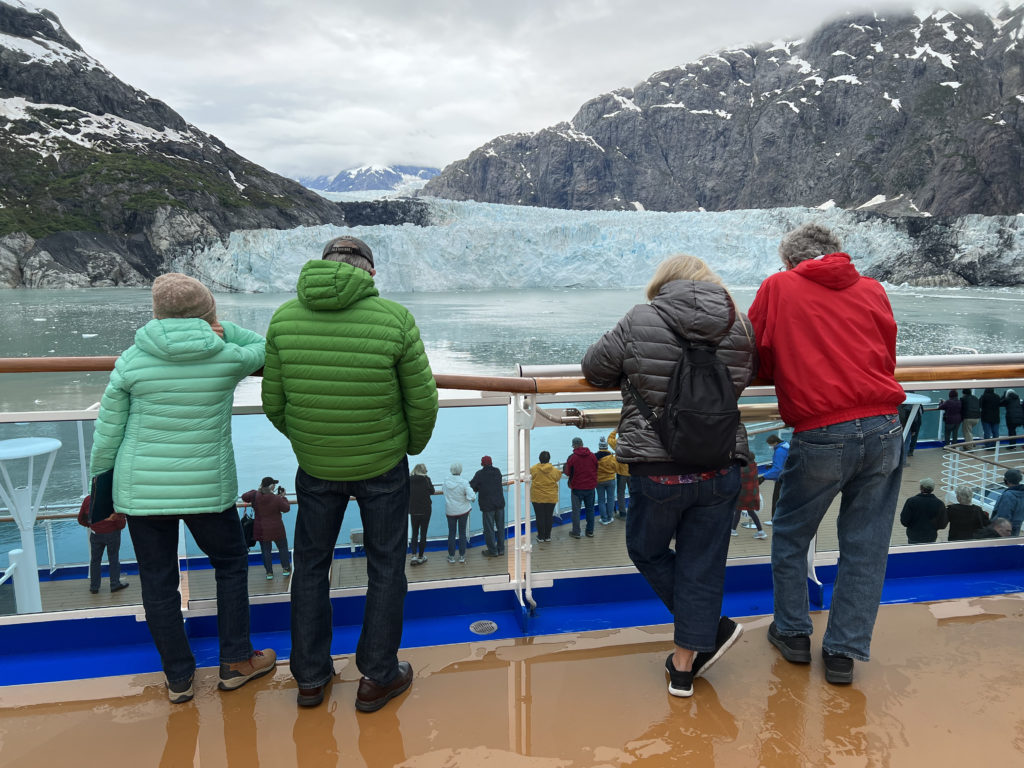 Mother Nature
Mother Nature dictates the weather, so if it's not great, which it often isn't in Alaska, there were few covered spaces to do viewing. This did not affect my Alaska cruise, as we had no rain and not too much wind on our scenic cruising days.
A great view on the open promenade spaces on deck 7 and high up on deck 17 above the pool deck were welcomed, as we had fine weather, but if it had been raining it would have been less ideal
In Glacier Bay when the weather turned later in the day, many headed up to the Hollywood Conservatory, an indoor space with large glass windows as the best alternative.
Cabin and Onboard Experience 
I'd booked a mini-suite balcony cabin, which I found very comfy, and ended up being a great place to do sightseeing too as the Captain alternated which side of the ship faced glaciers when we stopped for viewing.
All the signs had both English and Chinese. There was the Harmony Restaurant instead of Sabatini's, the Italian, which I was excited about because I love Asian food. The food I felt was average though. I'd booked to go more than once but cancelled my repeat trip.
They had a noodle bar, the casino was huge, and they had a VIP casino area, which for us was operating as a lounge.
The Hollywood Conservatory I mentioned earlier on other Princess ships is the Sanctuary, was more seating and designed for games than lying about on loungers. And it was free unlike the Sanctuary which has a fee to use.
Dining Onboard 
Food and the service across the trip was neither exceptional nor bad, for the premium category they operate in. It's probably a tad less than recent trips on Celebrity, Holland America and even Virgin Voyages, which are the other key players in the category.
Menu choices felt smaller than on the other lines, and this was something other passengers I spoke with also commented on.
Some little touches – that are important to me – were notably missing compared the other premium lines. They didn't have any diet and caffeine free drinks on the ship. I don't drink alcohol, caffeine, or sugary drinks, but I do like sodas.
Unlike other premium lines, including Holland America and Celebrity Cruises, they didn't have Diet 7 Up or Sprite or Caffeine-Free Diet Coke. My options were just water or juices. It's a smallish point, but as a premium line, having such a reduced and small choice stood out to me.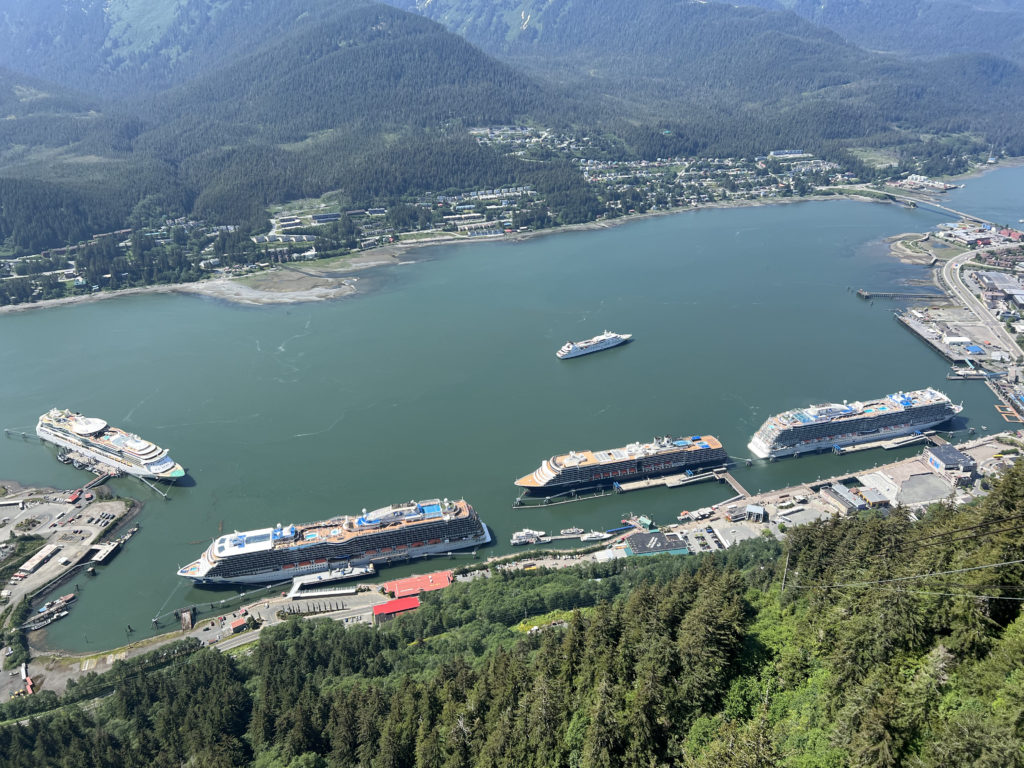 Passenger Differences
Passenger mix stood out on my Alaska cruise.
Aboard Majestic Princess there were 2,260 passengers on the ship, which was around 60% capacity. It was a very different passenger mix to what I normally find on a Princess cruise. There were many multi-generational families travelling together and lots of families. On both sides of my cabin there were families of four.
This mix difference showed up in things like the fitness centre being busier than usual and boisterous kids taking over the indoor Hollywood pool.
The usual dress code was also thrown out the window. It was almost impossible to tell when it was formal night versus usual smart casual nights. If I estimate, probably less than a quarter of people dressed differently on formal night to any other night. I spotted one person in a Tux, and they looked uncomfortable because they were …kind of the odd one out.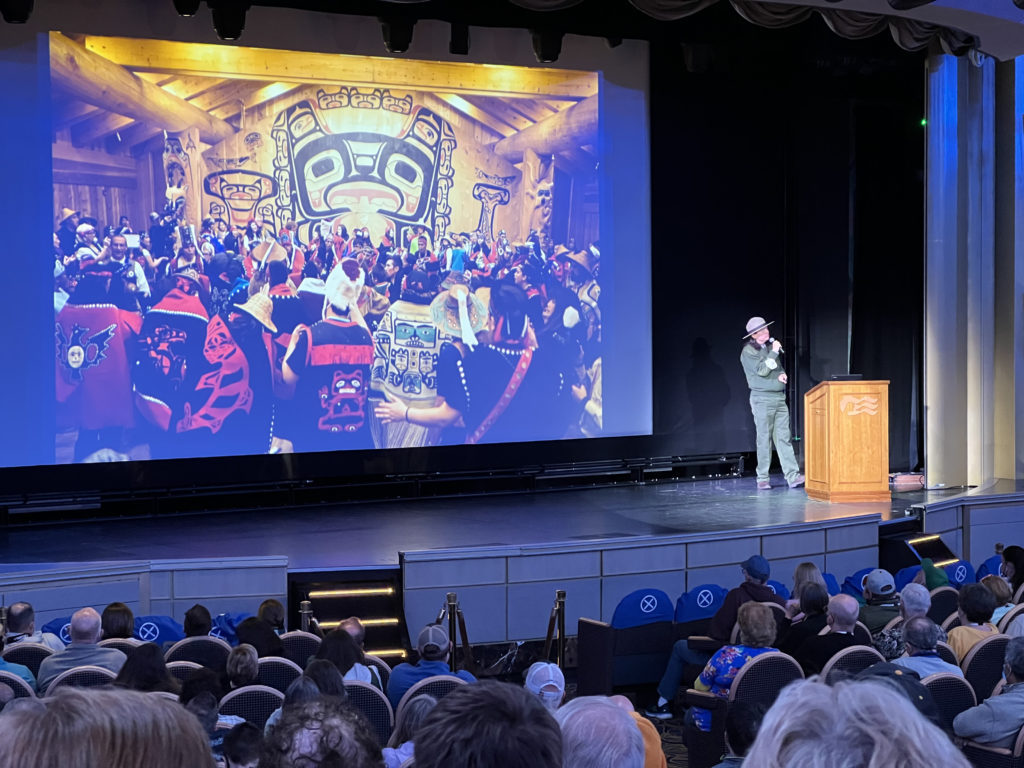 Alaskan Immersion
One big plus I would say about Princess Cruises is they did try to immerse me into Alaska. There were many touches on board, which I thought were good.
There were two naturalists and regional experts onboard, Mark Harris and Rachel Moreno. They both spend five months of the season on board and gave excellent, and entertaining talks throughout.
The Entertainment team wore lumberjack-style shirts. You could find a lot of high-quality Alaskan merchandise in the shops and on the deck, several books on the region and specific a book about the cruise that the Captain would refer to each day.
We went into Glacier Bay, which is a big plus as only 2 large ships are allowed in each day and only those, Holland America and some Norwegian ships usually have access.
On that day, they brought three Glacier Bay National Park Rangers on board. One, named Ethan, gave a moving talk about the indigenous community, they then ran commentary all day, and ran an information and merchandise counter daily, too.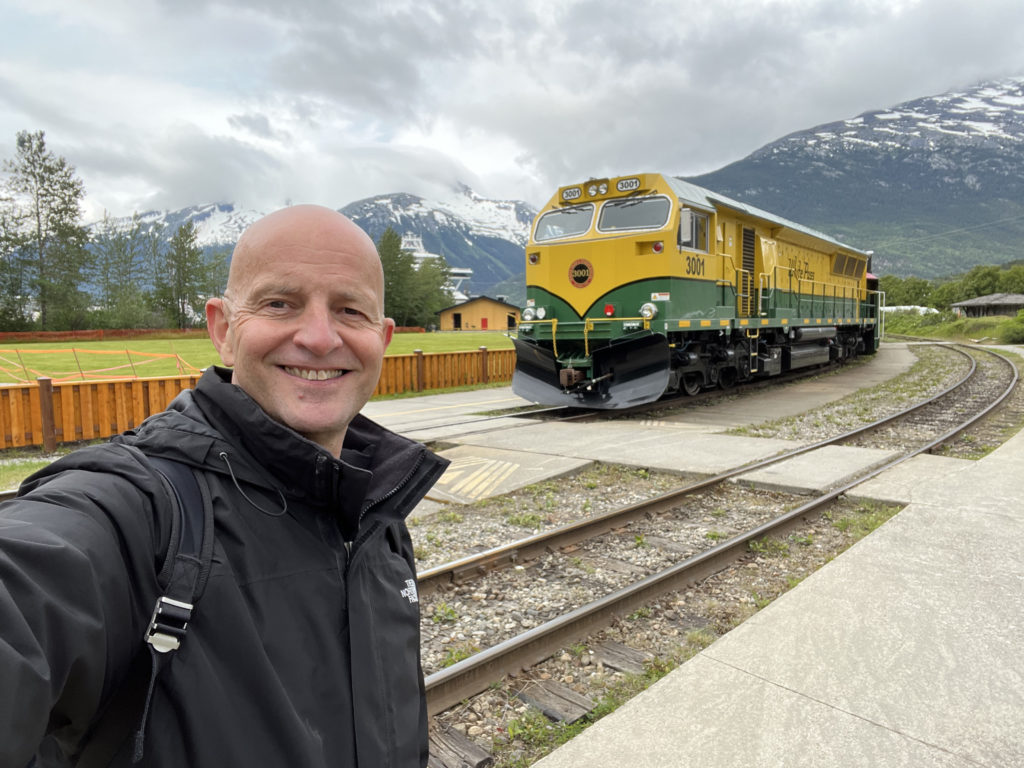 Alaska Cruise Highlights
There were some unexpected upsides and plusses to cruising Alaska right now.
First, although ports were busy, none were as packed as on my last trip. Because most ships were sailing below capacity,
We had four ships in Skagway, six ships in Juneau and 5 in Ketchikan. That should have meant up to 15,000 plus cruise passengers on some days. But it was not crazy busy and definitely noticeably less congested wandering around and on excursions.
Ding ding! The even bigger plus for me was the itinerary. I found it better than my Inside Passage sailing!
Glaciers and More
A hop and a jump further north, and I got to see the Hubbard Glacier. It was an incredible experience.
Adding to that, I had booked a cruise line offered boat excursion. This met us as we sailed into Yakutat Bay and took 150 of us right up close to the glacier. We saw many incredible calving events.
Glacier Bay was another big highlight. The Margerie Glacier itself was worth it, but I did see several other glaciers. It's the most beautiful and memorable experience. And with all the expertise from the rangers, it really was phenomenal.
Skagway was another massive highlight. Again, I went on the White Pass and Yukon train –  the historical train built for the Gold Rush. It is an incredible excursion, right up the mountains and is about two and a half hours there and back.
In Juneau, I did a helicopter ride to walk on the Mendenhall Glacier. $360 later and it was worth every cent. On a previous Alaska cruise, I'd went dog sledding to the Norris Glacier, which wasn't offered this time. But doing a helicopter ride and getting above the glaciers was just breath-taking.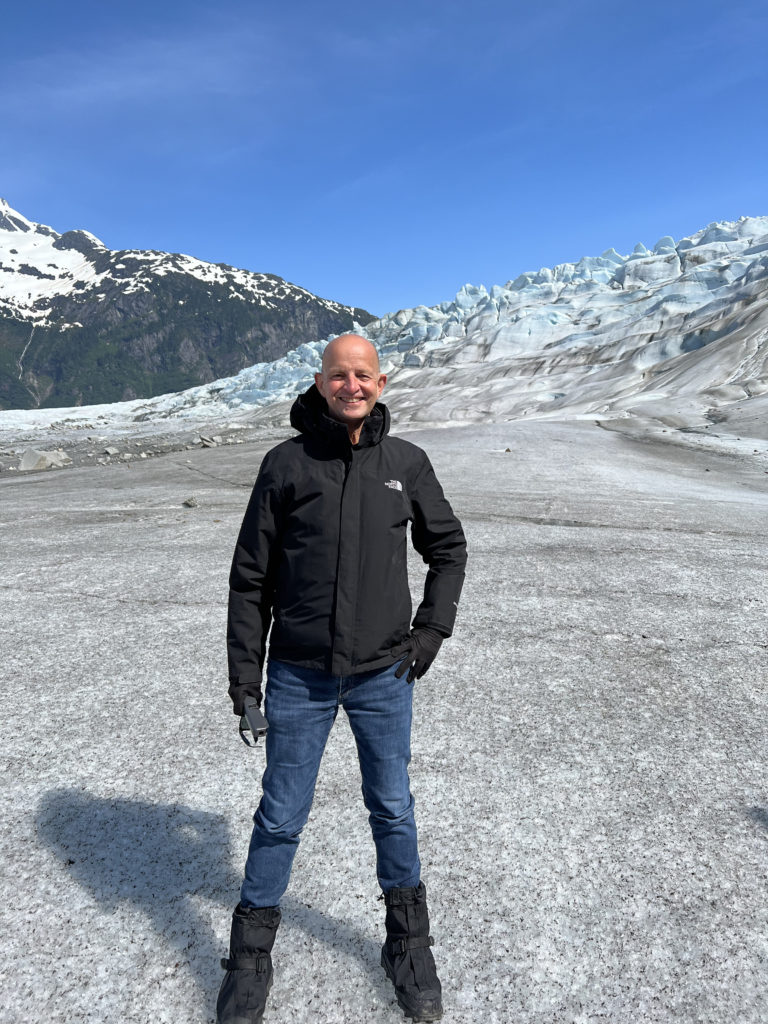 Also, in Juneau, I went up the Goldbelt Tramway to Mount Roberts. A thrilling experience and the perfect way to get a phenomenal view of the area and the ships in port.
In Ketchikan, I went to the Lumberjack Show, which is great fun. Creek Street was fantastic, although I did feel it was more tacky on visiting it, again. The town, of course, is very commercial.
Throughout this trip I was reminded that Alaska is still magnificent. The sights are just as impressive and as memorable. Although, there were many businesses closed and shuttered up that hopefully will re-emerge
Alaska Lowlights
Guests were warned by the cruise line that Covid was an issue in the region, and we should take care. Although we did have masks onboard, none of the big group events were held. Once out and about on land, this was not the case, of course.
When I returned home, I did a test, as several people I'd spoken with on returning from my cruise and Alaska had tested positive. There it was. I had tested positive, too. I assume I picked it up and had it on the trip because it took about three or four days before I started testing negative.
The memories and experience made this trip one of my most memorable. I am not sure I would go back to Alaska on Princess, but they did get me to the places, sights and offered the excursions I needed. So, time will tell!
ABOUT TIPS FOR TRAVELLERS
—————————————–
Gary Bembridge's Tips For Travellers aims to help you make more of your precious travel time and money on land and when cruising the oceans or rivers of the world. To help you, in every video I draw on my first-hand tips and advice from travelling every month for over 20 years and average of 10 cruises a year.
BECOME A TIPS FOR TRAVELLERS MEMBER
————————————————————
Sign-up as a Channel Member to get perks: https://www.tipsfortravellers.com/Join
Become a Patron on Patreon and get perks: https://www.patreon.com/tipsfortravellers
BUY MY CRUISE-THEMED T-SHIRTS
————————————————
Check out my T-Shirt range: http://bit.ly/TFTStore
FOLLOW ME ON SOCIAL MEDIA
——————————————-