River Cruising versus Ocean Cruising – Key Differences
In this article I look at river cruising versus ocean cruising. Based on my experiences, I believe there are at least ten ways that a river cruise is different to an ocean cruise. These should help you decide if a river or ocean cruise is better for you – or to help if you are thinking of switching from ocean to river – or vice versa.
1: Size
The most obvious difference is size of the ships – and cabins!
Ocean cruise ships range from yacht-style ships, like the Windstar Star Breeze with 212 guests, through to the enormous Royal Caribbean ships carrying up to 6,000 guests. The trend in ocean cruising is towards ever bigger ships, as the economies of scale make it an appealing business model for the cruise lines. Even lines like Silversea and Seabourn that focus on smaller ships historically are introducing slightly larger ships as they bring new ones into their fleet.
On other hand, river ships have to stay a certain size to navigate along the rivers and under the bridges that cross them. Most ships on European rivers carry between 100 and 200 guests.
River cruising is a more intimate and social experience with lots of interaction with other guests and the crew. There are fewer places to hide away and be anonymous.
Cabins on cruise ships also tend to be larger than on river cruise ships.
2: Destinations
Another obvious difference is where they go.
Ocean cruises are (of course) at sea. They cover large distances and usually visit multiple countries in a week – giving more of an overview and flavour for a region. They tend to offer four different types of itineraries: 1: sailing along the coastline calling at various seaside ports (like countries around the Mediterranean), 2: hopping between islands (such as the Caribbean), 4: traveling between continents (like Queen Mary 2 does between the United Kingdom and the United States) or 4: even take guests to remote places like Arctic or Antarctica.
River cruises on the other hand sail on inland rivers, go to places cruise ships are too large to go and cover less distance. On average a river cruise travels as far as a two-hour bus trip would take per day, often stopping at two places along the river each day. They offer a more intensive immersion of a specific region.
Another key difference is where they dock. Due to their size, most cruise ships have to dock in container or working ports which have facilities to cope with the scale and numbers. Often there is a distance to transfer into the heart of towns. The smaller ships, like the Windstar Yacht-style ships moor closer to the heart of towns.
River boats dock in the heart of towns and the action is within easy walking distance. On the negative side there may be a number of boats in busy towns requiring them to tie up alongside each other.
In Europe the river cruising season runs from April to October, although there will be some cruises for specialist destinations like Christmas markets. Ocean cruising tends to be a year round activity, although most lines will focus their ships and itineraries in Europe from April to October and the Caribbean the rest of the year.
An ocean cruise generally covers greater distance, and docks further away from the heart of cities. While river cruises cover a smaller region more intensively, and dock close to the centre of towns.
3: Excursions
Ocean cruises offer many excursion options at every stop to cater for the hundreds, or thousands, of guests and their diverse interests and activity levels. There will be many choices, and they could range from active Quad ATV bike off-road experiences to sedate panorama bus sightseeing. Excursions are almost always an added cost of between $40 to $200 or more per person.
River cruises on the other hand usually have just one excursion per destination, which will likely be a walking tour focused on history, art, culture or food and wine of the destination. Almost all include excursions in the fare.
So cruise lines offer excursion choices and charge for them, while river cruises include them within the fare – but don't give choices.
4: Food and Dining
Cruise ships offer choices of where and when to dine. The meals covered by your fare include those in the main dining room, buffet restaurant and room service – although drinks will be an extra charge. Most have other speciality restaurants (which have a surcharge to eat in). Large ships like those of Norwegian Cruise Line and Royal Caribbean could have as many as 15 or more places to eat.
On the other hand, river cruise lines usually have one dining room and no room service. There is limited or no choice within menus, but wine is included.
So if variety and choice is important then ocean cruising is more likely to appeal.
5: Entertainment
There will be lots of entertainment on a cruise ship. These include high production value West End / Broadway / Las Vegas style shows or Guest Entertainers, comedians or magicians in the main theatre.There will be venues for dancing and musicians and bands around the ship's venues. There will also be a daily program of activities like craft and digital classes, bridge games and quizzes.
River cruise ships will have much lower key activities and choices, if any. These are likely to be local folk dances or musicians and daily port talks and briefings in the evenings.
6: Amenities
Depending on the cruise ship, you could have resort-facilities that may include climbing walls, water slides, extensive spa and fitness centre and sports facilities. You will also have swimming pools, Kid's Clubs, hot tubs, bars, lounges, a cyber café and library.
Some newer river cruise ships have small plunge pools, fitness centres, spa and library but, due to their size, most are likely to be limited to a joint bar / lounge and large open deck on the top level. There will no kid's clubs and facilities, casino and such like. However, the ship is only going to be cruising for limited amount of time during the day or night and is docked the rest of the time – so you are able to step off the ship into the towns to avail yourself of amenities and activities there.
Ocean cruise ships are designed to be destinations in themselves, with lots of facilities and amenities to occupy guests. While river cruises have less on board and so the focus is more on the destinations than things to do on board.
7: Inclusions
The cost per day of an ocean cruise compared to a river cruise will, at first glance, seem to be cheaper than a river cruise. However, you cannot just compare this headline fare when making your decision between the two.
There are many on-board costs on an ocean cruise you need to budget for. These usually include drinks, Wi-Fi (which can be about $1 a minute), gratuities (which can be as much as $15 per person per day), excursions ($50 – $200 or more each) and alternative speciality dining (anything from $10 to $70 per person). Some premium lines like Silversea, Seabourn, Windstar and Azamara include some of these in their fares, and Regent Seven Seas include excursions.
On the other hand, river cruises are mostly "all-inclusive" and should cover drinks and Wi-Fi, and most include excursions and gratuities.
So when comparing fares look at the add-on costs to gauge the real difference.
You are also more likely to get a last-minute deal on an ocean cruise than on a river cruise. And so can decide on cruising close to departure date. Although river cruising is growing fast and lots of capacity is being added, they still tend to book out well in advance.
8: Seasickness
Although modern cruise ships have technology like stabilisers to reduce motion, there is a risk that the sea may be rough. So those prone to motion sickness may get seasick. There are many things you can do to minimise it, like booking a cabin midship and lower down where movement is less and by taking over-the-counter prevention remedies. But it can be a risk when the ship is sailing at night between destinations or on sea days.
On the other hand it is almost impossible to get motion sick on the river. Land is always within near, there are no swells and there is limited time sailing.
9: Packing
Depending on your cruise, you may need to pack a range of clothes to meet the varied dress codes. Some have formal nights which can require Tuxedos for men and ball gowns for women.
River cruise lines, even the most luxurious, have informal dress. This is partly driven by more limited space to store items but also the way that river cruising has developed. It is unlikely that you will need a jacket (men) or smart cocktail dress (women).
10: More Regimented
Ocean cruises, even the smaller lines, have choices and so it is easier to settle into a regime that suits you. There will be more flexibility on when you eat, excursions and entertainment. You can set your own agenda.
River cruises work to a more scheduled and regimented formula. The day will be fairly rigid with set times laid out from morning to evening with meals, excursions, talks or entertainment. It is more difficult to be spontaneous and independent.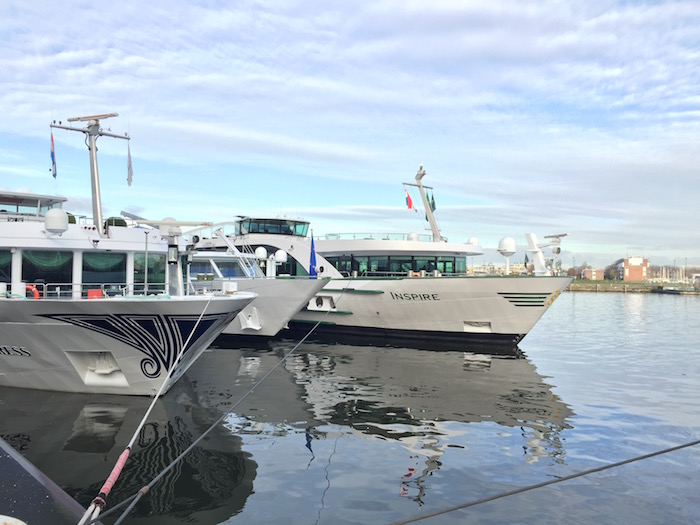 Hopefully these ten differences have helped you understand better the key differences between ocean and river cruising and will help inform your travel choices.
If you have thoughts to add please leave a comment and join the discussion!
River Cruising Book
Get more advice and tips on river cruising in my "European River Cruising. Advice, Tips and Tricks" from Amazon USA, Amazon UK or your local Amazon site.
Pin It
If you enjoyed this post: