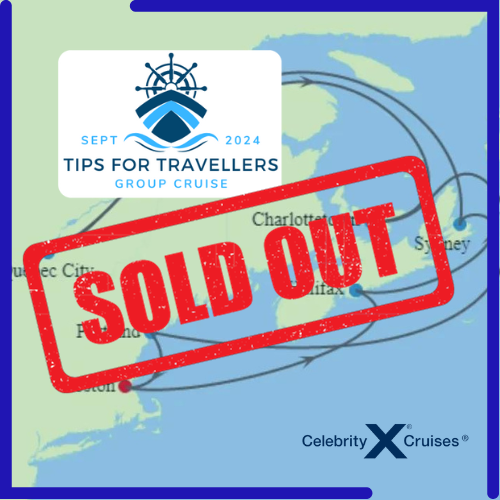 This group cruise is now sold out. If you want to be put on the waitlist (in case anyone has to cancel), please email

[email protected]

  and let her know, along with which cabin grade or grades you would prefer.
My second Tips For Traveller Group Cruise is open to book. The cruise is an 11-night Boston, Maine & Canada cruise on Celebrity Eclipse from Boston from 19th to 30th September 2024.
This is an itinerary I have wanted to do for many years, and so excited to be sharing the experience with followers of the channel. It was also the most popular route of the shortlist I did the poll on by far.
Group Cruise Must-Knows
Unlike my first group cruise (Holland America Eurodam Caribbean in April 2024) which is exclusively for YouTube Channel Members and Patreon Patrons, this will be open to all Tips For Travellers fans, and so is likely to be a larger group.
This second group cruise (11-Night Celebrity Eclipse Canada) is in and out of Boston and includes stops in Rockland, Halifax, Sydney, Quebec (overnight), Charlottetown and Portland from 19 – 30 September 2024.
Most Cabins grades are being held for the group, ranging from inside to suites.
The group fare will include classic drinks package, basic Wi-Fi Package, and crew gratuities. It will be at the best pricing available, including any promotions, at the time of your booking. Included in the fare will be exclusive access to:

Group events and activities to be confirmed closer to the cruise. Like the first group cruise, this should include things like a welcome cocktail party, several on-board meet ups with live Q&A, Trivia, and other fun group activities. The final events and timings are subject to final agreement with Celebrity closer to departure.
A Pre-cruise Private Facebook Group to discuss and make plans.
Group WhatsApp Group (which will launch close to cruise) to use on the cruise to keep you posted of events and activities.
Plus, other surprises and extras to be announced before and during the cruise.
The group cruise will be informal, and you should feel free to join organised events as you wish and make whatever plans you like to make it an enjoyable vacation. I will keep everyone posted about any plans I make should you wish to join (e.g. excursions).
If you book this cruise separately and not as part of the group booking it will, of course, be great to see you on board, but unfortunately only Group Cruise members will be able to attend any organised events due to the way that Celebrity Cruises provides these benefits to the group.
How to book?
Bookings to join the group cruise should be made through Sarah Bolton of Travel Counsellors based in the UK.
To start the booking process please email Sarah at [email protected] with the following details:
eMail heading: September Group Cruise
Number of adults and children (plus dates of birth of any children)
Country of residence
Cabin grade, or if not known, then preferred cabin type (inside, ocean view, veranda, concierge, AquaClass, or suite) and any preferences for location
Any mobility requirements
If you are likely to require extras booked by Sarah (flights, hotel etc) once those are available
Permission for her to let me know you have booked and that she can give me your email so I can contact you about the Facebook group and add you to specific group cruise mailings and updates.
Sarah will process the bookings in the order she receives the emails, and based on demand it may take a few days to return with your quote.
Note: Cabin numbers have been capped to make the group a manageable size and a great experience for everyone. So, consider booking early.
What are the fares?
The cruise fare, along with any add-ons you want to book via Sarah (such as flights, pre- & post-stay hotels, etc) will be in British Pounds Sterling, and will be paid for with your usual local credit card online via a secure payment link in the myTC app or Travel Counsellors payment webpage. Details and a link will be given at time of booking.
The one currency pricing and sole agent is a requirement of Celebrity Cruises to fit with their cross-border selling policies and requirements.
You can use online currency converters to get an indication of the fare in your local currency but bear in mind the actual rate will be determined by the rate your credit card company is using on the day payments are made. Example of convertor: https://www.xe.com/currencyconverter/
Any cancellations where refunds are due will be refunded in £ sterling, which due to exchange rate changes may not be the same as what you initially paid.
The only cruise deposit option available is a non-refundable one, so having travel insurance is recommended.
Celebrity Cruises require all bookings to be at the "All Included" rate
Changes to bookings (e.g. change of name etc) may incur a fee of up to £50 plus operator charges
Indicative fares
Below are the indicative "All Included" cruise fares in held cabin grades. These fares will change as the ship fills up, and so booking early if you can is recommended.
The fares below reflect the current lowest price by grade for the group, however please note:
The actual fare quoted will be based on the grade you chose and at the best available rate, including any promotions offered by Celebrity Cruises at time of booking.
Non-refundable Deposit. The deposit amount is currently £200, but will be confirmed in your quotation.
Please note that once booked Celebrity have advised they will not change the fare booked, even if prices should fall. However, on this itinerary fares are likely to rise over time.
Indicative pricing for the cruise (more on fares and terms later in this post)

Inside Cabins (I2) from £1838pp double occupancy (from £3464 solo)
Ocean View (02) from £2082.50pp double occupancy (from £3952 solo)
Veranda (V1 Prime) from £2699pp double occupancy (from £5185 solo)
Concierge balcony cabins (C2) from £2778pp double occupancy (from £5343 solo)
AquaClass (A2) from £3174.50pp double occupancy (from £6136 solo)
Suites (S1 Sky Suite) from £7121.50pp double occupancy (from 13817 solo) (NB suites include Retreat package with $800 suite OBC, upgraded W-Fi and drinks packages)

Other considerations
All Travellers
Non-USA Travellers
To enter the USA you currently require to be fully vaccinated and have either a valid ESTA or visa.
If you have travelled to Cuba, the USA now requires you travel on a visa and not ESTA.
Non-Canadian Travellers
To enter Canada you will may need to have their eTA. This will be confirmed closer to the cruise if required.
I hope that you will be able to join this adventure along with your fellow Tips For Travellers followers!
Reminder: to get your quote email Sarah Bolton: [email protected]