Emerald Waterways LGBT River Cruise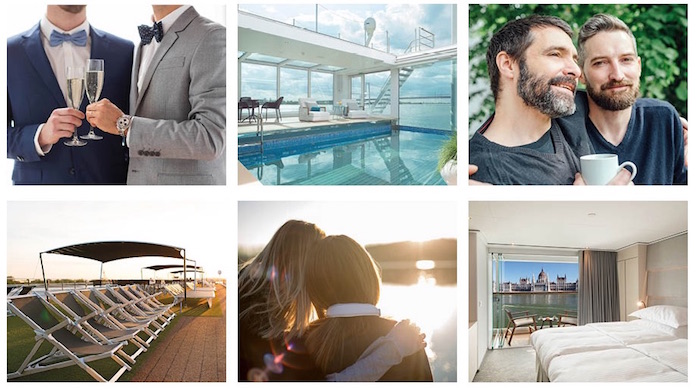 European river cruising has become the fast growing travel trend. New cruise lines, new ships and new routes have been feeding the growing appetite to drift down rivers like the Danube and Rhine. They provide a way to explore the food, culture, art, history and landscapes in multiple destinations while just unpacking and packing once.
Unfortunately it has a reputation of being for older travellers. This is a pity as things are changing fast and more families, younger and more diverse audiences are increasingly experiencing this enjoyable way of seeing a region. So, it was with interest I saw details of an Emerald Waterways LGBT river cruise  for Lesbian, Gay, Bi-sexual and Trans travellers interested in trying out this way of travelling. A great idea to give this audience a chance to try it out surrounded with like-minded guests.
What do you need to know about the Emerald Waterways LGBT cruise?
7-night Danube cruise from Budapest (Hungary) to Nuremberg (Germany) on the Emerald Sky departing  on 29 July 2017.
Economy flights are included in the the fare to and from London, Manchester, Birmingham, Glasgow and Edinburgh.
The all-inclusive fare also includes accommodation, meals, a premium drinks package, six onshore excursions, including three UNESO world heritage sites, two EmeraldPLUS activities including a home-hosted afternoon tea with a local Slovakian family, two EmeraldACTIVE activities, Wi-Fi, tea and coffee on board and bottled water in your cabin.
There will be on-board entertainment and activities including Gaydio breakfast hosts Chris Holliday and Emma Goswell broadcasting from the ship.
Fares start from £1,695 per person sharing a cabin. Solo travellers will have to pay a single supplement.
Talking to the team at Emerald Waterways, they told me that groups of friends with non-LGBT friends that want to travel with them will of course be welcome, and that they are expecting that most of the guests will be 40+ based on the itinerary and type of excursions.
What should you expect if you do this cruise with Emerald Waterways?
Take a look at this video I made on board Emerald Waterways about what to expect on a river cruise with them to help you make up your mind.
 What will the Emerald ship look and be like?
If you have never been on a river cruise this tour of the ship will show you what it looks like and what to expect on board:
You can find out more about the cruise, and prices for different grades of cabins at https://www.emeraldwaterways.co.uk/LGBT
Pin It