How I Cruise Solo Cheaper, Smarter and Better

How I Cruise Solo Cheaper, Smarter and Better
There are 3 main questions I am asked about when it comes to cruising solo. Are there any cruise lines I avoid? How do I beat that crippling solo traveller supplement? And how do I avoid getting lonely or felling left out?
Eighteen of my last 20 cruises have been solo and you're about to discover the answer to the above questions and more.
Go Where I'm Wanted
First off, I focus my plans on lines that are more interested in solo cruisers, as they tend offer more solo cabins, lower supplement deals and a better solo on-board experience.
One follower of my channel, Peter, put this nicely by suggesting there are 3 types of cruise lines.
First, those who actively appreciate, encourage, and embrace us solo cruisers. Lines like Norwegian Cruise Lines, Saga, Ambassador, and Fred. Olsen with many solo cabins, frequent deals, activities, and the crew and programs used to dealing with, and addressing, the needs of us solo cruisers.
Second, which is most lines I find, are those that see us as an interesting side-line, but whose main priority are couples, families, and multi-generational travellers. We are a bit of an afterthought. I include lines I have been on like Celebrity, Holland America, Cunard, P&O Cruises, Virgin Voyages, Silversea, Windstar, Oceania and Ponant.
Then, third, where I or other solos have felt most out of place, are lines which show little interest in us.
Interestingly, the leader in each of the 4 main cruise categories fall into this group: Carnival Cruise Line in the mass resort category, Princess in the premium category, Viking in small ship luxury, and Seabourn in ultra-luxury.
These have no solo cabins, very rare promotions and limited solo focus on board in my experience.  Many argue Royal Caribbean falls into this group, too.
But, there is another factor that I have found does impact my solo experience even more.
Sizing Up The Problem
After going solo on classic ocean, expedition, river, and barge cruises, I felt most comfortable when going smaller. This is where I find solo cruising works best.
I think of it a bit like if I was visiting a big city with there's thousands of people, it's hard to meet people and settle, but going to a small town or village is much easier to fit in and settle.
For example, I went on a barge cruise in France on CroisiEurope Deborah. There were just 15 people who all knew I was solo from the minute I boarded and they included me in everything. The same, too, on river cruises I've been on with 100 to 150 people.
I found the same to also be true on smaller ocean ships like Azamara Quest, Oceania Insignia, and Windstar Star Breeze. There were not many people on the ship, they got to know and include me easily.
I feel more and more uncomfortable the bigger the ship gets. For example, on my recent Sky Princess cruise, with over 3,600 passengers, mostly couples and families, it was harder, and I felt more left out.
Importantly, on smaller ships, all the crew quickly knew me and that I was solo and weren't doing that awful thing where crew keep saying in that kind of surprised judgemental tone, "Are you by yourself? Is no one joining you?" that I get on bigger ships as crew simply don't get to see or know me.
With that in mind, how do I find we can cruise cheaper?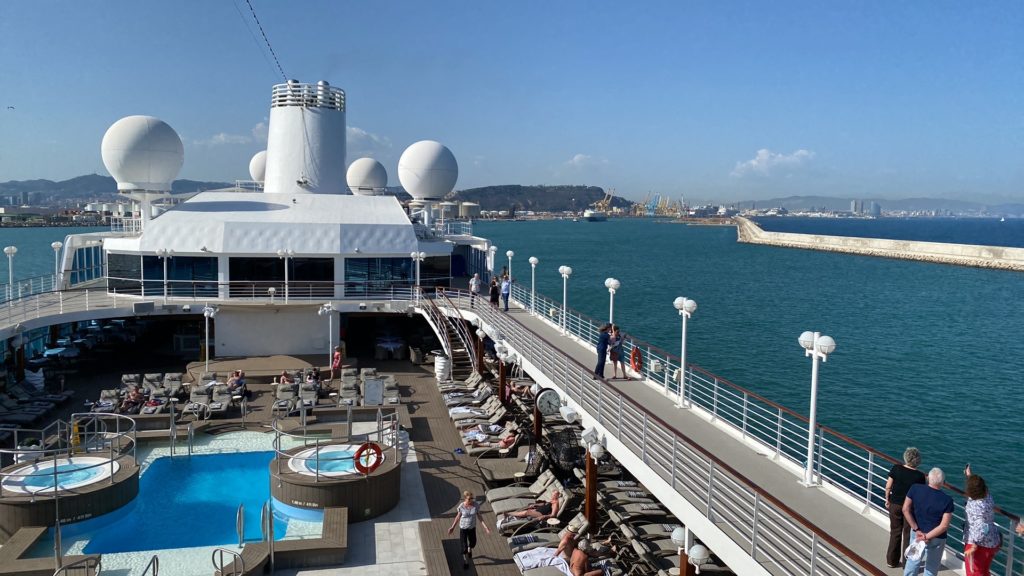 Avoiding Solo Supplements
Cruise lines almost always make us solos pay the same price as two people, because they want a certain revenue per cabin. While on many of my cruises, I still pay the same as if my partner Mark was coming with me, there are 5 key things I find have helped get around or reduce the supplement
#1 Solo Cabins
I focus on trying to get a solo cabin as this is often the best way of getting a lower price. However, I find I need to plan very far in advance because there are still very few of them.
In fact, they're so limited I've listed the lines and ships with them on my website.
In doing that list I spotted three things. One, that it's mostly newer ships, and recently renovated ones, as cruise lines slowly become more aware that solo travelling is a big trend.
For example, Celebrity only had about 4 solo cabins on only one of their older Solstice class ships (Silhouette), but the Edge class has between 16 and 24. The same also applies to newer Holland America ships, and even Oceania has installed solo cabins across their fleet.
Two, UK-based cruise lines offer more solo cabins. Lines like Ambassador have 89 solo cabins on their ships. Fred Olsen has between 37 and 64 by adding solo cabins to the ships they bought from Holland America, and 20% of Saga Cruise's cabins are solo.
Three, the most comprehensive solo cabins offer is on Norwegian Cruise Line. They have solo studios, a keycard access area also with a solo travellers' lounge with almost 100 on some ships. Though small and all inside cabins, which are not my idea of fun.
When I'm looking at solo cabins, in addition to booking way in advance, I always compare fares with what lines are offering on Oceanview or an Inside Cabins as they are often cheaper, even with a surcharge than those solo cabins. Because solo cabins are in high demand prices can shoot up higher than alternatives.
#2 Solo Deals
The next thing that I rely on a lot, as I like a balcony cabin, is constantly looking for low or no solo traveller deals. It does mean booking more short term and is more unpredictable.
I sign up for the email marketing newsletters for all the cruise lines I'm interested in, as that's where they normally announce their solo deals.
And I ask my travel agent, Sarah Bolton of Travel Counsellors UK, to constantly watch out for solo deals and alert me when they come along.
I've had good success with this, especially on luxury lines. Both of my expedition cruises on Silversea had low solo deals, as was Ponant Antarctica, Azamara Mediterranean, Regent Seven Seas Caribbean and Windstar Norway.
I find most of these deals happen in the "shoulder" periods, so early and late in the Mediterranean and Caribbean seasons, like March/ April and September / October and on the transatlantic repositioning of ships around this time too.
Another good way I find to find solo deals is on a few cruise aggregation sites. VacationsToGo.com, a popular discount site, have a solo deal search tab which shows either low price cruises even though you're paying a supplement, and no supplement deals. When I did a search recently, they had solo deals on Seabourn, which doesn't normally have those.
If you're UK based or you want more UK cruises, the site passionforcruises.co.uk does the same.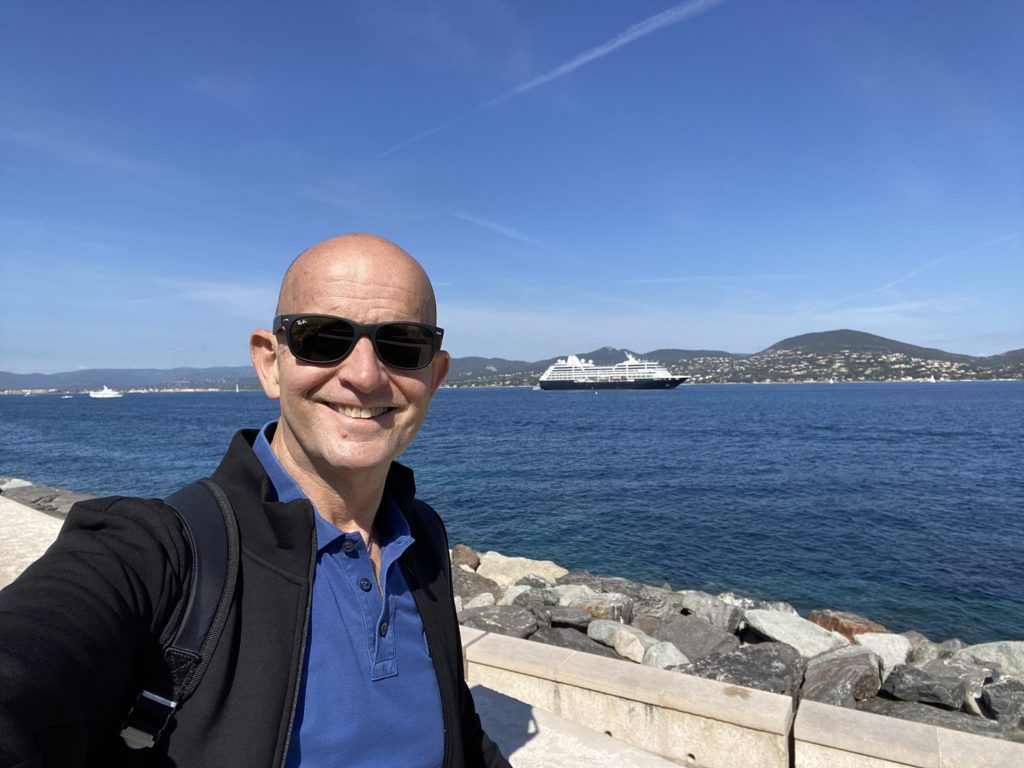 #3 Solo Group Cruises
I also look at solo cruise group trips, though not been on one yet.
VacationsToGo.com run 8 to 10 hosted solo cruises every year. I have signed up on their site for their newsletter and joined their Facebook group for these.
These group cruises have a Free Roommate Match program. If you request a roommate and they can't find you an appropriate match of the same sex and roughly the same age, they pay the supplement for your stateroom. So, you pay just for one.
I also keep an eye on solo travel sites.
The most interesting one is called singlestravelintl.com, which is a members' club, for over 50s. As a member of the club, they give priority on booking any low or no solo offers as they come in.
They also run group cruises, which include things like a single meet and greet pre-cruise stays, and specific events on board. So, that's a great opportunity.
#4 Sharing
Of course, the final way of cracking and breaking that awful surcharge sharing a cabin with a stranger, not on one of those hosted cruises. Though, this is not for me.
I found several sites where you can do this. These include mycabinmate.com, Crewmate Finder, and SilverSurfer.com. They're active with a surprisingly large amount of people looking to share.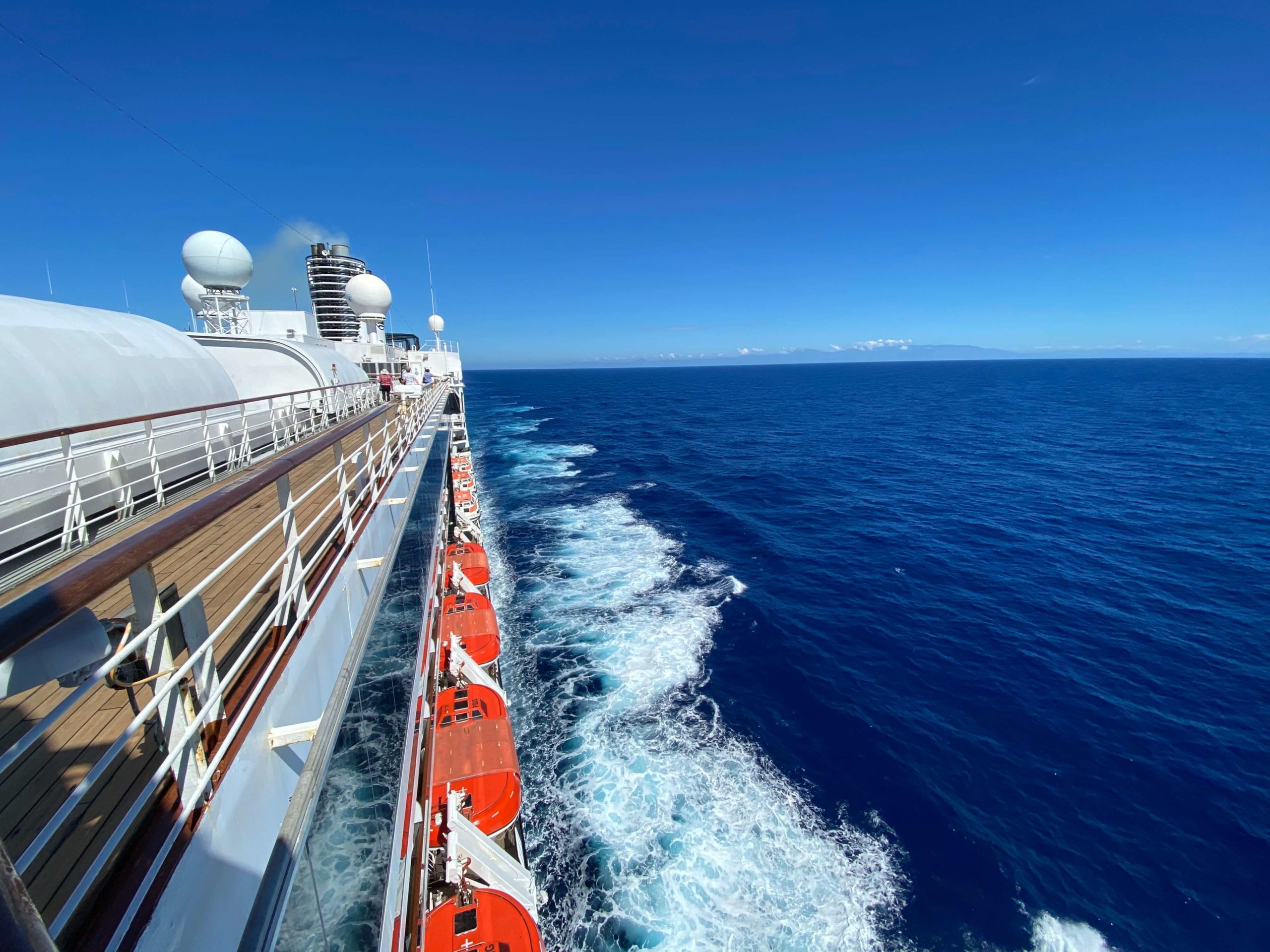 Lonely & Left Out
This leads me to an issue many solo cruisers are concerned about: how do I cruise without feeling left out or lonely and how to make the most of the cruise?
I have six key things to suggest.
#1 Theme It
First, go on a theme or group cruise. Follow your passion, there are theme cruises which focus on everything from Game of Thrones, Star Trek, Motorbiking, knitting, and so much more.
Everybody on the ship is drawn by one key focus and it's a great chance for us solo travellers to mix and mingle easily.
I am planning to run Tips For Travellers Group cruises, so sign up for the newsletter if that appeals.
#2 Know Before You Go
Second, make friends and plans before you go. The best way I find is using the Cruise Critic roll call for my cruise. I find the roll call for my cruise and seek out other solo travellers, or like-minded travellers. Plans emerge for shared excursions, get togethers, drinks and so on. Also look on Facebook as increasingly I find someone has set up a group for a cruise I am on. Then there's also dedicated Facebook groups for specific cruise lines, such as Fred. Olsen, Seabourn, and Hurtigruten.
I met one of the loyal followers of the channel Hetty and her new friend Yolanda. They were both on the Rotterdam and had met via online roll calls and were part of a group of solo travellers doing Zoom calls to plan events before the trip.
#3 Real Life Meetings
Of course, go to the solo meet-up on board, but I find they can be hit and miss, so I look for other meet-ups on board that may be a good match.
For example, on my recent Queen Mary 2 Transatlantic they had meet-ups for LGBT, Friends of Bill W, Crafters, Knitters, Veterans, Women Institute, Masonic Brethren, Service Clubs, Rotary, and so on. And the lines will usually let us passengers set up any informal meet up and advertise it in the daily program.
#4 Excursions
I also suggest going on cruise line excursions, partly as that adds some safety of numbers and a guide when exploring ports, but I find if I focus on a theme, for example in the Caribbean, I always book beach and snorkelling tours, I find the same people also doing the same. So, it's easy to get to know them.
In other regions where I want to do more varied excursions, I book those that are activities like on m recent Norwegian Fjords cruise things like cooking, white-water rafting, hiking or something I knew I would be grouped with others, an RIB boat trip.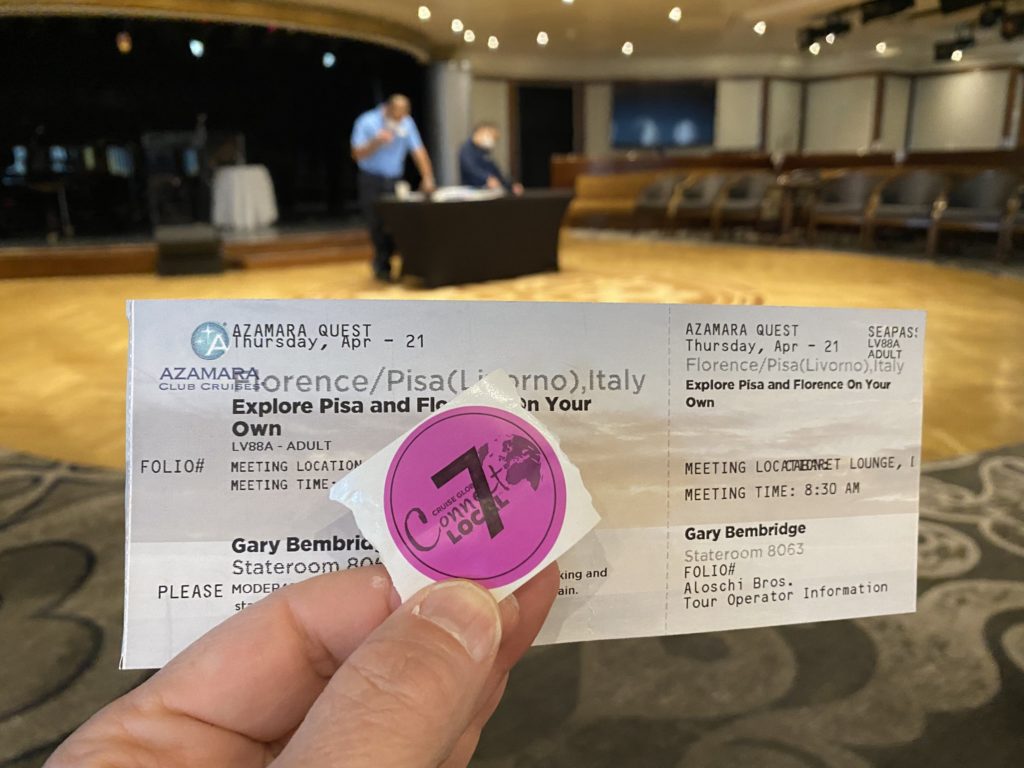 #5 Activities
One thing that I find an absolutely must do as a solo traveller is the on-board activities. They are a great way of connecting.
I focus on classes. So, if there's classes for cooking, bridge, painting, crafts, dancing, folding towels and so on, I go as everyone is interacting, and often put into groups to work on stuff.
The other thing that I find great are those activities where you collect points. All the cruises I've been on recently I could collect points for going to certain activities like shuffleboard, mini-golf and so on.
First, I collect points and redeem them for cruise line merchandise at the end, but I find the same people go to those activities. So, I get to make friends and feel part of a group and have often then joined them for drinks or dinners.
Doing them also means the Cruise Director and Entertainment Team know I'm cruising solo, and often connect me with people and look out for me.
#6 Chatty
People love to talk to strangers on cruises. I'm not particularly chatty nor sociable or extroverted on land, but on a cruise, I always talk to people. If I'm sitting in the theatre for example, I turn to the person next to me and say, "Are you having a good time?" And it's always worked out and again it's more friendly faces around the ship.
Dining
This brings me to dining which I know many get stressed about when solo cruising.
I travelled for years for business, and I was used to dining by myself, and I like to dine solo. In fact, I find getting to dine at a table by myself is harder on a cruise than dining with others on many lines.
When it comes to dining when cruising solo, I think there's two key approaches.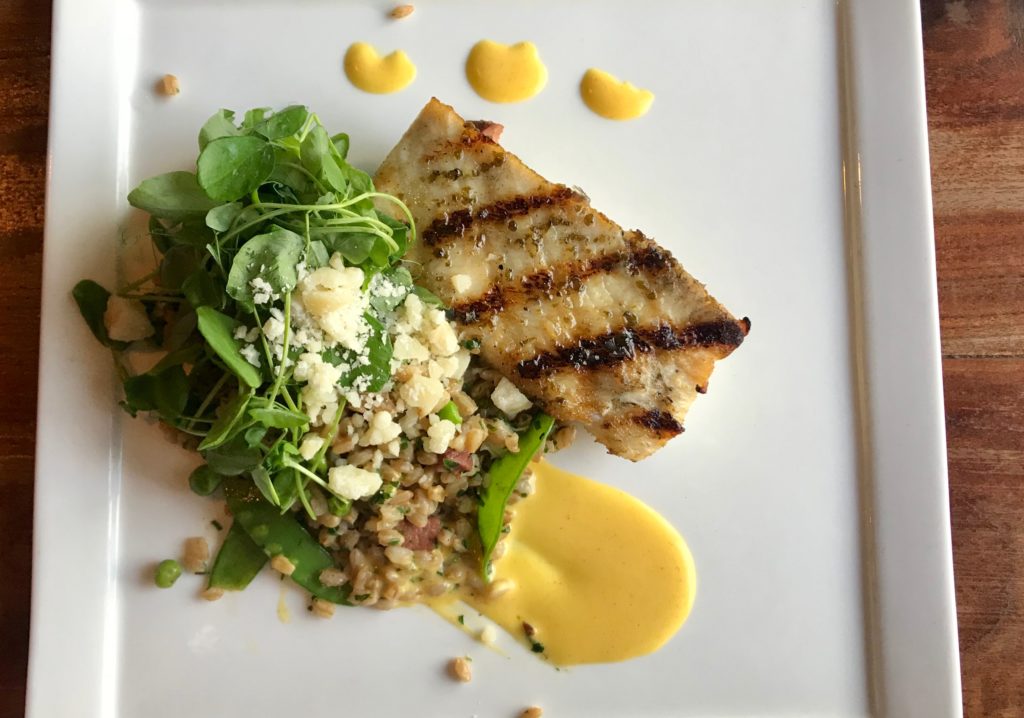 Key approaches
First with the Main Dining Room, if I want certainty and familiarity, I go for a fixed dining time and ask for a table of six or more. I can get to know people well, there's enough people at the table so if I click with some more than others, I can rotate around who I sit next to each night and I have the same serving staff who know I am solo and build a rapport and make me feel welcome.
Usually, I always go for that bigger table as I have found the most difficult times have been where I've been at a table perhaps with one other couple or two couples and me and felt the odd one out.
Cruise lines often put us solo travellers together, or travellers they think may be a good match based on age for example.
However, if I think on a cruise I want to meet as many people as possible and see where it goes, I do "Any Time dining". It is way more hit and miss, but I am seeing people for one meal and so I can move on if some do not work out and allows more flexibility to arrange to dine with people I have met on excursions or activities.
Speciality dining
With Speciality Dining I always though book to sit by myself and find I often must go early to do that. I don't like sharing there as many go to them for a treat or special occasion and I do feel more uncomfortable.
Another thing I like on smaller and ultra-luxury lines is they welcome me, asking a member of the entertainment team or the singers and dancers to dine with me and they all love to do that. As a solo traveller I recommend trying that.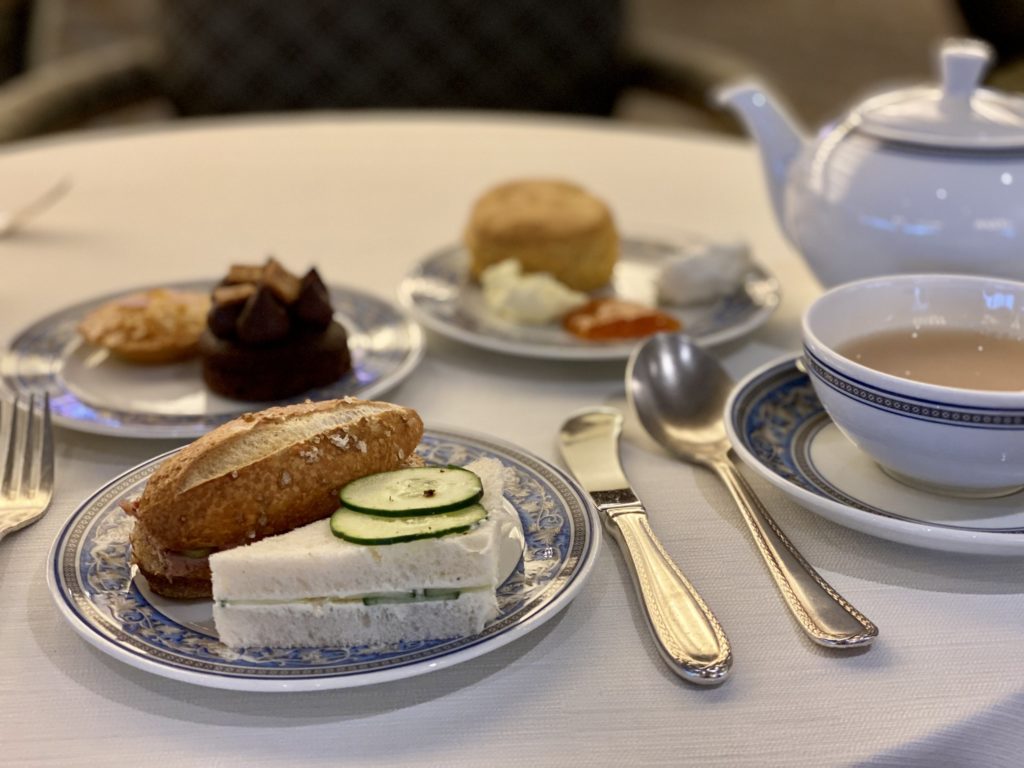 SUPPORT TIPS FOR TRAVELLERS
FOLLOW ME ON SOCIAL MEDIA
——————————————-